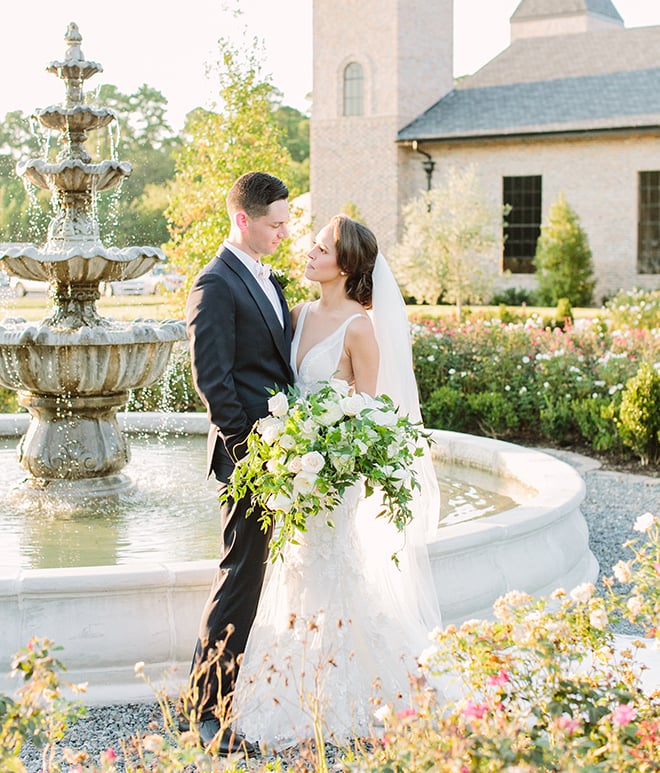 In 2015, Kallie worked at the gym Colt would frequent. Although Kallie was interested in Colt, she was too shy to say hello…until one fateful day Colt messaged Kallie's friend and co-worker asking if the gym was hiring. Kallie seized the opportunity to finally talk to her crush and immediately took over the conversation to message Colt, "Take me to lunch and I will get you the job." From there the rest was history and while on a family trip to Cancun, Colt popped the question during a romantic beach dinner as onlookers and Colt's family cheered him on.
The couple chose the stately Iron Manor for a wedding the bride describes as a "Whimsical fairytale with an abundance of florals against Iron Manor's stark and sleek Chicago style brick, accented with steel beams and gorgeous crystal chandeliers." Kallie and Colt pledged their love in a romantic indoor ceremony overflowing with lush greenery and blush and white blooms, exquisitely designed by Plants N' Petals. The whimsical decor continued in Iron Manor's Crane Hall for an ethereal reception where greenery filled the industrial space. The couple's most cherished moments from their fairytale wedding day were, "First look with each other, father of the groom officiating the wedding, and dancing the night away with loved ones."
We are so delighted to share this whimsical fairytale wedding at Iron Manor, in all its splendor, with you. Congratulations, Kallie & Colt!