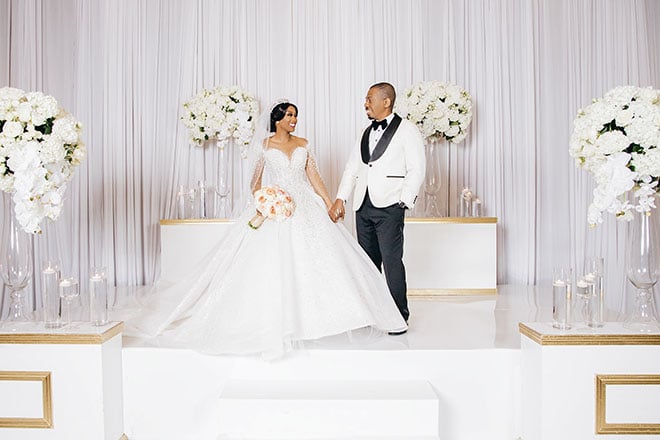 Bayou City Event Center is known to play host to large, extravagant Houston weddings…just like Raphael and Eberechukwu's glamorous wedding!
For their spring wedding, Raphael and Eberechukwu joined 250 loved ones at Bayou City Event Center, a grand and lavish wedding venue in the heart of Houston. The couple pledged their love in the venue's intimate Lakeview Ballroom. Eberechukwu's most cherished moment was walking down the aisle in a sparkling princess ballgown to meet her groom.
The versatile venue was transformed into the perfect backdrop for the couple's royal-inspired wedding. "My decor set the mood of high-style elegance," notes Eberechukwu, describing the glamorous ivory and gold wedding palette, lush white draping, tall dramatic florals, and floating candles. Following the ceremony, guests enjoyed a delicious dinner of braised beef and a 7-tier red velvet wedding cake. Says the bride: "My wedding was everything I wanted it to be. I wanted it magical yet an event for royalty. It was all of that. I felt like a princess marrying a king."
We're delighted to share with you this sweet couple's glamorous wedding at Bayou City Event Center as we wish them a lifetime of love. Congratulations, Raphael & Eberechukwu!