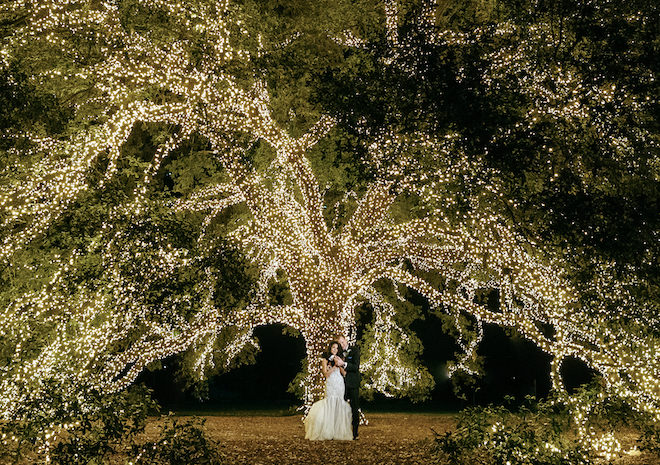 Lauren and Ricky were family friends for years before becoming something more when they ran into each other at the restaurant Ricky was managing. "I asked him out for a holiday drink a few months later and we have been together ever since," says Lauren. The day before Lauren's birthday, Ricky took Lauren and her mother out to dinner, but that's not all he had planned. What followed was a surprise and intimate proposal at Lauren's mother's house. "Ricky was supposed to wait until my birthday to propose, but he says the ring was burning a hole in his pocket and he couldn't wait any longer!"
The couple wed in a traditional church ceremony before joining 225 guests for an enchanting reception at The Houstonian Hotel, Club & Spa. Notes the bride: "My wedding was a perfect execution of my absolute dream and vision that I have had for years. I had a vision of a room full of candles and large, white orchids and cherry blossom trees reflecting a golden amber glow throughout the ballroom. Gorgeous white hydrangea, calla lilies and roses alongside tall tapered candles filled the room. My guests are still talking about the flowers and decor, calling the ballroom just stunning!" The couple's only challenge? The groom getting his tux just two days before the wedding!
Join us in swooning over this beautiful enchanted wedding at The Houstonian Hotel, Club & Spa. Congratulations, Lauren & Ricky!