When we gathered together a selection of super-talented Houston wedding florists, decorators and stylists at coveted Downtown venue the Corinthian-Houston and asked them to create wedding reception table designs that embody the spirit of each of the four seasons…well…we knew we were in for something special. Fortunately, fabulous photographer Taylor Golden was on hand to capture the seasonal magic, which we're sharing with you right here in this bountiful blog post! Love what you see? Pin it, Instagram it, share it, love it, let us know!
1.) First up…SPRING!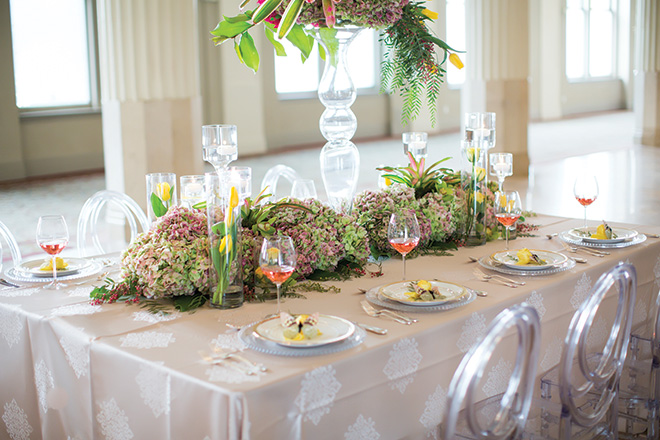 Flowers & Design: Haute Flowers & Events
Butterflies & bright bulbs pair up with beaded chargers and simple, refined stemware in Haute Flowers & Events' charming take on Spring's wedding table. And the subtly patterned table linen? Divine!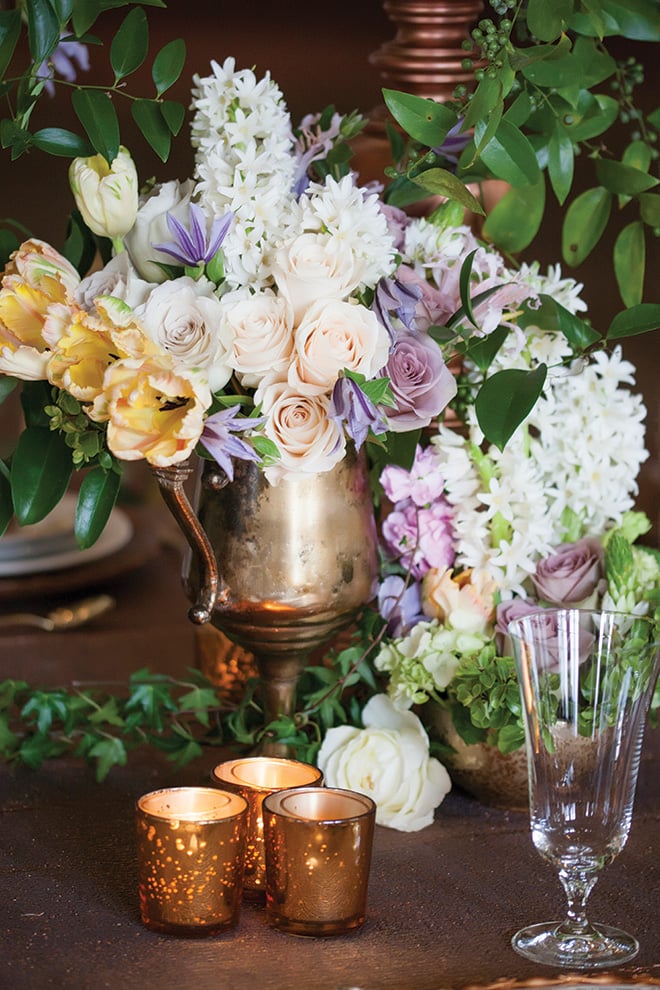 Flowers & Design: Blooms Design Studio
For Blooms Design Studio, Spring comes to life with an abundance of foliage, surrounding creamy roses, delicate frilled tulips and sweetly scented hyacinths, with accents of earthy brown and burnt orange.
2.) Next up…SUMMER!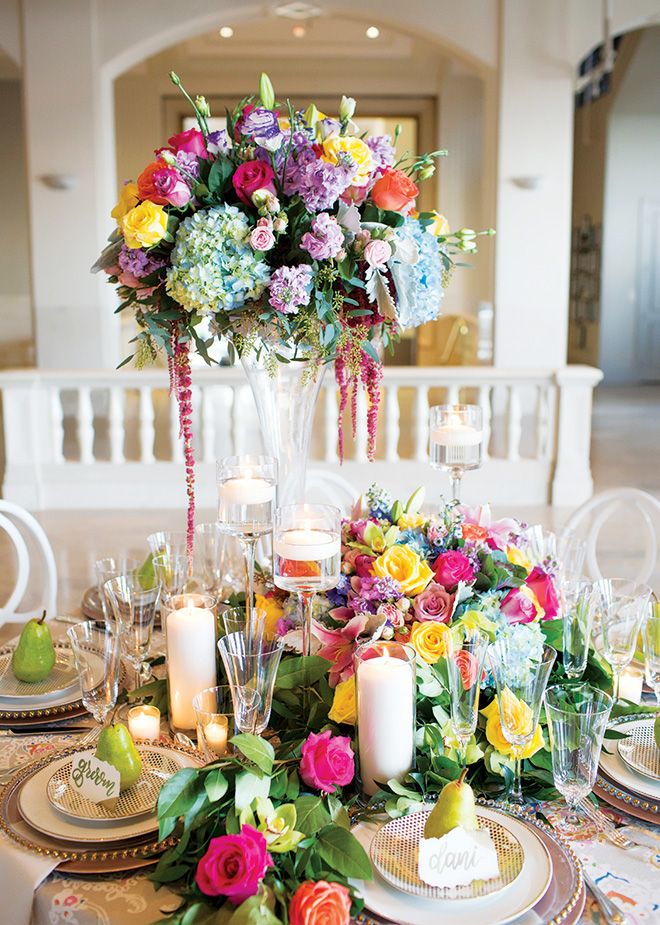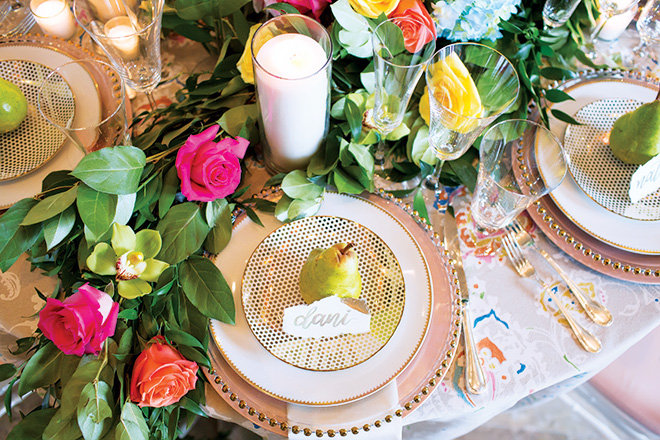 Flowers & Design: River Oaks Plant House | Linens & Rentals: EB Inc. Event Rentals & Design
For a Summer wedding reception table that's so fresh and cool you can practically feel it, River Oaks Plant House teams up with EB Inc. Event Rentals & Design, setting out roses, lilies, hydrangeas and orchids, atop exuberantly printed table linens. Gold-accented place settings bring a touch of elegance, while fresh whole pears prop up whimsical place cards.
Flowers & Design: AJ's Urban Petals
Brimming with bright orange, hot pink, vibrant yellow and green, set atop an intricately embroidered table linen, AJ's Urban Petals' take on the Summer wedding table is both refined…and a little bit wild.
3.) Time for…FALL!
Flowers & Design: Darryl & Co.
As Fall approaches, Darryl & Co. welcomes the crisp change of season with deep purples, crimson, burgundy and blush, accompanied by glowing brass and sparkling crystal…plus a dash of magnificent peacock plumage, for a bit of wedding-worthy drama.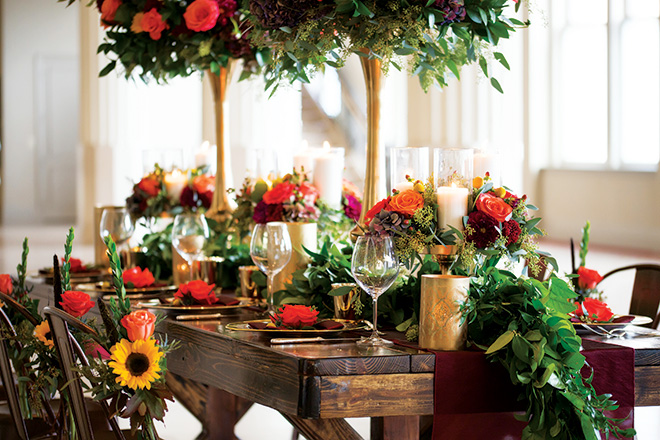 Flowers & Design: Dream Bouquet
For Dream Bouquet, Fall is a time for rustic wood, fragrant eucalyptus and burnished sunflowers–the perfect palette for an elegant autumnal barn wedding, Hill Country destination wedding, or tented backyard bash, as temperatures begin to drop.
4.) Welcome…WINTER!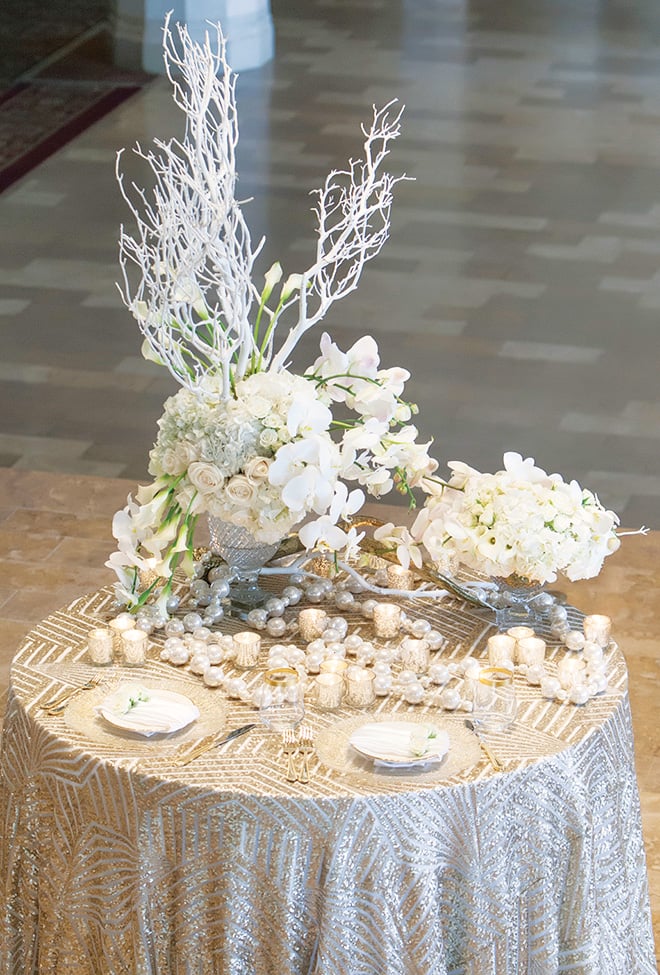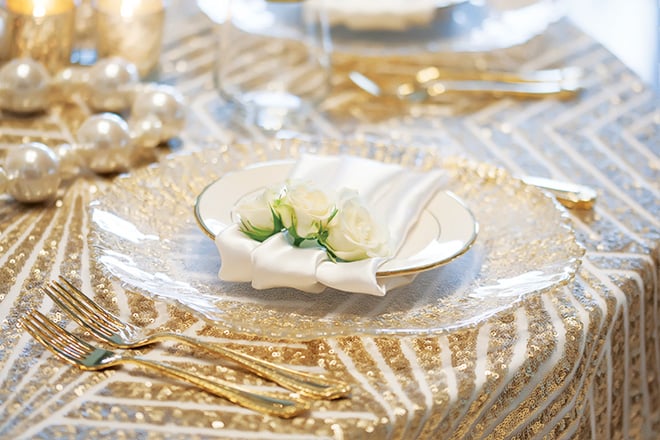 Flowers & Design: Plants N' Petals
Frosted branches, snow-white petals and shimmering ivory napkins get warmed up with gold-sequin linens, gilded flatware and glowing candlelight, in this dazzling but understated Winter-wedding tabletop design from Plants N' Petals.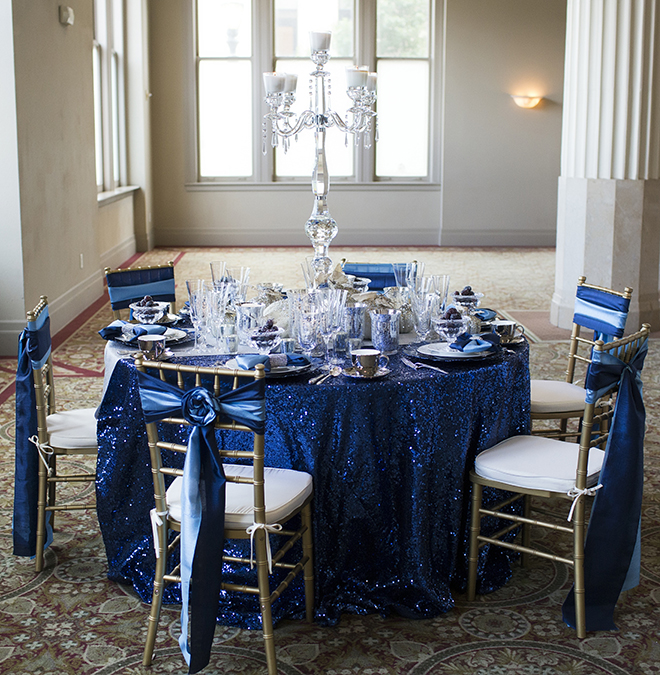 Linens, Rentals & Design: LBL Event Rentals
Nothing evokes the spirit of the Winter season like sparkle and shine, which is exactly what this wintry blue-and-white Winter wedding tablescape by LBL Event Rentals does–with help from sequins, crystals, bits of shimmering glass and metallic table linens.
Happy wedding planning, loves, in whatever season you choose to wed!