Luckily, many wedding venues in and around Houston are a one-stop-shop, where you can say I do in a lovely chapel, then head to your reception space just a few steps away.
Read on for our list of 10 Texas wedding venues with on-site chapels.
Kiss your groom in the Campanille Chapel, lofty space with terracotta accents, grand iron chandeliers and soaring windows that overlook one of The Bell Tower's verdant courtyards, complete with a tranquil waterwall, making it simple to move your ceremony outdoors on a beautiful day. Choose from several ceremonies and reception sites at this old-world style venue – from intimate ceremonies in a romantic wine room to a grand celebration in one of the ballrooms.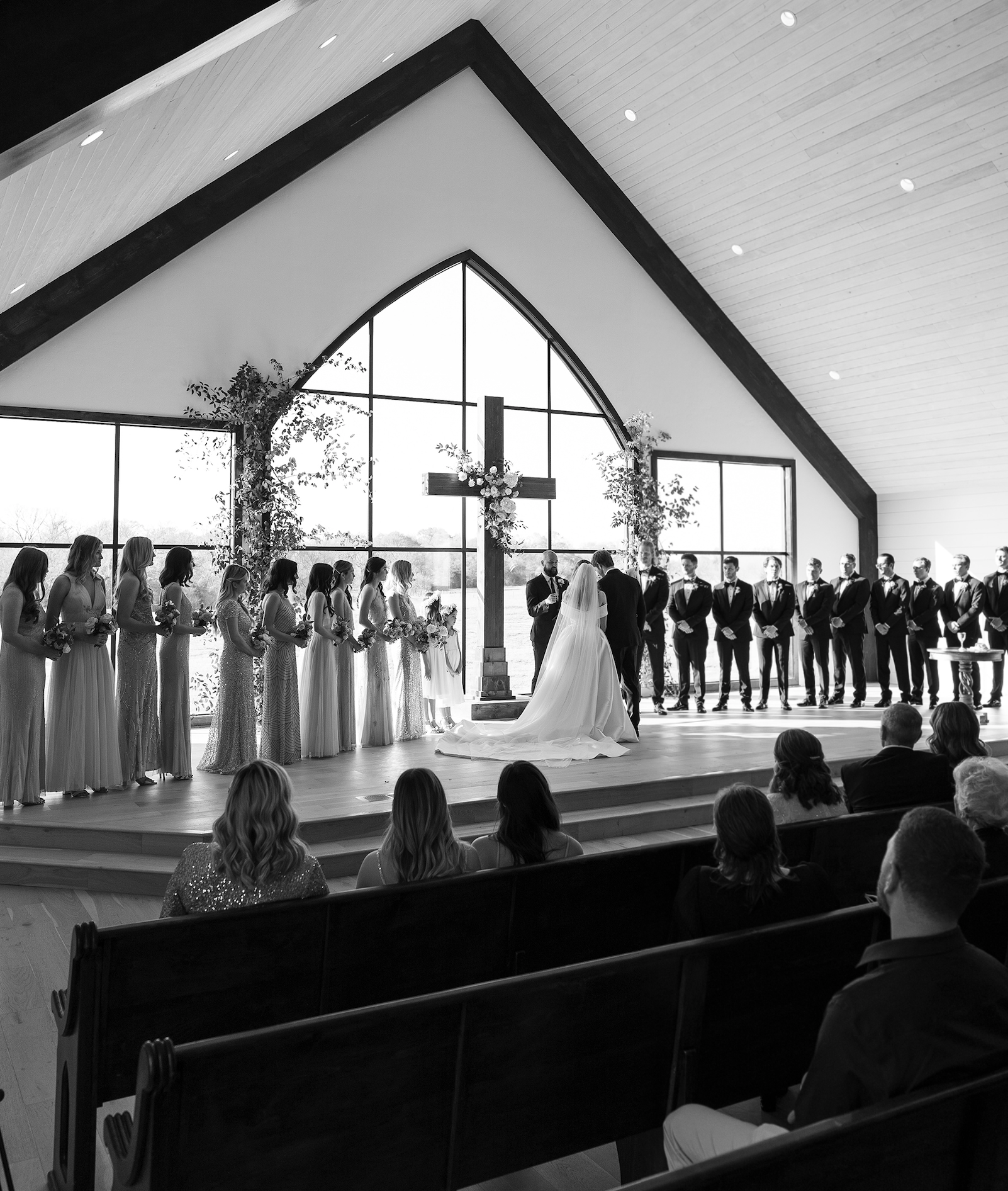 Deep in the Heart Farms, located in charming and historic Brenham, Texas, sits on 130 acres of gently rolling hills, ancient trees, and Texas wildflowers. Walk down the aisle in an elegant sunlit chapel complete with tall ceilings and soaring windows, showcasing a gorgeous view of the manicured property. After you say I do, join friends and loved ones in the spacious and modern reception barn, complete with a view you'll have to see to believe. Make it a destination wedding weekend and book one of Brenham's adorable B&B's, historic vacation homes or guest ranches and enjoy the budding music and arts district in nearby downtown Brenham.
Tucked in The Woodlands, TX, this venue is full of peachy personality and is rich in history. The elegant white chapel is on the same grounds where a barn surrounded by a thriving peach orchard once stood. An ode to the original structure, the chapel's framework is similar to the barn, including exposed wooden beams, crystal chandeliers and white brick, which adds a nice texture against the heirloom windows where mature oak trees and the outdoor garden are visible through.
In Texas, you can never go wrong with a rustic barn wedding; however, for the bride or groom looking for a more refined option, "the chandelier barn," at The Carriage House is a fantastic option. The light and airy chapel features a wall of windows, highlighting the lovely view of sun-dappled trees and surrounding property. The chapel can comfortably seat 225 people with additional seating as an option, and the photo opportunities are endless, as this venue has many unique features to explore.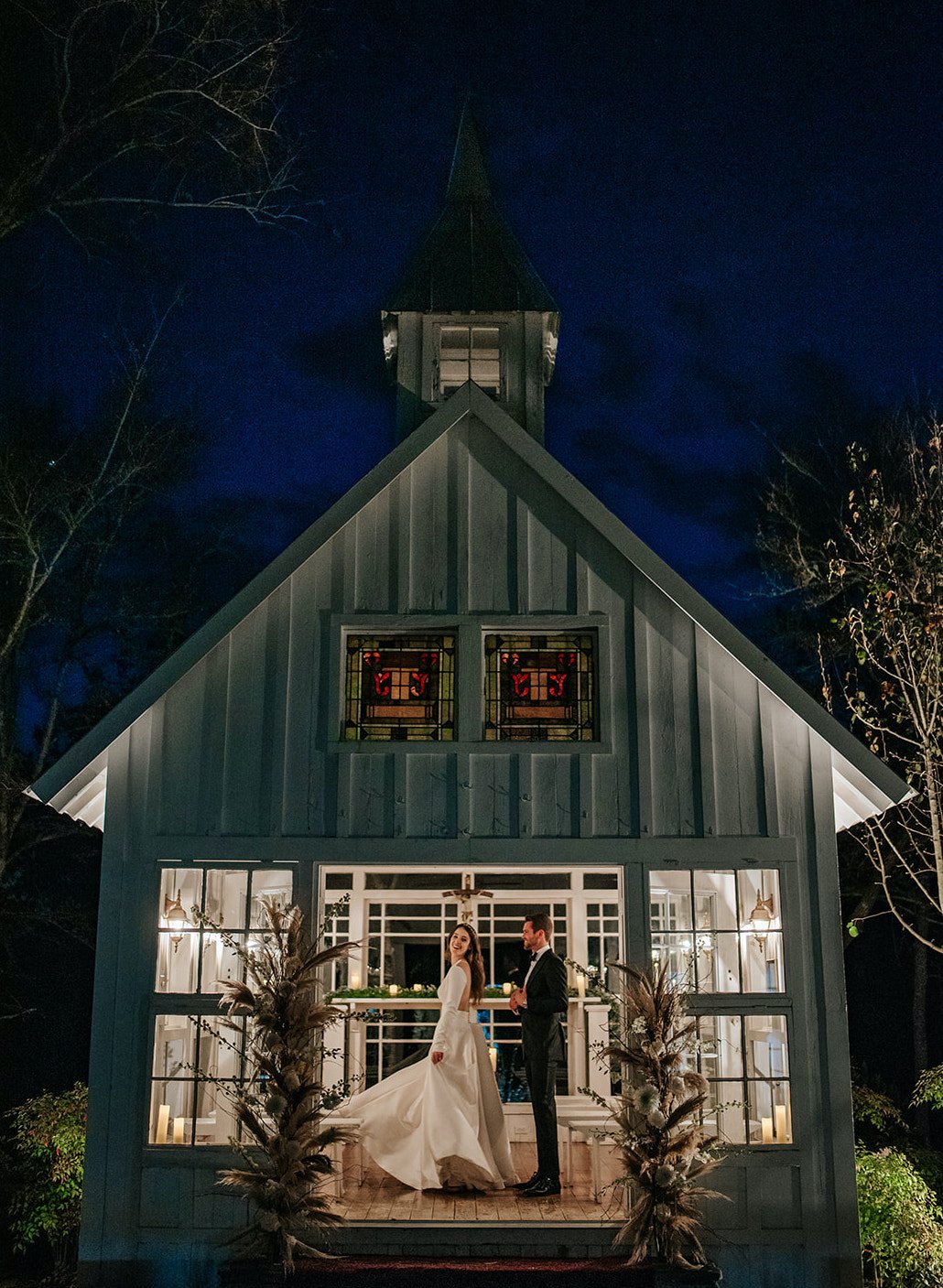 A quaint little chapel sits beneath the stars at 7F Lodge & Events, a beautiful wedding venue in College Station full of natural beauty and seclusion. Have an alfresco ceremony and walk down an aisle surrounded by a garden of lush greenery and flowers. End the night in one of the property's adorable themed cabins, and wake up well-rested for the honeymoon.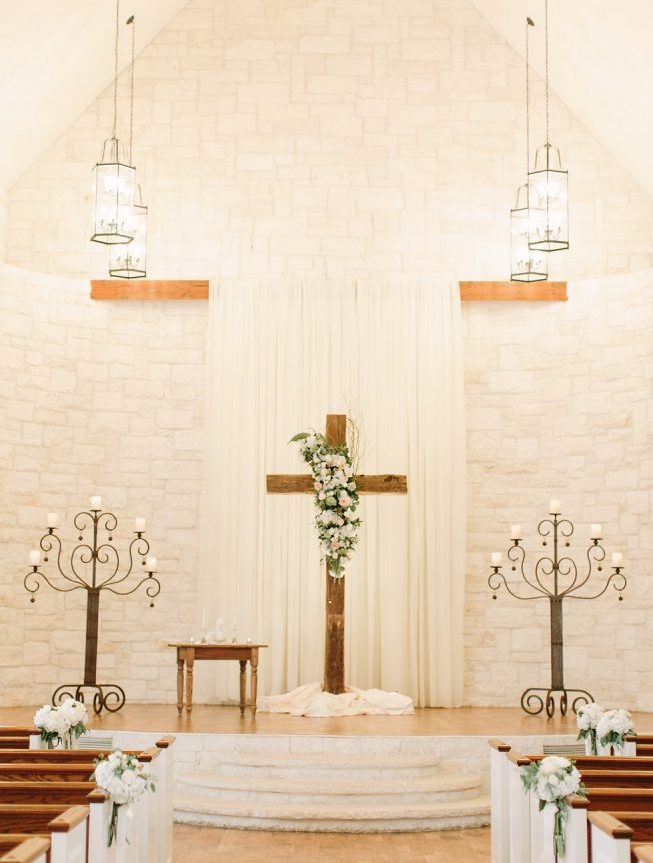 Sitting on 50 acres of vast fields full of greenery and a sparkling pond, Briscoe Manor is just a short drive from Houston, offering brides and grooms a luxurious retreat for them and their guests. The limestone chapel is the perfect mix of rustic elegance and sophistication. This venue has a lot of exciting things in the works that you will not want to miss.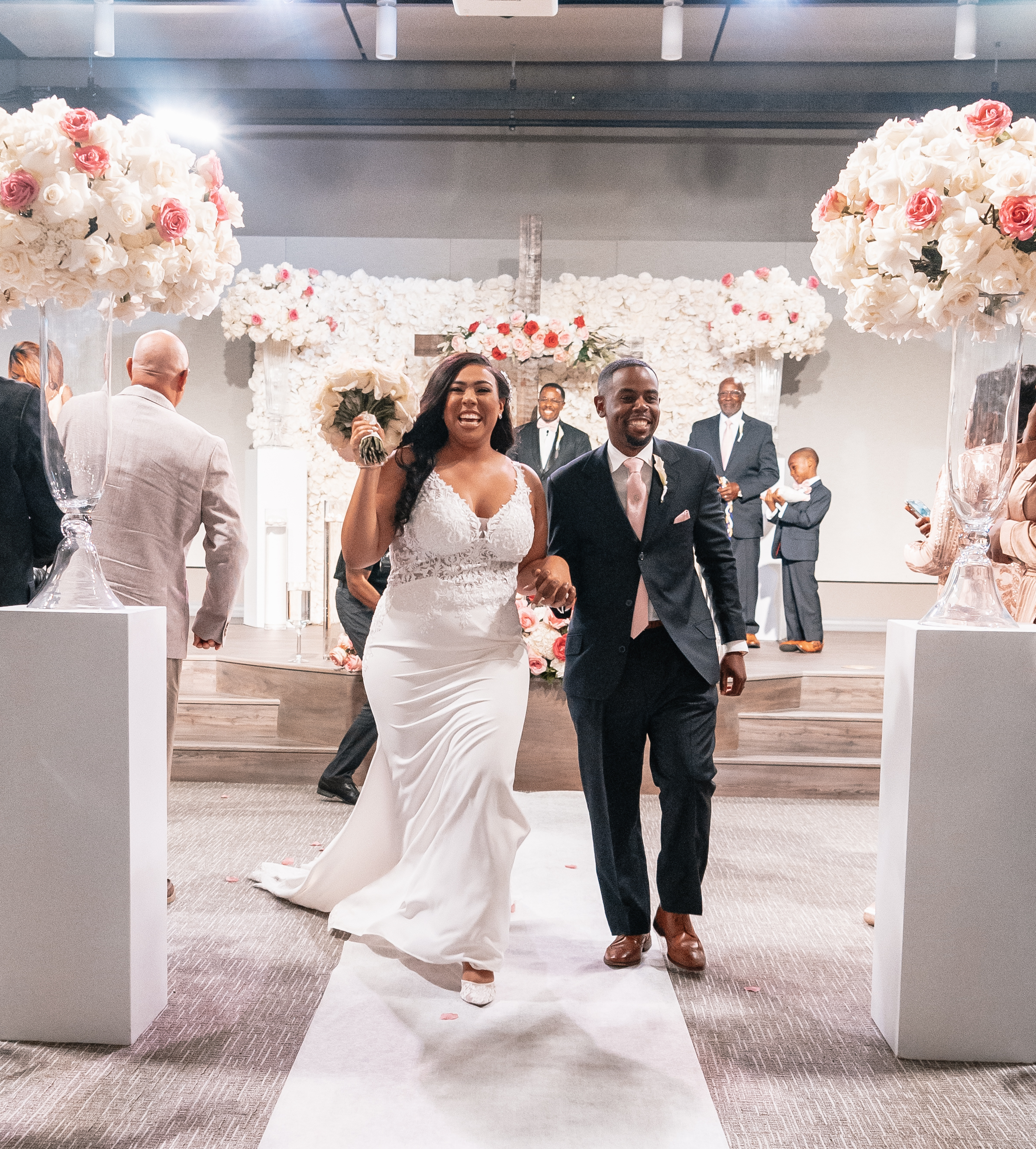 Restoration City Life Center offers couples the opportunity for a traditional church ceremony in a fresh, new event space. The reception space can be easily transformed to fit your desired wedding day style. The nearby bridal suite is a cozy location for brides and bridal parties looking for privacy and a dedicated space for special moments.
The Hundred Oaks gives couples many options for deciding where their ceremony site will be. Pledge your love in a light-filled wedding chapel, which seats over 300 guests and features  a second-floor balcony overlooking the space. Admire the crystal chandeliers that hang from the soaring ceilings and soak in the forest views. If you're going alfresco, you won't want to miss their amphitheater, with elevated seating for a whopping 400 guests and views of the sparkling lake adjacent to the brand new wedding venue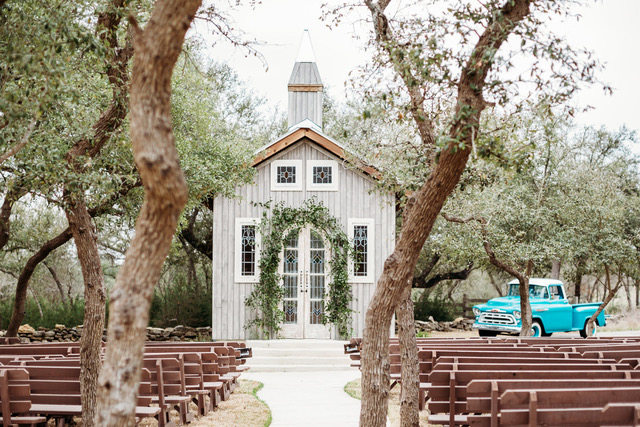 In the heart of the Texas Hill Country, Firefly Farm offers incredible views of the rolling hills and stunning sunsets. The rustic chapel is the perfect spot for intimate ceremonies, offering 80 wooden pews beneath a canopy of winding oak tree branches. A pathway allows a grand entrance from the barn and ends at a charming vintage steeple with stained glass windows and antique church doors. In addition, the adorable property in gorgeous Wimberley, TX offers a 6000 square foot event barn, and optional guest lodging for the perfect destination wedding weekend.
Heather's Glen is a secret garden full of awe-inspiring winding trails secluded by green hedges, lush plants and vibrant flowers. Have your ceremony in front of the garden gazebo, or opt to be indoors in the elegant chapel with stunning views of the manicured gardens. The venue is also rich in history, originally built in 1900 in Conroe, TX. 
For more information on Texas wedding venues with on-site chapels, visit this page.
Contributors: Dave DiLauro / Ashley Medrano Photography / Tiffany Renee Photography / Agape House Studio / All Heart Photography / RaeTay Photography / Blake Nelson / Dream Bouquet / Always Us Studios