Lounge and live it up in luxury at these 10 simple elegant wedding venues in and around Houston. You'll be in the excellent company of many couples who have chosen these beautiful though not-too-buttoned-down Houston wedding venues for their own relaxed and romantic celebrations!
New to acclaimed health resort and holistic spa Deer Lake Lodge, the Grand Hall offers indoor and outdoor space for 200 celebrants, including an utterly charming patio and vintage-chic wood ballroom, plus cleansing and detox packages, massage and professional beauty services through the lodge's award-winning spa—an oasis of tranquility.
You'll find impeccably manicured grounds, statuesque Corinthian columns, elegant French doors, and—new for 2018—a glass-walled conservatory, at The Gardens at Madeley Manor, a beautifully restored 1930s estate in verdant Conroe.
Tucked in a sweet retreat in Houston's historic Washington Heights neighborhood, Hughes Manor offers a lovely lawn that can be outfitted with string lights, ghost chairs and lounge furniture for ceremonies and cocktails, along with a hip industrial-chic indoor space for dining and dancing beneath impressive "Foucault's Orb" chandeliers.
Located on the northern shore of Galveston Bay, this relaxed waterfront wedding venue and bed-and-breakfast features a landscape dotted with lush, mature trees, and graced with scenic bay views. The gazebo is the preferred spot for outdoor ceremonies, while the indoor, 300-capacity Celebration Center offers a "blank-slate" space that you can decorate however you choose for your big-day bash.
\
Venue: Ashton Gardens North | Photo: Kaitlyn Beauregard Photography
With venues in North and West Houston, Ashton Gardens beckons couples with its glass-enclosed chapel, classic ballroom, courtyard fountains, lush greenery—and a variety of all-inclusive packages that allow wedding couple and guests alike to relax completely before and during the big day.
This Texas historical landmark building's eye-catching Mediterranean architecture, with its aura of grandeur and mystery, gives way to a graceful interior—complete with a 35-foot-high dome ceiling that lets in a wash of natural light—and, outside, tranquil brick-path gardens, perfect for al-fresco "I do's."
As simple elegant wedding venues go, The Villagio is a convenient and accommodating favorite. Full-service packages (including in-house floral and decor), catering flexibility and free parking are just three of the things that make this Houston wedding venue an ideal place to plan and enjoy a relaxed and fun-filled wedding—the enchanting Rose Garden, intimate indoor Chapel and state-of-the-art Ballroom are three more.
At the shores of Clear Lake, Waters Edge sits on two and a half picturesque acres, which include a 2,500-square-foot patio where guests can sip cocktails beside the crackling fire pit, and a 5,000-square-foot ballroom where celebrants can dine and dance amidst contemporary surroundings with Art Deco flair.
Mediterranean-inspired architecture and breezy terraces make this Galleria-area enclave feel like it's a million miles outside the city—while an expansive reception room, a cozy upstairs bar area, and plush, private suites for both the bride and groom set it apart from other venues, and make it an accommodating space for a stress-free and simply lovely wedding.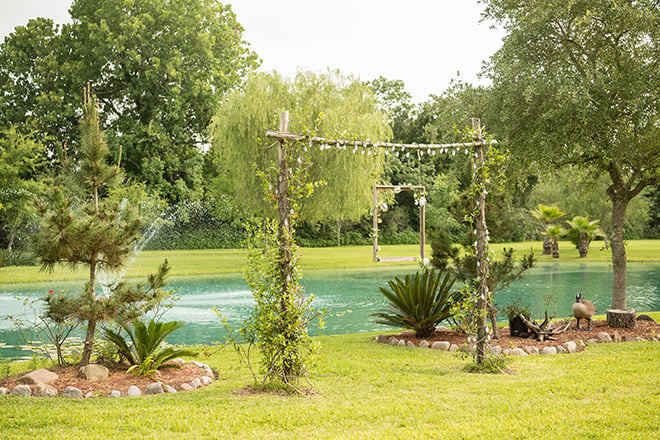 Equidistant from Houston and Galveston, and a stone's throw from the delightful Kemah Boardwalk, Kemah Gardens is the perfect place for easygoing sunset "I do's" beneath a vintage lakeside arbor, followed by relaxed celebrating in a comfortable, climate-controlled pavilion.