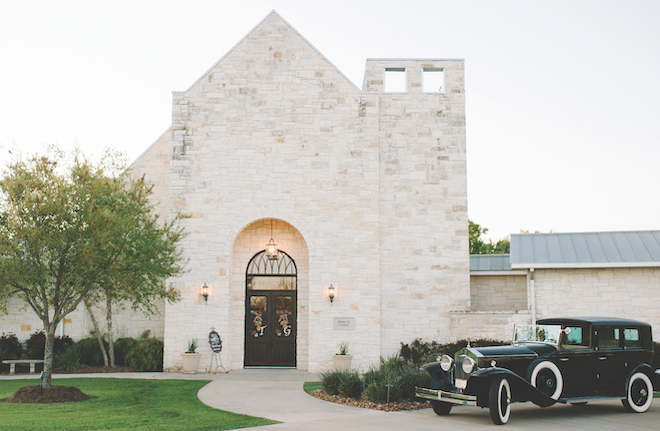 It's difficult to make the celebration of your wedding day feel like pure magic when you're dealing with transportation, traffic, directions and keeping everything to a timeline. Wouldn't it be nice to have your wedding at a venue where you could say your vows in a classic ceremony setting and do your fabulous post-vows partying all in one place?
The good news is that Houston is home to a variety of amazing wedding venues with real, honest-to-goodness chapels right on site. So, come take a look at our 8 favorite on-site chapel wedding venues and find out what sets each apart, as you plan the most memorable and seamlessly executed celebration of your lives!
1. Briscoe Manor
The history of this Richmond-area wedding venue dates back to 1835, when the original tract of land upon which Briscoe Manor sits was first purchased and soon became a cotton and corn farm. A sense of Texas history and sophistication pervades throughout the estate, which includes the expansive Crofton Ballroom, the well-appointed bride's suite and groom's suite, and the newly opened Barn at Briscoe Manor—a light-filled, rustic-elegant space that's perfect for rehearsal dinners. Briscoe Manor's stately limestone on-site chapel balances traditional church ambiance with contemporary architectural and decor elements, including classic wood pews and modern lantern chandeliers.
2. Deep in the Heart Farms
Nestled in Brenham on 150 acres of scenic rolling hills featuring grand oak and pecan trees, this four-generation farm wedding venue offers an unforgettable setting for your wedding day. From the simplest rustic outdoor wedding to an extravagant reception in their 5,500 square foot versatile reception hall, Deep In The Heart Farms can do it all! This Houston wedding venue's on-site chapel offers a traditional Texas chapel setting, complete with hand-crafted wood pews and an abundance of natural lighting from the chapel windows to bring the natural beauty of its surroundings inside.
3. Ashton Gardens
With locations in both North and West Houston, idyllic Ashton Gardens blends flexibility with elegance in equal measure. Both locations offer the same lush garden setting, the same "grand-entry" ballroom staircase, and the same superb reception cuisine and impeccable service. Both Ashton Gardens North and Ashton Gardens West also offer the convenience of a custom-built on site chapel featuring floor-to-ceiling wraparound windows and a state-of-the-art sound system. Ashton Gardens' spacious chapel loft (yes, both locations have one) allows ample room for ceremony vocalists and is also a great spot for your photographer or videographer to capture full-room views of your chapel ceremony.
4. The Bougainvilleas
This hidden Houston gem serves a culturally diverse clientele and offers full-service wedding packages including everything from luxury linens to premium cocktails to cake. The Grand Ballroom gets an alluring wash of color from its built-in uplighting, which highlights the room's columns and decorative ceiling, while the intimate Wine Room is a perfect spot for rehearsal dinners and bridal showers. The Bougainvilleas' on-site chapel features elegant French doors, plus two long walls of arched windows that bathe the ceremony space, and your wedding guests, in natural light.
5. The Bell Tower on 34th
A Houston favorite for weddings both grand and intimate, this versatile, custom-designed wedding venue features distinctive architecture reminiscent of grand Italian villas and luxurious haciendas. Highlights include elegant ballrooms with dramatic staircases, a private bridal suite and groom's suite, and tranquil gardens with bubbling fountains and lush greenery. While many couples choose to have their ceremony outdoors, against the backdrop of the Bell Tower's iconic water wall, the venue's Campanile Chapel offers a grand and spacious option for spiritually uplifting indoor ceremonies in the traditional chapel style.
6. The Gardens At Madeley Manor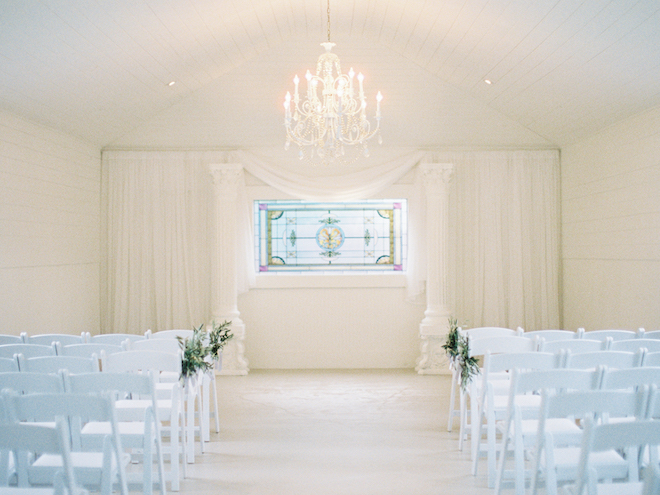 Tucked away in Conroe beneath the shade of 100-year-old oak trees, this refined manor's Corinthian columns and boundless natural light offer a welcoming space for wedding celebrations. With its conservatory, gazebo and meticulously restored 1930s manor house, The Gardens At Madeley Manor is a superb option for weddings with a sense of refined Southern elegance. Great care has gone into the restoration of this Houston wedding venue's intimate on-site chapel, which features stained-glass windows, decorative columns and an antique chandelier, and can be set with simple white chairs for a picture-perfect chapel ceremony.
7. Iron Manor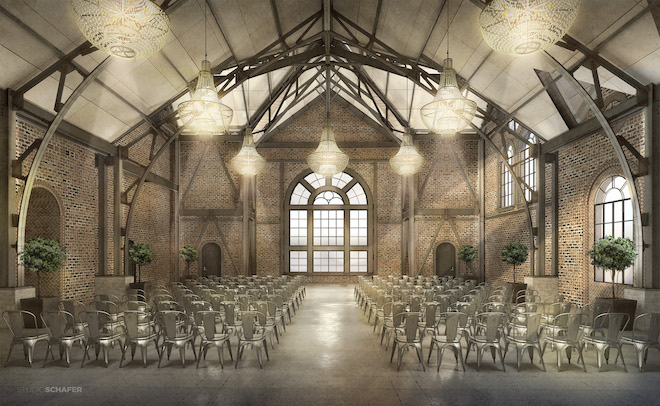 This grand steel-and-brick luxury space is new and unique on the Houston wedding venue scene. Set amidst English gardens in the forested region of Montgomery, northwest of the city, Iron Manor is inspired by industrial and Avant-garde design and built with steel forged by the Carnegie Steel Co. in the early 20th century. The venue's main reception space, Crane Hall, evokes a Gothic-Victorian feel, and gets its name from the 50-foot, eight-ton Armington crane perched overhead. Seamlessly continuing the venue's industrial-elegant setting, Iron Manor's spacious on-site chapel features high-arch, open-web trusses within 6,450 square feet of climate-controlled space for year-round weddings, and houses private bride and groom suites.
8. Big Sky Barn
Montgomery's Big Sky Barn, sister property to Iron Manor, has a historic and charming feel, and a pervading air of rustic chic, with twinkle-lit trees, a pretty pergola and a tranquil forest setting. Along with your luxury reception in the venue's Grand Barn, your guests can enjoy outdoor games, lounge seating and open-air cocktails in the adjacent gardens. Built to accommodate wedding ceremonies year-round, the chapel at Big Sky Barn features hand-painted solid oak planks, salvaged 19th-century church pews, and soaring antique windows that offer a beautiful view of the surrounding trees.