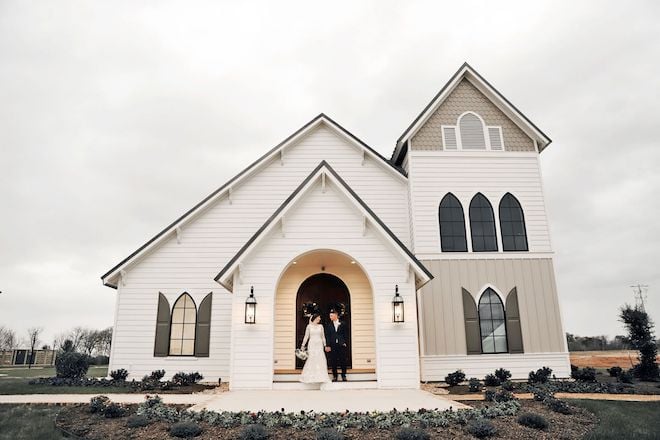 Do you want to exchange your vows in a charming chapel and celebrate your nuptials all in one magical setting?
At wedding venues with on-site chapels, you don't have to worry about the logistical challenges of moving from one venue to the next after your ceremony. Instead, these venues offer a serene setting for the ceremony, then afterwards, guests simply stroll over to the adjacent reception area. From grand and spacious chapels to intimate, traditional chapels, you'll want to check out these 13 wedding venues with on-site chapels we love!
1. Deep in the Heart Farms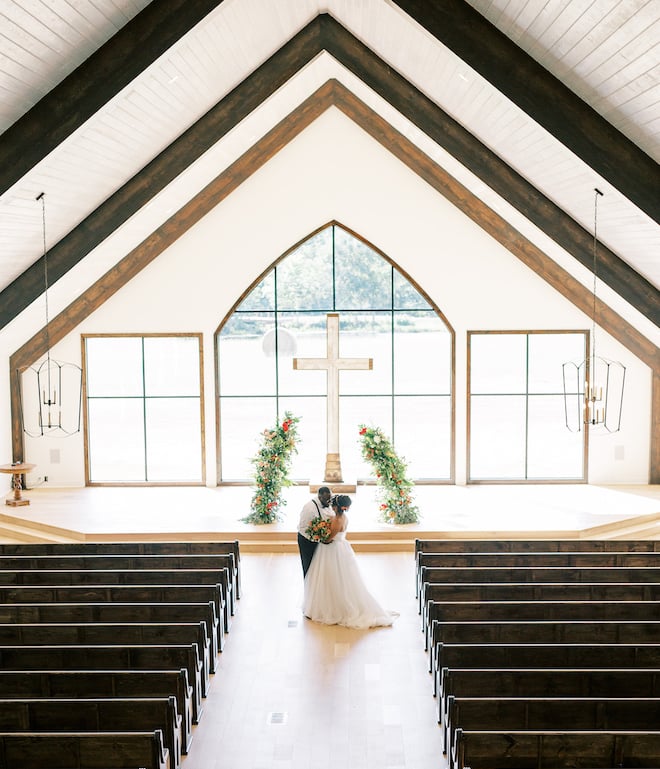 Say "I do" in a traditional church setting in Deep in the Heart Farms' old-Texas style chapel! Located in Brenham, this farm wedding venue's on-site chapel features hand-crafted pews, large windows, sliding barn doors, and a fully functioning bell tower with a church bell you can ring to celebrate your nuptials.
2. The Bell Tower on 34th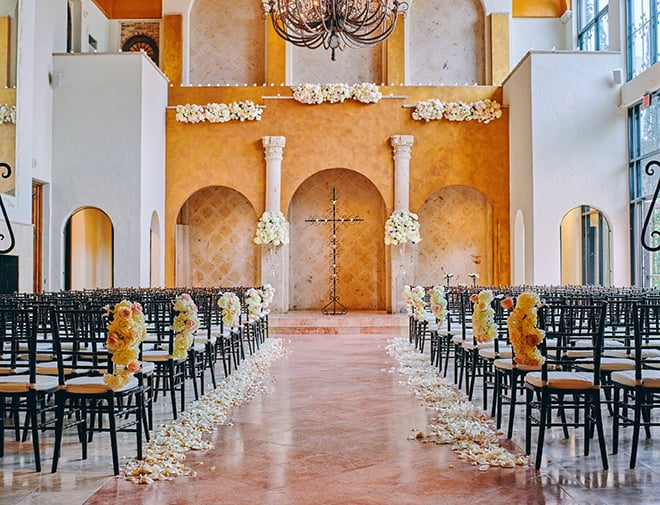 Right in the heart of Houston, The Bell Tower on 34th offers an elegant indoor ceremony space in the Campanile Chapel. With its hacienda-inspired architecture, regal columns, stone archways and high ceilings, the Campanile Chapel is an excellent option for large, lavish weddings in an easy to get to location.
3. Big Sky Barn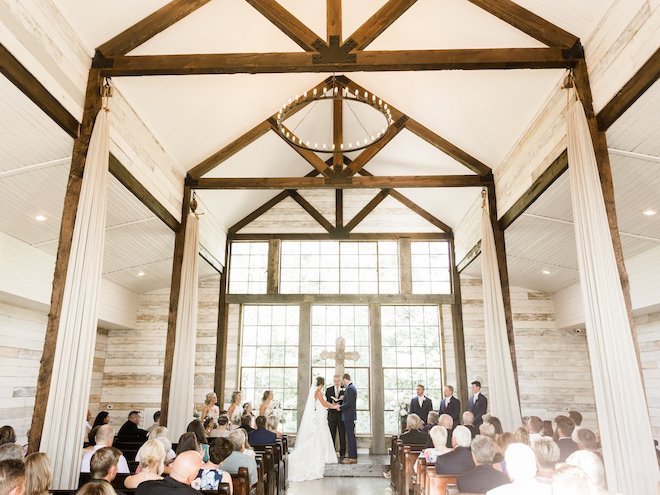 Texas is known for its unpredictable weather, but you won't have to worry about that in Big Sky Barn's climate-controlled chapel built to accommodate wedding ceremonies year-round. Exchange vows in a rustic setting against soaring antique windows with the forested grounds of Montgomery as your backdrop while your guests take in the scene from historical 19th-century church pews.
4. Iron Manor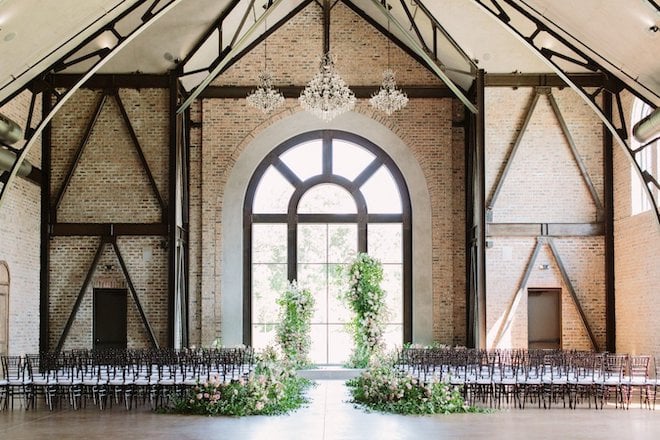 The popular Iron Manor, located next to its sister venue Big Sky Barn, was built with steel forged by the Carnegie Steel Co. in the early 20th century, giving their industrial and Avant-garde design a historic touch. The venue's aptly named Iron Chapel features 6,450 square feet of climate controlled space, high arches, open-web trusses and a 26-foot tall wall of ornately arched windows to fill the space with plenty of natural light.
5. Briscoe Manor
Situated on a tranquil 50-acre estate in Richmond, Briscoe Manor offers a sophisticated setting and true Texas charm to your wedding day. Pledge your love in Briscoe Manor's elegant limestone chapel with contemporary decor such as modern lantern chandeliers and timeless wood pews.
6. Camp Lucy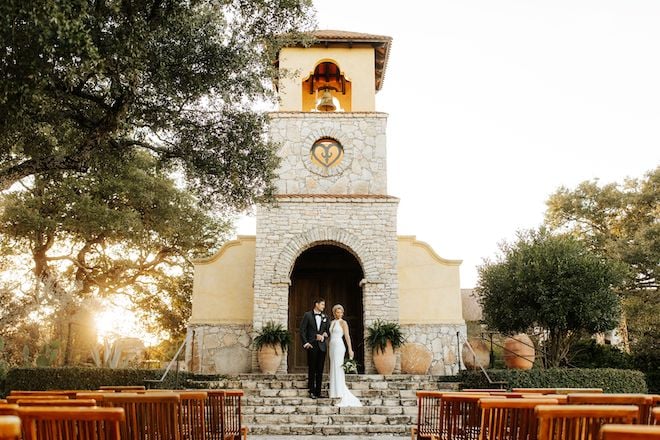 Camp Lucy is nestled on a gorgeous Texas Hill Country ranch on a bluff above famed Onion Creek in Dripping Springs. This hill country wedding venue offers a picture-perfect ceremony setting in Ian's Chapel, a restored 19th century French colonial chapel, complete with an antique bell from Vietnam.
7. The Peach Orchard Venue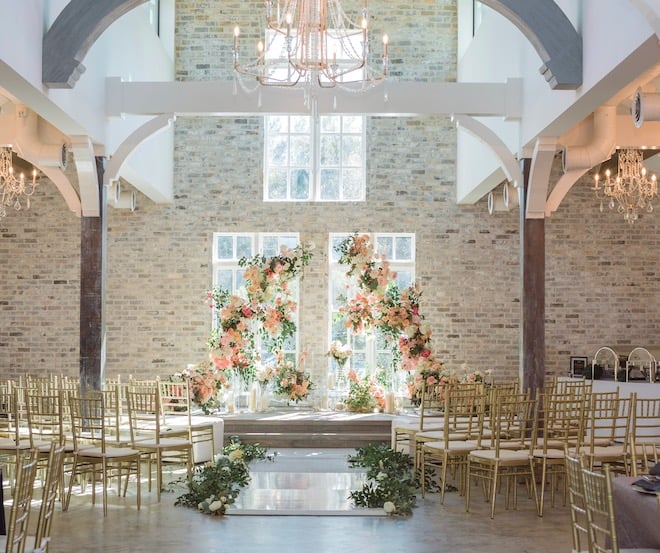 Just outside of Houston in The Woodlands lies The Peach Orchard Venue, a romantic venue inspired by Northern European architecture to represent an enchanting modern-day fairytale. Formerly a peach orchard owned by the Goedecke family, this new Houston venue named their on-site chapel Rudy's Promise because its unique and unparalleled structure was inspired by a barn built in 1991 by Rudolph Goedecke.
8. Ma Maison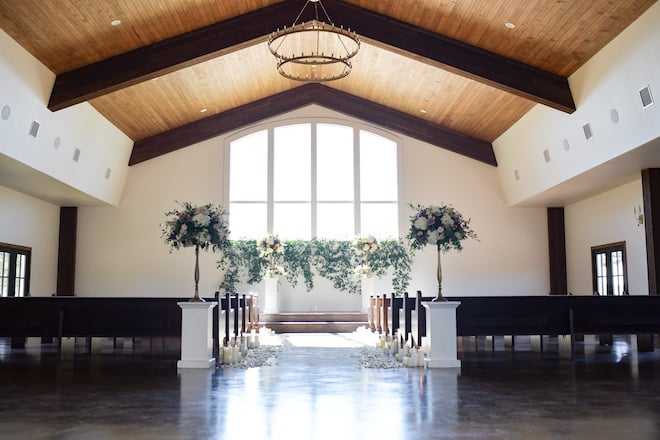 Located on 23 acres in the beautiful Texas wine country, Ma Maison is a luxury wedding venue that combines the warmth of home with breathtaking European-inspired elegance. Imagine a light-filled traditional ceremony in the venue's newly opened on-site chapel, featuring classic wood pews, giant windows, a statement chandelier and exposed beams.
9. Ashton Gardens
Both Ashton Gardens North and Ashton Gardens West have unique, glass-enclosed chapels that allow an abundance of natural light to fill the ceremony space and guests have a view of the forested grounds from the comfort of indoors. Their elegant architecture and decor also feature custom white oak timber wood frames on the chapel ceiling and traditional pews.
10. Lux Vita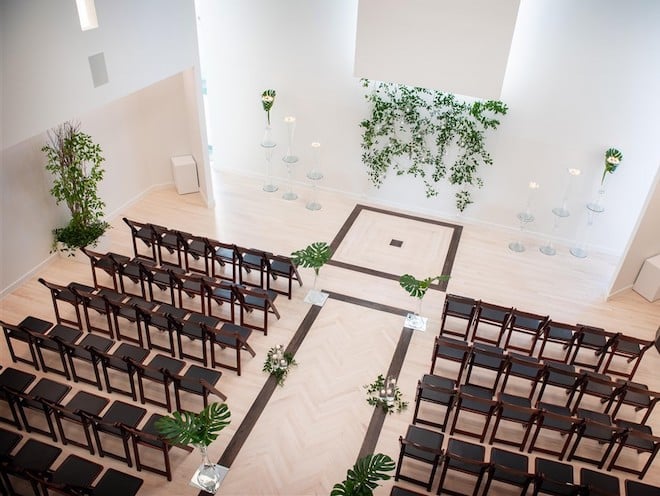 Formerly Willowbrook Church, Luxe Vita was built to celebrate the joys of life and bring light to the community by making every couples' wedding dreams come true. It's only fitting for this church-turned-wedding-venue to have its own chapel featuring a contemporary design in an all-white setting that can accommodate any wedding theme or style!
11. The Luminaire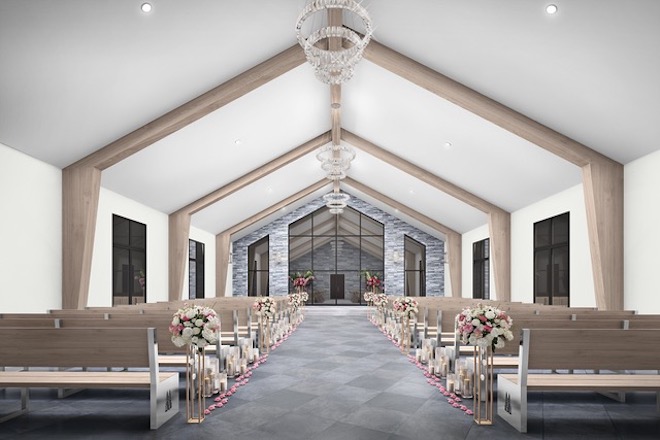 Nestled in Montgomery, The Luminaire sits on 20-acres of sprawling hills, secluded woods and manicured landscaping. This new sophisticated wedding venue provides a traditional chapel area featuring handmade metal and wood pews, stone flooring, expansive windows and crystal chandeliers.
12. Heather's Glen
Southern charm meets Victorian elegance at Heather's Glen, located in Conroe. This historic wedding venue, originally built in 1900, includes a chapel with a cathedral ceiling complete with elegant chandeliers, wood pews and giant windows that offer a beautiful view of the venue's manicured gardens.
13. Imperial Luxe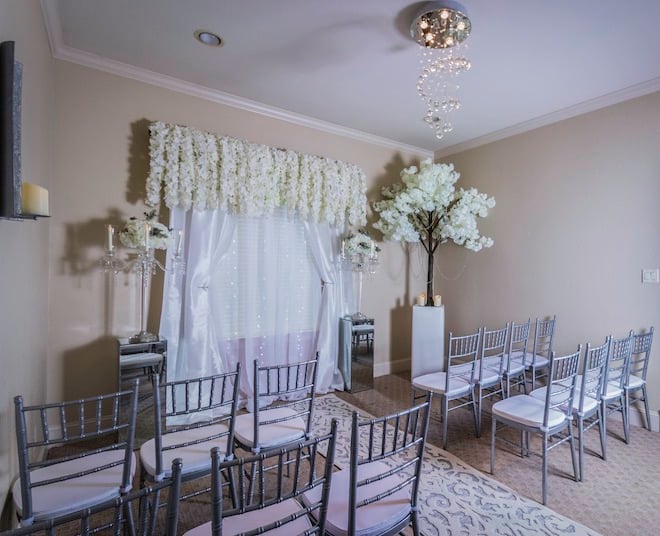 Tucked away in Tomball, Imperial Luxe provides couples with a stress-free wedding experience, without sacrificing style and elegance, in its boutique-style chapel. This intimate wedding venue specializes in all-inclusive micro weddings, elopements and vow renewals, providing everything you need for your memorable day.