Creative and delicious appetizers make your wedding menu memorable. These little bites are a great way to feature high-end ingredients without adjusting your catering budget. Given creative leeway, Houston wedding caterers deliver big flavor in small portions, with imaginative presentation that just might steal the spotlight.
Upscale On A Small Scale
Black tie doesn't have to mean boring when it comes to cocktail hour fare. Classic caviar appetizers are cleverly presented with Churrasco's mascarpone and brioche "twinkies," a decadent and delicious little bite that pairs perfectly with a flute of bubbly.
If the occasion calls for dressy yet flavorful appetizers, look to local caterer Armandos for inspiration. Here, braised octopus is served with black bean puree and avocado atop a red tortilla chip. This exciting appetizer truly looks as amazing as it tastes, combining creamy, chewy and crunchy textures with unique flavor.
Proven pairings like prosciutto and fig are dressed to impress with edible flower petals in this fresh appetizer presentation designed by Jackson & Company.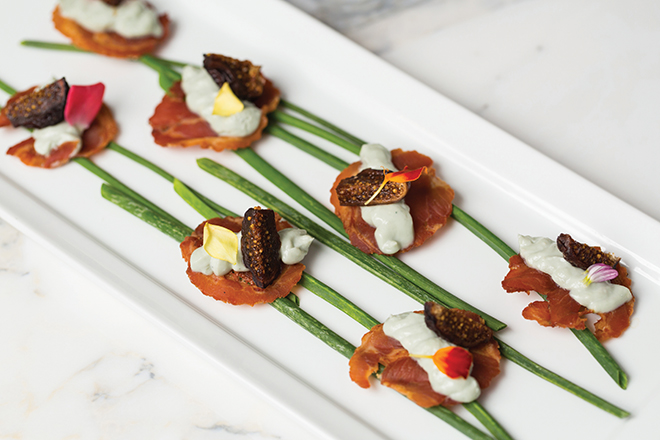 A Small Dose Of Comfort
If your reception menu or cocktail appetizer menu calls for family-style fare, consider a proven crowd-pleaser like these mashed potato and short rib "martinis" by Café Natalie Catering. These smaller servings bring huge flavor, and a toppings station featuring chives, shredded cheese or bacon bits adds a fun and interactive element your guests will enjoy.
If empanadas make you feel like you're at home in Mom's kitchen, enjoy them on a small scale as wedding appetizers. Churrasco's by Cordúa Catering brings this tapas-sized savory pastry to your menu with spinach, shrimp and sherry or chicken-basil canapes in a variety of sauces.
Serving appetizers at a chic Sunday brunch reception, bridal shower or post-wedding breakfast? These crispy mini latkes from Café Natalie are a scrumptious way to give a nod to traditional lazy weekend mornings.
Sweet Nothings
For the final passed appetizer before your reception, consider serving a sweet bite or two to close out your cocktail hour. Churrasco's alfajores – creamy dulce de leche sandwiched between tender and crumbly little Peruvian cookies – are the perfect ending to your appetizer menu. Or, serve them as a late night bite if your celebration runs into the wee hours.