We here at the Houston Wedding Blog are firm believers in the notion that wedding food should look 100% as fabulous as it tastes. Know who else shares our belief? The Hometown Chef, that's who. And we're soooo lucky that Tiffany Avila and her crew of culinary geniuses saw fit to share some of their most coveted small-bite creations with us…and y'all! Feast your eyes (and, if you're lucky enough to attend a tasting or event hosted by this amazing Houston catering company, your palate) on these artful bites, tailor made for your wedding cocktail-and-hors-d'oeuvre hour or small-plates wedding reception.
It's a meatball…except it's not like any meatball you've ever imagined. The funky bite of creamy gorgonzola. The sweet counter-balance of roasted beet. The gorgeous presentation, ready for you to pop right into your mouth. And ask for another. And another. And another.
One of the greatest achievements of "miniature" cuisine is being able to convey an entire world of flavor in one or two mouthfuls. Which is exactly what The Hometown Chef's pulled-pork tostone does. Served on a crunchy plantain chip, topped with a tangy hint of lime, this small bite packs a big punch.
Balancing delicate food flavors and textures is one of The Hometown Chef's greatest talents. Nowhere is this gift for edible equilibrium more evident than in its pan-seared pork belly, which is basically…everything: crisp, buttery, rich, savory, a little sweet, a little tangy and all good.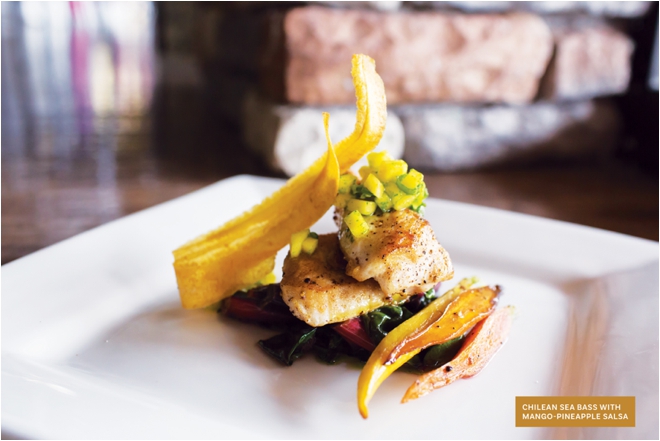 Chilean sea bass is the rare fish that's just right for a small bite (and equally lovely for a large plate). With its flaky texture and delicate flavor, it pairs gorgeously with a bright, tropical mango-pineapple salsa in a beautiful springtime wedding reception menu item. OK, fine, it's awesome for fall weddings, too. And winter. And we wouldn't mind tucking into some right about now.
We'll leave you with another of The Hometown Chef's signature "deconstructed" meatballs. And three little words: Pistachio. Avocado. Bacon. 'Nuff said. Now quit your drooling, and give Tiffany and her team a call. They'd love to whip up a little wedding something just for you. And don't forget to tell them you found them (and your happy place) on Weddings in Houston's blog!
Photos: Rathke Photography | Catering: The Hometown Chef