Writer: Michelle Naik
What does a hungry 11-year-old boy do when his mom is studying for nursing school exams and his dad is a traveling salesman? Well, if he's Andrew Brackner, he tunes into PBS and starts learning his way around a kitchen, with the help of charismatic TV chefs like Julia Child and Martin Yan. From these humble beginnings, Brackner eventually worked his way up through the culinary industry, putting in time as a dishwasher and waffle-house cook, before eventually landing at the Ritz Carlton, and getting his culinary degree from Le Cordon Bleu (where he graduated top of his class, natch). An executive chef position at Atlanta's renowned Talk Of The Town Catering & Special Events—clients include Missy Elliot, Steve Harvey, Tyler Perry, Usher, Shaquille O'Neal and more than a couple of NFL teams—eventually led to Brackner's purchase of the company in 2010. In this exclusive Weddings in Houston interview we get the scoop on Brackner's most in-demand menus, the wedding menu trends he's tracking for 2018 (you can chat about these and plenty more reception food ideas with Houston's own top wedding caterers) and his passion for bringing the taste of the South to events far and wide.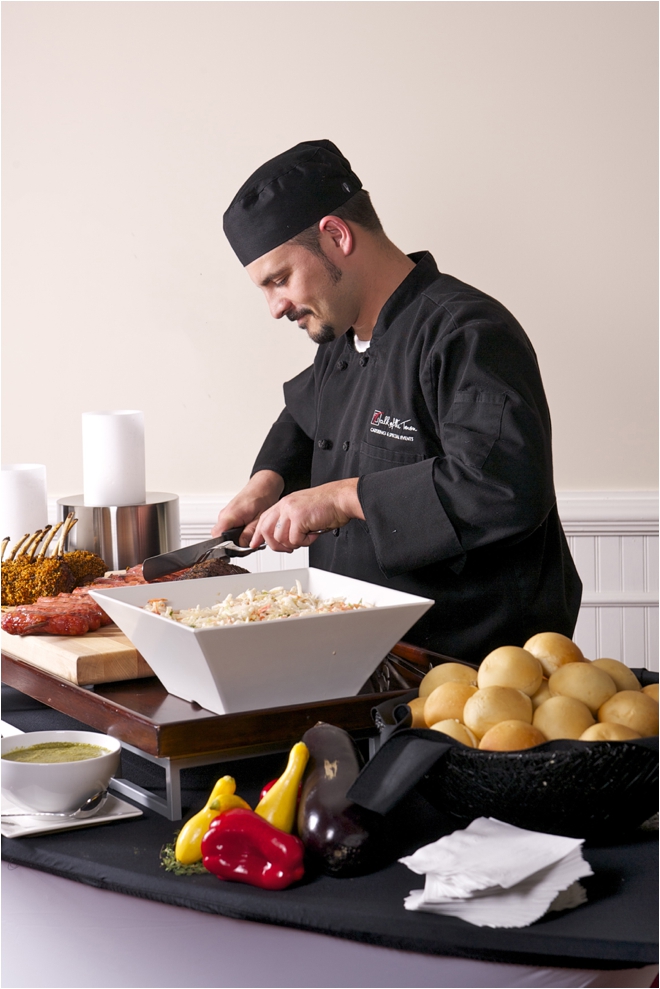 Photo: Courtesy of Talk Of The Town Catering
WIH: Describe one of the most exciting wedding menus you've created recently—what makes it so fabulous?
AB: We have been selected to cater the wedding for the daughter of the president of the largest seafood distribution company in the Southeast. This is a unique wedding because they are providing all the proteins, including caviar (which we are serving on edible sushi-rice spoons with bluefin tuna and seaweed), diver scallops, lobster, king crab (which we are doing in Thai basil rolls), wagyu beef that's being served as carved rib roast with maître d' butter, and kumamoto oysters with mignonette ice, fresh chilies, chimichurri and pickled pears. The majority of the items will be produced at live action stations by our own chefs.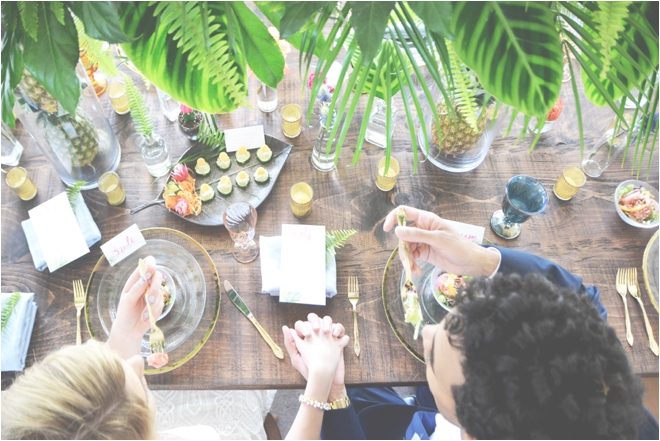 Photo: Six Hearts Photography
WIH: What are some of your most in-demand menu items for wedding receptions?     
AB: I have learned that clients want their guests to be familiar with the food, but also want to include a unique twist. As an example, one of our top selling passed items is sliced quail breast with red-onion marmalade, served on a mini fried green tomato. House-made charcuterie and local cheeses are always a crowd pleaser, but we add a twist with our garnishes by including truffle honey, mango chutney, and pickled cauliflower and carrots, and we incorporate root-veggie chips alongside the traditional bread and crackers. One of our most popular stations is our carved serrano ham display, which includes crostini with a variety of spreads and toppings (goat cheese, small-batch mustard, arugula, pickled onions, shaved fennel and balsamic syrup). Our barbecue raspberry duck breast with butternut-squash polenta is also becoming a huge hit!
Photo: Anna Shackleford
WIH: What culinary trends are you tracking for 2017-2018 weddings?
AB: The scenery! We are customizing more and more menus to reflect the location of the wedding. Whether it's an informal crawfish boil next to the river, a small-plates tapas-style action station at a winery, or even a white-glove Russian-style service at a downtown location, our culinary services need to be reflective of the location to truly give the guests a cohesive experience.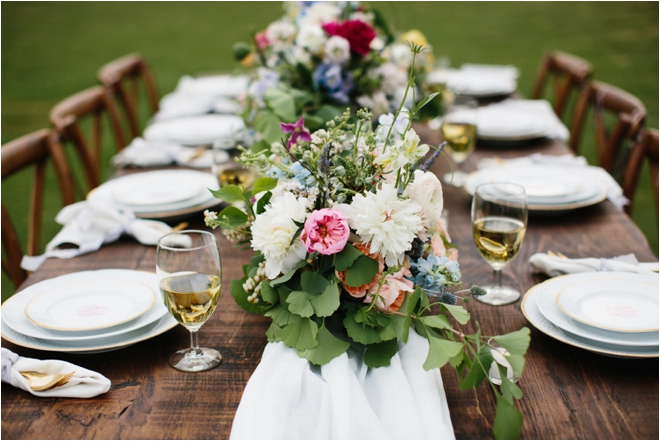 Photo: Farrah Brianna
WIH: What are some of your favorite display ideas for fun, unique, interactive food stations?
AB: Chafer-less food stations are a big hit. Instead of using a heat lamp for a carving station, we use a blowtorch to gently brush the roast and keep warm. We also have used marble tiles with sterno underneath to keep food hot. I am a big fan of large iron griddle plates—we use these to keep mini cast-iron skillets warm for our seafood-and-grits station, Cuban sandwich sliders, cornmeal-dusted trout, grilled asparagus and chicharones. The possibilities are endless! Another favorite is the vertical buffet station. We have used ladders with slates of wood, magnet walls with metal dishes, and stackable square blocks with glass shelves.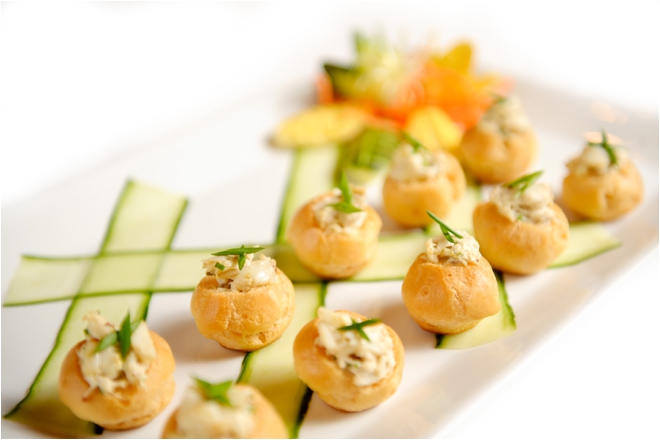 Photo: Ben Vigil
WIH: Here in Texas, barbecue is BIG. How do you present barbecue in an upscale dining environment like a wedding reception?
AB: I like to give my clients approachable, familiar items with a slight twist. Some of my favorite ways to present traditional barbecue are grilled quail kabobs with peach barbecue sauce, raspberry barbecue duck with butternut-squash polenta. Or we might pass a mini barbecue-pork slider with mango jicama slaw, peppercorn-smoked shrimp, and scallops with spicy rosemary corn coulis. We even did a barbecue octopus station with smoked tomato, pickled radish, roasted garlic, bacon batons and a Worcestershire-balsamic glaze. I love thinking about ingredients and how they can be rearranged to fit the occasion.
Photo: Anna Shackleford
Ready to dig in to your own menu planning adventure? Peruse our list of Houston's hottest wedding caterers and culinary experts, and start dreaming up (and savoring samples of) a wedding menu you and your guests won't forget!