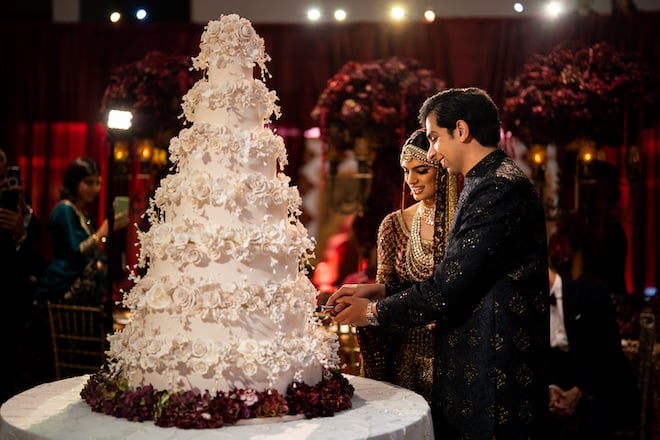 Join us on a sweet journey through the art of custom wedding cakes as we highlight the best-of-the-best bakers in Houston and Austin.
These talented artisans brings a creative flair to cake design, creating cakes that are as delightful to taste as they are to the eye. From the creative brilliance of Susie's Cakes to the award-winning Cakes by Gina, each bakery transforms simple ingredients into decadent masterpieces. Whether you're dreaming of a traditional cake infused with tantalizing flavors or a grand cake with hand-drawn designs, we've got you covered with our list of talented wedding cake bakers for the perfect wedding day.
Scroll on and get inspired by five unique wedding cakes by our talented spotlight partners!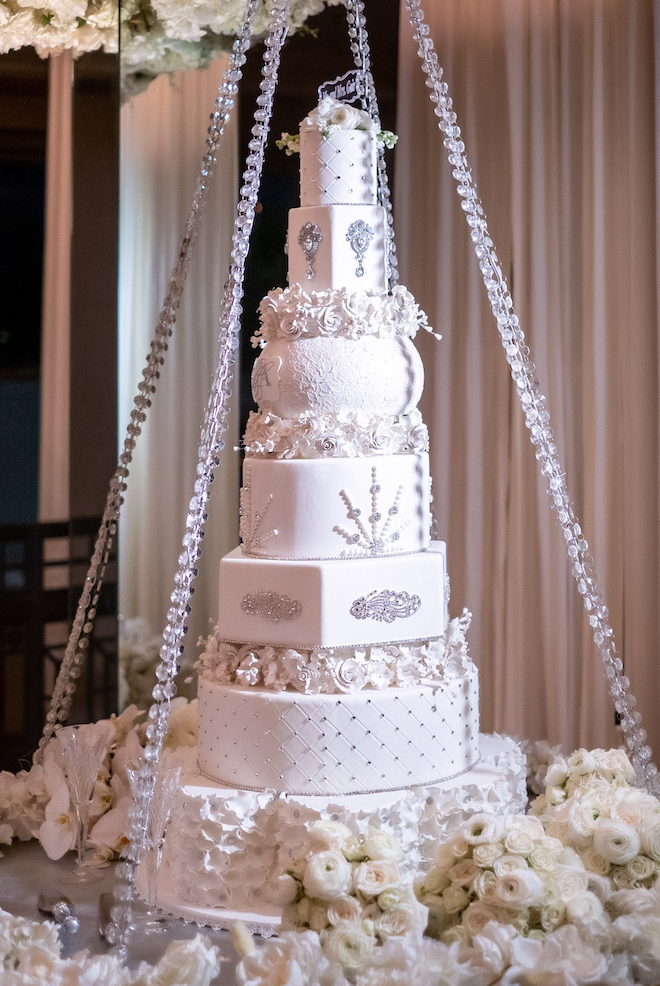 Susie Edwards, the mastermind behind Susie's Cakes, has been enchanting Houston with her custom wedding cakes for over two generations. Hailing from Buenos Aires, Susie brings a creative flair to cake design and decoration, creating stunning masterpieces that are as delightful to the palate as they are to the eye. From traditional styles to one-of-a-kind, personalized creations, Susie's Cakes caters to every couple's dream. Her cakes are decorated with a variety of decorations, from edible pearl beads and handmade gum paste flowers to intricate hand-painted designs and sparkling rock candy geode accents. Whether you prefer a cake decorated with a favorite designer logo, painterly florals, love poems, or sparkling accents, Susie's Cakes has you covered.
But the magic of Susie's Cakes doesn't stop at the design. Each cake is a symphony of flavors, with popular options including Raspberry, Italian Crème, Grand Marnier, Butter Kahlua, and the classic white cake. With over twenty different flavors and fillings to choose from, each bite is a taste sensation.
And let's not forget the grooms! Susie's Cakes also specializes in unique grooms' cakes. Whether it's a 5-foot-tall replica of the University of Texas Tower and Administration Building, a chic cigar box cake, a Gibson guitar cake, an A&M Class Ring cake, or even a light-up Star Wars Millennium Falcon cake, Susie's grooms' cakes are a hit among Houston couples.
If you have a vision for your wedding cake, Cakes by Gina will bring it to life! This award-winning Houston bakery prides itself on working closely with couples to create stunning edible art that is as unique as their love story. From shimmering metallics and delicate hand-painted designs to hand-crafted florals and a touch of bling, Cakes by Gina transforms your wedding cake vision into a delicious reality. Every cake is a testament to the bakery's commitment to excellence, creativity, and attention to detail. Whether you envision a simple and sophisticated cake or something much more elaborate, Cakes by Gina is ready to craft a cake looks beautiful and tastes divine. Experience the magic of Cakes by Gina and let them create a cake that is sure to wow guests and your tastebuds.
Established in 2010, Sweet Treets Bakery is a testament to the power of women in the culinary world. This woman-founded and woman-run bakery in Austin, TX, is passionate about design and flavor, creating exquisite custom wedding, grooms, and specialty cakes that elevate even the most modest celebrations. Nestled in the Oak Hill neighborhood, Sweet Treets Bakery is a local gem. The talented team of bakers and designers is dedicated to creating confections that are as pleasing to the palate as they are to the eye. Whether it's an elegant hand-piped buttercream design or a sculpted 3D-themed fondant cake, each creation is a work of art.
But the artistry doesn't stop at the design. Each cake is crafted with our signature flavors and house-made buttercream, ensuring that it tastes as incredible as it looks. With Sweet Treets Bakery, you're not just getting a cake; you're getting a culinary experience that will enhance your wedding day.
Not Your Ordinary Cakes believes in the evolution of cakes. This Houston baker takes an ordinary cake and transforms it into something extraordinary, a testament to its commitment to innovation and creativity. Each cake is handcrafted using a special sponge cake recipe, layered with delicious homemade Swiss meringue buttercream filling. For an enhanced flavor experience, their cakes are covered with ganache, a treat your taste buds will never forget. Whether you're planning a wedding, anniversary, intimate gathering, or a grand corporate event, Not Your Ordinary Cakes is ready to cater to your needs. They can prepare cakes for any number of guests, from the most intimate celebration to grand wedding, ensuring that every event is a sweet success.
For Heaven's Cake is a family-owned and operated specialty cake boutique in Houston that is known for its exceptional service and commitment to creating unique cake designs. Whether your dream cake is simple yet elegant, elaborate, or whimsical, For Heaven's Cake is ready to bring your unique vision to life. At For Heaven's Cake, they believe that a cake should taste as delightful as it looks. That's why all their cakes are made from scratch using the finest organic ingredients, resulting in a cake that not only looks stunning but also tantalizes the palate. Serving all of Houston, Galveston, the Hill Country, and Southeast Texas, For Heaven's Cake is ready to add a touch of sweetness to your special day with a cake that's truly out of this world.
Ready for more gorgeous cake inspiration? Check out our talented Spotlight Weddings in Houston Bakers and Bakeries.
Contributing Vendors- Photography: Wandering Woo / Composure Studios / Christina Carroll Photography