Houston wedding bakery Cakes by Gina has a new look that is oh-so-sweet!
Cakes by Gina opened as a small Houston bakery with passionate cake-maker Gina Gutierrez at its helm 17 years ago. Within five years, Cakes by Gina's popularity skyrocketed after winning over engaged couples with her exceptional and delicious wedding cake designs. The bakery quickly outgrew its space and the newly expanded kitchen opened up a world of new possibilities.
Cakes by Gina took the slowdown caused by Covid to give the bakery a bright, fresh and playful makeover! The bakery has been transformed into an adorable wedding cake paradise with its wall-to-wall display of cakes showcasing the newest trends and techniques. The cute awnings in Cakes by Gina's signature pink and white, welcome you into a cake showroom decorated with tables in fun pops of color. We especially love their chic Instagram wall with a "Love is Sweet" neon sign, making it a fun spot to commemorate booking your wedding baker! "Our fun and memorable atmosphere is what we wanted our customers to experience as soon as they walk through the door and we've been getting nothing but amazing feedback," says Cakes by Gina marketing & events coordinator, Melanie Jackson. "We are excited to push forward and continue to thrive with our new look for years to come!"
Scroll down to see Cakes by Gina's cute bakery remodel and their exquisite wedding cakes. If you love what you see, be sure to schedule a complimentary cake tasting and private consultation here!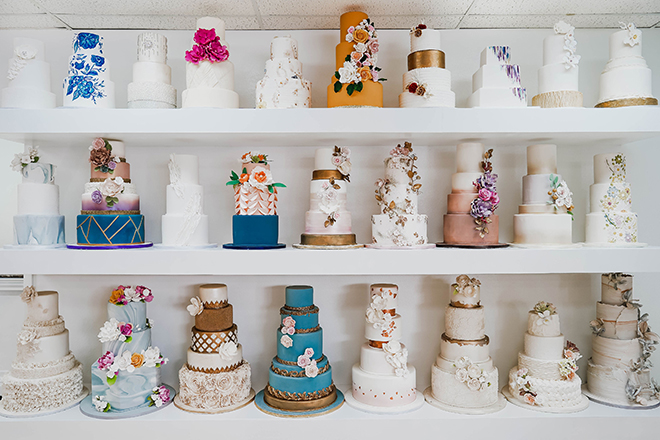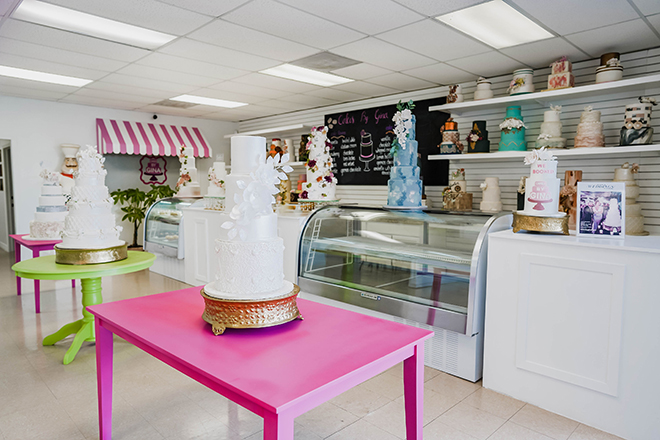 =