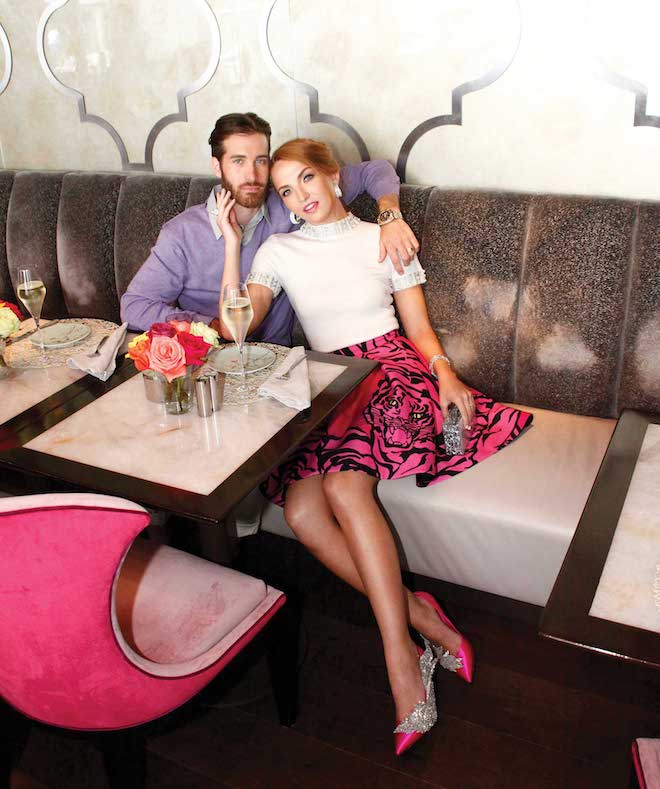 The rehearsal dinner is a fantastic way to kick off your wedding festivities and set the tone for the weekend ahead. This pre-wedding event is much more than just a practice run for the big day – it's a chance to connect with your new family members and bond with your loved ones in a more intimate setting. Whether you prefer a formal affair or a more laid-back gathering, a rehearsal dinner can be as casual or as fancy as you like.
Continue scrolling for our list of rehearsal dinner locations in and around Houston.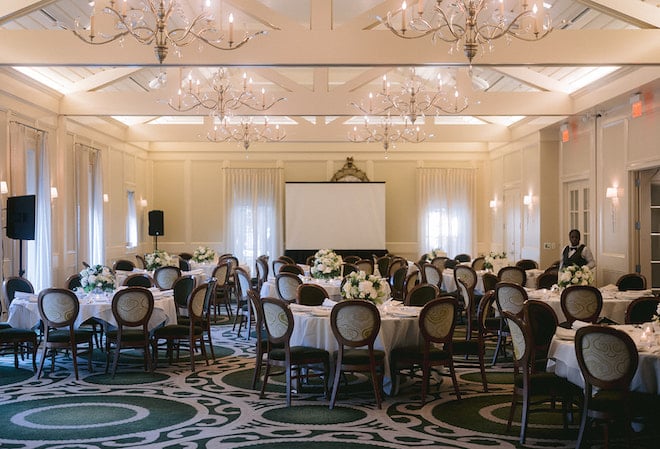 For over four decades, Brennan's of Houston has been the go-to destination for engaged couples who crave the warm embrace of southern hospitality. As you step through its doors, you are transported to a world of elegance and refinement. The quaint courtyard and indoor spaces offer a range of private dining options with their own personality, ensuring that your celebration is tailored to your specific needs. From the superior service to the delicious Creole menu, Brennan's of Houston exudes southern charm and sophistication, making it a fantastic venue for an unforgettable rehearsal dinner.
For couples seeking a luxurious experience, The Post Oak Hotel at Uptown Houston offers a romantic and glamorous setting that promises perfection in every detail. Every aspect of this premier venue exudes modernity and style, from its lavish furnishings to impeccable service. From the venue's beautiful restaurant, Bloom and Bee, or the refined Mastro's Steakhouse, you can't go wrong.
The Blossom Hotel Houston is a wedding venue that indulges in luxury. The hotel offers over nine event spaces, including the luxe Luna Ballroom with floor-to-ceiling windows boasting views of the Houston Medical Center. Additionally, the Blossom Hotel offers a variety of gourmet cuisine that brings creativity to each dish from talented culinary chefs.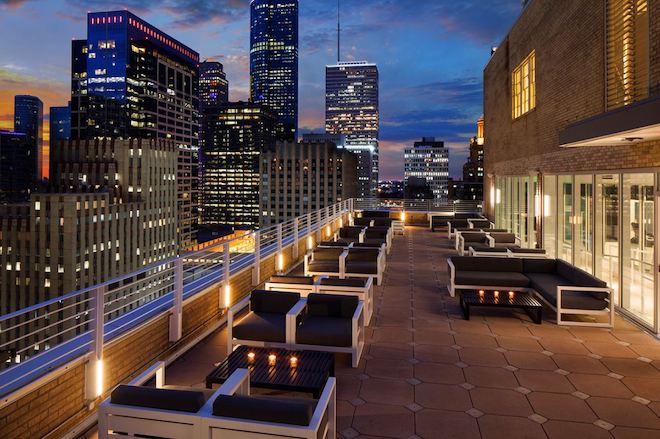 Le Méridien Houston Downtown provides a modern and chic location for your rehearsal dinner. Le Méridien's chic rooftop lounge, Z on 23, known for being Houston's highest open-air bar with a striking 360 view of the skyline. If you prefer an indoor dining experience, Le Méridien offers private dining with customizable menus and excellent service, creating an unmatched atmosphere for a memorable evening.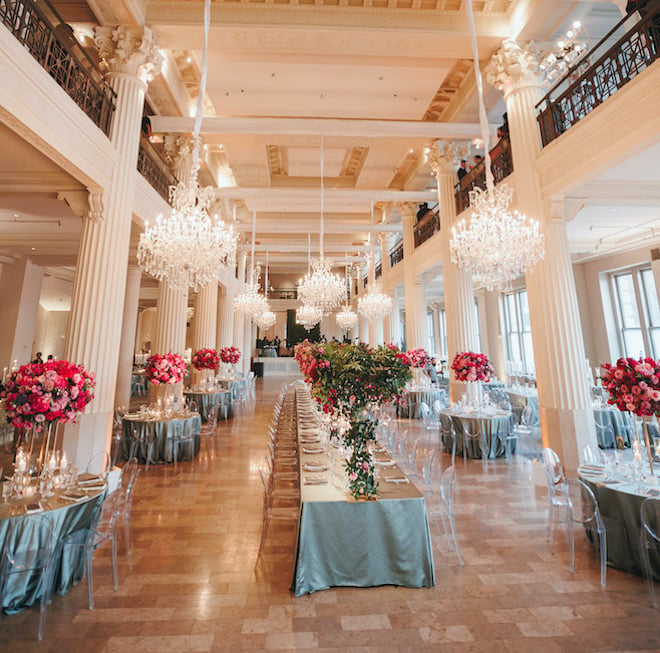 Nestled in the heart of downtown Houston's financial district, the Corinthian Houston is a beacon of timeless elegance. Initially built in 1905 as Houston's First National Bank, a modern renovation has retained the historical and architectural beauty of the original structure. Soaring ceilings, colonnade Corinthian columns and a bicameral staircase are a few stand-out features The Corinthian offers, making for a fabulous space for pre-wedding celebrations and the big day.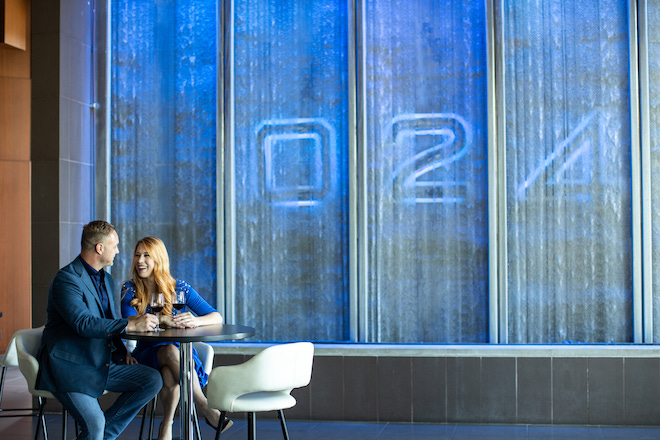 Located in the heart of Memorial City, The Westin Houston, Memorial City is a modern hotel with three elegant ballrooms perfect for your celebration. Not to mention, the on-site restaurant, 024 Grille, provides an exceptional team of culinary professionals. The Westin Houston, Memorial City is an ideal choice for couples seeking a one-stop hotel destination.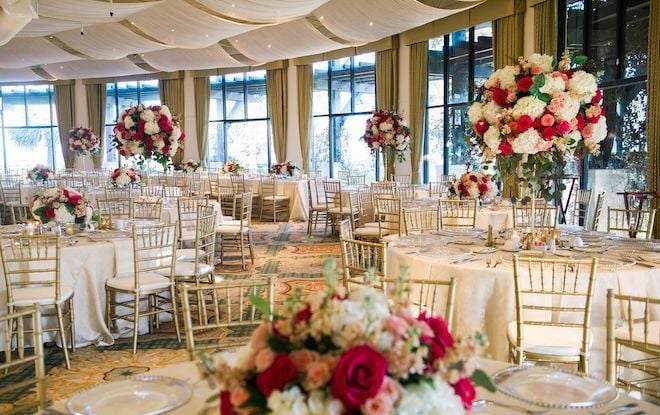 The newly renovated Grand Galvez features breathtaking views of the Gulf of Mexico and a century's worth of rich history. Enjoy an intimate celebration in the lush Oleander Garden, or enjoy an elegant evening in one of the charming indoor event spaces.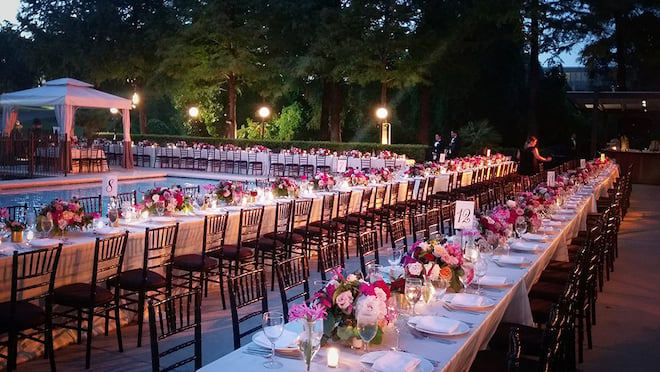 If a luxury dining experience is calling your name, the Omni Houston Hotel is a great choice. This sophisticated luxury hotel venue offers several options for your rehearsal dinner, such as Birdie's Café and Bar or La Reserve Whiskey Lounge. After a fun evening, join your wedding party for a nightcap at the property's swanky underground nightclub, The Black Swan. Not to mention, the luxurious guest accommodations make it a fabulous choice for out-of-town guests and the wedding party.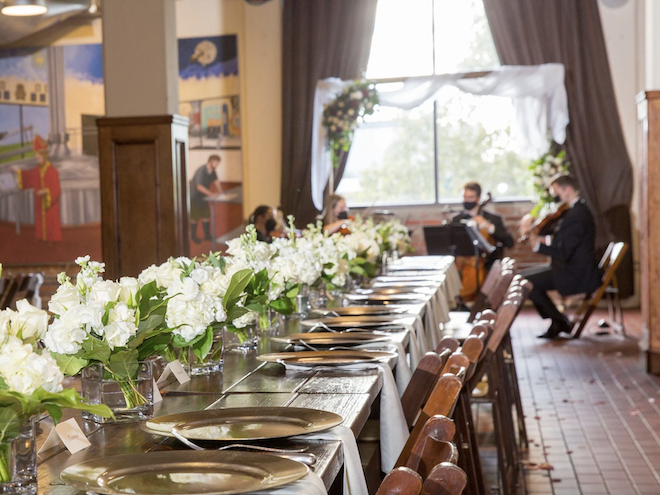 The Saint Arnold Brewing Company is a true Houston treasure, steeped in history and rich tradition. Located just north of downtown Houston, this brewery features one-of-a-kind event spaces: the large German-inspired Beer Hall and the more intimate English-styled Investors Pub. The Saint Arnold Brewing Company has a wide selection of draft beers, wines, non-alcoholic beverages and in-house catering to help you celebrate with friends and family.
The Laura Hotel, a hotel venue in downtown Houston, features beautiful mid-century design and bright, airy spaces. Clink glasses in a private event space at the southern-inspired restaurant Hull & Oak or dine with your closest friends and family in a modern ballroom with floor-to-ceiling windows.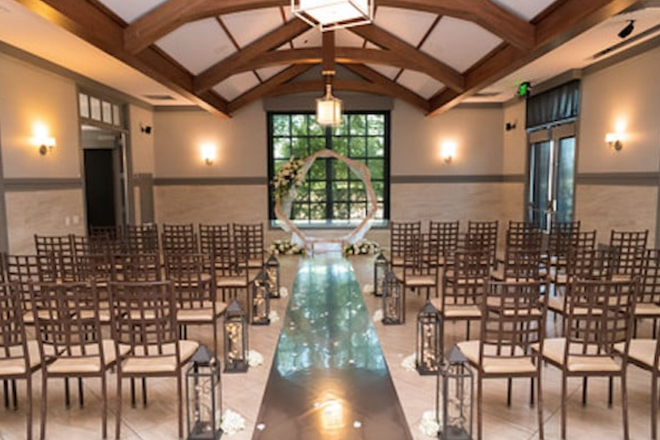 The ARK by Norris is a hidden gem in Houston, offering couples a warm atmosphere and rustic decor. With indoor and outdoor spaces, this versatile venue is ideal for those seeking flexible spaces and great service.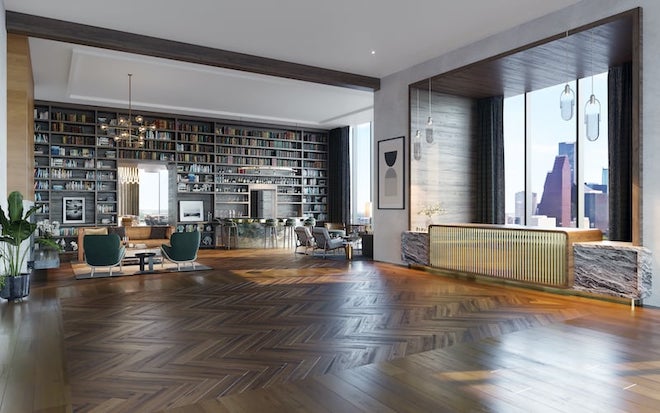 Debuting in the fall of 2023, The Thompson Hotel is Houston's most fashionable address. Located in the scenic Buffalo Bayou Park, the 36-story landmark is a chic hotel with exquisite event spaces that will provide a luxurious and sophisticated dining experience. Stay tuned for more on this gorgeous new property!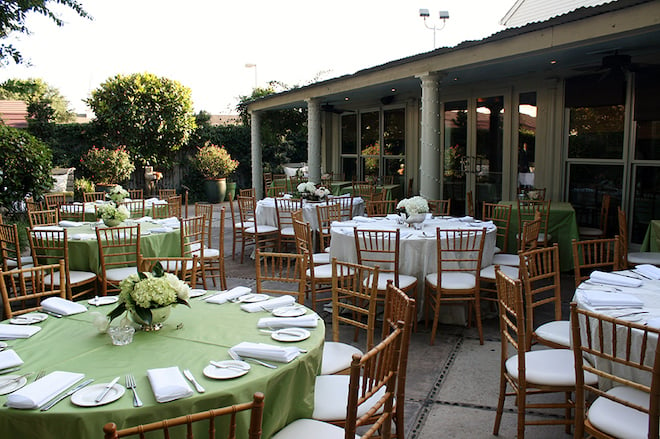 Just a stone's throw from Highland Village, Ouisie's Table is tucked away from the hustle and bustle. The venue's modest architecture and tasteful decor nod to its humble beginnings as a brown-bag lunch service in 1973. Whether you prefer an intimate indoor dinner or an outdoor rehearsal dinner in the lush courtyard, this Houston restaurant and venue offers the newlyweds-to-be the best of both worlds.
Located on vibrant Galveston Island, The San Luis Resort, Spa & Conference Center is a luxury beachfront resort with a variety of event spaces. While the Grand Ballroom is perfect for your big day or a larger rehearsal dinner, the Mainsail Salon and the Gulf-view Gazebo are perfect options for intimate celebrations. In addition, the property boasts excellent on-site restaurants, from southern Italian cuisine to an award-winning steakhouse, where you can expect delicious cuisine and excellent service.
Located in the heart of the Galleria area, The Wynden is a great choice for couples looking for a charming venue with stellar service. Enjoy an unforgettable dining experience with catering from Marsaff's staff in this romantic Tuscan-inspired venue. Celebrate in the private courtyard garden or the indoor event space, which accommodates up to 250 guests.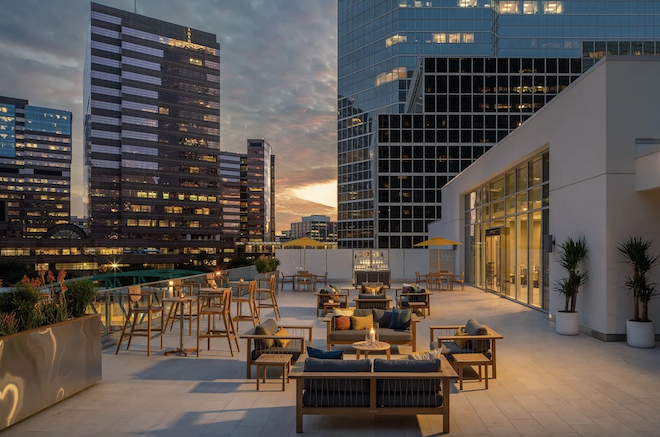 Nestled in the heart of Houston's thriving Med Center, The Westin Houston Medical Center is a newly renovated historic Houston landmark that seamlessly blends academia, art and luxury. From the views of the world-renowned Texas Medical Center to the lush surroundings of Hermann Park and Rice University, this architectural icon offers luxurious indoor and outdoor spaces to host your ideal rehearsal dinner.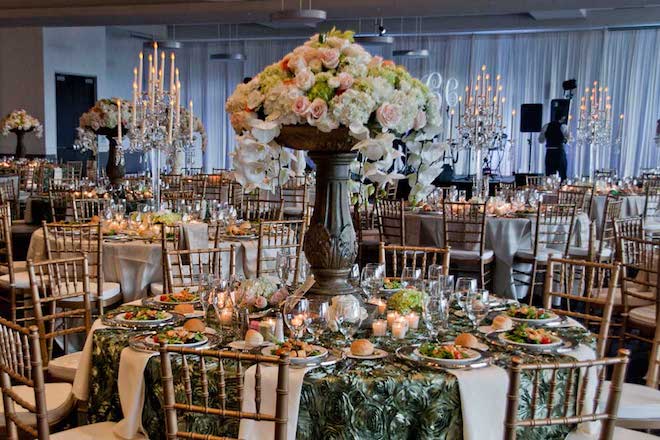 Located in Houston's CityCentre, the Red Oak Ballroom, Houston CityCentre provides panoramic views of the lively hot spot. The spacious ballroom's neutral color scheme gives couples a blank canvas for their rehearsal dinner decor. Additionally, the Red Oak Ballroom offers full catering, bar service and custom menus.
Step into a world of sophistication and old-world charm at the Corinthian Houston's newest event space, The Vault. Housed within the original First National Bank vault, this versatile venue seamlessly blends modern design with classic charm, creating a one-of-a-kind setting for your celebration. The Vault at Corinthian Houston is a fantastic location for couples seeking a unique rehearsal dinner experience.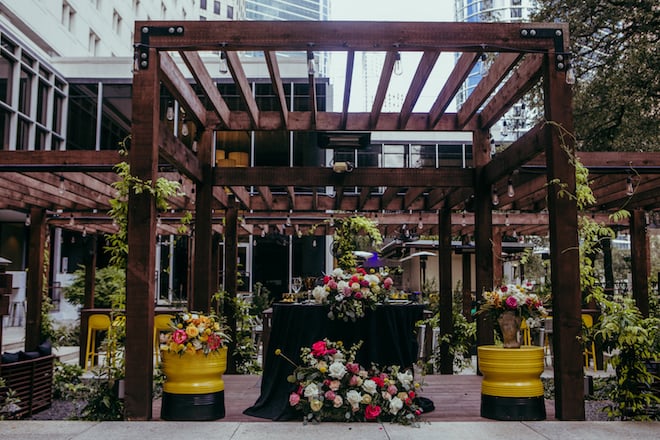 The Whitehall Houston is one of Houston's most timeless settings. The hotel is a mid-century-style venue with rich history and local charm. Built in 1963, it is a fixture of Houston's Central Business District and has been one of Houston's original hotel landmarks for celebrations. They've even hosted iconic guests like Elvis Presley and Bob Dylan. The Whitehall Houston offers modern indoor spaces and a lush outdoor space perfect for mixing and mingling.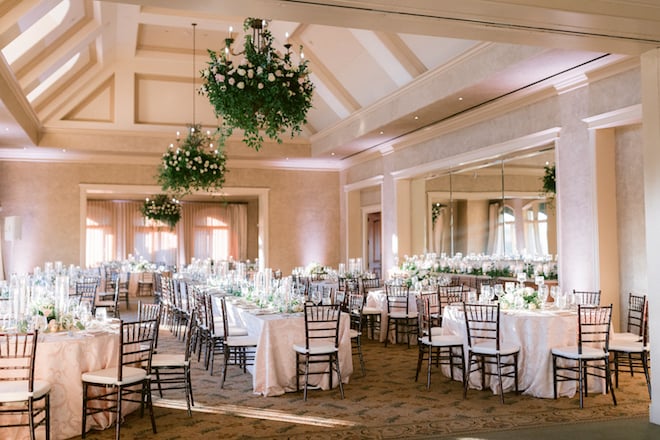 Royal Oaks Country Club offers a luxurious and exclusive setting for a rehearsal dinner. The club's exquisite private oasis features stunning views of an 18-hole golf course, sparkling waterfalls, Tuscan-inspired architecture, and exceptional service. The team at Royal Oaks Country Club will customize menus to meet your needs and prepare them to uncompromising standards, ensuring a memorable celebration.
Now that you've found the perfect rehearsal dinner spot, it's time to write your speech! See our guide on Do's and Dont's for the Rehearsal Dinner Speech.
Contributors- Photography: Larry Fagala / Joseph West Photography / Marco Wang Photography / Mark Silverstein / Casual Fridays / Akil Bennett Photography / Photography by Niki / Daniel Orren Photography / Ron Blunt Photography / Civic Photos / Flora Fost Photography / Kelli Durham Photography