It all started after college when Bridget and Stuart moved back to Houston and kept running into each other at events in the same circles of friends. Then, after seeing one another more often, it took Stuart to say, "When you're ready to get off Tinder, call me," and the rest was history!
During a serene hill country getaway for Bridget's birthday, the two went on a hike up Enchanted Rock after a weekend spent at the wineries in Fredericksburg. On that brisk sunny morning, once they reached the top of the summit, Stuart proposed to a happy teary-eyed Bridget.
The big day soon arrived on April 10, 2021, and the newlyweds said "I Do" in a modern music hall wedding. The ceremony was designed with white florals and greenery adorning the aisle and altar. In addition, greenery was draped on the industrial black metal chandeliers, creating an ambiance of elegance contrasting with the edgy and urban personality of the venue.
The reception was indeed a huge celebration. Guests energetically danced and sang along to live music performed by Danny Ray and the Atlantic Street Band while the room changed from one vibrant color to the next. Bridget especially loved when her new husband brought his musical talents to the stage. "Our entire day was absolutely perfect, but the best part was when Stuart joined Danny and the band on stage halfway through the reception to play guitar with them! How many weddings have the groom sing to the bride? It was one heck of a party, just like we envisioned," says Bridget.
Keep scrolling to see more from this modern music hall wedding expertly captured by Ama by Aisha. Cheers to Bridget and Stuart!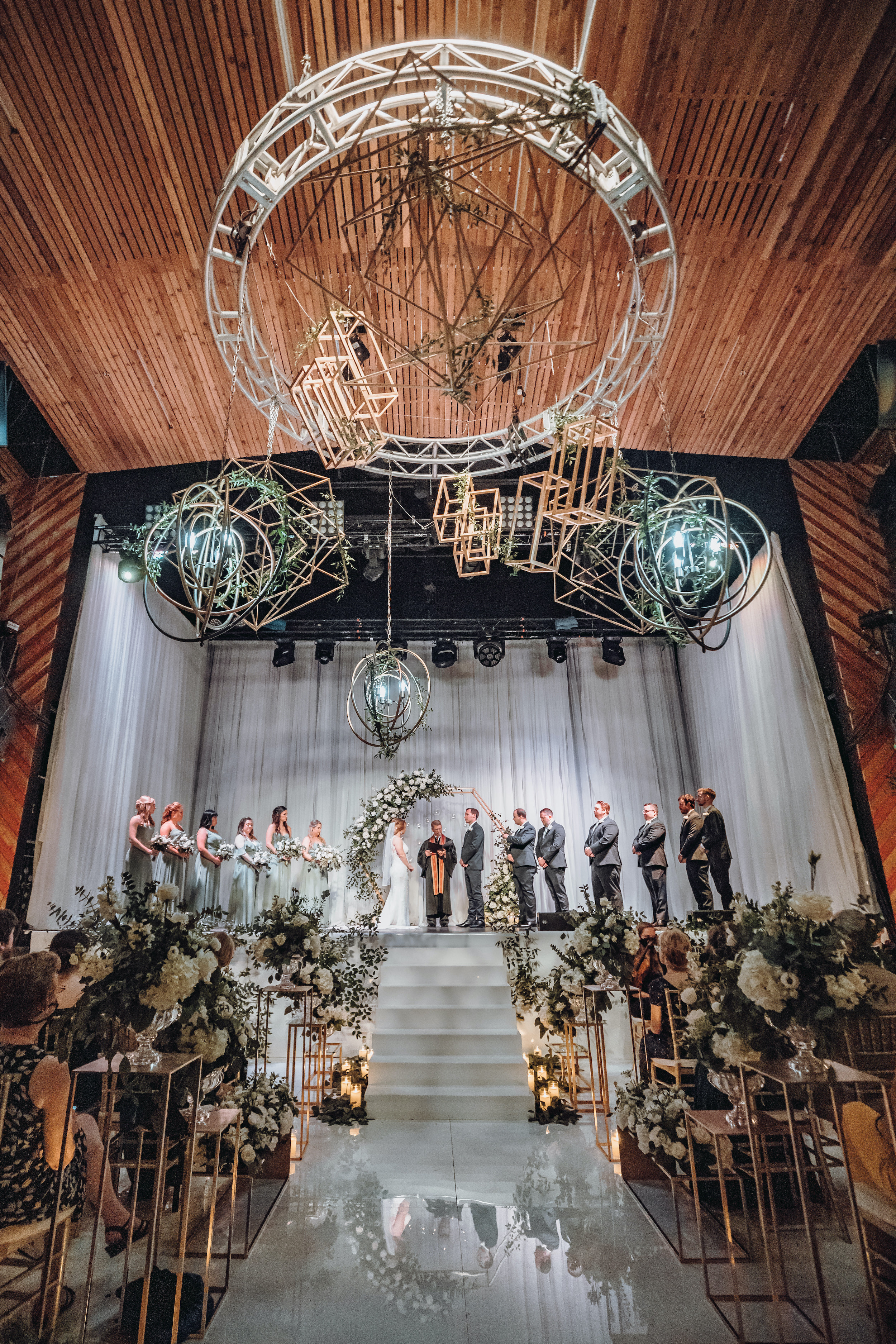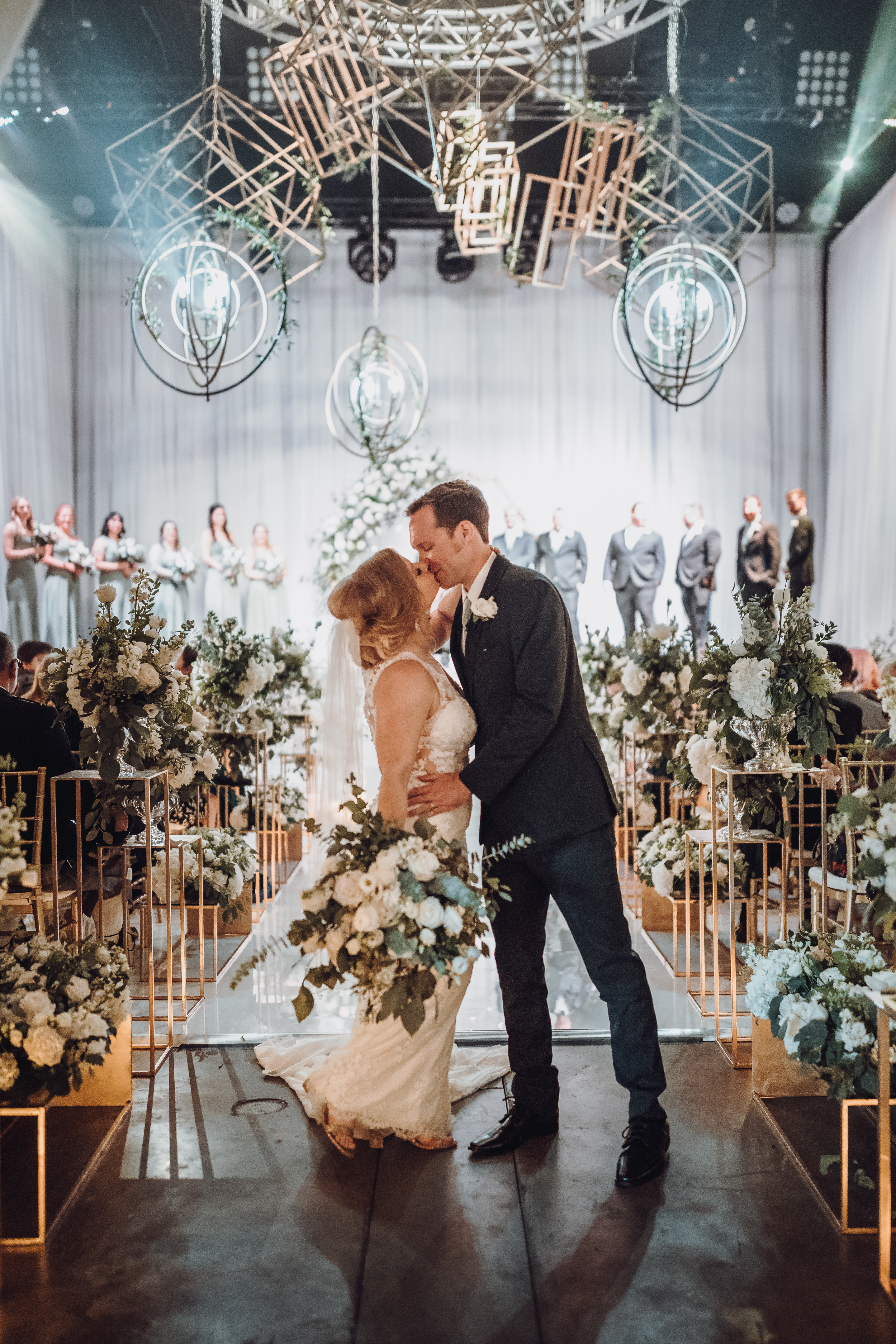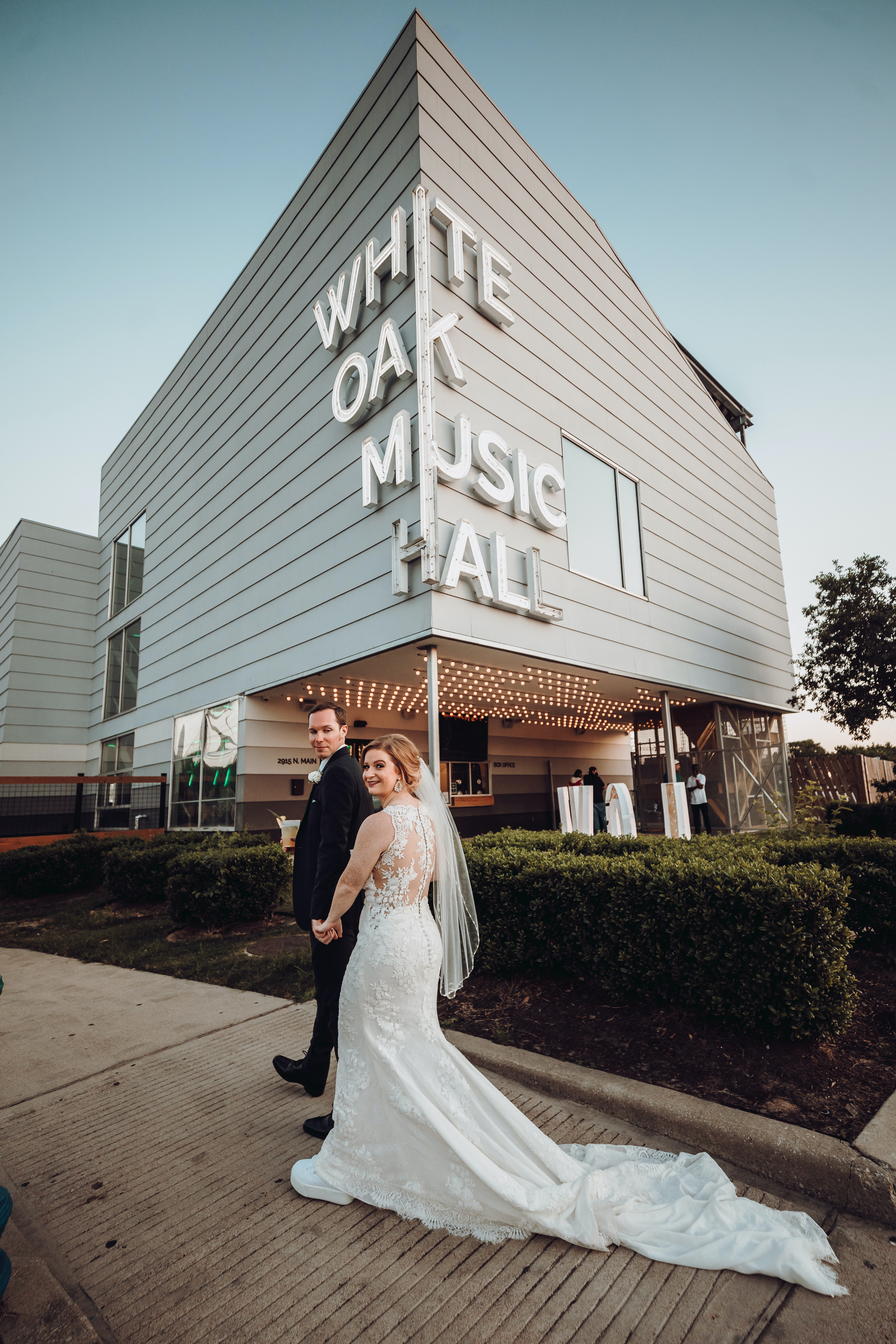 "
Groom Plays Electric Guitar On Stage at Modern Music Hall Wedding

" – 

Spotlight Weddings in Houston Vendors 

– Photography: Ama by Aisha | Music & Entertainment: Danny Ray and The Atlantic Street Band | Registry: Bering's | Bridal Party Lodging: C. Baldwin | Guest Lodging: Magnolia Hotel Houston

Contributors: White Oak Music Hall / Dream Bouquet / Kat Creech Events / EB, Inc / Heirloom Experience / Who Made the Cake! / Brickhouse Bridal / Dear Cleo / Divisi Strings / C&S Executive Transportation / Kolours by Kris / Widad Couture / Camas Lilly Co.