Thrilling in the moment, and a joy to relive in photos and video long after the big day: That's great reception entertainment. And that's what you'll get when you follow these five tips for keeping guests smiling, dancing, lounging, laughing and living it up, all night long, at your once-in-a-lifetime party!
1. Hire A Pro
There are plenty of bands, DJs and music providers out there who may be able to play their instruments or mix tracks. But they may lack the experience to manage the unique demands of a full wedding evening.This is where experts like LG Event Entertainment & Production come in. A true wedding MC or DJ will skillfully move your guests where they need to go, introduce the wedding couple and special guests, modify volume when needed, and read the crowd for cues. Oh, and they also can provide state-of-the-art audiovisual equipment, lighting and special effects (modern New York style nightclub, anyone??) to transform your reception into a dance club made just for you! 
2. Create the Mood at Cocktail Hour
The cocktail hour is a chance for your guests to sip cocktails, nibble hors d'oeuvre and mingle, before you and your new spouse once again become the center of attention. It's also the perfect opportunity to set the mood for the celebration, with a live pianist, jazz combo or versatile band. One of our personal favs is The Moment, featured in the awesome clip above. This wildly talented wedding band performs everything from classic jazz standards to Journey to Beyoncé. Not only does live cocktail music give the first taste of the party to come, but experts like The Moment also know how to interact with the crowd and welcome song requests. 
3. Pose and Smile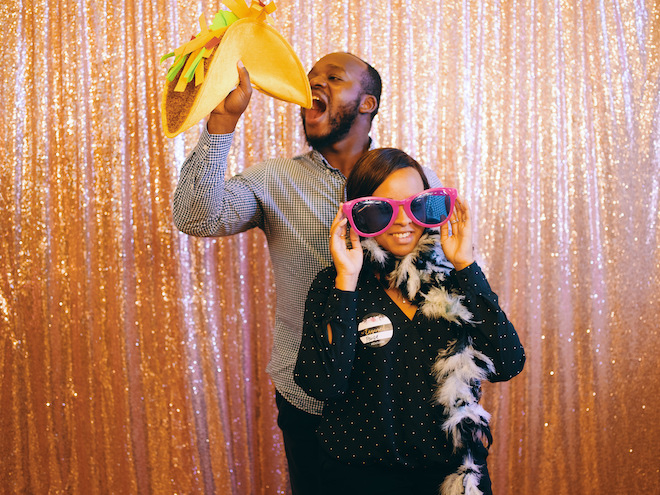 No matter how grand or fancy your formal ceremony and black-tie reception is, there's always room for a photo booth! Trust us on this one: Whether you place it in a foyer or pre-function space, or stage it outside in your al-fresco lounge area, a wedding photo booth or video booth complete with props, costume pieces and take-home pics, will always make your guests smile (literally!), and help ensure that the memories of your magical day live on forever.
4. Rejoice With Moving Music
Yes, you definitely want to have a professional wedding DJ or band on hand to handle the main entertainment for your wedding. But that doesn't mean you can't also include unique wedding entertainment for your reception or ceremony. Take a cue from celebrity weddings, and consider having a gospel choir bring guests to their feet (and uplift their spirits) with a performance of favorite hymns for your wedding ceremony music. Of course, this is Texas and we love our college football. Honor your alma mater and/or your favorite team by having a professional marching band play your fight song during cocktail hour or as surprise reception entertainment. Or if you want to just stick to the traditional wedding band route, get a versatile band like Danny Ray And The Acoustic Production, who can do it ALL, as clearly evidenced in the clip above! This Houston event band plays outside of the generic setlist and provides high-energy dance sets full of custom mashups, as well as an acoustic ceremony or cocktail melodies, medleys and impromptu performances, all based on what's happening in the moment.
5. Jazz Up Your Lounge
As the party winds down—or possibly as the after-party winds up—creating a luxe lounge area where guests can enjoy a single-malt Scotch, gourmet espresso drink, or perhaps a hand-rolled cigar and quiet conversation, is key. (Bonus if it has a view!) A lounge is great for guests to take a break from the lively reception party to sit back and relax. But just because your lounge may be mellower than what's going on inside the main event, doesn't mean you have to leave your guests on their own. Make live music part of your late-night lounge scene with Houston's own "Piano Man," Scott Graham. This acclaimed Houston pianist and composer, and longtime Weddings in Houston partner (we wouldn't dream of hosting an event without Scott Graham's smooth-as-silk piano stylings on hand), embraces the sounds of yesterday and today. Scott's timeless music style will make lounge lovers and late-night revelers feel wonderfully catered to, and YES, he takes requests!