Music is a fabulous way to set the mood for an event, so it's important to take the proper steps when selecting a wedding entertainer for your big day because, after all, it's the celebration of a lifetime. Luckily, we've curated a list of Houston's top wedding entertainers perfect for any pre-wedding event or the big day.
When deciding on what songs to play and when to play them, our wedding entertainment partner, Jonny Black Productions, has a little advice:
"Every couple can be so different, but I always try to recommend having variety. You don't want to have just one type of music because it typically gets kind of boring. So you want to factor in what you love as a couple and what your guests may like. So take into account age range, demographics, and different sides of the family, incorporate something that maybe the parents, aunts and uncles may enjoy, and whatever your coworkers and BFFs may enjoy, and have that variety to bring everyone together. Also, trust us as professionals; we literally rock weddings every single weekend. Allow us to read your intuition, read the crowd and your guests, and make it a fun party. We're going to make your wedding day the most amazing day and celebration of you and your family's life."
Scroll on for our list of talented wedding entertainers who are sure to get the party going!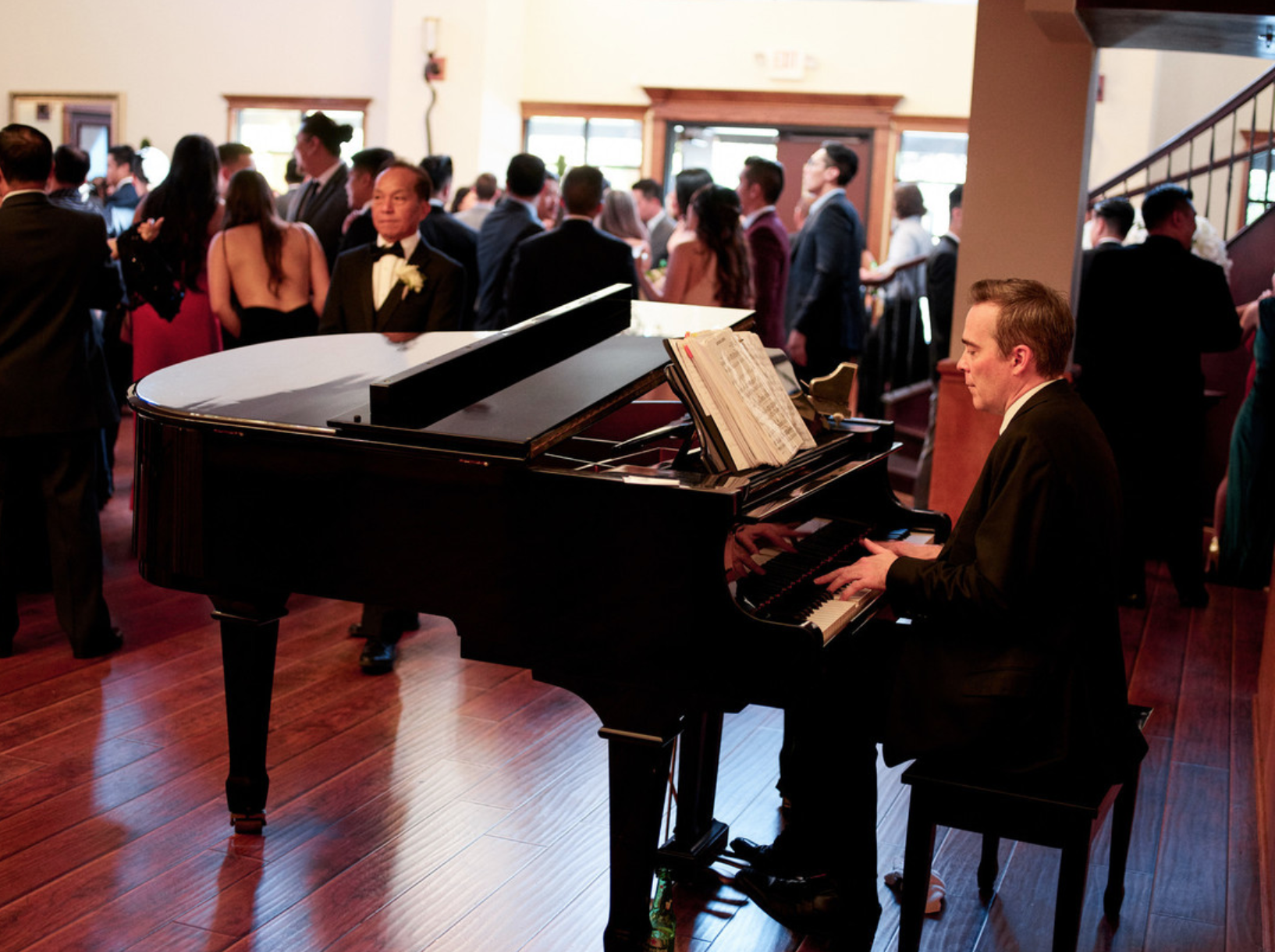 "The music selections should get everyone excited to celebrate. Choose classics or today's current hits to entertain your guests for a livelier vibe, or select romantic classical or jazz tunes to add a level of sophistication to your event." – Scott Graham

Photo: Ama by Aisha | Wedding Entertainment: Danny Ray and the Atlantic Street Band

"The point when you have been on this ride of having a packed dance floor for the past hour and somehow still hitting more peaks is like riding a wave on top of another wave. The feeling is a high like no other and you can see how overjoyed the couple is at how excited the room is. And the beauty of this band is that we have 10 people that are all pursuing getting to that point!" – Danny Ray
Most Requested Tunes: 
"September" by Earth, Wind, & Fire
"Mr. Brightside" by the Killers
"Good 4 You" by Olivia Rodrigo
"I Wanna Dance with Somebody" by Whitney Houston
"Truth Hurts" by Lizzo

Photo: Courtesy of Jonny Black Productions | Music + Entertainment: Jonny Black Productions

"Music and entertainment is hands down the most important segment of any event, especially weddings. At the end of the day it doesn't matter how pretty the florals are or what color the linens are or how the cake tastes, your guests are going to remember how much fun they had or didn't have based on the music. Music is the number one most important factor of your wedding day. It boils down to that, you're either going to say wow this was a blast or wow I just wasted my Saturday night. Choose wisely."

Photo: Go Polaris | Wedding Entertainment: The Moment

"I love playing music. To perform at a joyous occasion like a wedding is really an honor. This is one of the most memorable and important days of their lives and we as a band are so grateful to be a part of it." – Scott Sofer, The Moment 
Most Requested Tunes:
"Uptown Funk" by Mark Ronson ft Bruno Mars
"Shout" by The Isley Brothers
"Miss You" by The Rolling Stones
"All Night Long" by Lionel Richie
"Mustang Sally" by Wilson Pickett
"Choose an entertainment provider whose style and personality meshes with the overall vibe you want at your wedding, the same as you would when choosing a planner and photographer. You wouldn't hire a photographer who didn't specialize in the types of photos you want to be captured, and that same principle should apply to your entertainment provider as well." – D & Co. Entertainment
Most Requested Tunes:
"Cupid Shuffle" by Cupid
"I Wanna Dance With Somebody" (Who Loves Me) by Whitney Houston
"Mr. Brightside" by The Killers
"Wobble" by V.I.C
"Get Low" by Lil Jon & The East Side Boyz
"ECE was amazing! Our wedding ceremony and reception entertainment went flawlessly! Our guests went on and on about how much fun they had dancing, and the music the DJ played was perfect! Even with some last-minute changes, ECE went above and beyond to make sure our wedding was a success, and we appreciate them so much for that." – Bride, Lindsey
Contributors: Civic Photos / Go Polaris Studios / Chris Bailey Photography