You've said your vows, sealed your union with a kiss, and sashayed back down that aisle as newlyweds… now it's time to get down to celebrating! Have your wedding reception be the party your guests will never forget with these 5 unique wedding reception entertainment ideas.
1. Cigar Bar
Hire a live cigar roller to hand-craft stogies on demand for eager aficionados. Or set up a burnished cigar bar with serve-yourself premium cigars, vintage props and cigar accessories, along with comfortable seating and elegant ashtrays within easy reach. We especially love River Oaks Royal Cigars' handmade cigars from the Dominican Republic, where their finest blends are a step above the common cigar. Your guests are sure to fall in love with the vivid flavor and rich aroma that accentuates the exquisite taste of royalty. Either way, a cigar bar is a swank and sexy feature for your late-night wind-down. Just locate your cigar bar in a well-ventilated area, away from guests who may not appreciate the scent of a luxurious Maduro, Habano or Demi Corona, quite as much as you do.
2. Karaoke
Who doesn't love a good sing-a-long? Also fabulous for wedding reception entertainment, karaoke is fast becoming one of the hottest wedding entertainment options around. Save this sing-along activity for after-parties and post-formal-reception fun, and make sure to have your videographer on hand to capture the hilarity!
3. Photo Booth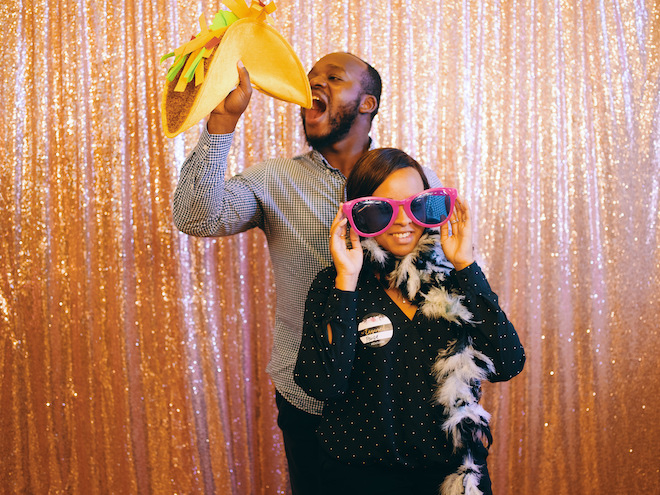 There's nothing like a table full of props, a sparkly backdrop, and a callout from the booth operator to "Smile!" or "Change it up!" to get your well-dressed guests to let down their hair a bit. Mirrored selfie stations and video booths are just a few of our favorite options available; plus, the printable photos with your wedding hashtag make great favors, and you can usually have the gallery of photos emailed to you afterwards. Or if you want to think outside the photo booth box, try out Luxe Weddings' unique SLŌ Motion Booth, a one-of-a-kind slow-motion video booth that will have your guests talking about it for months!
4. Confetti Cannons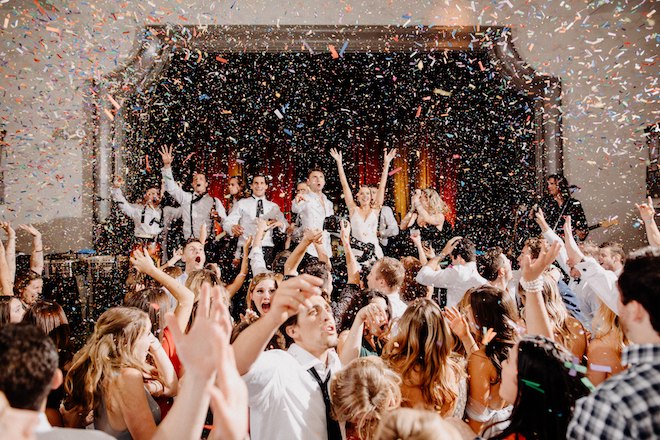 Confetti cannons = surefire exhilaration. Whether it's handheld mini cannons your guests can shoot off the moment you're pronounced married, or concealed cannons that blast a shower of confetti as you take to the floor for your first dance as newlyweds, this unique wedding reception entertainment is tons of fun at weddings! But just make sure to use biodegradable confetti to ensure an Earth-friendly celebration.
5. Live Event Painting
A live event painter will sit in a relatively quiet, well-lit space at your wedding and paint one or more scenes from the festivities; often the couple's first dance, cake-cutting and/or a filled dance floor. Guests will be able to stop by your painter at his or her easel, chat, ask questions and observe the process. And after your wedding is done, you'll have a cherished work of fine art commemorating your wedding, and capturing it in all its romance and color.