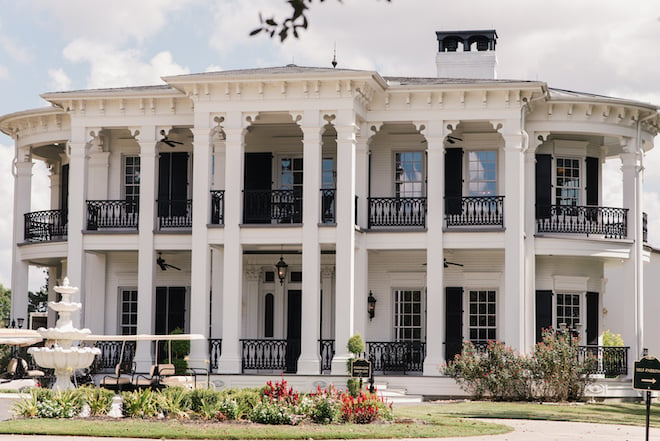 One of the best directions to turn in your Houston-area venue search is…NORTH. The beautiful region of north Houston, with its densely forested enclaves, shimmering lakes and resort-style hotels, has become a favorite among Houston couples for destination-style weddings conveniently close to home.
It also happens to house some of the most unique wedding venues in all of Texas, from grand estates to luxury barns…to the nation's largest renaissance festival, where weddings are heralded by royal trumpets! If you're interested in having an enchanting forest wedding near Houston, you'll want to check out these 8 unique wedding venues we love!
1. Sandlewood Manor
Gatsby glamour meets Louisiana-style relaxation at this beautiful Tomball wedding venue. From the moment your wedding guests arrive, they'll be captivated by the 27-acre-estate's centerpiece mansion with its regal columns and balconies. But that's not all: Sandlewood Manor also features a one-acre stocked pond with a walkout pier and gazebo, a luxurious bridal suite and state-of-the-art groom's quarters, a romantic outdoor cocktail pavilion complete with a cozy fire pit, and a gorgeous modern ballroom.
2. Big Sky Barn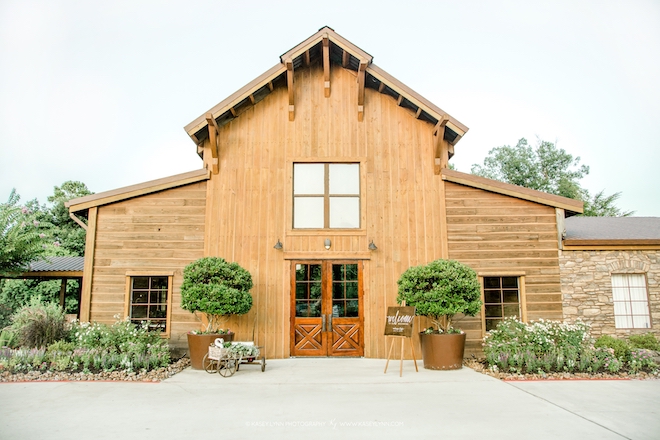 Big Sky Barn is set on 17 acres of fragrant pines and towering hardwoods. This custom-built unique wedding venue seamlessly blends barn wedding charm with luxury grandeur and modern technology. Yes, you'll find lawn games, twinkle-lit trees, and a sweet pergola and rock bridge at this forest venue. But you'll also find a stately, climate-controlled on site chapel featuring a 26-foot-tall wall of antique windows, and the aptly named Grand Barn, with its dedicated caterer's kitchen, 1,200-square-foot covered deck, and three-and-a-half-stories-tall double-sided stone fireplace.
3. Iron Manor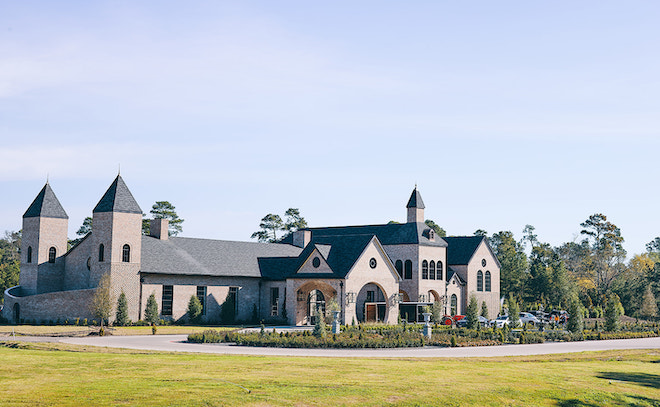 Brand-new on the Houston-area wedding venue scene, Big Sky Barn's sister venue, Iron Manor, brings avant-garde industrial style to the forested landscape of Montgomery. While construction of the unique wedding venue broke ground in 2018, the 6,250 square feet that make up the central Crane House of Iron Manor were originally built in 1903 with materials manufactured by the legendary Carnegie Steel Co. In addition to this grand celebration space, with its Gothic interior and crystal chandeliers, Iron Manor's on-site chapel features high-arch, open-web trusses that carry the design sensibility of Crane Hall through the entire building. Oh, and there are English-style formal gardens too!
4. Estates At Pecan Park
Nestled within a ten-and-a-half-acre pecan orchard, The Estates At Pecan Park is a plantation-style manor that features picturesque indoor and outdoor ceremony and reception spaces, and offers wedding couples almost complete flexibility in planning and staging their celebration. Amenities at this enticing new unique wedding venue include a large private bridal suite, a well-equipped groom's lounge, an ample 14-hour facility rental time and the freedom to bring in your own caterer, alcohol and other vendors upon approval.
5. Texas Renaissance Festival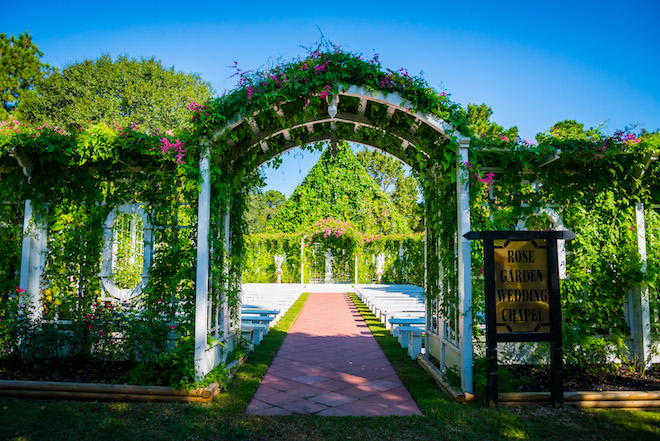 A little over 50 miles north of Houston, Texas Renaissance Festival is one of the country's best festivals, with a variety of themed weekends. Here, weddings are done in the style of a 16th-century royal union. Unique period touches may include a carriage procession to the ceremony site, a royal sword arch, heralding trumpets or bagpipers, costumed characters, hair garlands and the option of renaissance-inspired clothing. In addition, The Meadows, a brand new dedicated wedding venue on the festival grounds, will allow for off-season wedding celebrations, both traditional and Renaissance-themed.
6. Shirley Acres
This all-inclusive wedding venue evokes a destination-style wedding vibe at a destination just 30 minutes from downtown Houston. The former residence of the Shirley family, whose children's weddings on the property inspired the home's expansion into a 21-acre oasis of indoor and outdoor celebration spaces, provides everything from coordination and catering to floral design and music.
7. The Gardens at Madeley Manor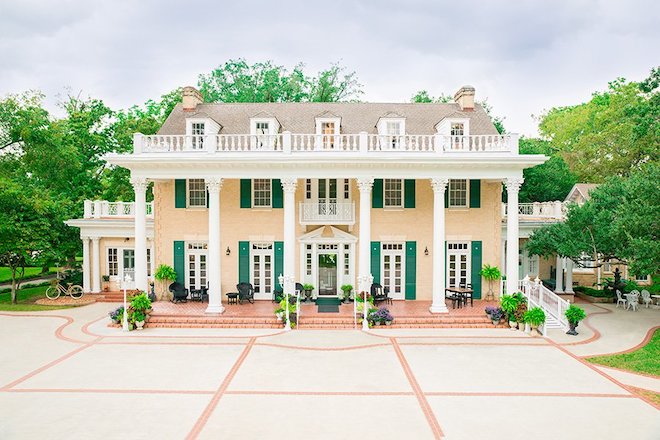 Located in Conroe surrounded by a grove of 100-year-old oak trees, sits this beautifully restored 1930s manor-style wedding venue that will make you forget you are anywhere near a city. The Gardens at Madeley Manor offers an unparalleled backdrop for your wedding celebrations in elegant Southern style; featuring impeccably manicured gardens, refined columns, elegant French doors, a glass-walled conservatory, and an intimate on-site chapel.
8. The Pavilion at Vida Bela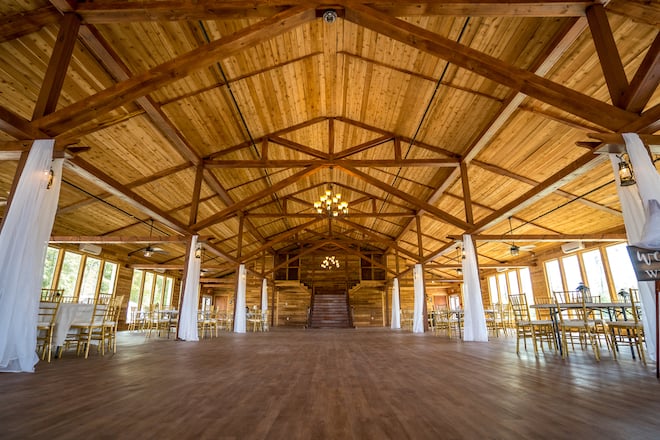 Tucked away on 74 acres of lush piney woods in North Houston, this rustic and elegant destination-style wedding venue brings natural beauty to any wedding celebration. Exchange vows in a picturesque outdoor ceremony at The Pavilion at Vida Bela's charming cedar gazebo, located on an island surrounded by a pristine, four-acre private lake. Afterward, dance in the night away in the namesake Pavilion, a 345-guest-capacity indoor reception space that features expansive windows that bring the beauty of natural surroundings into an elegant setting.