Think the selection of your wedding gown is just about the toughest choice you've ever had to make? You obviously haven't gone wedding shoe shopping yet, Houston bride. Peep-toe or slingback? Flower or bow? High heel or ballet flat? The options are endless.
To settle on the perfect pair, consider your dress style. In general, narrower silhouettes are best paired with a show-off shoe, since it's more likely to be on view. Ditto shorter dress styles, which look lovely with satin peep-toes, strappy sandals, sparkly wedges or even elegant ballet flats. Ballgown styles go well with platforms, slingbacks and pretty pumps.
While your shoes need not match your dress—champagne shoes are fine with a white gown; satin shoes go well with a tulle skirt—if you're partial to embellishments, try to couple like with like (don't mix heavily bejeweled footwear with a seed-pearl-encrusted gown, for instance).
A few more words of advice: Make sure you bring your wedding shoes (or a different pair of the same heel height) to all your gown fittings, to ensure your hem is the proper length. Also, you may want to buy two pairs of wedding shoes, particularly if you will be changing outfits between ceremony and reception. Even if you plan to party in your bridal finery, consider a comfier pair of reception shoes so you're able to dance the night away painlessly.
And now, a few of our current favorite bridal shoe picks.
If your budget allows, you'll want to have a look at these darlings from designers Christian Louboutin and Giuseppe Zanotti. Both are d'Orsay style, peep-toe, bow-accented and drop-dead gorgeous, but somehow they couldn't be less alike. We love them both!
Christian Louboutin Carnaval Nodo Satin d'Orsay Pumps
Giuseppe Zanotti 80429 Wedding Shoe
Looking for something a little unconventional? Check out the Body Talk from Poetic License—a sweet satin T-strap with an adorable frill detail and sturdy, dance-friendly 3 ½ -inch heel.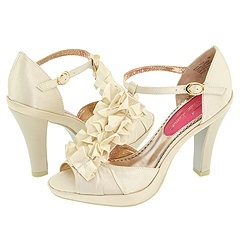 A pretty wedge combines (relative) comfort with modern style. We love the exceptionally affordable Shanika Wedge from Touch Ups with its rhinestone-accented buckle closures and dyeable satin upper, and the T-strap Nina Gamma evening sandal, with a cool Lucite heel and just a touch of bling.
Shanika Wedge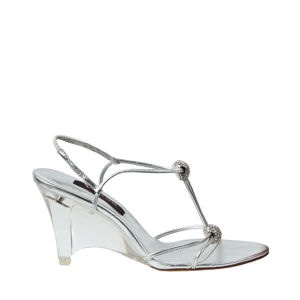 No matter what shoes you take a shine to, they'll get an extra bit of wedding sparkle from Wedding Things' Bridal Bling shoe-sole initials—perfect for trying out your new last name!