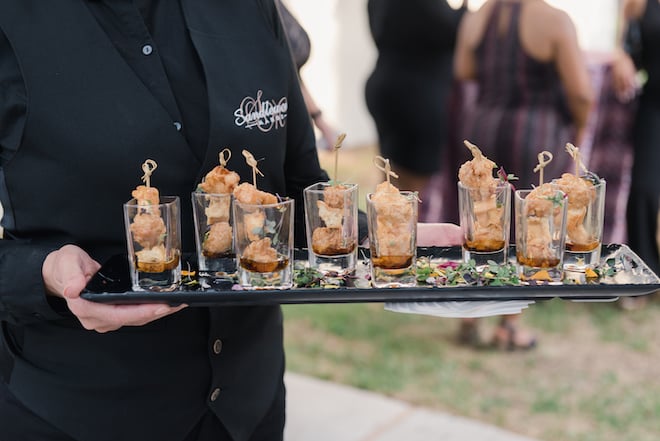 The food you serve your guests at your wedding says a great deal about who you are as a couple. What you serve and how you present it also shows how much you care for the people who have gathered to bless your union.
Do you want your guests to experience the comfort and fun of a backyard barbecue, surrounded by the smell of fresh air and grilled meats? Do you want to give guests a taste of the Parisian bistro or Cabo cantina where you enjoyed a blissfully romantic holiday? Do you and your partner spend Saturdays searching Houston for hidden ethnic restaurants serving up authentic international fare? Do you have special dietary needs or preferences that need to be met so that you can enjoy your wedding meal as much as your guests do? With so many ways to incorporate your personal tastes into your reception menu, you'll want to check out these 4 trending reception food ideas for delicious weddings!
1. Plant-Based Bites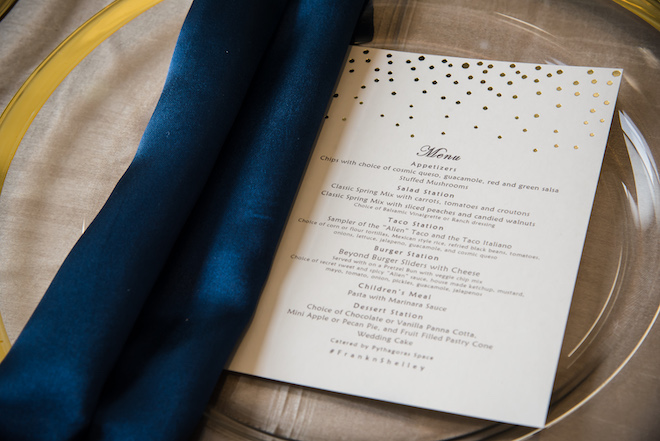 Whether you go for a menu of all-vegan fare (like recent Houston bride Shelley Ewart), or you offer vegetarian and vegan options in addition to meat dishes, you'll definitely want to make your non-meat-eating guests feel fully included in your celebration. Passed hors d'oeuvre such as vegetable tartlets, stuffed mushrooms, lentil fritters, vegetable spring rolls and caramelized onion crostini are just a handful of mouthfuls that will delight non-meat-eaters and their carnivore counterparts, alike. Plant-based small plates and food station entrees we love include baked potatoes, bruschetta, Mediterranean favorites such as falafel and hummus, vegetable sushi, pastas and risottos…even "Beyond Burger" slider bars!
2. Food Walls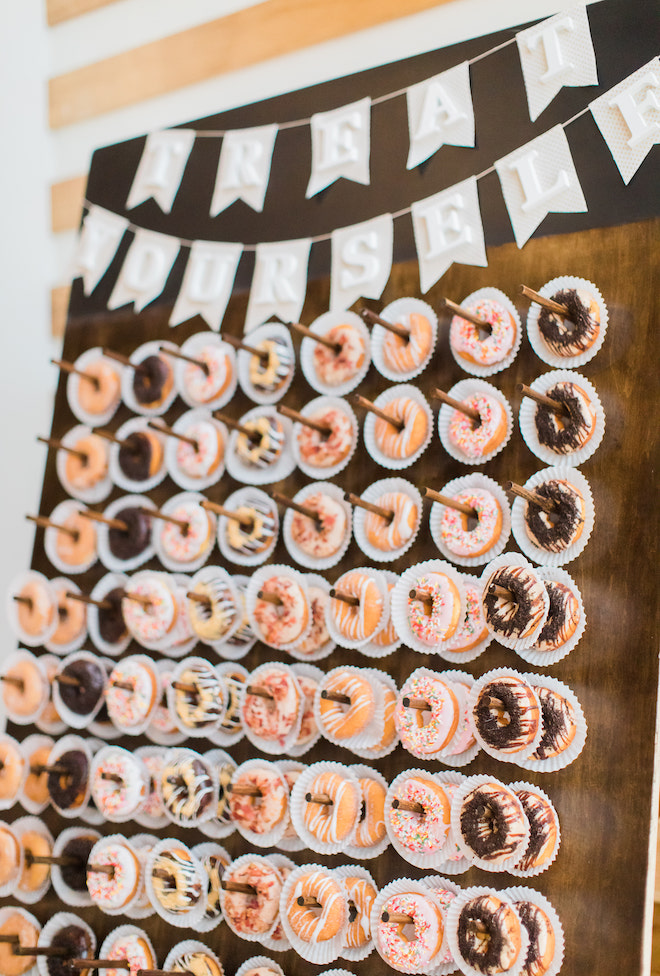 Wedding couples and their guests are going crazy for help-yourself food walls displaying snacks, appetizers and desserts. Donut walls and pretzel walls are among the most popular choice for this type of display because of their handy holes for hanging on hooks or pegs, creating a delicious backdrop to your special day. You can also collab with your caterer to design shelf walls to present anything from sushi to cupcakes, to mini-servings of trifle, chocolate mousse or tiramisu in cute little glasses. French-fry "cones," sliders, churros and cake balls also make for edgy and fun food wall displays.
3. Organic & Sustainable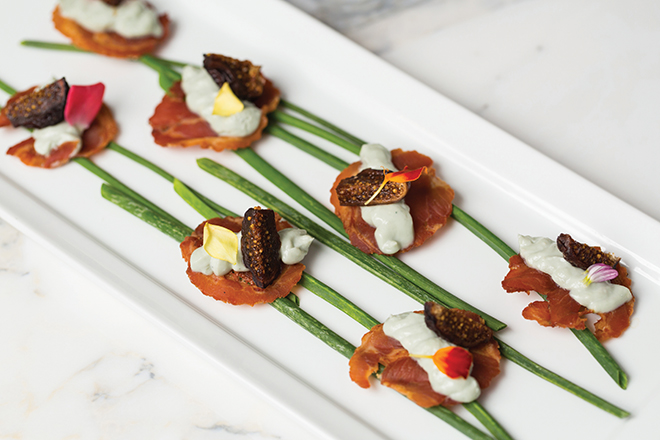 Across the board, couples are planning their weddings with more consideration for the environment. After all, weddings are celebrations of love, and for many, that includes love for the earth, air and water which sustain us. That's why so many couples are opting for menu items that include ethically farmed animal proteins (beef, poultry, pork, dairy, eggs) and organically grown produce, from salad greens, to fresh fruits, to herbs and spices. Whether you choose to identify the provenance of your dishes with corresponding signage ("Yonder Way Farm Grass-Fed Filet," "Hydroponic Baby Lettuce Salad With Anala Goat Co. Chevre"), or you simply work with your caterer, you can ensure that your menu focuses on sustainably produced, environmentally sensitive food items. You'll be expressing your respect for the planet with the food you serve your guests and participating in one of the most popular catering trends of 2020.
4. Late-Night Nibbles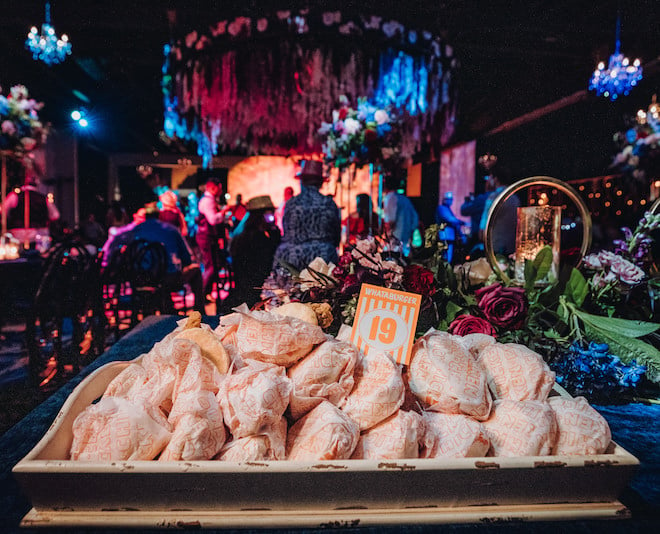 It's the celebration of a lifetime which means it's probably going to go late…like real late. To keep guests fueled and energized for late-night partying, or send them home nourished and happy after a night of revelry, make late-night snacks a part of your party! The ultimate Houston late-night snack is, of course, tacos. And the ultimate variety for wedding after-party food? Breakfast tacos! Let your guests create their own, with their choice of fillings (scrambled eggs, chorizo, potatoes, beans) and toppings (a variety of salsas, cheeses, and local hot sauces served from decorative bottles), and offer up compostable or recyclable containers and monogrammed take-home bags, should they wish to depart with their flavorful "favors." Or, take a cue from countless Houston wedding couples, and send your guests home with Whataburger burgers, taquitos or honey butter chicken biscuits, for a savory sendoff from Houston's hands-down fast-food fave!