Whether your parents are footing the bill for your big day or you and your boo are flying solo with the financials, whether your folks have been married for decades or you come from a family full of beloved "steps," there's no denying that your parents play a special role in your wedding day. While the day is, of course, focused on you and your partner, it's a day of profound and poignant celebration for your parents, too. They got you to this point and now are guiding you along the path (perhaps literally) to forge a new family of your own. 
Few people in the world of weddings are as familiar with this emotional rollercoaster as wedding photographers, whose task it is to capture intimate family photos as they document each couple's special day. So, because we at Weddings in Houston are lovers of all things family—and amazing wedding photos—we asked them about their all-time favorite family wedding photos. Now, take a peek, get inspired…and don't forget to call your parents!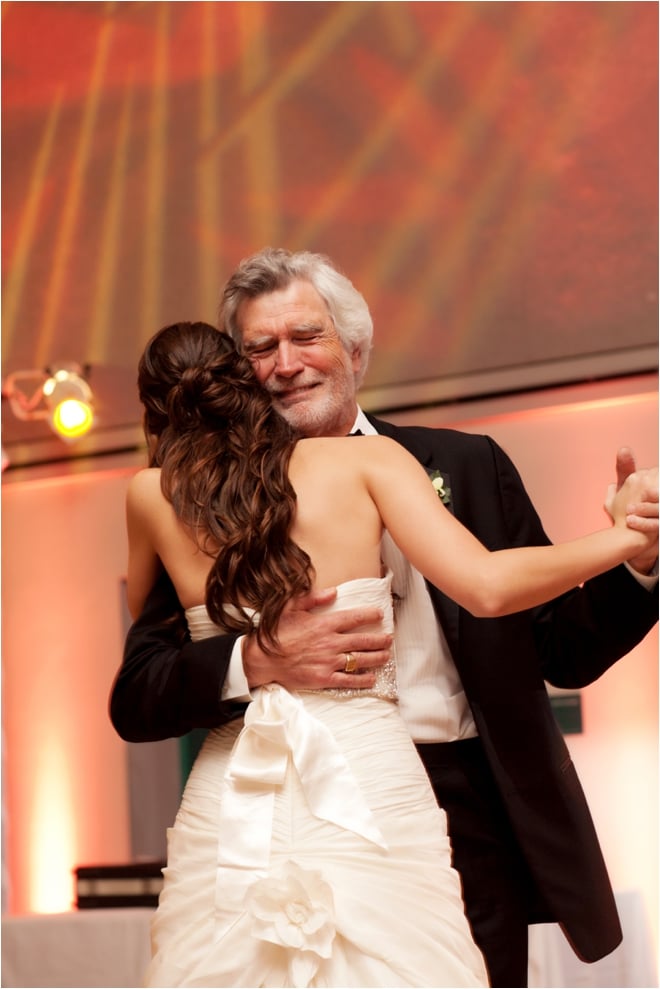 Photo: D. Jones Photography
The father-daughter dance is always one of the most tender moments of the wedding. You never know what combination of emotions are going to unfold once the music starts. Bride Casey and her father shared this heartfelt dance on her wedding day, in a moment captured by David Jones of D. Jones Photography. "The expressions are purely genuine and telling," Jones says of his photo. We love how Casey's dad's face exudes both the joy of the day and the somber realization that his little girl is all grown up.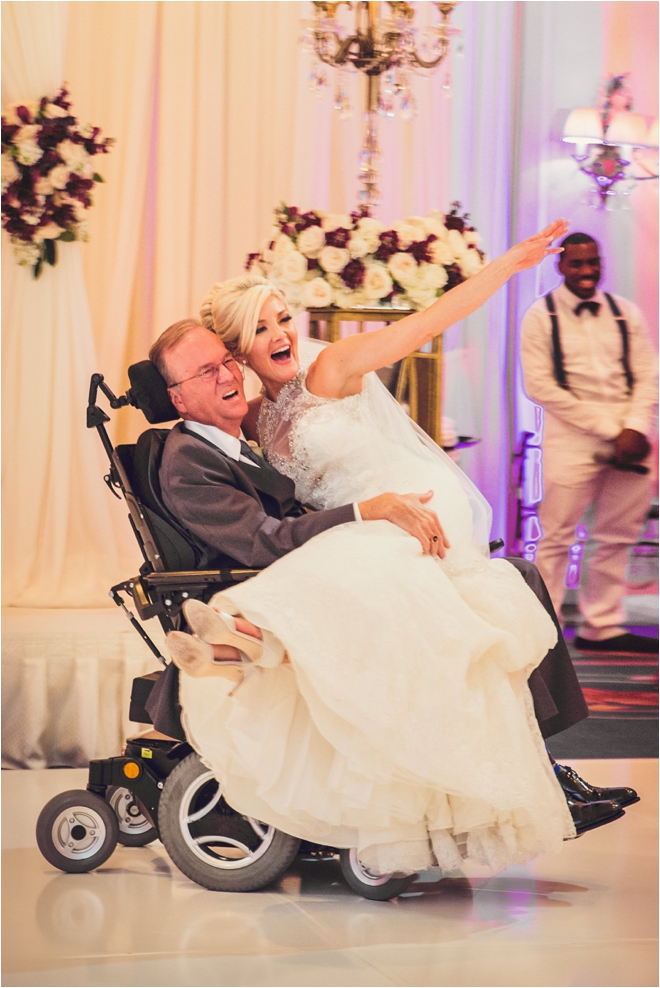 Photo: Ama Photography & Cinema
The lengths that children and parents will go to celebrate each other on the wedding day never ceases to leave guests (and us) teary eyed. Nothing, not even the debilitating condition that confined her father to a wheelchair, would stop bride Meghan from sharing the traditional father-daughter dance with her dad, Fred. Photographer Aisha Khan of Ama Photography & Cinema, who captured this photo, recounts, "The most touching moment was when she hopped on his lap like the little girl she'll always be to him, and he laughed. His face is priceless. I have no doubt this photo will be cherished."
Photo: Civic Photos
Groom Jeff wasn't about to let his wheelchair-bound mother go without a dance, so he found a creative way to make her feel honored while making her feel more comfortable. Barett Henry, one of the talents behind Civic Photos, who took this picture, says, "Jeff wanted to salsa dance with his mother for their mother-son dance…so he got a chair with wheels and rolled around the dance floor with her. The bride eventually joined in on this touching moment too."
Photo: Taylor Golden Photography
For many wedding couples, relationships with their extended family members run deep and long. We love when brides and grooms incorporate aunts, uncles, cousins and grandparents into their wedding photos. According to wedding photographer Taylor Golden, recent bride Rachel did just that. "This event was all about family," says Golden, who captured a sweet photo of the smiling bride getting a smooch from her doting dad. Even more adorable, perhaps? The shot Golden snapped of the bride and her sister embracing their happy grandfather. "You can see the love and connection on everyone's face, and what I love most is the adorable grandpa. I want to steal him, he is so cute!"
Photo: Dream Photo & Video
There are few things more sentimental than the special bond between a mother and son. Shiva Saadi of Dream Photo & Video says that Jesus was insistent that his mother join him on the dance floor, though she was reluctant to at first. "I love the satisfied look Jesus has after his mom agreed to dance with him," Saadi says. "She was not able to hold back her emotions, and was holding on to him tight, clearly looking back on his childhood while dancing with him." The connection between the two makes our hearts melt.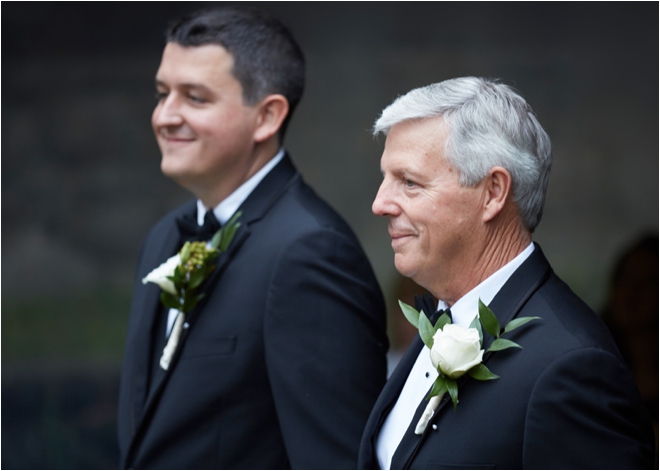 Photo: Kirk Surber Photography
A photo of a moment shared between father and son can be a rare find in wedding albums, which makes photographer Kirk Surber's photo of groom Greg and his father Ken even more special. Ken studied to obtain his officiant license to conduct the marriage ceremony for Greg and his fiancée Minji, and stood alongside them as they made their promise of a lifetime. "Only on rare occasion do you find someone who is willing to go out of their way to be a part of his son's wedding," Surber says. Greg and Ken's matching grins and looks of anticipation as they await the bride's arrival at the altar are a vivid record of a father's devotion to his son, and an image their entire family is bound to treasure forever.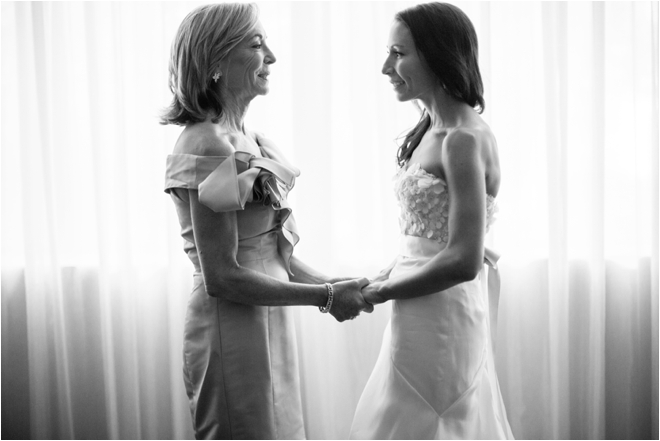 Photo: Kelly Hornberger Photography
The bond between a mother and daughter is deep, complex and enduring. And for many mothers and daughters, that bond only grows deeper during the wedding planning process. After all the work has been done, the dresses are on, and the hair and makeup have been styled, the reality sets in that today is the day. All that's left to do is allow the day to take hold, and enjoy every moment. 
In her photograph of bride Amy and her mom Julie, photographer Kelly Hornberger captures not just the poignancy and pleasure shared by parent and child, but also, with its mirror-like composition, the echo of a mother's features in her daughter's face. "The number of hugs and kisses and sweet moments that Amy and Julie shared during the entire getting-ready process was stopped here in time, with the way Julie is adoring her daughter, the holding of the hands and the look of almost tears on sweet Amy," Hornberger says, "is a moment I'll never forget."
Writer: Laura Mericas