Grab those tissues, y'all. You've been warned about these real proposal stories, real engagement ring selections and the real Houston couples behind them.
Jessica & Grant
Jeweler: Zadok Jewelers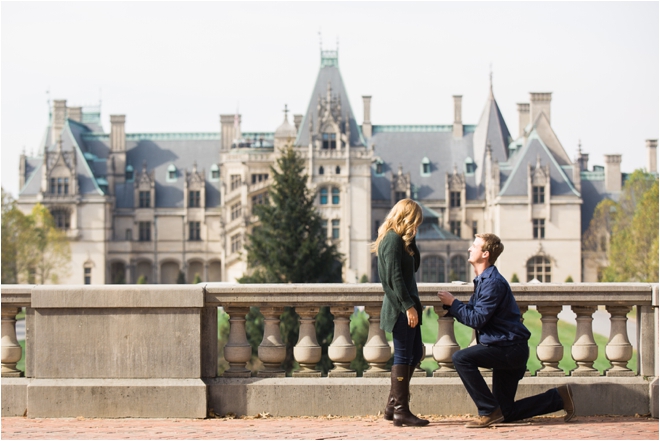 Photo: Meghan Rolfe Photography
Jessica's Story: In November of 2016, Grant and I planned a trip to visit some of my best friends at their home in beautiful Winston-Salem, N.C., to see the fall foliage. The last day of our trip, we made the drive up to The Biltmore in Asheville. It was breathtaking, and looked like a picture-perfect painting of fall, which happens to be my favorite season. When we arrived, Grant took me to a spot that has the best view of the estate. Soon, he was down on one knee. He popped the question, and I said, "Yes!" We spent the rest of our stay exploring The Biltmore, tasting wine and horseback riding through the beautiful property. It was perfect! We will be married at Saint Anne Catholic Church on Sept. 23, 2017, with a reception to follow at Hotel ZaZa.
Allison & Henry
Jeweler: Eklektic Jewelry Studio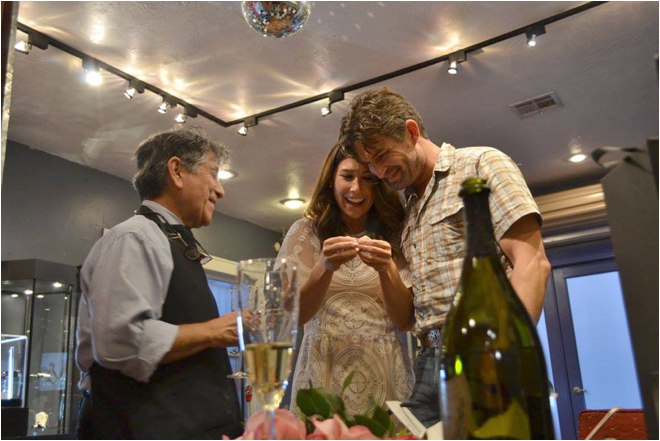 Photo: Courtesy of Eklektic Jewelry Studio
Henry's Story: I proposed on our one-year anniversary at Eklektic Jewelry Studio, where the founders Marco Sr. and Marco Jr. had helped me design and create an amazing engagement ring from a sketch on a piece of paper. I spent about 30 hours working on the ring with them and they called me the minute the ring was ready. I then called my soon-to-be fiancée, Allison, and asked her to meet me at Eklektic ASAP!  She drove in the pouring rain and arrived at Eklektic about an hour later. Marco Sr. and Marco Jr. had set the most amazing stage for my proposal with flowers and bubbly. The ring, which has a cushion-cut center diamond with an alternating variation of diamonds in the halo, was gift-wrapped in a beautiful box. As Allison started to open the box, I got down on one knee and asked her (the most amazing person I have ever met) to spend the rest of her life with me. And she said, "Yes!"
Maggie & John
Jeweler: Lewis Jewelers
Photo: Kasey Lynn Photography
Maggie's Story: We both love going to the beach. For my birthday, John rented a beach house in Bolivar, where his family used to own a house that was destroyed by Hurricane Ike. On Saturday morning, we woke up, had some Champagne and went down to the beach to look for shells. He drove us to the beachfront where his family's house once stood. The shells on the beach were all brown and broken, but then I saw one that was bright yellow, huge and perfectly intact. I exclaimed for John to come look, and when I picked it up, I noticed there was a little jewelry bag inside. I opened it, and John got down on one knee and proposed. It is a moment that still gives me such joy.
We're thrilled to share engagement stories from not one, but two, of the family jewelers from Nazar's Fine Jewelry. Brothers Nareg and Alec Kalajian both proposed to their fiancées with rings they made themselves, and both brothers are having 2017 weddings at Hotel ZaZa.
Alec & Seelva (no pic yet for these two cuties…but we'll be sure to share images from their wedding later this year!)
Alec's Story: Seelva and I met at a Halloween karaoke night at our church, but we didn't date until April of the next year. We weren't dating for very long before I decided to propose to her that August. I asked her to come to the store for a little bit, and I left to go get some flowers. But getting the flowers ended up taking forever! I rushed home and I put a bunch of flowers in the apartment and put vases with one rose in each to make a path to a table in our apartment. After I had made her wait at the store for probably too long, I told her to meet me at the apartment, where she found me on one knee with a three-stone-cushion-cut-diamond-and-twisted-yellow-gold engagement ring. Afterwards, we went back to the store to celebrate with everyone, and then went to dinner with my parents and brother Nareg. Nareg's proposal story is probably a little better than mine…
Nareg & Darlene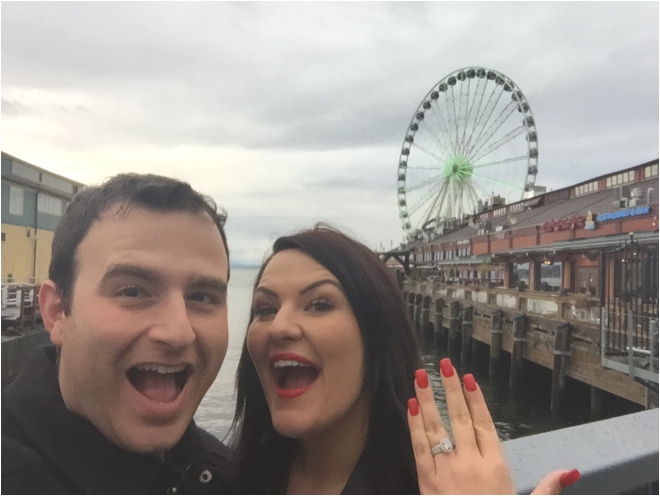 Photo: Courtesy of Nazar's Fine Jewelry
Nareg's Story: Darlene and I had plans to take a trip to Seattle. I just finished making her ring at 5:00 p.m. on Saturday and we had a flight at 6:30 p.m. that day. We were the last ones on the plane and the airline was going to make me check my bag, but that was where I had kept the ring!  So, I sneakily put the ring in my jacket pocket, but the box was kind of thick and I was worried that Darlene could see it. We ended up sitting across from each other on opposite sides of the aisle. At one point, she asked me if she could borrow my jacket because she was cold, but I had to say…"No!"
We originally met at a Starbucks in Houston, so when we got to Seattle, I wanted to propose at the original Starbucks in Pike Place Market. When we got there, the place was really crowded. I thought, "I can't do it here," so we went to a giant Ferris wheel nearby. The Ferris wheel started moving and when we were up in the air, I proposed. I was still able to get down on one knee!
Amanda & Matthew
Jeweler: Loggins Jewelers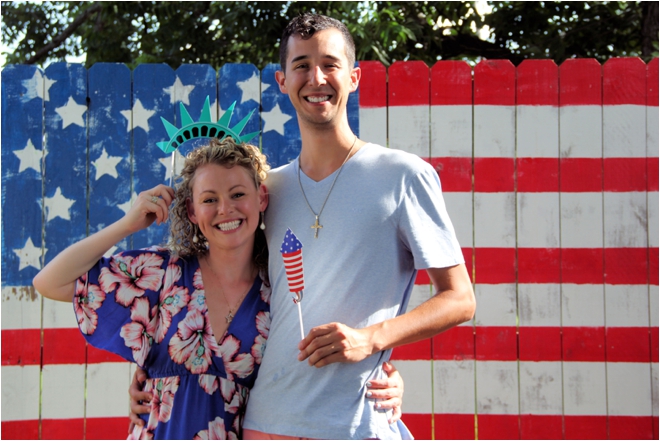 Photo: Maria Cordoba
Matthew's Story: I've wanted to marry Amanda since our first date. After being at her place of employment for 10 years, Amanda was rewarded with a vacation. I was blessed to be invited to accompany Amanda to Thailand! I thought this would be a great place to purchase a unique engagement ring, a ring as unique as our love. While on our vacation, I stumbled upon a gem shop that was going out of business, and I jumped on the chance at buying an engagement ring. I found a blue sapphire that I thought perfectly reflected our relationship.
When I got back to America I went to Loggins Jewelers to ask if they could help me upgrade the engagement ring I bought in Phuket. Jennifer Pappas at Loggins Jewelers was heartbroken when she had to break the news to me my sapphire was in fact blue glass. To say that I was devastated was an understatement, but Jennifer was a godsend. Not only did she make sure I didn't feel like the worst boyfriend in the history of the world, she gave me hope. Jennifer let me know she was going to handpick some options for me to come take a look at. Feeling lost and overwhelmed at the idea of a new search, this was exactly what I needed to hear. When I met up with Jennifer again, I was taken aback by the difficult selection before me. Jennifer and her sister had picked out four amazingly beautiful rings. After some consideration, I settled on a smoky topaz set in a halo of diamonds.
With the ring in hand, I was ready to propose. I decided I'd propose the same way we met: walking our dogs. I asked if I could spend the rest of my life with Amanda, and she blessed me with her, "Yes!"
Kaylin & Michael
Jeweler: Diamond Cellar – Donoho's Jewellers
Photo: Dave DiLauro Photography
Kaylin's Story: We began dating on Dec. 20, 2006, when Michael took me to an ice rink in The Woodlands and asked me to be his girlfriend. Almost seven years later, on Nov. 23, 2013, he took me to dinner at Brio on The Woodlands Waterway for The Lighting of The Doves [the area's annual Christmas-display lighting ceremony]. We walked the waterway and when we were under the doves, Michael got down on one knee and ask me to marry him.
We are super grateful to our wonderful couples for sharing their deeply personal proposal stories with us…and with you! And we wish them all a lifetime of love and happiness. Congratulations!!