Lindsay and Jake's love story began in Oklahoma, where they were both attending school. The couple met on a dating app, as many people do these days. The bride says, "We only went on a handful of dates before I ended up having hip surgery. Jake was so caring and helpful for only knowing me for a short time. I knew he was special!"
Unfortunately, they started dating at the beginning of the pandemic, and Lindsay decided to move back to Houston, leading them to have a long-distance relationship while Jake finished his residency in orthodontics. The couple would meet halfway on the weekends in the Dallas area. The bride says, "On our second weekend together, Jake brought up his feelings and intentions to pursue engagement. I was over the moon thrilled and agreed that he was who I wanted to be with forever! After that weekend, I went home and began trying on rings to decide what style I liked. After a couple of trips to the jeweler with Jake, I left everything in his hands." In March 2021, Jake planned an intimate proposal in Jackson Hole, Wyoming. The bride says, "It was so beautiful and romantic! We spent the rest of the night calling family and celebrating the two of us. Then it was back to Houston to start planning!"
The couple wed a little over a year later, on April 23, 2022, with an evening ceremony at a grand cathedral, followed by a glam ballroom reception with views of the iconic Mecom Fountain. Before Lindsay walked down the aisle in a striking Anne Barge fit-and-flare gown, the couple took a few special moments for photographs and a first look. The bride says, "It was great to have an intimate moment, relieve some stress and have amazing photos to look back on!".
Spring-inspired blooms in purple and pink hues, luxe lounge furniture and tall candle centerpieces decorated the glamorous ballroom reception. Blooming florals, greenery and hanging wisteria decorated the ballroom's chandelier, while ghost chairs and mirrored tabletops added a modern touch to the space. In addition, the elegant invitation suites from Bering's added to the romantic feel of the affair.
Lindsay and Jake paid homage to their hometowns when selecting their wedding day cuisine. Guests enjoyed a "From The Bayou" station with cajun staples like gumbo and fresh seafood and a "From the Ranch" station with traditional meats and sides.
After the couple cut into a two-tier pink and gold wedding cake, friends and loved ones enjoyed an evening of lively celebration. The bride says, "Danny Ray and The Atlantic Street Band were such a highlight of the night. They performed my request of 'Sugar We're Going Down' by Fall Out Boy, and it was amazing! We felt like we were at a rock concert and everyone jammed out." The band also learned "Light My Love" by Greta Van Fleet and performed it for the couple during their private last dance. The bride says, "My request to Danny was to make it epic! We did not want it to be a slow acoustic song. He delivered! It was such a sweet special moment."
After a fun second-line exit (an ode to the groom's Lousianna roots), the couple departed for a romantic honeymoon in the Florida Keys.
Scroll on for the captures of this luxurious ballroom wedding in the Houston museum district.
Congratulations, Lindsay and Jake!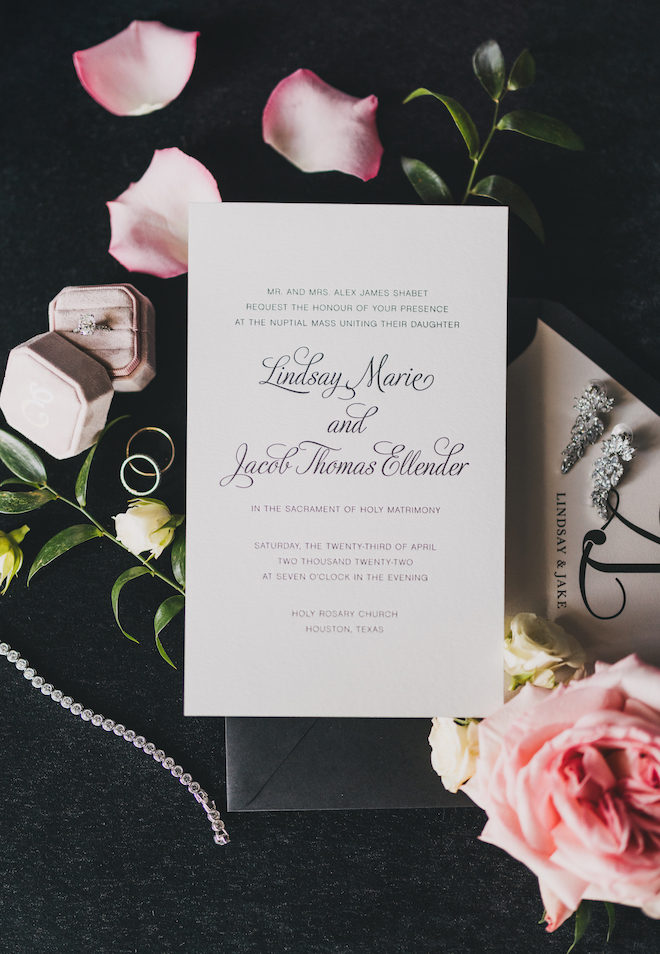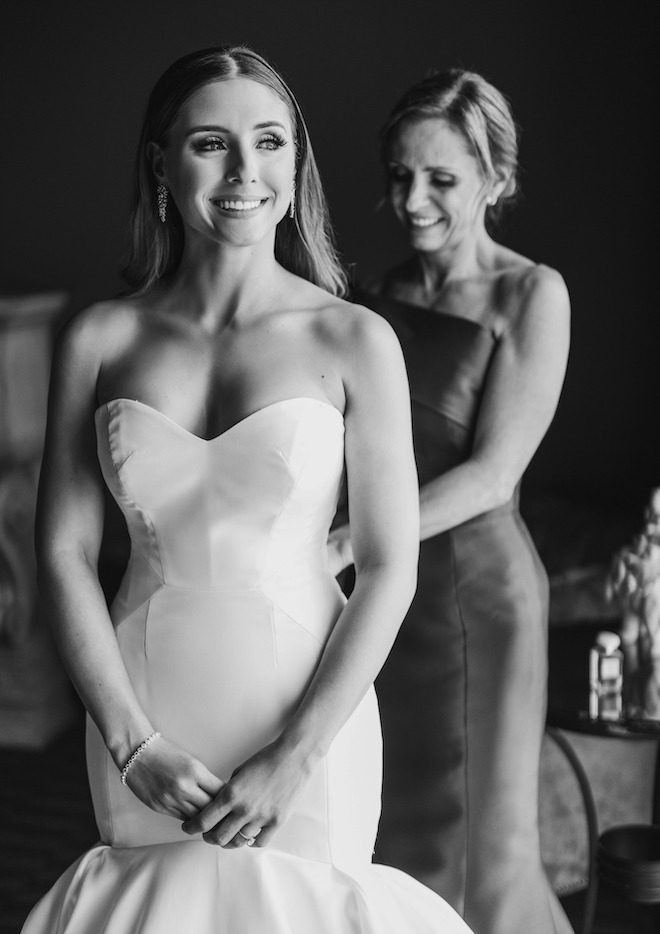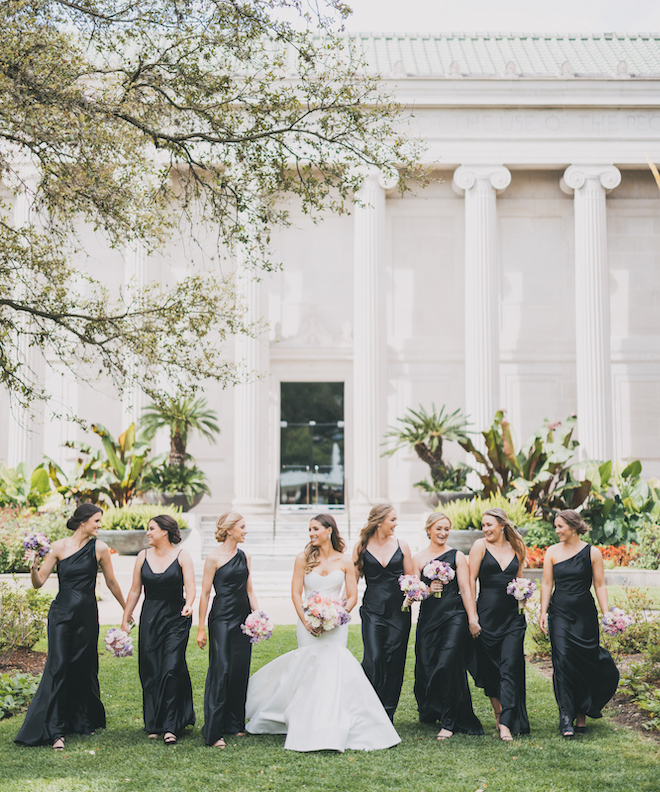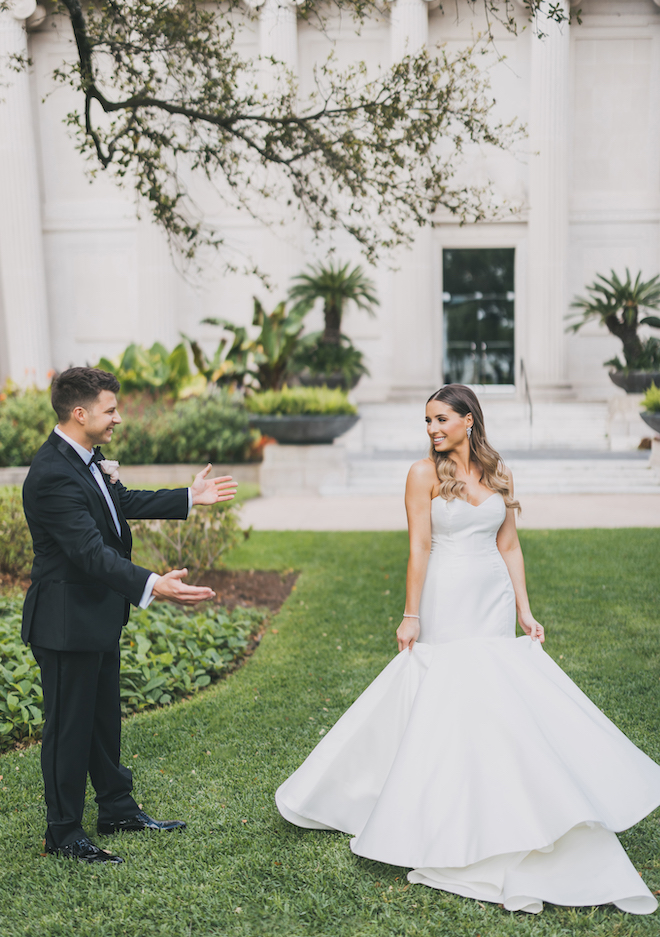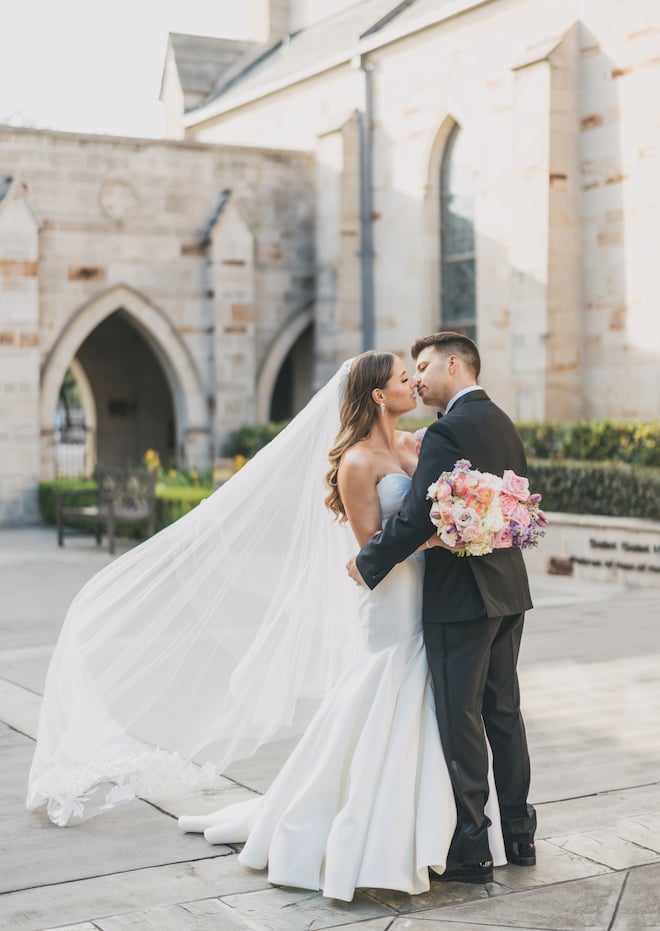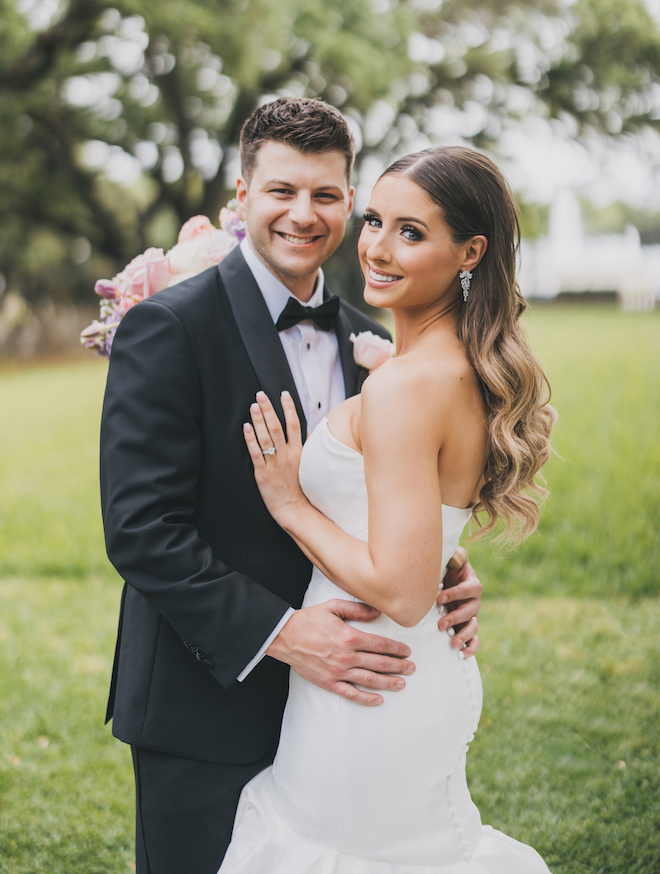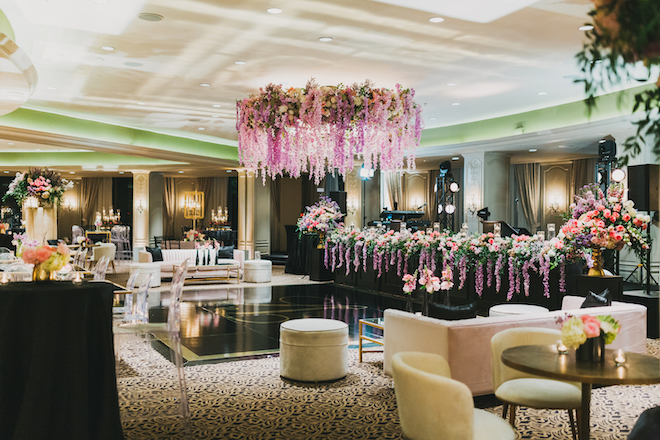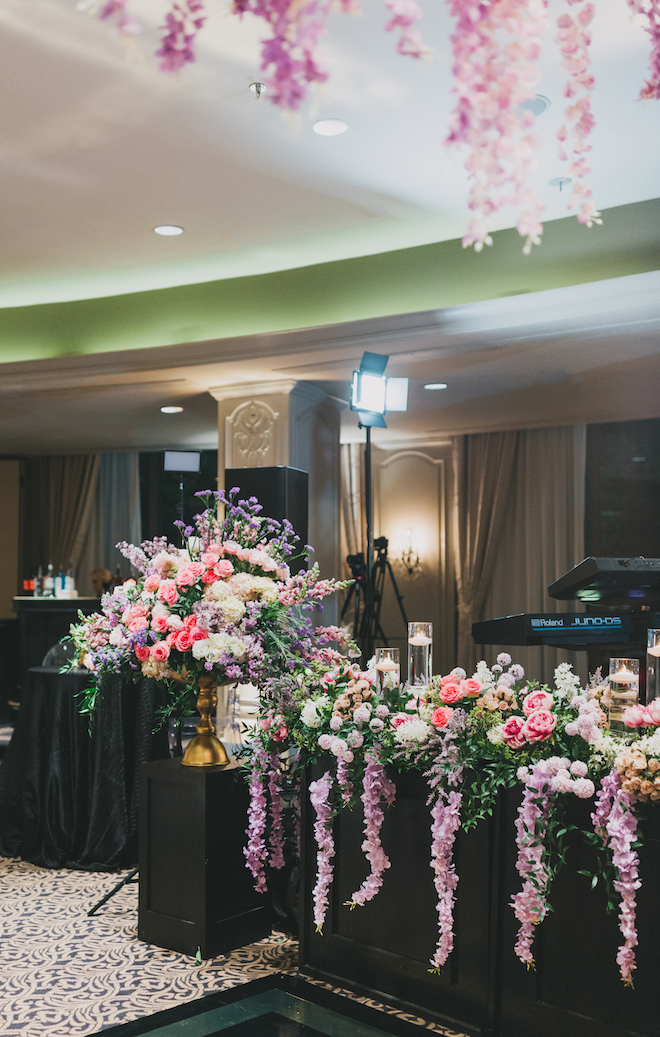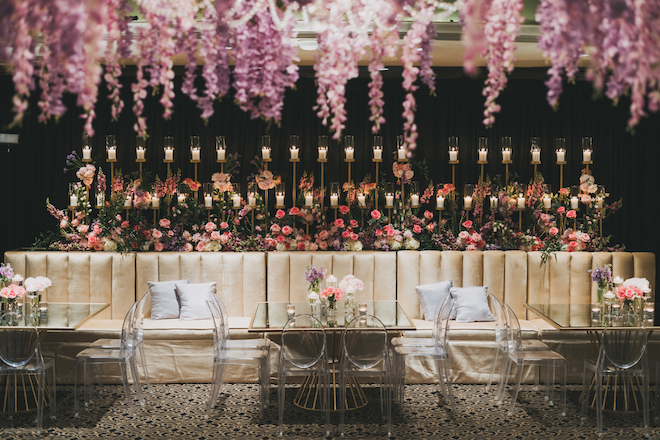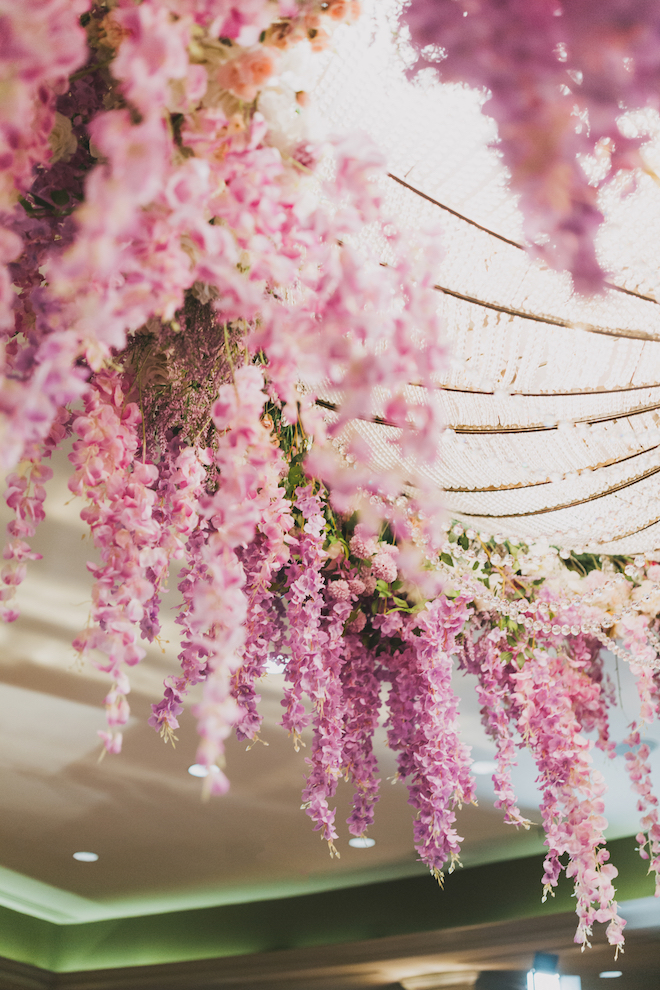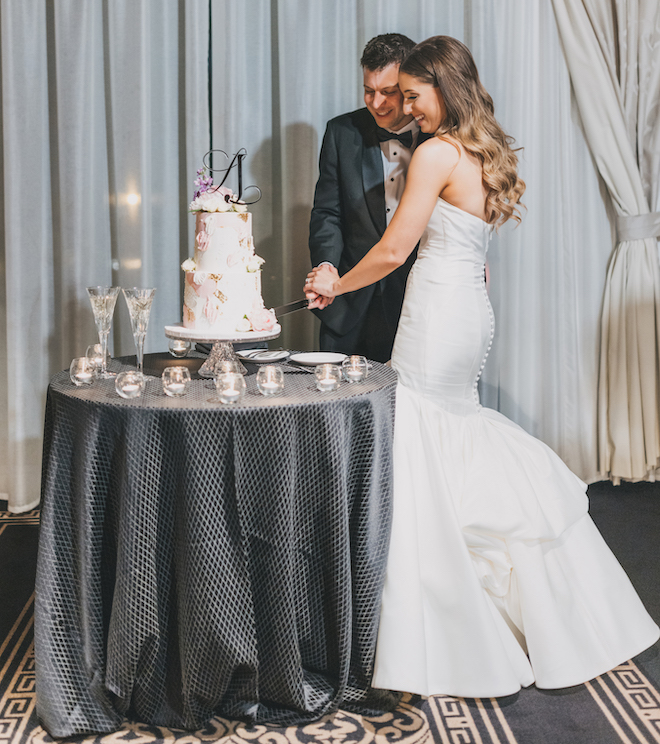 "Glam Ballroom Wedding in the Houston Museum District" Spotlight WiH Vendors- Invitation Suite: Bering's | Wedding Entertainment: Danny Ray and the Atlantic Street Band
Contributors- Photography: The Rylands Photo Co. / Hotel Zaza Houston Museum District / Two Be Wed / Flora & Eventi / Bella Bakery / Anne Barge / Ivory Bridal Atelier / Reverent Wedding Films / Divisi Strings / Concord VIP & Transportation Inc / Isla Bella Beach Resort / Vacations By Shannon / Misty Rockwell Artistry / Jimmy Choo / Aerin / Kendra Scott / HD Photobooth Co. / Modlode / Bella Bridesmaids