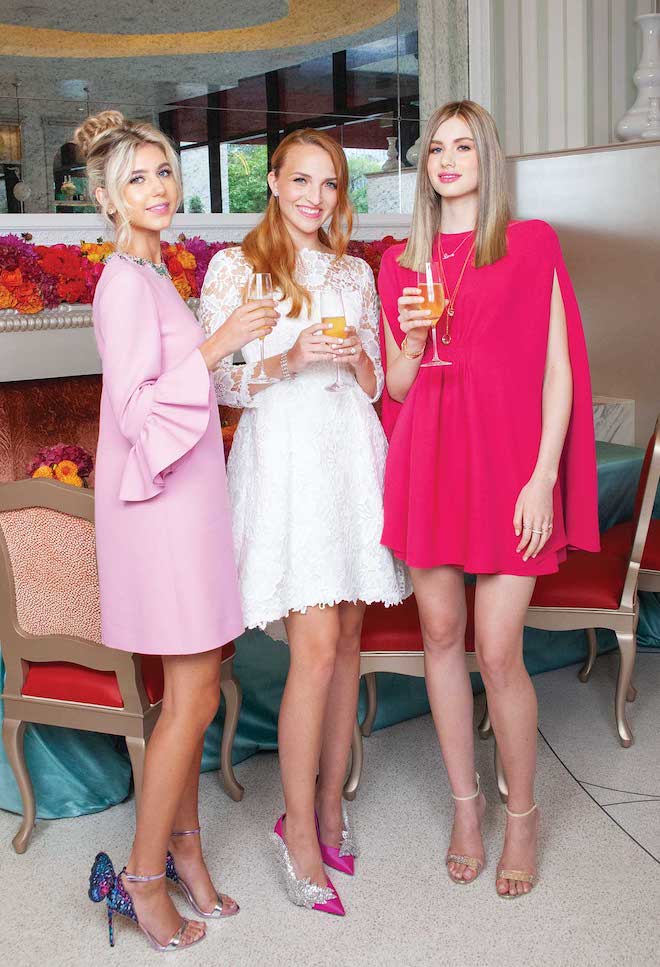 Bridal showers are a common pre-wedding celebration to gather your bridesmaids and close relatives to play cheesy games, share advice and stories, eat delicious food, sip bubbles, and of course…"shower" the bride in love, attention and gifts! If you're a bride looking for unique bridal shower ideas, don't worry, we've got you covered. Think outside the bridal shower box and get inspired by our 5 unique bridal shower ideas in Houston that you and your bride tribe will love!
1. Balloon Arch at The Astorian's Soho Suite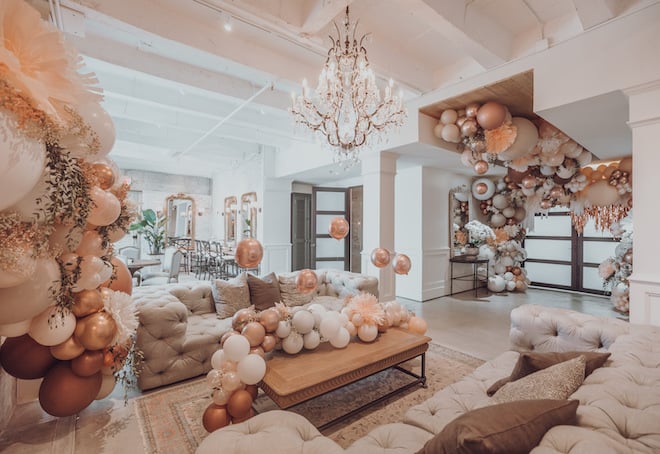 Who knew balloons could look so elegant? Make your bridal shower party pop by adding a fun balloon arch in The Soho Suite at The Astorian! This swanky space is decorated with vintage Victorian-age items updated with a modern twist, featuring Antique Rococo and Late Baroque chandeliers, tufted 8-foot sofas and accompanying side chairs. The Soho Suite's 1,100 square-foot private space comfortably accommodates your intimate pre-wedding celebration in a luxurious and stylish setting. When choosing potential balloon colors, consider using a mix of neutrals, warm metallics and rose gold to beautifully complement the elegant space!
2. Floral-Themed Brunch at Bloom & Bee at The Post Oak Hotel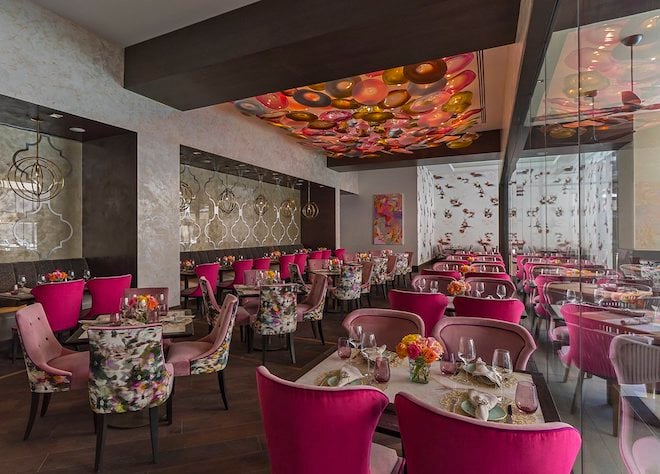 Add floral flair to your bridal shower by hosting a floral-themed brunch at Bloom & Bee in The Post Oak Hotel! This floral-inspired restaurant is reminiscent of a lush garden filled with its namesake gorgeous blooms (don't worry, bees not included) and invites the outdoors in with chic floral accents, pretty pastel colors and an abundance of natural light. Sip mimosas and enjoy fresh, locally-inspired cuisines under an elaborate ceiling of glass-blown flowers while celebrating your upcoming wedding with your girls. If you want to amplify the floral theme, have you and your bridal party wear cute flower crowns for a fun bridal shower look!
3. Wine and Dine at The Bougainvilleas' Wine Room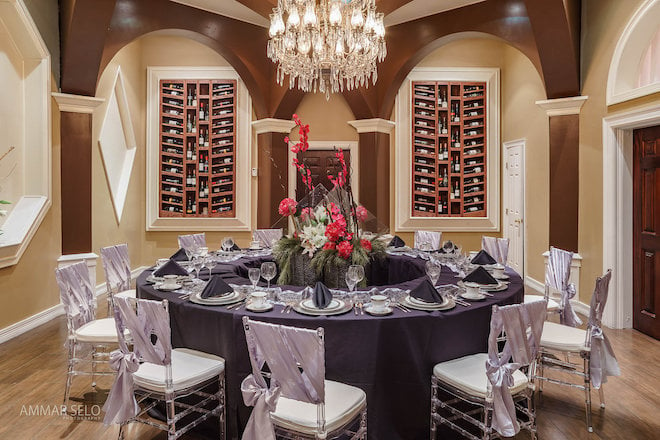 If you're a bride who is a wine enthusiast, it's only fitting to host your bridal shower at The Bougainvilleas' private Wine Room! With its warm ambiance and contemporary architecture, the Wine Room is the perfect spot for an intimate wine-themed bridal shower and can accommodate up to 32 guests. Consider using a wine-focused color palette, such as deep reds and different hues of blush and champagne, for the decor. Take advantage of the privacy to play fun bridal shower games such as bridal bingo or guess how many wine corks are in the jar. Also, don't forget to create your perfect bridal shower playlist!
4. Enjoy Afternoon Tea at Hotel Granduca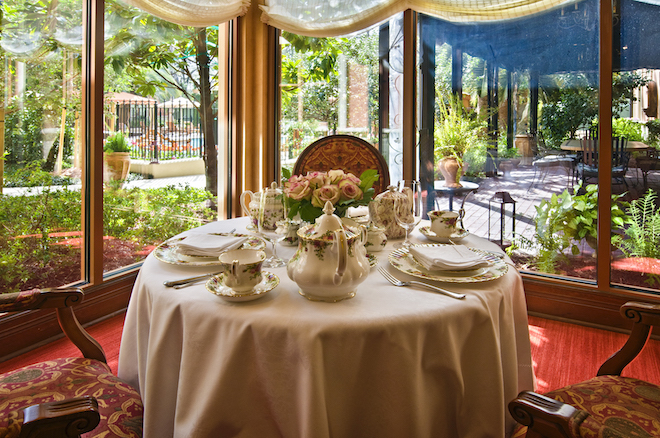 Have you ever dreamed of having afternoon tea in the Tuscan countryside? If so, let Hotel Granduca transport you to an Italian Villa setting while enjoying afternoon tea in an elegant and sophisticated atmosphere for your bridal shower! Located in the heart of Uptown Park near the Galleria, Hotel Granduca offers bridal showers a unique experience of the English tea tradition by adding a touch of Italian flair. Sip tea and enjoy an assortment of freshly made scones, pastries and sandwiches, then end the afternoon with a champagne toast to your upcoming nuptials! For reservations, be sure to book your bridal shower tea party 72 hours in advance.
5. Courtyard Alfresco Brunch at Brennan's of Houston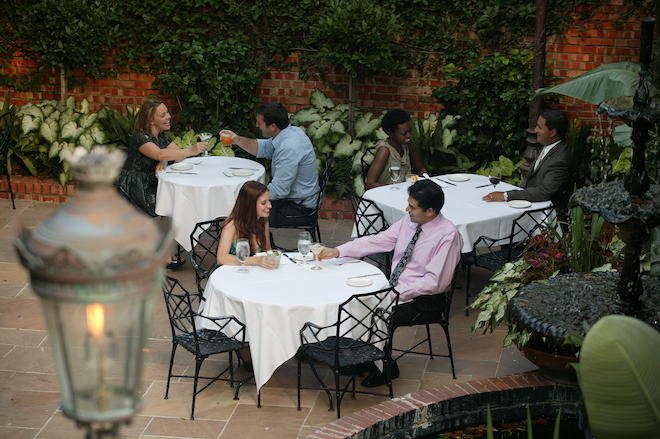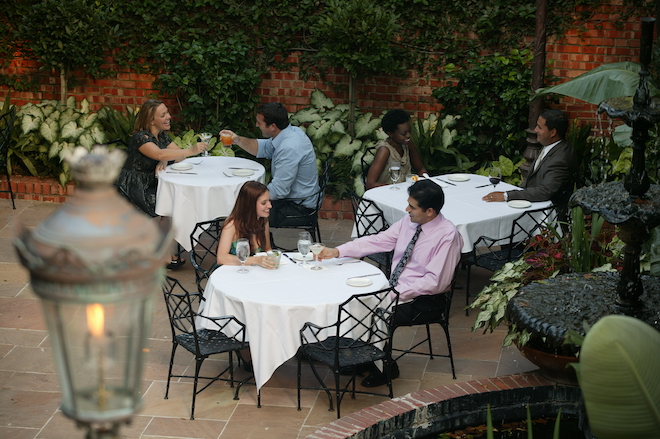 For over 4 decades, Brennan's of Houston has been a longtime hotspot for Houston bridal showers parties. But what makes this Texas creole restaurant a unique bridal shower idea is their alfresco Creole Jazz Brunch! Enjoy a sun-filled bridal shower while soaking in smooth jazz music and dining on Texas creole favorites such as Texas shrimp and grits, crispy softshell crab or creole steak and fried eggs! Don't forget to cool down with a bottle of rosé or one of their hand-crafted cocktails. Seating is limited, so be sure to reserve your spot today!
If you're looking for more bridal shower inspiration, check out our Bridal Shower Ideas Pinterest board!