Sup on a lobster bisque. Savor a mimosa. It's time for a pre-wedding bridesmaids' lunch with your fave ladies! These five Houston hotspots will take care of you, and your crew, with fine food and drink, and flawless service.
The Cordúa name is synonymous with bold Latin American flavors and warm hospitality—both of which are on delicious display at Américas and Churrascos, father-and-son team Michael and David Cordúa's esteemed Houston eateries. For South American "parilla" favorites (grilled chicken with palm hearts and coconut beurre blanc, grilled filet with black-bean sauce and avocado, grilled wild salmon with shrimp and tomatillo broth) along with bountiful margaritas and effervescent mojitos, Churrascos offers you and your girls tons of taste in a tastefully hip steakhouse setting, perfect for Houston bridesmaids luncheons and Houston bridal showers. Pan-Latin cuisine with a focus on local ingredients is on the menu at Américas, where specialties include gourmet tacos, slow-cooked carnitas and fresh, Latin-influenced salads, any of which would pair beautifully with a tangy-sweet Brazilian caipirinha or tart, colorful Tangerine Passion cocktail. Make your Cordúa lunch complete with a round of tres-leches for the team—the owner-chefs' signature dessert, and an enduring Houston favorite.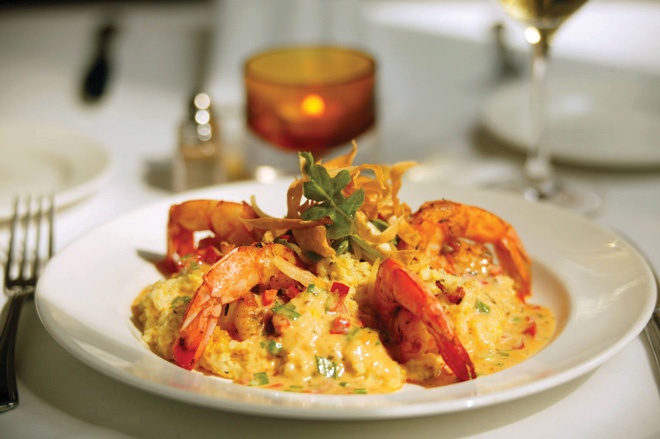 Among the grandest of Houston's fine-dining establishments, Brennan's is a longtime favorite for Houston bridal showers, bridesmaids' luncheons and intimate meals with dear friends and family members. If privacy is your priority, Brennan's offers a selection of discreet dining spaces where you and your group can feast on Creole specialties, sip rosé all day and laugh to your heart's content. Happy to hang out with the lunch crowd? Reserve a Brennan's table for a handful of your closest gals, and giggle over Champagne and caviar, cornmeal-crusted grouper, wild-shrimp remoulade, and a crème-de-violette sour, or a "midtown tea" cocktail with Satsuma-rum liqueur and orange curaçao. Don't miss the decadent Bananas Foster for dessert!
Stretch your ladies' lunch into a full-day affair, at The Houstonian Hotel, Club & Spa. We recommend kicking things off with a few hours at Trellis—the hotel's acclaimed 17,000-square-foot spa, where you and your girls can enjoy a soak and a spa treatment of your choice—say…a deep-tissue massage, a rejuvenating Citrus Drench or a detoxifying Tension Relief Cocoon? When it's time to refuel, order up a couple bottles of sauvignon blanc and fresh gulf-shrimp crepes or grilled rosemary-lemon chicken from the exclusive Trellis spa menu. Or, for a decidedly more luxurious meal, take your pre-reserved seats in The Houstonian's Manor House, an exclusive and intimate dining destination set in a historic private home on the hotel's manicured grounds. A top Houston spa and fine Houston restaurant all in one place? We'll take it!
With three distinct Houston Locations, steak and seafood mecca McCormick & Schmick's offers plenty of options for gathering your girls to enjoy a leisurely lunch in the weeks leading up to your wedding. Whether you choose the Uptown Park location's soaring ceilings and stained-glass windows, the Town & Country Village location's cozy fire pit, or the Downtown Pavilion location's palm-shaded patio and contemporary private dining space, McCormick & Schmick's will indulge you and your entourage with fresh fish and shellfish specialties, succulent steak, gourmet salads and decadent desserts. Start off with an effervescent flute of Veuve Clicquot and fresh shucked oysters, followed, perhaps, by sesame-crusted ahi tuna or signature lump crab cakes, then finish things up with a monumental "chocolate mousse and fresh berries—the perfect opp for sharesies with your besties!
While not technically a lunch spot—the Rice Hotel's swank Lawless Spirits & Kitchen doesn't open until 4 p.m.—this glitzy Downtown destination accommodates late-lunch appetites with a diverse cocktail list, and plush lounge areas provide a unique atmosphere perfect for girl time. The global-inspired menu featuring nibbles such as Korean chicken tacos and fig-and-prosciutto flatbread. It's the perfect spot to gather your bridesmaids for a wedding-planning check-in while you fete them with food and drink to thank them for their dedication and unflagging support!