One big question, two different vibes, so many Houston wedding venues. Should you go big, grand and glamorous, or keep it small, intimate and delicately detailed?
Within these two umbrella categories, there are, of course, countless personal interpretations. One couple's big "luxury Houston wedding" may involve towering centerpieces, formal attire and live-band entertainment. For another couple, a grand, opulent wedding may entail aerial bartenders, ice-luge martinis and fireworks. On the flip side, one couple's "intimate wedding" may be a small rustic affair, while another's may feature a string quartet and garden ceremony, followed by private dining in a fine Houston restaurant. As you decide what kind of wedding atmosphere and experience will best fit your special day (and accommodate your wedding guest count and wedding budget), we invite you to check out these 11 Houston wedding venues and their unique offerings.
1. Intimate: Julia Ideson Library
This historic downtown building—part of the Houston Public Library network—has a distinctive vintage 1920s feel. Features include gleaming brick floors, painted ceilings, and the lovely Reading Room, which houses the Houston Public Library's archival collection. The Julia Ideson Library's unique Spanish architecture and landscaped grounds evoke a sense of peace and tranquility amidst the downtown Houston buildings that surround it.
2. Opulent: Corinthian Houston
The majestic colonnade of 24 Corinthian columns is the inspiration for the name of this downtown Houston venue. But those stately pillars are not all that make the Corinthian Houston a top choice for grand, luxurious Houston weddings. There's also the magnificent bicameral staircase, the soaring windows and the lofty mezzanine overlooking the elegant venue's expansive main floor.
3. Intimate: The Vault At Corinthian Houston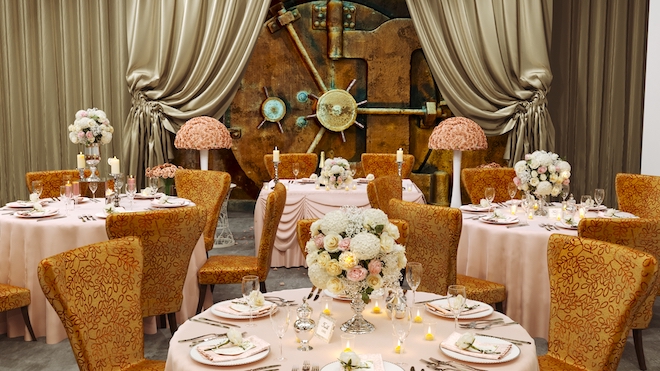 If you love the elegance and history of the Corinthian Houston, but your event calls for something a little smaller in scale, consider The Vault at Corinthian Houston—Houston's newest flexible event space for intimate wedding ceremonies, receptions and rehearsal dinners. A blend of Old-World charm and modern aesthetics, The Vault is just that: the original vault of Houston's First National Bank, which happens to be the previous incarnation of what is now the Corinthian Houston.
4. Opulent: The Astorian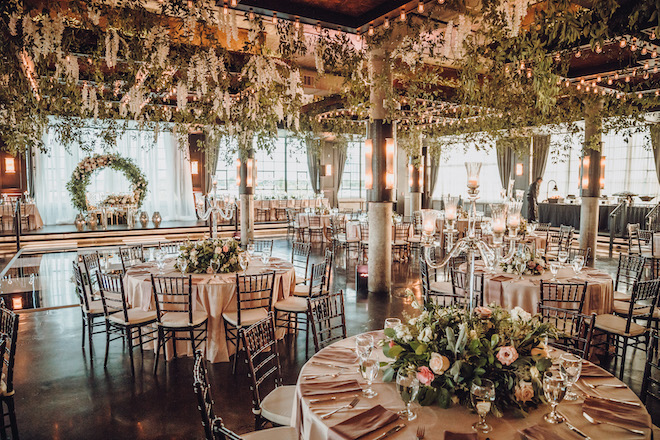 Industrial-chic glamour is the hallmark of this exclusive Heights-area private-loft venue, which features gleaming brass and copper accents, floor-to-ceiling windows and space for 700 wedding guests. New to The Astorian, the lavish Soho Suite and sophisticated Lexington Lounge offer luxurious quarters for the bride, groom and their entourages to prep and relax in privacy. They can also be used for intimate pre-wedding celebrations including bridal showers, bridesmaid luncheons and cocktail parties.
5. Intimate: The Pavilion At Vida Bela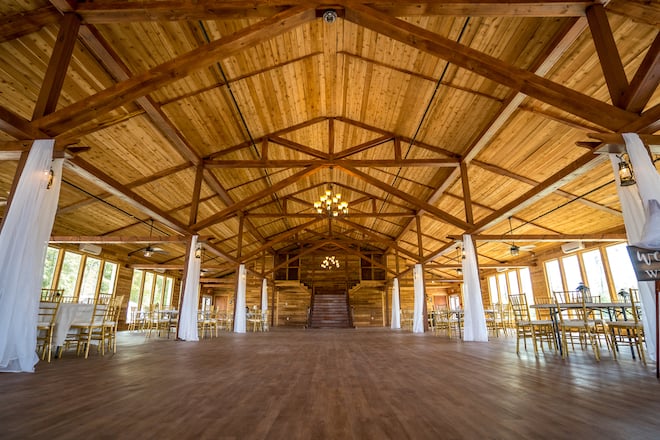 Set on 74 acres in the lush piney woods of North Houston, this rustic and elegant new destination-style wedding venue gives outdoor wedding ceremonies a serene, secluded feel. Take advantage of the venue's cedar gazebo for your ceremony, located on an island surrounded by a four-acre private lake. Then celebrate in the namesake Pavilion, against a backdrop of natural splendor.
6. Opulent: The Bell Tower on 34th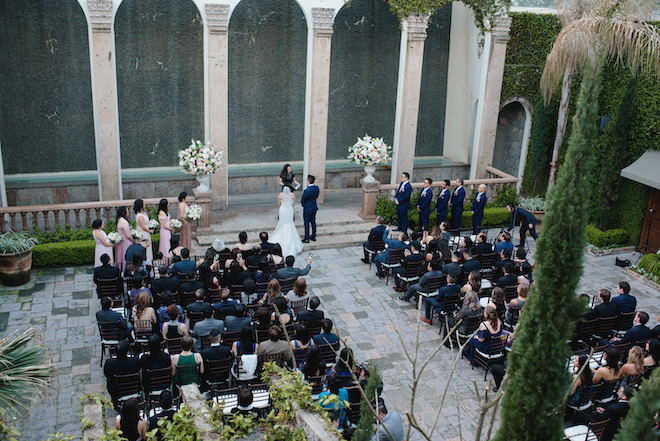 Reminiscent of a regal Italian villa, this elegant, all inclusive Houston wedding venue offers indoor and outdoor wedding space, a private bridal suite and groom's suite, exceptional cuisine, and attentive service from the moment you book your event. Have your ceremony outdoors, in front of the Bell Tower's iconic, illuminated water wall, then head indoors for a luxurious ballroom reception, with space for up to 1,200 guests.
7. Intimate: Hotel Granduca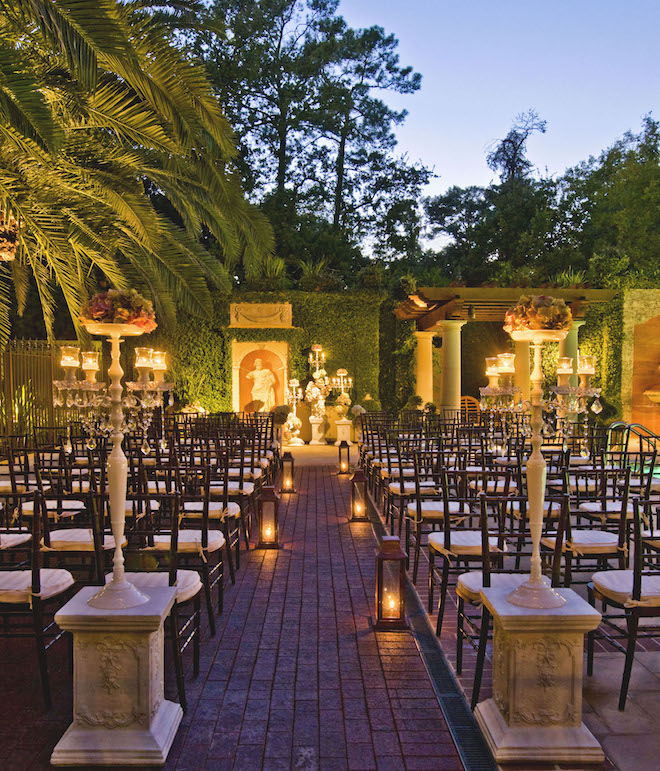 With its columned courtyard and windowed Salone Rialto ballroom, Hotel Granduca transports you and your guests to the Italian countryside…right in the heart of Uptown Park. The Tuscan style wedding venue's theme is carried through its elegant pool deck, glass-enclosed atrium and Italian-influenced catering menus, making it a delightful setting not just for weddings of up to 120 guests, but for Houston rehearsal dinners, engagement parties and bridal showers.
8. Opulent: The Houstonian Hotel, Club & Spa
A true Houston classic, The Houstonian has long been a favorite for luxurious weddings with an iconic Texan feel. This Post Oak Lane property spans 27 acres, and houses four ballrooms, plus the historic Manor House, and outdoor ceremony space beneath the hotel's legendary Live Oak tree. Here you'll also find gracious Southern hospitality and exceptional American cuisine with a contemporary twist, along with flawless service from cocktails to cake.
9. Opulent: The Post Oak Hotel At Uptown Houston
Houston's only AAA Five-Diamond hotel, The Post Oak is luxurious in every way. Couples can choose from more than 35,000 square feet of flexible event space, ensconced in a venue that houses a Swarovski-crystal chandelier, and a spiral glass staircase inspired by the Dubai Opera House. Want to treat your guests to cocktails in an actual Rolls-Royce showroom? Hoping to make your wedding entrance by helicopter on a private rooftop helipad? You can do both at The Post Oak…and there's a fabulous on-site spa and salon, too!
10. Intimate: Ouisie's Table
Tucked away in leafy, luxurious River Oaks, this beloved Houston restaurant has long been a favorite for rehearsal dinners, bridal luncheons and bridal showers. But did you know that Ouisie's is a wonderful spot for intimate weddings as well? Ceremonies are often held in the lovely Bear's Garden, amidst hanging wisteria and the soft sound of burbling fountains. After your "I do's" whether on site or off, a reception at Ouisie's Table is always a fabulous foodie affair, featuring elevated Southern cuisine, fine wine, chic decor and outstanding service.
11. Opulent: Hotel ZaZa Houston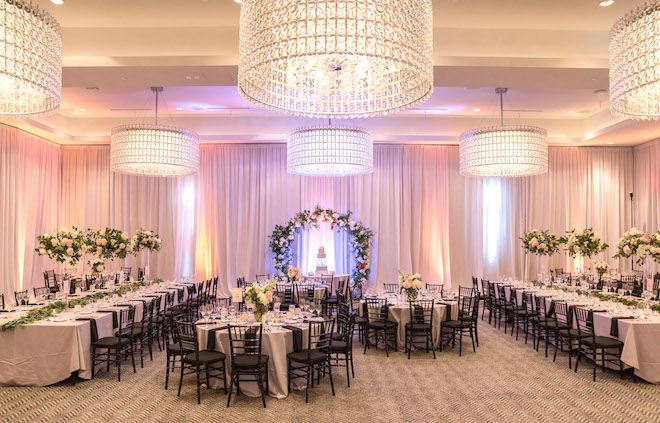 Fine art everywhere you look. Elaborate concept suites with names like "An Affair To Remember" and "Champagne Villa." Resort-style pools with private cabanas. And luxurious ballrooms with crystal chandeliers and glittering city views. That's Hotel ZaZa, with locations in the Museum District and Memorial City—and it's a fantastic hotel venue to celebrate your wedding if your taste runs toward cosmopolitan sophistication, with a bit of edge.
Find plenty more intimate Houston wedding venues, as well as opulent hotels, ballrooms and estates, and get size, capacity and pricing at a glance, here!