Actres Meghan Markle and Prince Harry will be married Sat., May 19 at Winsdor Castle and anticipation for the royal wedding is at an all-time high with just over a week until the big day. However, very little is known about the details of the wedding leading to specualtion on everything ranging from guest performances to the design of Markle's gown. The royal family and the bride-to-be have remained tight-lipped when it comes to the gown, but we can be sure it will be stunning. In honor of the pending nuptials, we've complied a list of the most stunning royal wedding gowns.
Princess Elizabeth (1947)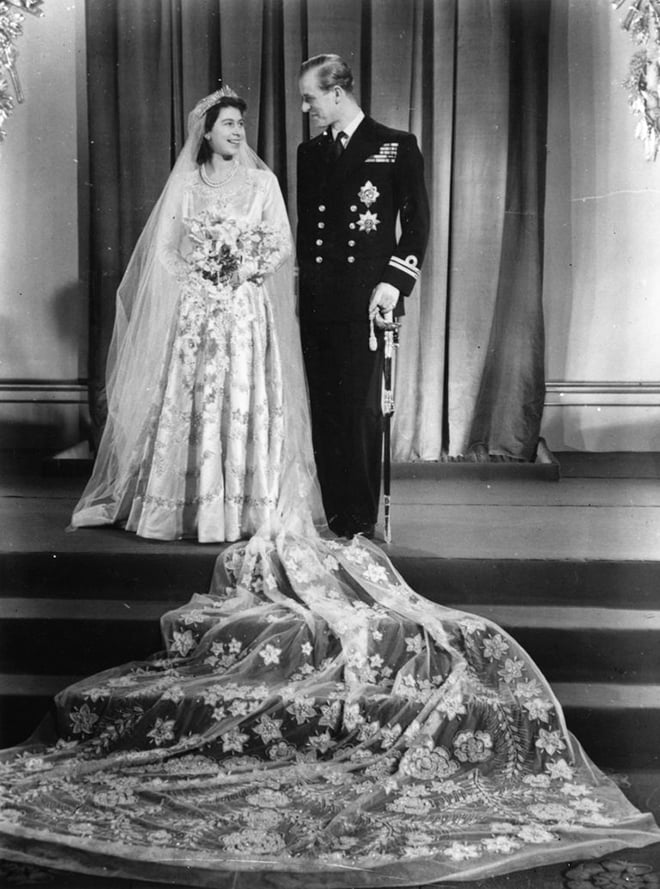 Just two years after the ending of WWII, Princess Elizabeth married Prince Philip with the royal nuptials serving as an escape for post-war Britain. Paid for with  200 ration clothing coupons, the gown was made from Chinese ivory silk, included 10,000 hand-sewn pearl seeds and a 15-feet train.
Queen Soraya of Iran (1951)
In a lavish royal wedding, Queen Soraya of Iran married Shah Mohammad Reza Pahlavi at Marble Palace in Tehran. She wore a striking 44-pound strapless dress consisting 37 yards of silver lamé, studded with pearls, 6,000 diamond pieces, and 20,000 marabou feathers.
Grace Kelly, Princess of Monaco (1956)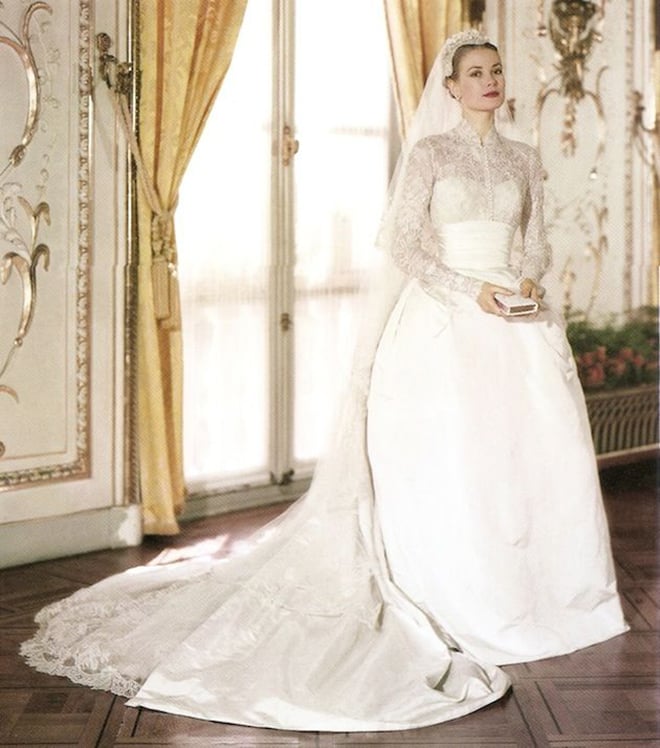 Actress Grace Kelly married Prince Rainer of Monaco in 1958 wearing an iconic dress designed by Academy Award-winning costume designer Helen Rose. The ultimate fairytale dress, this look has inspired countless brides with their own wardrobe, including Kate Middleton's 2011 dress.
Princess Margaret, Countess of Snowden (1960)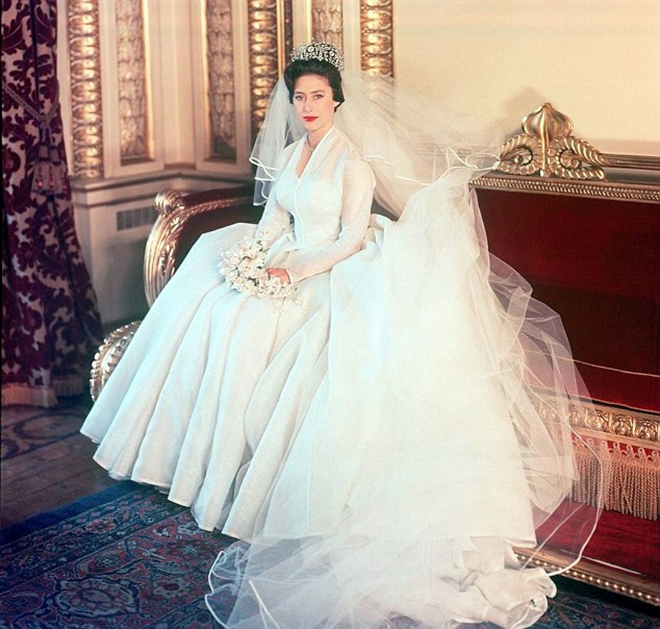 The stylish younger sister of Queen Elizabeth II kept the design simple in her stunningly tailored gown by Norman Hartwell for her wedding to photographer Antony Armstrong-Jones. Crystal embellishments and beading on the dress were intentionally kept to a minium to accenuate Margaret's petit frame. The dress is considered to be Hartwell's best design and is on display at Kensington Palace.
Princess Caroline of Monaco (1978)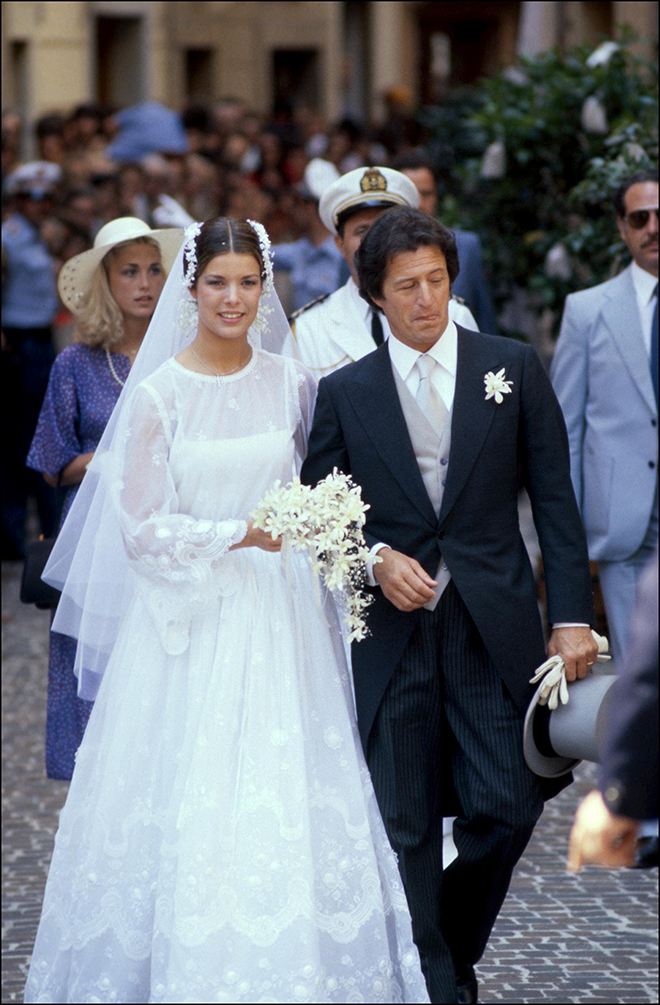 Grace Kelly's daughter, Princess Caroline of Monaco embraced the style of time in her Marc Bohan dress featuring translucent lace bell sleeves and a delicate skirt with lace flowers.
Princess Diana (1981)
The design for Diana's dress was such a closely guarded secret, designers David and Elizabeth Emanuel ripped the sketch to pieces after showing the princess. Diana wore the iconic gown, which featured 10,000 embroidered pearls and a 25-foot-long train.
Queen Rania of Jordan (1993)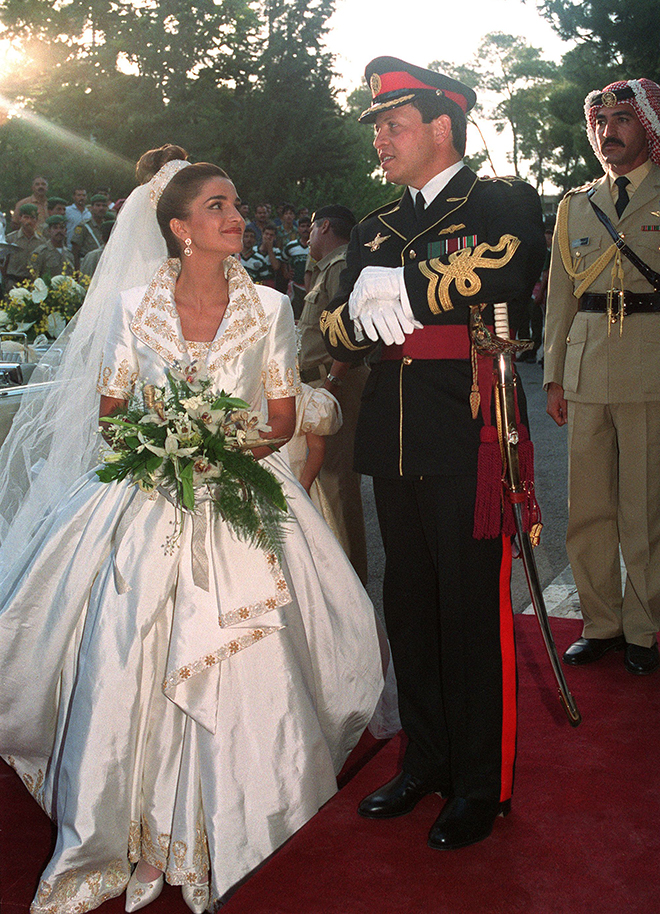 On June 10, 1993, Queen Rania married Prince Abdullah in Amman. She wore an intricate gown, designed by Bruce Oldfield, with a full voluminous skirt and gold-detailed trim.
Queen Letizia Ortiz of Spain (2004)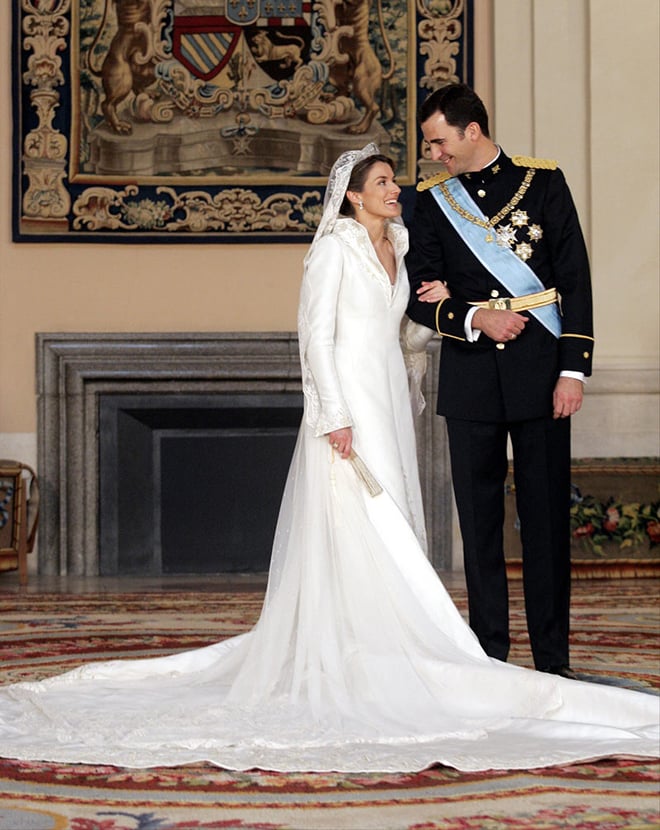 In a regal gown designed by Manuel Pertegaz, Queen Letizia tied the knot with King Felipe in Madrid. The gown was made of natural silk, woven with silver and gold thread, with a 15-foot train.
Mary Donaldson of Denmark (2004)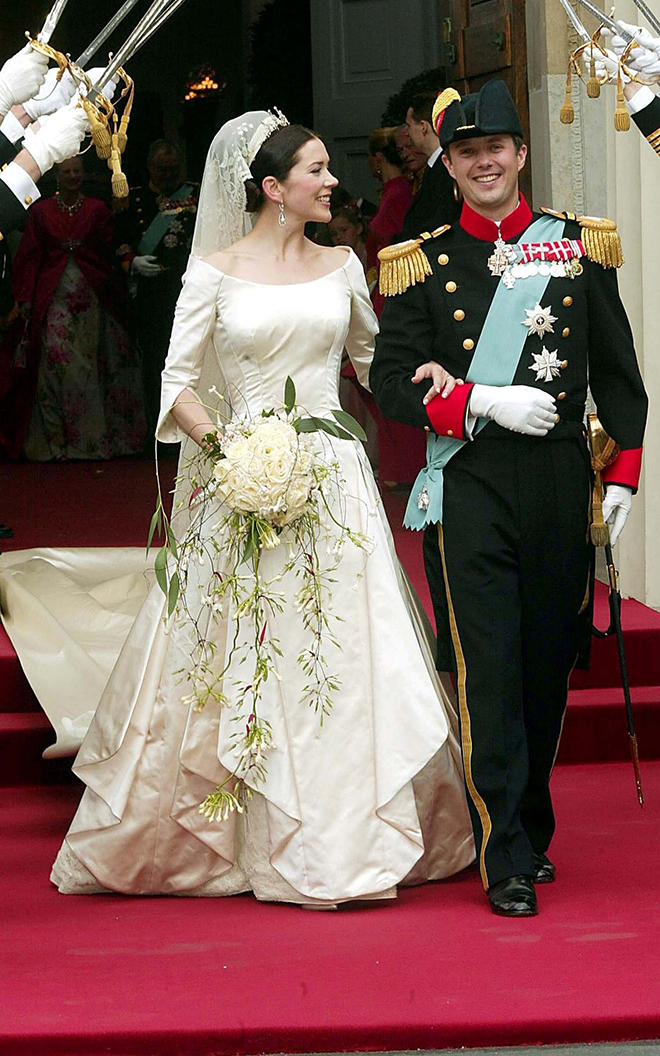 Mary Donaldson went for classic elegance in her Uffe Frank gown when she married Prince Frederik of Denmark. It was made of ivory duchess satin with a scoop neckline, a slim-fit bodice and lily-like sleeves.
Princess Marie of Denmark (2008)
Covered from head-to-toe in lace, Princess Marie married Prince Joachim at Møgeltønder Church. Designed by David Arasa and Claudio Morelli, the gown included a low-waist, ivory silk faille with a floral pattern in raised satin stitch.
Princess Victoria of Sweden (2010)
Princess Victoria's wedding dress was made of cream duchess silk satin with a detachable 16-foot train, a rounded collar, and few embellishments. She married Prince Daneil in Stockhold, Sweden at Storkyrkan church.
Catherine, Duchess of Cambridge (2011)
Just as Princess Diana did 30 years prior, Kate Middleton wowed the world in her now iconic gown designed by Sarah Burton for Alexander McQueen when she married Prince William. With a Victorian-inspired corsetry, long sleeves, and a delicate lace flower collar, the gown was reminescint of Grace Kelly's dress. Soon after, Middleton's gown inspired copycat gowns.
Princess of Monaco Charlene Wittstock (2011)
Princess of Monaco Charlene Wittstock married Prince Albert II July 2, 2011 at the Prince's Palace of Monaco. Her Armani dress featured an off-the-shoulder top and embroidery consisting of 40,000 Swarovski crystals, 20,000 mother of pearl teardrops, and 30,000 gold stones.
Princess Madeleine of Sweden (2013)
Wearing a Valentino gown, Princess Madeleine married Christopher O'Neill of Sweden. The gown had a wide neckline, short sleeves, and a deep-cut back emphasizing her smal  waist. It was made from pleated silk organza with Chantilly lace.
Beatrice Borromeo of Monaco (2015)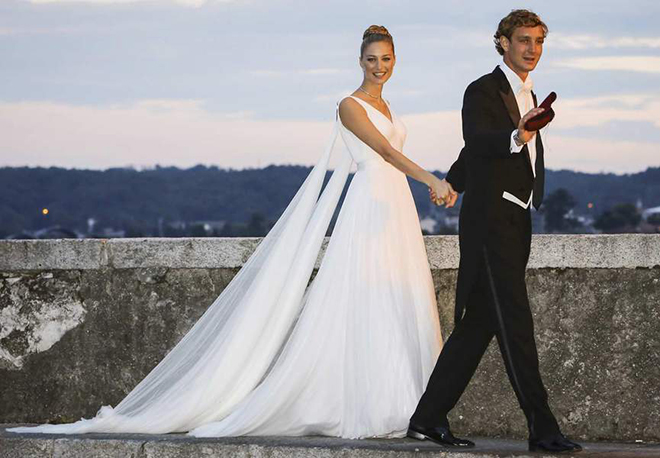 Beatrice Brromeo married Prince Pierre Casiraghi, grandson of Princess Grace Kelly, in a lavish affair consisting of two weddings in one week. Borromeo changed her look multiple times, but it was her grecian styled silk tulle dress with shoulder drapes she wore for the reception that many described as stunning.