---
Personalized to Perfection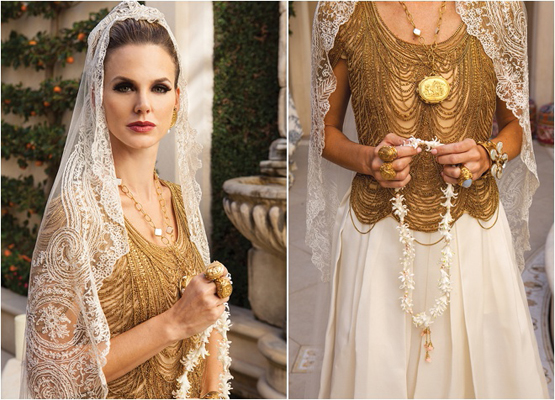 Photos: Larry Fagala | Handcrafted Floral Rosary: Todd Events
Did you meet-cute at a Laundromat? Get engaged at the Eiffel Tower? Does your family hail from Montreal and his from Mozambique? Do you have a favorite Tex-Mex spot for date night? Do you still have your great-grandmother's wedding dress? His great-grandfather's pocket watch? These memories, heirlooms and favorites are the materials for creating a wedding that tells the tale of your lives and love. Here are five expert tips for how to do just that.
1. Get to know your planner. The best way to ensure that your wedding reflects who you really are, individually and as a couple, is to ensure that the person or people tasked with creating your wedding get you—your lives, your personalities and your vision for your wedding. Wedding consultant Claudia de Velasco of A Day to Remember notes that long before she starts guiding her client through flowers and linens and signature cocktails, "We meet outside of the office and just go have drinks or coffee and chat about life in general. No wedding planning is discussed, we just get to know each other. I learn about their hobbies, their favorite restaurants, their favorite piece of furniture at home."

2. Decide what wedding elements are most important to you, and focus your attention, and budget, on those. "While we all want it all, making a list prior to getting started builds a foundation and keeps the wedding budget on track," says consultant Kat Creech of Kat Creech Events. "Even without our clients knowing what a wedding cost, we can build a budget around what is most important. For example, we all want good food, but a true foodie will want those extra special touches in china, glassware and food presentation, so we would build a budget to support this."
Another couple may not care too much about gourmet cuisine, but instead about be passionate about high-energy partying. In that case, "We would look at the wedding entertainment as our focus, adding more than just a DJ or band," such as live dancers, strolling entertainers, a photo booth or late-night fireworks, "to keep the surprises coming."

3. Make your ceremony as meaningful for your family and friends as it is for you and your beloved. Minister Lynn Turner of Weddings Performed says that these days, her couples "tend to become very expressive, being candid or romantic in what they write and how they deliver their personal vows during the ceremony." To bring a sense of culture and legacy into the proceedings, "Use traditions from your ancestry and family roots." The ancient Pagan custom of handfasting, for instance, has become a favorite ceremony rite for brides and grooms with Celtic backgrounds, while couples with Latino roots might want to make the traditional lasso-and-coins ritual a part of their proceedings.
For Creech, the key to a truly personal wedding ceremony is a well-thought-out storyboard. "We have had couples with a passion for gardening, for whom we created a unity ceremony with a lemon tree," she says. "Others have created wine 'time capsules.'" And, like Turner, she loves the emotional resonance of personal vows. "I think writing your own vows is by far the most romantic thing anyone can do. Even for those that are not comfortable speaking in public, a few words to the person you love will be remembered by all, forever and ever."

4. Remember that every part of your wedding is an opportunity for personalization. Your flowers, your menu, your cake—even your table numbers—every individual element of your nuptial rituals and celebration can, and should, convey a special memory, an honored tradition or an emotional sentiment. Consultant Jo Ann Schwartz-Woodward of planning firm Schwartz & Woodward recalls one couple who had a special affection for the Houston skyline. They purchased a photograph of the skyline and had two copies blown up. One was fixed to foamcore, as a backdrop, and the other was cut into escort cards they attached to it." While time-consuming to construct, the finished product was "totally amazing, as guests came to pull off their cards."
Consultant Lauren Ehly of Lauren Ehly Events, meanwhile, suggests, "Incorporate a family heirloom into your wedding bouquet, perhaps a special handkerchief, or a small piece of fabric from a family member's wedding dress attached to your bouquet handle." As your reception winds down, "pass your favorite late-night snack of breakfast tacos or Whataburger's Honey Butter Chicken Biscuits toward the end of the night," as a fond, and tasty, treat for your soon-to-depart guests.
And, of course, include photos in your fabulous event. "Place photos of yourselves as a couple, and of your family members, throughout the reception, to add a personal touch," Ehly adds. Make sure not to overlook sign-in and gift tables, behind the bar, and even the cake tables, she advises.

5. Give your guests a sign. A picture may speak a thousand words…but a few actual words go a long way toward making your guests feel comfortable, and making your wedding experience feel cohesive. "Signage is a great way to 'brand' your wedding," Ehly says. "Let guests know what the signature drinks are, what's for dinner, and when and where the exit will take place, with customized signage."
"I love wedding branding with stir straws, slap koozies and appetizer food picks," adds Creech. "Did you know that you can even brand your fruit garnishes for your cocktail? When you consult with us, we'll show you how!"
Along with those handcrafted signature cocktails and their associated signage, your cocktail napkins should be custom-printed as well. "Small details like these really pull everything together," Ehly notes. "Make sure to include your wedding hashtag," so that guests can share beautiful visuals, tender moments and celebratory hijinks on Instagram!
You Might Also Like