---
Sweet Wedding Settings
Photo: C. Baron Photography | Location: Waters Edge
Sprawling, spacious and dotted with diverse regions, neighborhoods and natural landscapes, the Houston area has much to offer the wedding couple seeking a special venue, where indoor elegance and outdoor beauty go hand in hand. Whether nature's bounty is glimpsed through stately windows, recreated through garden-like interiors, or enjoyed in its pure al fresco form, the region's country clubs, estates, waterfront enclaves and manicured gardens offer many hidden delights. In this feature, we present some of our favorite spaces for unique, and uniquely picturesque, wedding ceremonies and receptions.

Photo: George Garvin Photography | Location: Pine Forest Country Club
Pine Forest Country Club
Located in West Houston, and boasting a history of more than 70 years as one of the area's premier golf clubs, venerable Pine Forest Country Club is a veritable Houston institution. It's also "the perfect space for weddings!" notes club event coordinator Nicole Grady. "Couples adore having ceremony seating on our hardwood dance floor, beneath two beautiful crystal chandeliers, with beautiful views from our panoramic ballroom windows overlooking our pristine fairways and lush landscaping."

When you're ready for your close-up—or "first-look," or bridal party pics or family wedding portraits—Pine Forest has almost too many options to choose from. According to Grady, "Favorites include our grand staircase, luxurious fireplace, and outdoor spaces such as our Sunset Terrace, with views of the golf course, and our Veranda—an 800-square-foot covered deck."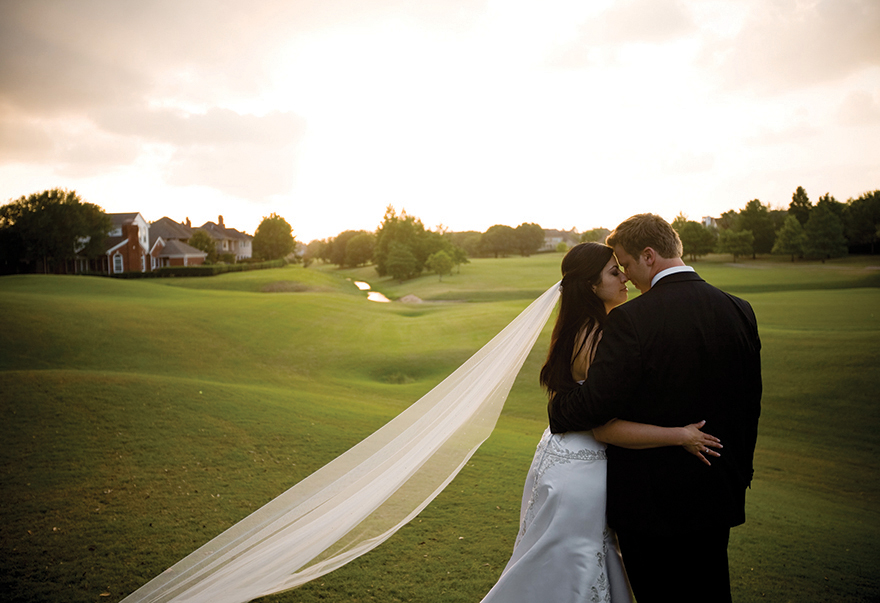 Photo: J. Cogliandro | Location: Sweetwater Country Club
Sweetwater Country Club
"As you drive past multi-million-dollar homes, through oak-lined boulevards, you know you have arrived at excellence," notes Jennifer Keefe, director of catering for Sweetwater Country Club, located just 25 minutes from downtown Houston.

For a comfortable indoor setting with all the splendor of the outdoors, "Our floor-to-ceiling windows, which overlook our spectacular golf course, give the feeling of being in a garden setting," she says. Post-ceremony festivities take place in the club's sophisticated ballroom, where guests can enjoy fusion menus, luxurious lounge furnishings, and a chef-attended ceviche bar, followed by late-night revelry at a 25-foot-long bar with patio access—"the perfect place to party into the wee hours of the morning!"

Photo: His & Hers Foto | Location: Waters Edge
Waters Edge
Set on two and a half scenic acres on the shores of sparkling Clear Lake, Waters Edge feels more like a lush tropical resort than a wedding venue. Couples love to make use of the waterfront lawn for ceremonies, outfitting it with a chiffon-draped, chandelier-accented white arbor, and punching-up the palm-tree-lined aisle with twinkle strands and color-changing uplighting, notes assistant event manager Kayla Taylor. Then, "Once everyone is ready for the reception, we open the sliding glass wall that leads into the ballroom, which has the same gorgeous views of the waterfront," she adds.

For after-dark lounging and stargazing, the venue's outdoor fire pit features dancing flames set inside a fountain-like ring of water, echoing the waters of Clear Lake just beyond, and creating a perfect spot for intimate chats, relaxed sipping and superb photo ops.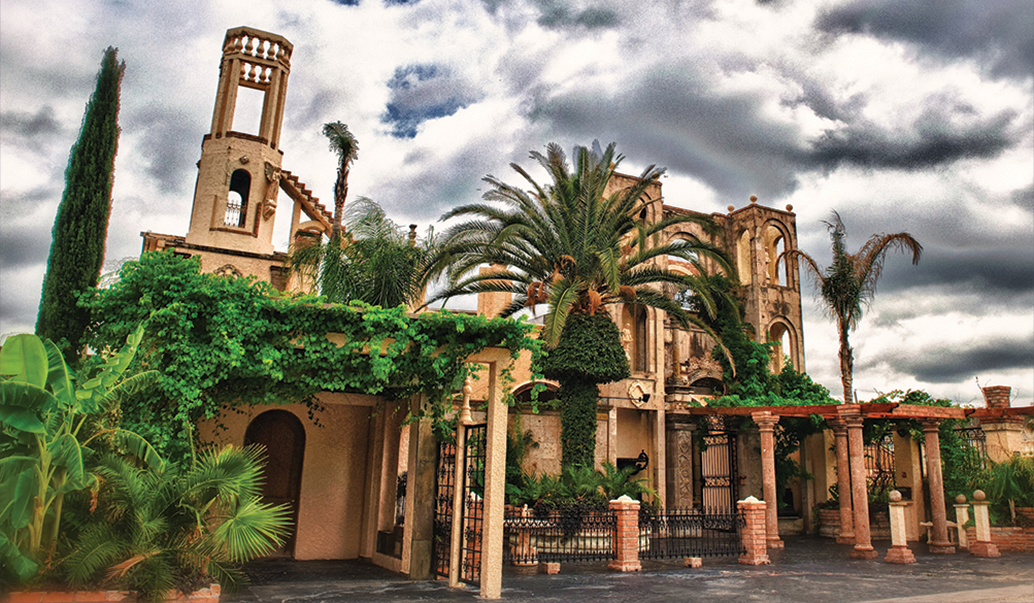 Photo: Tomas Ramos | Location: Las Velas
Las Velas
At lovely Las Velas, the outdoors is in, notes venue director Elmira Frias. "Our main event space, known as The Palm Court, is a climate-controlled interior courtyard serving as both the ceremony and reception space for most events," she explains. Features of the ornate interior include high ceilings, natural lighting, lush indoor greenery, and wrought-iron gates, giving the space an airy, garden-like feel, but with all of the comforts of the great indoors. Combine these features with a grand stone staircase featuring an antique railing and flickering candelabra sconces, and you've got a fabulous spot in which to make your grand newlywed entrance.

If true outdoor space is a must-have for your wedding-day photos, all you have to do is step outside Las Velas' regal front doors. There you'll find abundant greenery, water fountains, mosaic-tiled floors and a hand-carved stone arch.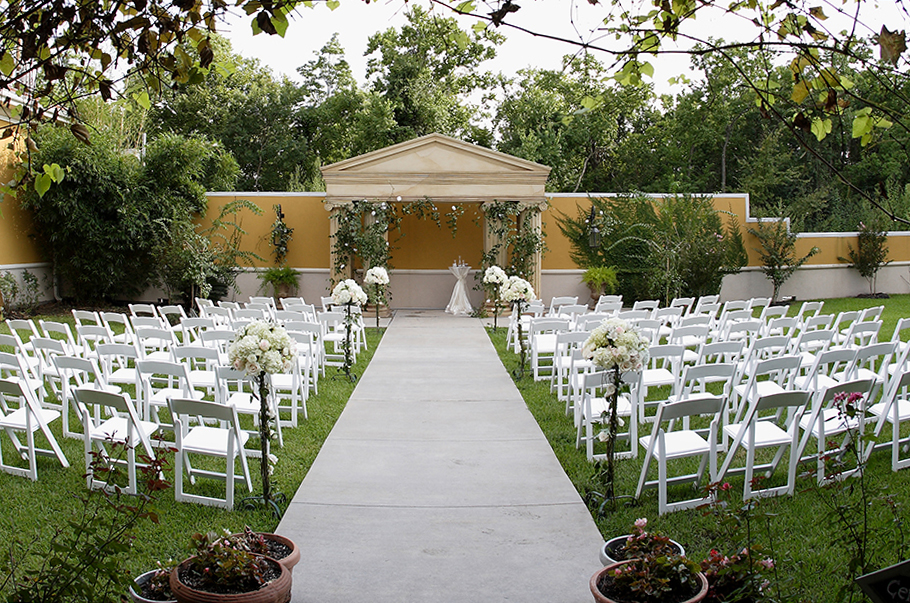 Photo: TNT Photography | Location: The Villago
The Villagio
Ample space makes The Villagio an ideal location for couples who desire the intimacy of a private venue, with room to accommodate all of their friends and family. The venue's lovely outdoor rose garden is a favorite for seasonal ceremonies, while the indoor chapel can fit 300 guests if the weather is a concern. For large receptions, The Villagio's two ballrooms can be combined to accommodate up to 700 seated guests—while, for the wedding couple, a grand, winding staircase makes for an impressive newlywed entrance. Villagio event planner Trish Nguyen notes that the venue's all-inclusive packages make it an excellent choice for busy couples: "The couple just shows up—we will take care of the rest!"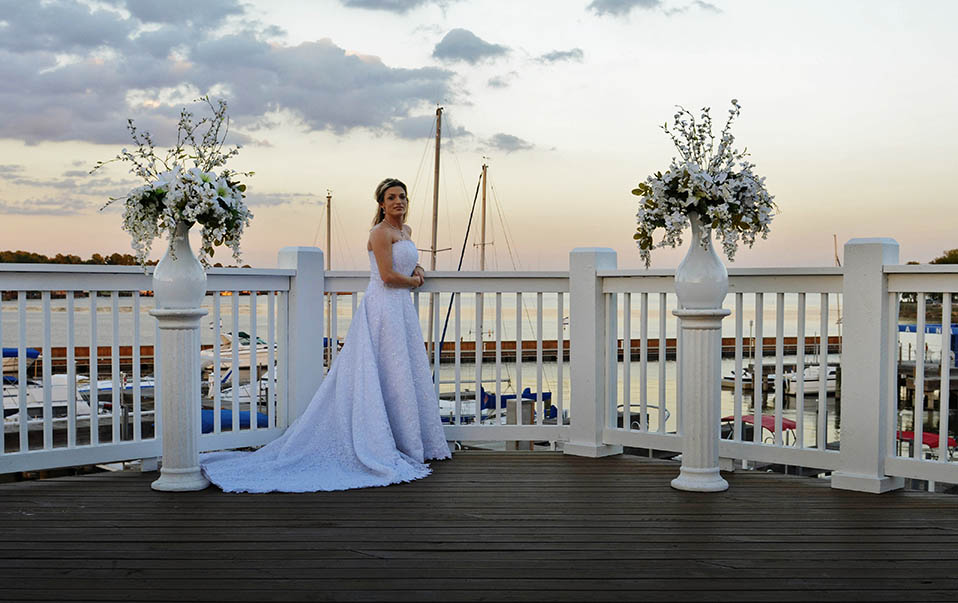 Photo: Courtesy of Waterpoint Lakeside Venue | Location: Waterpoint Lakeside Venue
Waterpoint Lakeside Venue
"Saying your vows overlooking the shimmering blue water and enjoying the gentle lake breezes is like having a destination wedding, but with the convenience of being so close to home," says Lynn Winkler, owner of Waterpoint Lakeside Venue, located on the southern shore of Lake Conroe, just 20 minutes from The Woodlands, and a short hour's drive from Houston.

For a scenic celebration, there is Waterpoint's Grand Room, featuring 24-foot-high floor-to-ceiling windows overlooking the lake, with its gleaming yachts, bobbing sailboats and spectacular sunsets.

"Strolling out onto any one of the marina piers assures a breathtaking photo opportunity," Winkler adds, while the venue's Tiffany-blue bridal dressing room, "decorated with crystal chandeliers and marble makeup vanities, is a favorite place for capturing the bride, bridesmaids and family preparing for their special day."

Photo: Jessica Pledger Photography | Location: Heather's Glen
Heather's Glen
Whether you choose to say your "I do's" outdoors, beneath the flower-bedecked gazebo, or indoors, inside "a chapel that seats up to 200, and is incredibly unique in that it offers a gorgeous garden view," your Heather's Glen wedding will be one guests won't forget, notes venue owner Heather George.

Indoor receptions take place in the Garden Room, while the venue's chandelier-accented outdoor lounge area "is a huge hit for cocktail hour, with its climbing ivy and covered outdoor space," George notes, adding that lawn games are a popular addition to take full advantage of the outdoor fun. Plus, she says, "Couples love to take romantic photos on the mansion's wraparound porch, and in the surrounding gardens," where waterfalls, flowerbeds and fountains abound.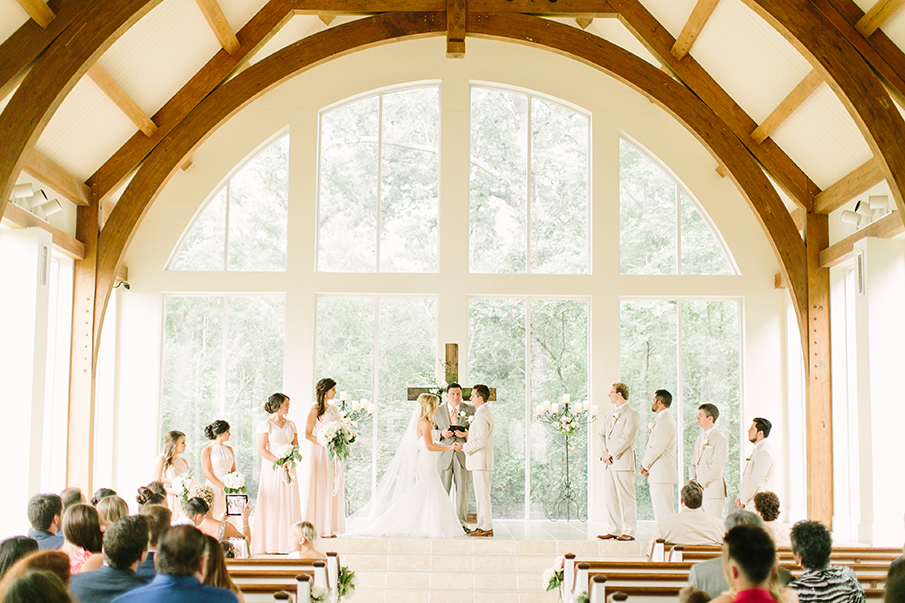 Photo: Mustard Seed Photography | Location: Ashton Gardens
Ashton Gardens
With locations in North Houston and West Houston, Ashton Gardens offers accessibility and consistency: Both locations feature all the exceptional ballroom elegance, views and ceremony space a couple could wish for.

Ceremonies are a special focus at Ashton Gardens, where the beautiful chapel features "floor-to-ceiling windows and soaring wood beams"—the ideal space for an "outdoor wedding feel without the stress of the unpredictable Houston weather," notes director of sales Ashley Love.

After the ceremony, guests need only shift to the adjacent ballroom, where they can enjoy more stunning outdoor views while celebrating. "Wedding couples are busy people," Love observes. "They juggle careers and sometimes kids, and are often working while trying to earn a degree, and they have less and less time to plan their weddings. We have been hosting wedding couples for over 11 years, and we provide everything, allowing the wedding couple to relax before and during their wedding day."

Photo: Kara Additon Photography | Location: Kemah Gardens
Kemah Gardens
Located just 30 minutes from both Houston and Galveston, and set on a private lake, Kemah Gardens features "a fountain, four acres of gardens, and a 150-capacity climate-controlled event facility, plus a luxurious bridal suite and a spacious groom's room," notes lead event coordinator Ciria Rybicki.

The 5,000-square-foot Kemah Gardens estate also has three bedrooms with private baths, meaning that the wedding couple, and their special guests, can experience the relaxation of a destination wedding, at a destination within a short drive of home. Take advantage of Kemah Gardens' relaxed ambiance with decor touches including mason jars, lace, burlap and lots of candles, along with a DIY photo booth, and a barbecue-type reception featuring family-style service, sangria and fun signature cocktails.

Photo: Courtesy of Moffitt Oaks| Location: Moffitt Oaks
Moffitt Oaks
With its picturesque barn, originally built by the Moffitt family as a horse barn, and converted into "a gorgeous venue that includes chiffon draping and chandeliers, while still keeping the integrity of a barn," notes event coordination manager Christine Krauss, Moffitt Oaks provides a distinctive setting for rustic-elegant wedding celebrations. For a touch more glamour, "We also have our ballroom, which appeals to everyone, with its Swarovski-crystal chandeliers, brick fireplace and beautiful bar."

For upcoming weddings—including, perhaps, your own—couples are bringing in hanging decor, paper lanterns, glitter-topped doughnuts, and floral cake tables—"gorgeous!" notes Krauss.


You Might Also Like