---
The Royal Treatment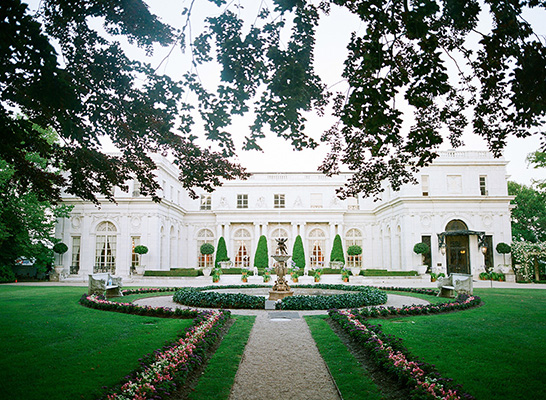 Photo: Elizabeth Messina
Styling: Lisa Vorce Co.
Have you always dreamed of being a princess on your wedding day? Whether you imagine yourself as a Victorian monarch, a Southern socialite or a Texas heiress, your wedding is an occasion for transforming that fantasy into reality, while expressing your love, and the remarkable commitment that you are making for life. It's fairytale stuff, y'all, and it makes for a true storybook day.
There are plenty of ways to up the royalty factor of your wedding day—fine dining, ornate decor, queenly attire—but the element that will make the biggest impact is your venue itself. Houston is home to a bounty of beautiful chateaus, manors and estates that cater to couples with regal aspirations. Here, we open the gates to these grand properties, to showcase the elaborate architecture, sweeping landscapes and regal accents that make them perfect places for saying, "I do," in royal style.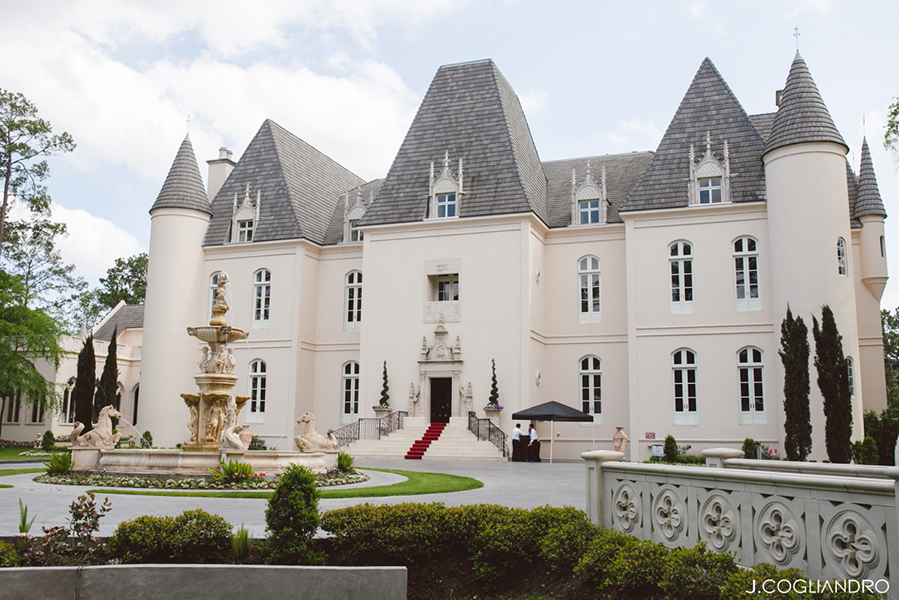 Photo: J. Cogliandro | Location: Chateau Cocomar
Uniquely European
With their stately towers, soaring cathedral windows, spiral staircases and fantastic French gardens, Houston's grand manors and chateaus make wedding guests feel as if they have stepped into a royal palace, in the most traditional of senses.

Chateau Cocomar, a castle-like property with arched colonnades, gleaming marble floors and glittering gold accents everywhere you look, has become one of Houston's most coveted venues for fairytale weddings. The elements that have gone into creating Chateau Cocomar "were all hand-picked by the previous owners, who loved to travel," says Roberto-Carlos Ochoa, sales and events director at Chateau Cocomar. "It is full of beautiful details from all over the world, while the venue itself feels very European."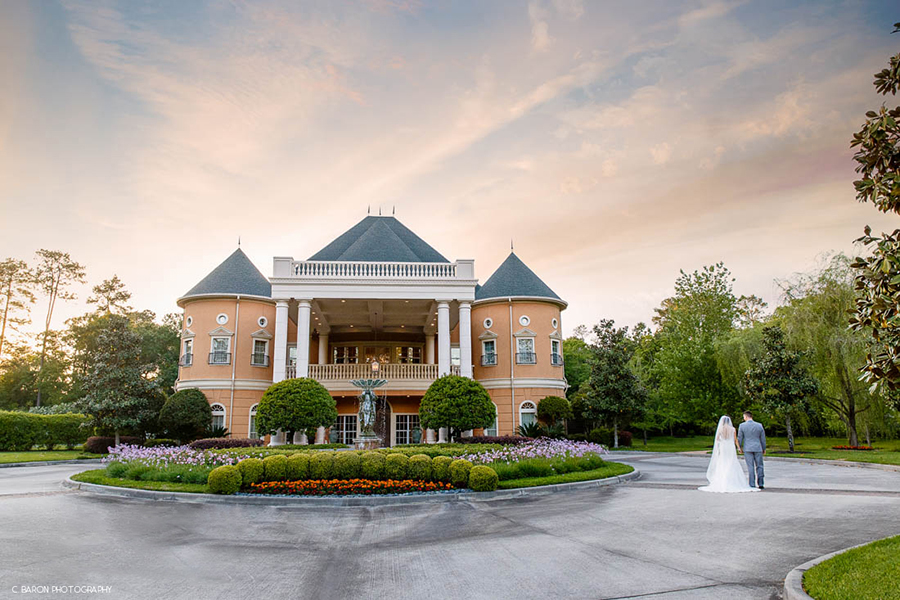 Photo: C. Baron Photography | Location: Chateau Polonez
For a splendid French feel, wedding couples might look to Chateau Polonez, nestled among five wooded acres, featuring impeccably manicured gardens.
Influenced by the owners' French and Polish heritage, the standalone wedding venue boasts a dramatic double-staircase entryway, a palatial ballroom with beautiful balconies overhead, and storybook fountains and water features throughout its grounds.

Couples who wed at either of these chateaus can expect to be pampered with exclusive service on their big day. Scheduling only one event per day, Chateau Cocomar and Chateau Polonez each allow wedding couples to enjoy the entire property to themselves. Can you imagine getting dressed beneath ornate crystal chandeliers in a bridal suite fit for a queen at Chateau Cocomar? Or gliding down the marble staircase to greet your wedding guests at Chateau Polonez? We can!

Photo: Courtesy of The Gardens at Madeley Manor | Location: The Gardens at Madeley Manor

History & Hospitality
Wedding couples looking to feel a little more like American aristocrats than European sovereigns might favor two of Houston's more modern manors.

With its glitzy Art Nouveau fixtures, pops of metallic decor, hints of rustic wood and exposed brick features, Hughes Manor has an ideal blend of old and new that appeals to couples seeking regal elegance with a vintage-contemporary vibe.

"When guests drive in they feel as if they are at someone's home. Our cozy atmosphere paired with our eclectic style transports them to another era," says Jessca Hellwinkel, marketing and events manager at Hughes Manor.

In the industrial-chic, indoor-outdoor setting, guests can seamlessly move through the giant doorways into one of the Washington Corridor's largest gardens, which can be transformed with vintage lounge furniture or trendy Lucite chairs for al fresco ceremonies, or for mingling over beverages under romantic string lights during the cocktail hour.

Photo: Kelli Durham Photography | Location: Hughes Manor
Meanwhile, farther north, the Dixie decadence of Conroe's Gardens at Madeley Manor will make any Southern debutante swoon. The majestic mansion, home to a "stately colonnade of columns" and tree-lined grounds, is a lovely backdrop for exchanging vows, says events director Marjorie Thai.

Hailing from the 1930's, this historic home lends itself to elegant, classic weddings. The estate's lush green gardens and charming gazebo provide an "idyllic setting" for outdoor events, while the manor's sweeping staircases and classic ballrooms are perfectly suited for regal indoor celebrations.

Thai notes that Madeley Manor also plans to unveil a classic Machin Conservatory in the coming months. The ogee-shaped glass structure with vast views of the twinkling night sky was designed by architect Francis Machin, whose father, Arnold, is famous for designing the effigy of Queen Elizabeth II, featured on British coins and postage stamps. Talk about royalty!

Photo: Courtesy of Big Easy Ranch | Location: Big Easy Ranch

Country Charm
While chateaus and manors inside the city boast magnificent ballrooms and dramatic decor, many of the Houston area's private ranches and countryside estates offer the experience of true Texas royalty, with sweeping sunset views, luxurious lodges, adventure activities and the tranquility of the Texas countryside.

For Southwestern style with vintage Spanish touches, you'll want to explore Agave Estates, set on a 30-acre wildlife sanctuary a short 40-minute drive from Houston. The venue's buildings all feature adobe walls, wrought-iron accents, lush greenery and natural stone touches. At this unique Katy enclave, couples and their guests enjoy the experience of "their own private Mexican resort for the day," says marketing director Amanda Bayer.

Meanwhile, The Vine, situated on a scenic 23-acre property west of Katy, is home to its own vineyard, which grows "five different varietals of grapes that will one day find their way into a wine glass," says owner Christy Brown. "Guests are going to get a good taste of true Texas hospitality!"

Photo: Smith House Photography | Location: The Vine
In addition to The Vine's beautiful barn-like reception hall and trussed chapel, the Wild Rose Cottage—the venue's fully furnished bridal suite—is equipped with a full salon for wedding-day prep, while for the groom and his guys there's the Lonestar Lounge, which includes a pool table and private horseshoe range.

Outdoorsmen and women will love celebrating their wedding weekend at Big Easy Ranch. Home to 13 waterfalls, roaming wildlife, rolling hills and uninterrupted views, on a 1,300-acre property, the estate is a superb wedding setting for country royalty. "You can't get this anywhere in Houston," says venue founder Billy Brown. "And you don't have to drive for three or four hours for it. You've got to see it to believe it."

And as with any royal country wedding, your Big Easy Ranch weekend may include outings for hunting, fishing or shooting, plus nearby championship-level golf, in a multi-day celebration experience fit for a king and queen!
You Might Also Like