---
Building a Bride Tribe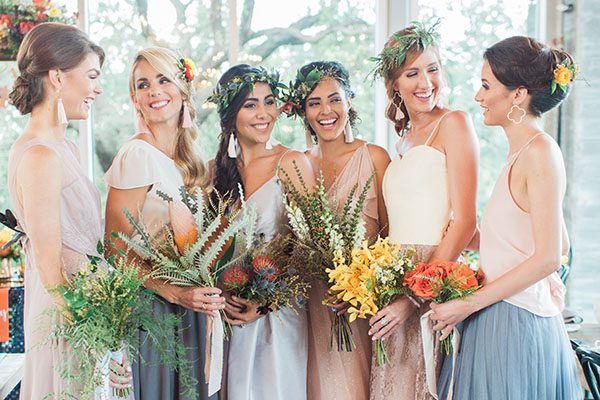 Photo: Kelly Hornberger Photography Bridesmaids Gowns: Bella Bridesmaids
The wedding planning process is full of questions for brides-to-be, with the most important being, of course, "Will you marry me?" After the excitement of that wonderful question settles, the bride gets to pop a question of her own—to the gals (and maybe a few guys) who will stand by her side as she makes the biggest promise of her life.

Much like the elaborate proposal stories we hear, there is an art to inviting your girls to take on the role of bridesmaid that goes beyond a simple call or text. We talked with some of our recent brides about how they creatively crafted their questions, and we're sharing their stories, and suggestions, with you, as you prepare your own bridesmaid proposals.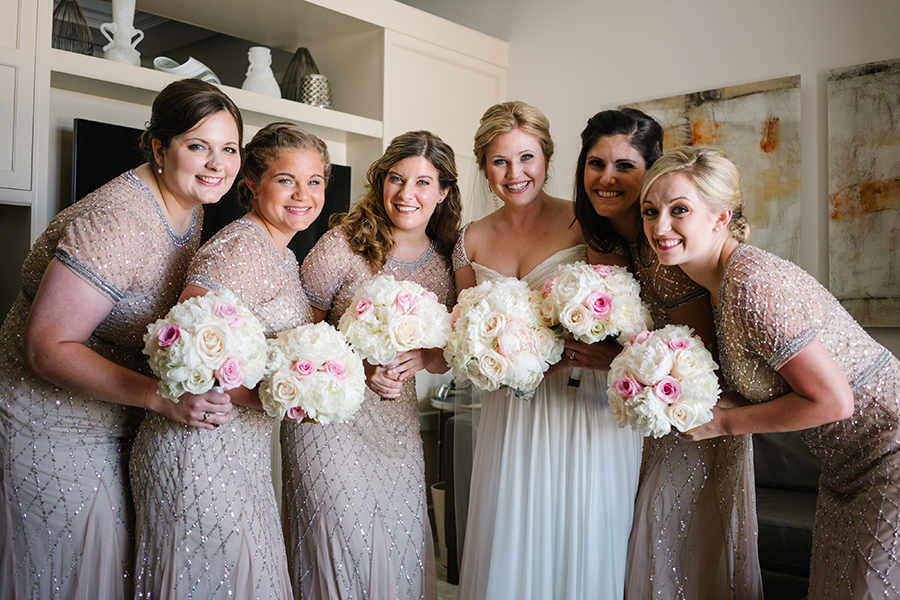 Photo: Adam Nyholt
Getting Glam
Being a bridesmaid is all fun and games when it comes to the bachelorette party, engagement celebrations, shopping for a bridesmaid dress, and picking out beautiful accessories to wear on your bestie's wedding day. But reality can set in, hard, when your credit card bill is, oh…just a tad bit higher than last month. While we always encourage bridesmaids to recognize that saying, "yes" comes with a financial commitment, we love how some of our recent brides eased their maids' financial burden a bit by factoring them into the wedding budget.

"Having been a bridesmaid half a dozen times, I understood that it can become expensive, especially when you live out of state," says recent bride Laura Pascoe. "All five of my bridesmaids lived out of town, and I knew that they were all going to be traveling for the wedding, so I wanted to invite them in a unique way that would let them know that I am grateful for their friendship."

With a self-described passion for fashion, Pascoe, who wed last summer in Galveston in a gorgeous gown from Ivory Bridal Atelier, decided to pick up the tab for each of her bridesmaids' dresses.

Photo: Bryan Anderson Photography
"I bought five formal gowns by Adrianna Papell without telling my bridesmaids," she says. "I asked my bridesmaids to be in our wedding by shipping their dress to them with a special letter with each dress."

Meanwhile, some extra-special bridesmaids deserve a little bling. Just ask bride Jessica Parkus, who wed in a glamorous New Year's weekend wedding at Chateau Cocomar. "My maid of honor was my older sister, and I asked her by having her open a box from Tiffany," Parkus says. "Inside were pearl-and-diamond earrings! I then asked if she would wear them the day of our wedding and be my maid of honor."



Photo: Sylvie Gil

Eat, Drink and Be... My Bridesmaid
Whether it's food or drink, a delightful and decadent treat is a thoughtful way to sweeten your bridesmaid request.

Bride Itzel Espinosa, who married her love, Guadalupe, in the hacienda garden wedding of their dreams at Agave Real, spoiled each of her four bridesmaids with a surprise batch of delicious, personalized cupcakes! "We were at lunch planning my bachelorette trip and were about to finish when I asked the waiter to come over," Espinosa says. "He dropped off three cupcakes with each of their names on a card that read 'Will you be my bridesmaid?'" Espinosa's sister, meanwhile, got an entire dozen cupcakes to herself, with an invitation that read, "Will U Be My MOH?"

Maddy Foxx Moffitt, who married her beau Patrick in a gorgeous destination celebration in California's Napa Valley, surprised her 24 bridesmaids and three maids of honor with brunch and booze tied to a special place.

"I wrote individual letters to each of my bridesmaids expressing my gratitude for our friendship, and attached them to mini bottles of Chandon," Moffitt says. "Domaine Chandon [where the sparkling wine is made] has a special place in our hearts because it's right outside of Yountville, the town where Patrick and I got engaged and were planning to get married!"

"To ask my MOHs, I had three bottles of Veuve Clicquot wrapped in cellophane and tied with white Hanky Panky panties, with their letters under each bottle," she says. "They thought they were coming over for brunch and to look at wedding dresses, but I surprised them!"



Photo: Pure Plush Photography

Bride Mallory Botwin followed a similar libation theme, getting down on one knee to ask each of her bridesmaids and one "bridesman" to be part of her classic wedding at The Houstonian Hotel, Club & Spa, with wine bottles she customized herself.

"Every bridesmaid received a Bartenura Moscato wine bottle, with a personalized label, that read, 'You pop the cork and I'll pop the question! Will you be my bridesmaid?'" Botwin says. "My 'bridesman' received a 40-ounce beer bottle with his custom label, and a personalized glass beer stein!"

Along with the bottles, Mallory gave each member of her bridal party an etched glass with the title "bridesmaid," "bridesman," or "maid of honor," from which they drank mimosas while getting dressed on the wedding day.



Photo: Mustard Seed Photograpy
The Happiest Holiday
Holidays are even happier when there's a wedding on the way. A time for family and catching up with friends, holidays can be an ideal setting for asking closest confidantes to stand by your side on your wedding day.

Bride Katelyn Melton asked each of her bridesmaids to do just that with a box disguised as a Christmas gift. "Inside the box, everything was in the colors of our wedding—blush, white, ivory, and of course, a little sparkle," says Melton, who wed last summer at Ashton Gardens. "They first saw a calligraphy card asking, 'Will you be my bridesmaid?' along with an ivory makeup bag, a blush planner, blush nail polish, chocolate squares, and a gold Christmas tree ornament with the first letter of their name."

Fellow summertime bride Meghan Belmudez asked her sister and three cousins to join her bridal party during the annual Easter-egg hunt at her grandmother's house.

"On Easter Sunday, my grandmother puts together a scavenger hunt all around the house with Easter eggs, and clues to find a gift," Belmudez says. "That year I decided to have the girls' clues direct them to my grandmother's bedroom where I was waiting for them with a basket of goodies for each girl, decorated with her name, and including her favorite candy, a nail salon gift card, a handwritten letter and a fancy Easter egg with a note inside asking 'Will you be my bridesmaid?'"



Photo: Ama Photography & Cinema

Wrapped Up In Fun
While most bridesmaids' gifts come with some sort of adorable wrapping paper, many brides go the extra mile to make sure that the presentation of their gift is, in fact, the total package.

Keeping things elegant and understated, bride Anna Fredrickson chose beautiful blush cards for her bridesmaid invitations, each of which had a scratch-off balloon on the front. "Once you scratched off the balloon, it asked the girl if she would be my bridesmaid, or, for my sister, my maid of honor," she explains. "I also sent them to my flower girl and junior bridesmaid. Inside each, the card recounted some of my favorite memories with that person throughout our friendship."

Allie Cumings, who wed in an elegant, avant-garde extravaganza at The Corinthian, popped the question to her out-of-town MOHs by taking simple cardboard boxes to the next level.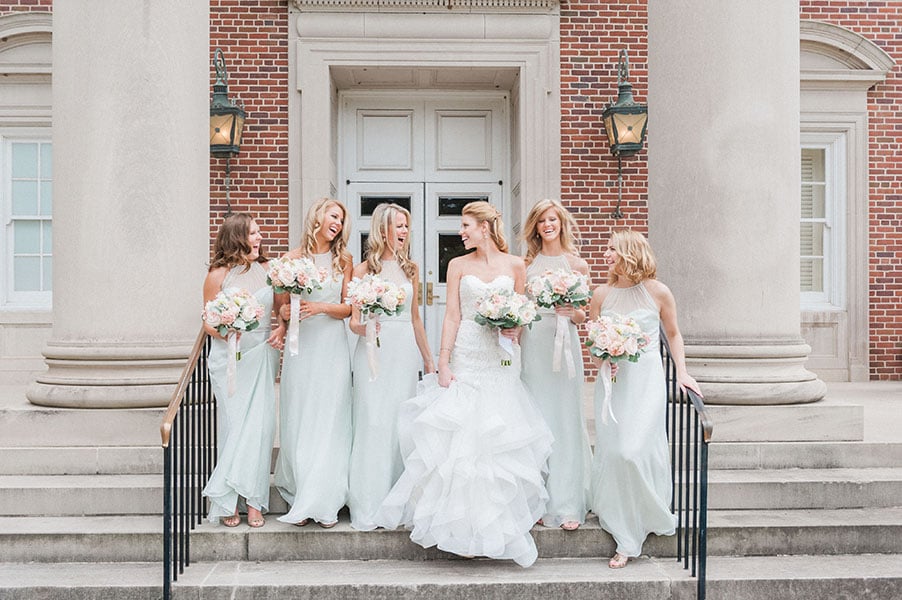 Photo: Christa Elyce Photography
"I sent my two maids of honor little boxes that each had a balloon filled with confetti inside, with a hidden note in the balloon that said, 'Will you be my maid of honor?'" Cumings says. "The box also contained a ribbon with a safety pin and a note that said 'pop me!"'
Similarly, bride Lauren Kunze asked her five sisters to stand by her side with an elaborate package filled with personalized gifts and lots of confetti.
"I got these cute acrylic popcorn boxes to hold these super cute cards, a Capri Blue candle, an initial necklace and confetti shakers," Kunze says. "Once they opened them, read their notes and accepted, we took the confetti shakers outside with my now-husband and had a picture taken with everyone around us and the confetti falling!"


You Might Also Like