Looking for a wedding venue that ticks all the boxes? Look no further than a hotel venue. From seamless guest logistics to an all-in-one location for wedding festivities, the benefits of a hotel wedding are endless. Say goodbye to transportation headaches and hello to stress-free nuptials.
Houston boasts an impressive selection of stunning hotel venues that offer a range of packages, exceptional guest accommodations and unparalleled customer service. From lavish ballrooms to open-air verandas, we've curated a list of the most sought-after hotel wedding venues in the greater Houston area.
Scroll on for our list of well-appointed Houston hotel wedding venues perfect for any couple looking for a truly unforgettable celebration.
Galleria + Uptown Houston
If you're seeking a top-notch wedding experience, The Post Oak Hotel at Uptown Houston is a perfect choice. This luxurious hotel offers world-class amenities, a chic interior featuring Swarovski crystal chandeliers, and an impressive 35,000 square feet of event space to accommodate your needs. In addition, the hotel's dedicated staff is committed to ensuring a wedding day that exceeds your expectations.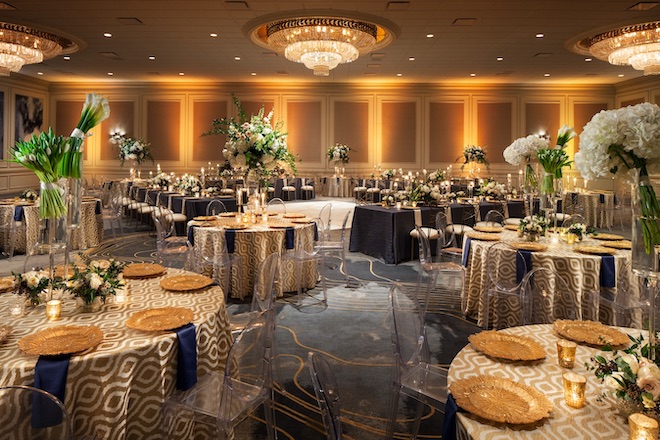 Located in the heart of Uptown Houston, The Westin Galleria Houston is a flexible venue for your dream wedding. The property features incredible accommodations, including an impressive 90,000 square feet of space suitable for hosting a grand celebration. Whether you're planning an intimate micro wedding or a multi-day South-Asian wedding, this hotel venue allows your guests to book a room and gather conveniently throughout the festivities without worrying about transportation. With ample space and excellent amenities, The Westin Galleria Houston is a great option for a seamless wedding experience.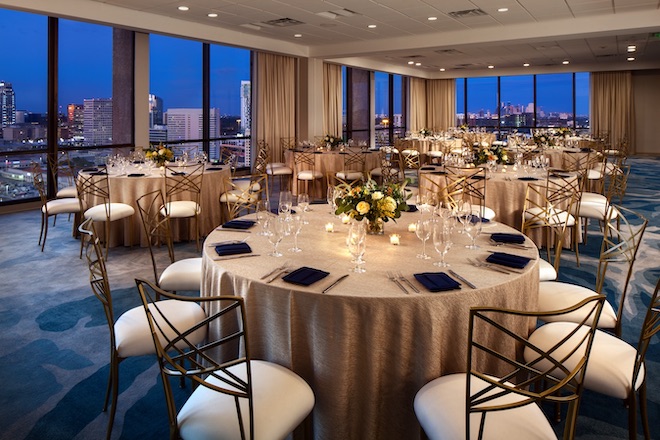 The possibilities for your wedding are endless at The Westin Oaks Houston at the Galleria. With a range of packages, this hotel provides a starting point for creating a personalized and unique wedding. The hotel has 27 event spaces, allowing you to host the ceremony, cocktail hour and reception in different areas. From beautiful ballrooms to a roof-level venue offering stunning views of Uptown Houston, the Westin Oaks Houston at the Galleria gives versatility for your special day.
Nestled in the heart of Uptown Houston, the Omni Houston Hotel offers the perfect blend of luxury, attentive service and exceptional event spaces for your wedding. With elegant banquet rooms, ample outdoor areas and luxurious accommodations, this venue has everything you need to create an unforgettable wedding. Boasting an impressive 40,000 square feet for festivities, including a stunning poolside deck for al fresco receptions, the Omni Houston Hotel is a premier wedding location in the Houston Galleria area.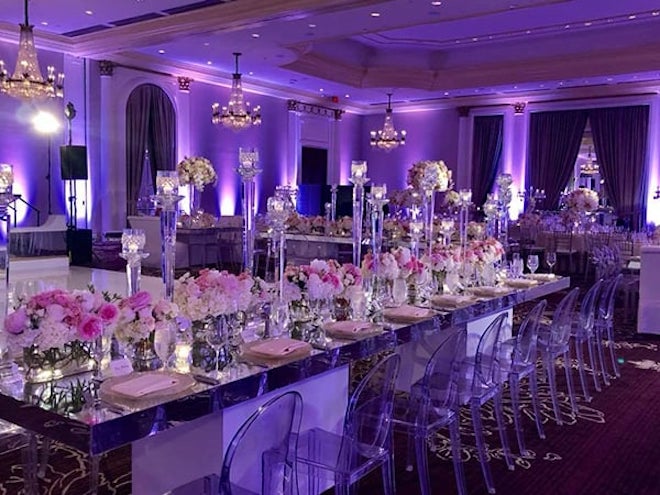 If an authentic cultural experience is what you seek for your Houston wedding, the Hilton Houston Post Oak is here to serve your needs. Not only is the hotel a gorgeous place to say your vows and celebrate your union with up to 1,000 of your nearest and dearest, but the Hilton Houston Post Oak also specializes in South Asian weddings, Jewish weddings that require a dedicated Kosher kitchen, and all manner of global affairs where custom international menus and expertise in cultural ritual and tradition are a must.
Downtown
At Four Seasons Hotel Houston, your dream wedding becomes a reality with personalized packages, expert planning services and stunning indoor and outdoor venues, including the recently renovated Grand Ballroom, with a warm and inviting interior. From exquisite cuisine to elegant decor, every aspect of your special day will be carefully crafted to ensure a memorable experience. Enjoy some pre-wedding festivities with your guests, like bourbon tasting, a trip to the luxurious spa or have a fun day in the Topgolf Swing Suite. So sit back, relax and indulge in every detail of your wedding day while Four Seasons Hotel Houston takes care of the rest.
Elevate your wedding to new heights at Le Méridien Houston Downtown, where luxury meets breathtaking views. Exchange vows on the rooftop terrace against the dramatic Houston skyline, surrounded by the city's iconic skyscrapers. Say "I do" in style and let Le Méridien Houston Downtown create a wedding experience you'll cherish forever.
The Whitehall Houston, a mid-century architectural gem, has been a beloved landmark in downtown Houston since 1963. Host an elegant celebration in the Bluebonnet Ballroom, which can accommodate up to 250 guests, or opt for a more intimate gathering in the outdoor oasis of Part & Parcel. Amidst the glittering city lights and sleek skyscrapers, The Whitehall offers a truly unique setting for your special day.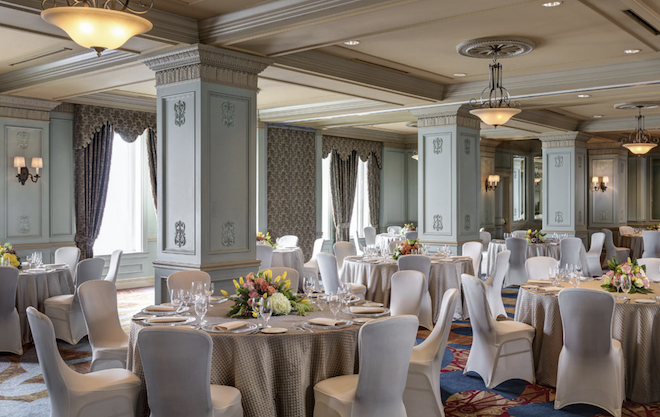 Hotel Icon is a luxury boutique hotel that seamlessly blends Houston's rich history with modern Texas flair. The hotel's neoclassical-meets-modern decor creates a unique interior, providing grand spaces for wedding celebrations of all kinds. The venue's exclusive Wine Vault in the lower lobby is a romantic setting for a micro wedding or an intimate affair. For a larger gathering, the ballroom's towering ceilings and elegant windows create a timeless ambiance. Not to mention, the venue's first-class service and breathtaking downtown views make for an extravagant wedding experience. With a prime location in the heart of downtown, Hotel Icon offers the convenience and luxury desired for any celebration.
Located in the heart of Houston's theater district, The Sam Houston Hotel is a historical venue operating since 1924. Its locally-inspired renovation modernized the amenities while maintaining the hotel's vintage charm. The light and bright Veranda Ballroom is an open-air, climate-controlled event space with exposed brick and natural ivy, offering a garden-inspired charm that you and up to 200 guests will adore.
Hyatt Regency Houston is an ideal location for a grand wedding celebration, with 72,000 square feet of event space that can accommodate lavish affairs. With a $43 million upgrade, the hotel offers richly decorated ballrooms and modern guest rooms with special pricing for wedding guests to make your wedding a weekend-long celebration. Moreover, the hotel provides grand suites, perfect for a groom's lounge or a bridesmaid gathering. The downtown Houston hotel offers several on-site dining options, such as Shula's Steakhouse and a chic and comfortable bar situated in the spacious lobby.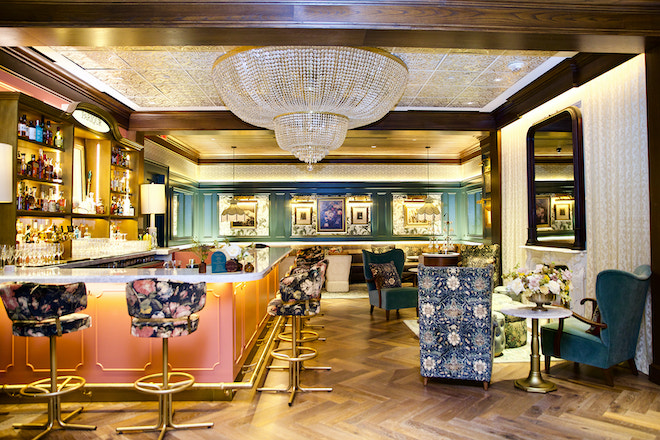 Located in the heart of Houston's financial district, C. Baldwin, Curio Collection by Hilton offers a unique and modern hotel experience for weddings. The hotel features two ballrooms accommodating up to 500 guests for large affairs, al fresco spaces and a hidden venue for micro celebrations. Choose from various customizable wedding packages, with an expert wedding specialist on hand to ensure every detail is tended to. The hotel also offers refined dining experiences, including a restaurant with a celebrity chef and a glamorous speakeasy for handcrafted cocktails.
Experience the perfect blend of city-chic and classic sophistication at Magnolia Hotel Houston. This 1926 iconic landmark is one of downtown Houston's most distinct buildings. The hotel has three unique event spaces to choose from, each offering endless possibilities for completely customizing your wedding. In addition to unparalleled wedding services, Magnolia Hotel Houston provides a courtesy room block with discounted rates for your guests. For the newlyweds, the hotel offers luxurious and modern accommodations overlooking downtown Houston. Don't miss the rooftop views and refreshing plunge pool!
If you're dreaming of a bright and airy space for your big day, The Laura Hotel may be just the venue you're looking for. With mid-century decor and sun-drenched event spaces, this venue offers a charming atmosphere. Whether you prefer an indoor setting or a spacious rooftop with stunning views of Houston's skyline, The Laura Hotel has it all. Create the wedding of your dreams in this light-filled venue.
Located in the scenic Buffalo Bayou Park, Thompson Houston is set to become the city's newest sophisticated hotspot when it opens in October of 2023. With 17,000 square feet of event space, this chic hotel can accommodate guest lists of up to 800, making it perfect for grand weddings. The property features 172 designer rooms, including 34 lavish suites, with sweeping floor-to-ceiling views of the city skyline or the verdant surrounding park, making it an ideal choice for room blocks. For a touch of indulgence, a full-service spa is waiting to pamper you and your guests.
Central + North Houston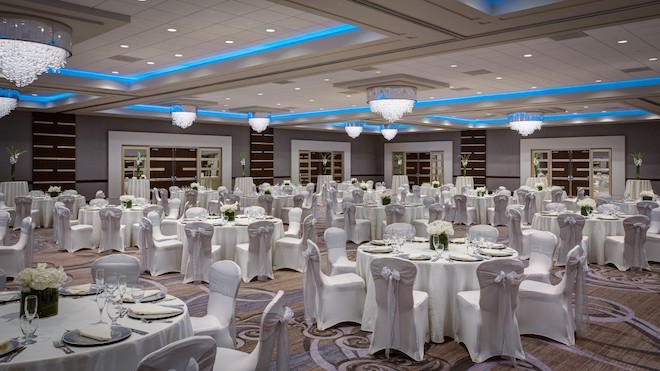 The Sheraton Houston Brookhollow Hotel offers ultimate versatility for both grand celebrations and intimate ceremonies. With nearly 16,000 square feet of event space, couples can celebrate their love in a ballroom adorned with sparkling crystal chandeliers with up to 500 guests. The expert staff is dedicated to providing attentive service and personalized guidance throughout the planning process. In addition, the hotel's catering team will work with you to create a custom menu that will delight your guests' taste buds. The Sheraton Houston Brookhollow Hotel is dedicated to providing the wedding you've always dreamt of.
With over 52,000 square feet of event space, Hilton Houston North offers abundant natural light and spacious areas, making it a great venue for the big day. Their most extensive room setup covers over 15,000 square feet, ensuring that even the largest of celebrations can be accommodated. In addition, Hilton Houston North's professional banquet and catering services, along with their expert planners, are on hand to work closely with you to bring your vision to life and create a wedding that exceeds your expectations. As a bonus, your out-of-town guests can take advantage of the hotel's complimentary shuttle service to George Bush Airport, making their stay even more convenient.
Located in Memorial City, The Westin Houston, Memorial City offers a picture-perfect setting for your special day. Choose from one of three stunning ballrooms for an unforgettable celebration. The hotel's team of wedding professionals, including caterers and culinary experts, will work closely with you to customize every aspect of your wedding to meet your needs and make it a memorable experience. So, enjoy a stress-free planning process and relax on your big day, knowing that the exceptional team at The Westin Houston, Memorial City has everything covered.
Medical Center
With over 9,000 square feet of event space, Blossom Hotel Houston's multi-functional venue is dedicated to all kinds of social events. The Luna Ballroom is a stunning space with floor-to-ceiling windows, state-of-the-art audiovisual capabilities, and room for up to 250 friends and loved ones. Additionally, nine other event spaces are available, each with plenty of natural light and opulent decor. Blossom Hotel Houston's unique spaces allow signature weddings crafted with artistic flair, making for a memorable celebration.
Contributors- Photography: Joseph West Photography / Marco Wang Photography / Mark Silverstein Photography / Esther Makau Photography / Christina Elliott Photography / Alicia Yarrish Photography / Biyani Photography