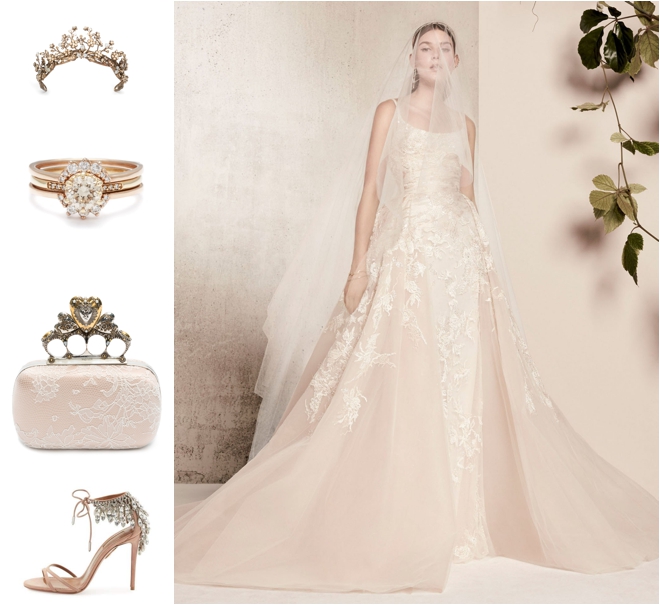 The Spring 2018 collections revealed at New York's recent Bridal Fashion Week taught us a valuable lesson—refined and regal is always in. Big ballgowns, detachable skirts, romantic veils and dramatic crowns have made a comeback, and we're all for it. We are loving this trend so much, we put together a complete bridal look to give you some inspo before you shop for your wedding dress at local Houston bridal salons. Love the trend? Check out the deets below on where to buy these looks. Happy shopping, xo!
1. Sigh. Elie Saab's Spring 2018 collection reminds us why we've always loved ballgowns. Who doesn't want to feel like a princess, especially on her wedding day? For maximum versatility, try a ballgown with a detachable skirt—an awesome option for brides who want to let loose and dance the night away without having their gown get in the way.
2. We had a chance to get our hands on this Maria Elena crown at Joan Pillow Bridal Salon's trunk show last week…and OMG, it's a stunner. We recommend pairing it with a romantic, braided up-do or sleek, pulled-back look (life hack: remember to always channel your inner #queen).
3. The Hazeline Suite is dear to ring designer Anna Sheffield, who created it in homage to her own grandmother's ring, and we're pretty sure that any bride who chooses it will end up turning it into a cherished heirloom of her own. The champagne-colored diamond with white diamond accents makes for a timeless, vintage look we absolutely love.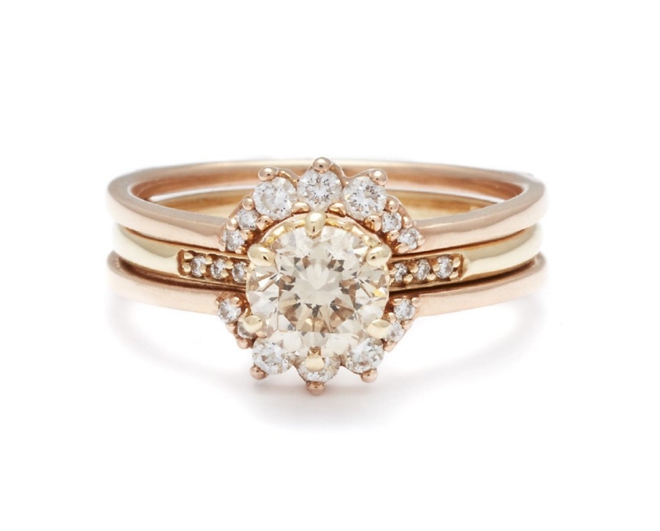 4. Alexander McQueen is the king of the clutch game. We particularly love the combination of soft lace with edgy gold and silver accents. Oh, and the knuckle clasp? It's like a crown for your hand!
5. Imagine these Aquazurra Crystal-Embellished Sandals peeking out from beneath your beautiful ballgown. They're just the perfect shade of blush, with  just the right amount of crystal bling to complete your bridal look, as they catch the light everywhere you turn. Sparkle on, sister…sparkle on.