Venue: Agave Estates | Photo: Ama Photography & Cinema
When it comes to weddings, it's all about the ambiance, darlings — that total experience of sight, sound, fragrance, flavor, setting, landscape and design, all rolled together. And TBH, it's hard to imagine a wedding location with more built-in ambiance than Agave Estates, Katy's beautiful hidden gem, nestled into a 30-acre wildlife sanctuary that feels a million miles away from downtown Houston (in reality, it's only 30).
When you first glimpse the terra cotta walls, wood arbors and curved archways of Agave's private enclave, you may think you've somehow stepped back in time…and into an era of cobblestones and courtyards, the sound of a burbling fountain somewhere in the distance. But nope, no time travel here, honey. You've just found yourself face-to-face with a full-service wedding site designed specifically to create a sense of total escape and immersion for your outdoor wedding ceremony and unforgettable reception. In other words: You've found a little slice of Paradise.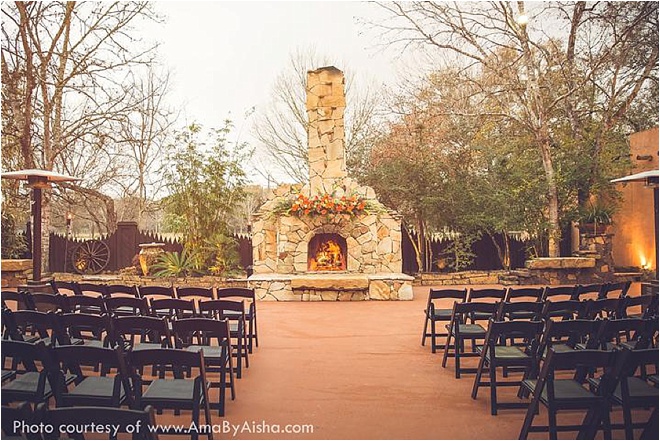 Venue:Agave Estates | Photo: Ama Photography & Cinema
 Venue: Agave Estates | Photo: Akil Bennett Photography
For those couples seeking a true Spanish Villa vibe — and room to celebrate with up to 300 of their nearest and dearest — the estate's Agave Road is a favorite. With towering oak trees, fluttering palms, huge hand-carved wood doors and 10,000 square feet of reception space, Agave Road doesn't just offer ample space and great service, but some of the most gorgeous photo opps in the entire region.
For weddings on the more intimate side, Agave Real features natural stone and wrought-iron accents, glowing sconces, plus a lovely view of the lagoon-like reflecting pool, and is a superb celebration spot for groups of up to 200.
The newest member of the Agave Estates family is Agave Rio — a delightful patio restaurant serving up fresh seafood, steaks and Latin-influenced fare, along with classic, tropical-leaning cocktails, all in an al fresco environment that welcomes you to linger long, and savor the feeling of a relaxing oasis. It's also a perfect place for elegant rehearsal dinners, engagement parties, bridal showers and day-after brunches. Want to try it out for yourself? Comment on our Agave-themed Facebook and Instagram posts, or email us your first and last name, fiancé's name, wedding date and wedding venue (either booked or wish listed!) for automatic entry into our Agave Rio Dinner for 2 GIVEAWAY! One lucky bride or groom will WIN; winner will be notified on Tuesday, May 2 and announced on Facebook and Instagram. Shouldn't it be…YOU?
Venue: 
Venue: 
Venue: Agave Estates | Photo: Civic Photos
Want to find out more about Agave Estates? Schedule your tour now, and make sure to tell them you found them on the Houston Wedding Blog!