Itty-bitty pearl drop earrings and delicate little diamond pendants are perfectly fine for weddings. Really. But the hottest look in bridal jewelry these days, like the hottest thing in soup (hey, those chilly nights are just around the corner!) is bold, thick and chunky.
We are crazy about these chunky wedding jewelry pieces—and we hope you are, too. No wallflowers here, thought fabric flowers aplenty (check out that peach-satin and black-glass bib from RiRiFisch—gorgeous!). Plus chunks of crystal, big fat faux pearls and lots of lush color.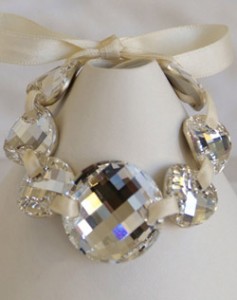 How yummy are the two styles above (necklace on top, beautiful ribbon bracelet below) from MEG? "MEG is a brand that has the chunky style down," says our friend Lindsey Brewer, bridal consultant extraordinaire at Brickhouse Bridal, who's seen many a Houston bride fall hopelessly in love with the line's lovely, statement-making pieces.
The "Ellen" necklace by Erin Gallagher is like a cascade of sparkle–imagine how stunning this would look draped against your decolletage at your candlelit reception.
The "Your Majesty" bridal necklace by Etsy's Sol Bijou (above) combines Kyanite, Labradorite, Blue Mystic Topaz and Rock Quartz with polymer clay and organza flowers, faux pearl clusters and French satin ribbon, all in grays, blues and shades of white. And, like your wedding, it's one of a kind. Wow.
With its matte peach satin blossoms accented with jet glass beads, RiRiFisch's "Dianna" necklace is a vintage-inspired vision of loveliness. It comes with black ribbon ties (a hint of elegant edginess we LOVE for winter brides), but you can switch out for a different color if you so desire.