OK y'all, we'll leave the "something old" and "something borrowed" up to you (and your mom, grandma, favorite auntie, BFFs, etc..). But for something new and beautifully, bridally blue, we've hand-selected five "something blue" bridal finds we're pretty sure you'll find it hard not to fall in love with!
Macrame Tale Bodysuit: La Perla
It's not often that we come across a piece of lingerie that is as exquisite as it is supportive, but La Perla's Macrame Tale Bodysuit happens to be just such a piece. Form-fitting, sensual, feminine and bolstered by delicate padding and ultra-comfortable underwire, this blue-if-it's-a-bride bodysuit slips perfectly underneath (non-strapless) wedding dresses…and is equally well suited to wedding-night canoodling, or a romantic honeymoon romp. Oh la la!
Kiki McDonough Detachable Drop Earrings: Neiman Marcus
Classic in cut, but modern in style, Kiki McDonough's gold-and-blue-topaz drop earrings get an extra dash of sparkle from delicate inlaid diamonds–just one of the reasons they're preternaturally popular with McDonough's well-heeled London clientele AND a favorite of brides who want their "something blue" to be something they'll pass on to future generations.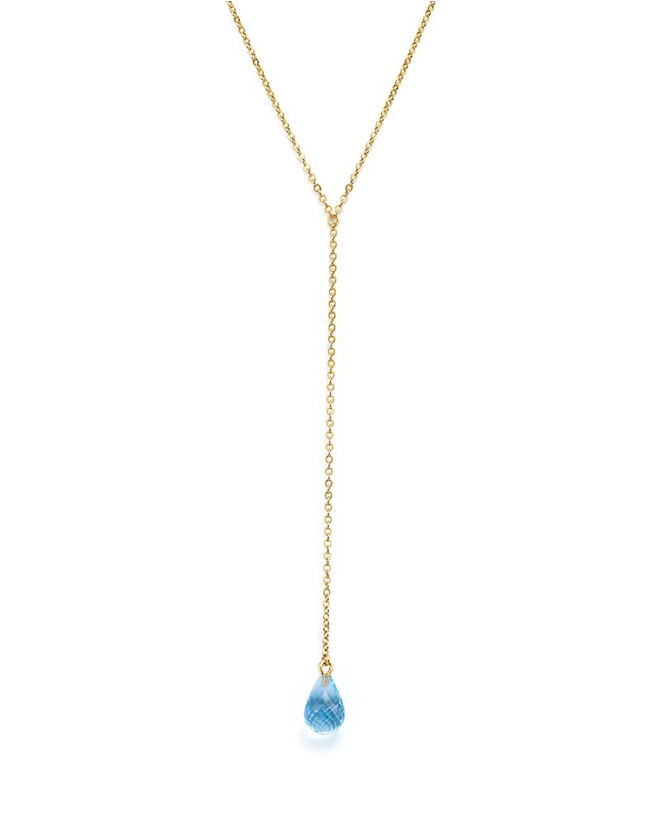 Blue Topaz Y Necklace: Bloomingdale's 
If you're planning on wearing a super-haute plunging-neckline bridal gown, you'll want to check out Bloomingdale's exclusive blue-topaz drop Y-chain necklace. We're crazy about this piece's simple sophistication and briolette-pendant dazzle. And we're equally excited about repurposing this Y-chain for cocktail parties, date nights and fun-in-the-sun festivities long after the last post-reception sparkler has sputtered!
Maria Embellished Evening Shoe: Badgley Mischka 
A gorgeously embellished, brilliantly sparkling, sleek satin, subtle blue Badgley-Mischka bridal pump is all any bride needs to complement just about any bridal gown silhouette and get her "something blue" squared away, all at once, in flawless style.
Turquoise Nail Lacquer: Kendra Scott
Oh, Kendra…your drop earrings make our lobes yearn for them, your pendants give us palpitations on the regular, and now, NOW, your gem-inspired nail lacquers (turquoise, most especially) are giving us the bridal blues in the best way ever. Thank you!! And thank YOU, Houston brides, who inspire every single one of our bridal beauty & style discoveries : ))