We Buzzed on Pressing Events' new CITYCENTRE store last week, but we just couldn't get to all the stuff we love at AND about the new PE in that teeny, tiny newsletter item. So here we go.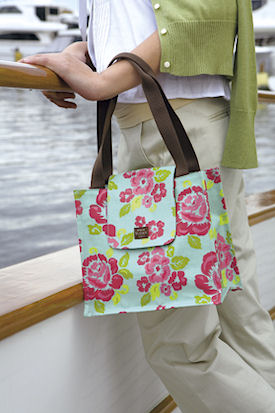 First up, Emilie Sloan bags. How cute are designer Lisa Murphy's fully lined totes, market bags and carryalls? The folks who put on the Academy Awards think they're awfully cute, which is why they included Emilie Sloan in this year's official swag. Pressing Events owner Nancy Billingsley Calvert is likewise a fan, and told us she "expects big things" from the collection, which, she notes, is already attracting brides and graduates in droves. These would make fabulous bridesmaid gifts, don't you think?
Next: Kaas Decoupage. The renowned New York decoupage studio makes absolutely gorgeous decoupage plates with designs sourced from flea markets, antique shows and estate sales. If you're a bride with vintage vibe, or a traditionalist with a passion for classic wedding commemoration, Pressing Events' newly expanded line of Kaas plates is perfect for preserving wedding invitations, photos, collages…you name it. Then press it.
We also adore Pressing Events' very impressive selection of stationery, which includes all our favorite styles from Crane, Elum, Smock, and Charleston, S.C.'s wonderful The Lettered Olive, among others. But PE's forté is "one-of-a-kind, singular design," Calvert points out—"much like a designer-original wedding dress." If you're looking for truly distinguished custom invitations, you must meet with Pressing Events' Amber Anglin Fowler. Calvert regaled us with the story of how Amber searched Dallas without success for a store to produce the exact right custom invitations for her wedding last year…and ended up creating her own. "Though her mother grew quite weary of her quest, I must say she has found her home with us," Calvert says. "Our brides love her!"
And we do, too.