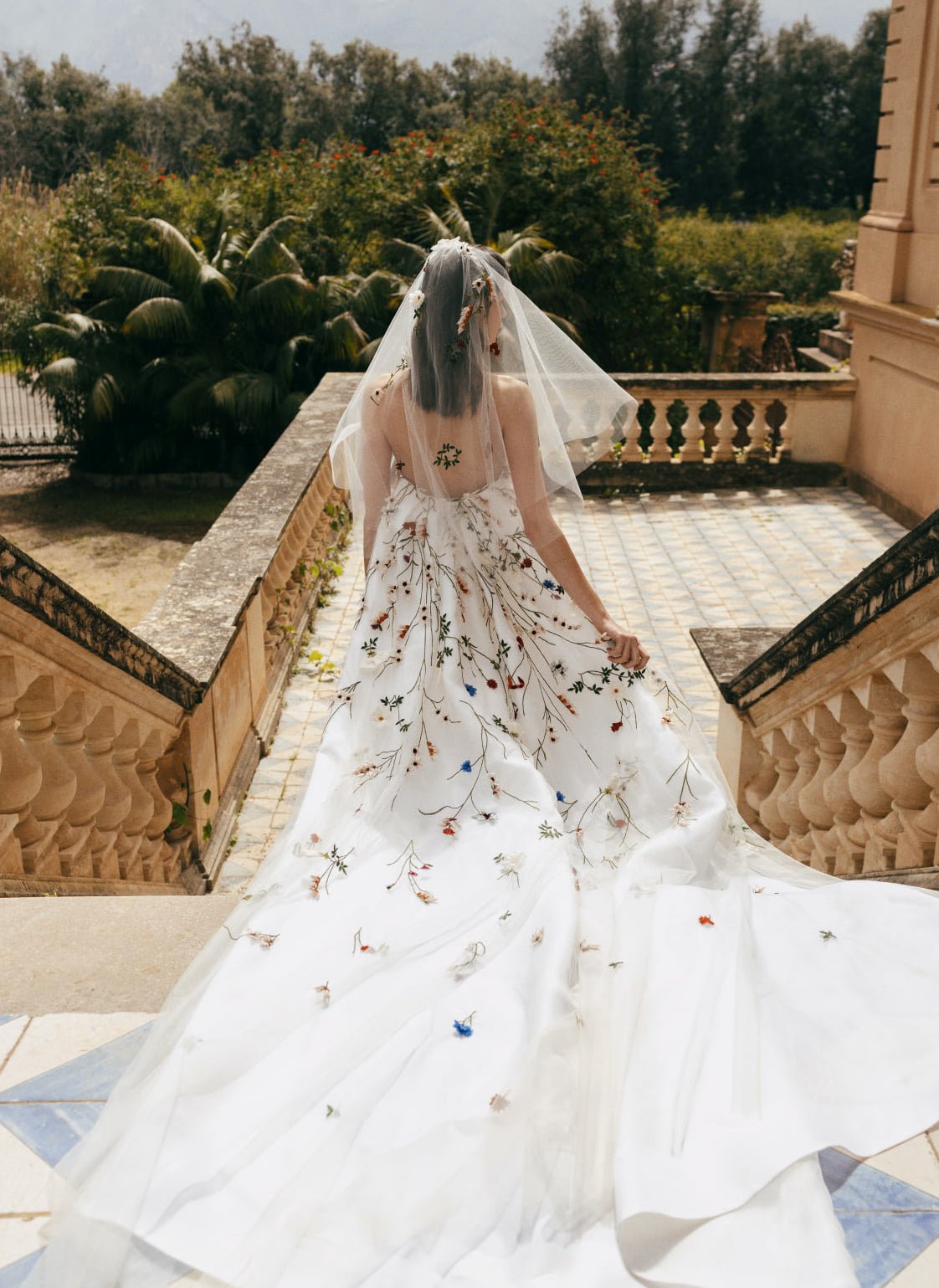 "These gowns revel in the possibilities of life that exist to embrace ourselves and our loved ones. Each piece allows the bride to present her most beautiful self — a reflection of her essence." – Peter Langner
New York Luxury Bridal Fashion Week has returned, and the 2023 bridal fashion collections are nothing short of extravagant works of art. While upscale micro weddings or intimate celebrations are still trending, brides are ready to bring back the big and extravagant celebrations. So, they are once again searching for unique and timeless attire for the wedding day. Silky billowing gowns, garden-inspired designs and voluminous ruffles take center stage of designer wedding gowns for the spring and summer 2023 season.
Designers incorporated colorful patterns, floral motifs and soft pops of color into the new collections, offering fashion-forward brides a fun alternative to the all-white gown.
Keep scrolling to see the highlights from the 2023 luxury bridal collections, full of wedding gowns for the spring and summer. Searching for your dream wedding gown? Be sure to pick up the latest issue of Weddings in Houston magazine or head to our Pinterest page.
1. Ines Di Santo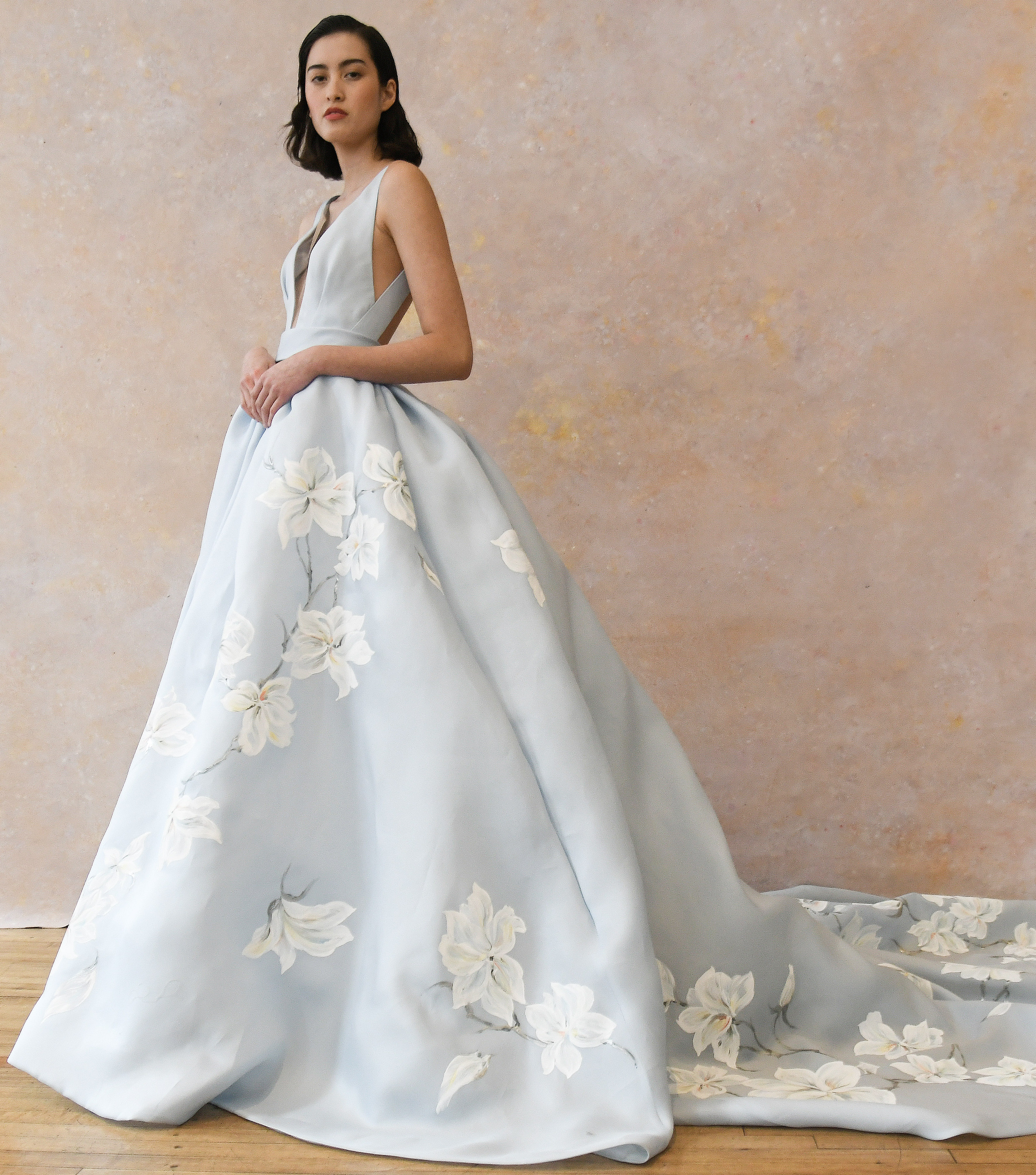 "This season's collections are a glimpse into my fantasy world from my explorative years and discover how my travels led me to collect the skills I have spent my career trying to perfect." – Ines Di Santo

via Ines Di Santo
2. Galia Lahav
"Inspired by today's empowered brides who are ready to celebrate their wedding in a big way, each dress in the collection is touched by sparkle and shine. The radiant gowns are sprinkled with stardust-like details, such as shimmery tulle, glistening beading, and metallic threading." – Galia Lahav

Quinn Gown via Galia Lahav
3. Monique Lhuillier
"Inspired by the romance of Sicily, this season is an exuberance of volume, texture and color. A joyous take on heritage silhouettes, pushing prints even further, color palettes are saturated and bold! Exaggerated embroideries in multiple colorways add dimension, romance, and whimsy while sculpted corsetry and tailored jackets offer timeless elegance." – Monique Lhuillier

Sicily Dress via Monique Lhuillier
4. Berta
"Berta has an avant-garde design style, one that always tests the barriers and boundaries of the modern world of fashion design. Her style of design is famous for being bold, sexy and modern, all while combining vintage materials and retro styles." – Berta website

via Berta
5. Peter Langner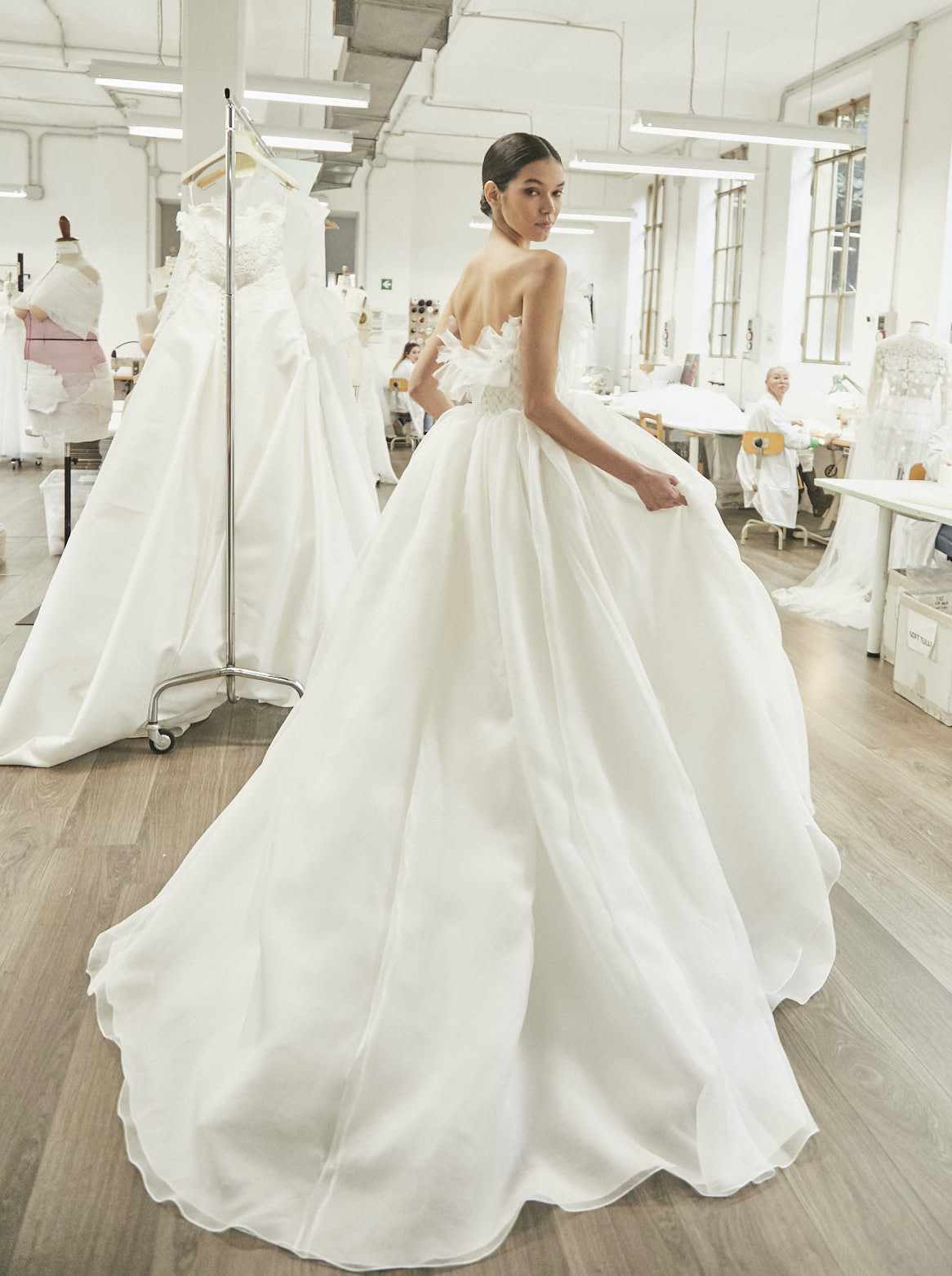 "The Spring/Summer 2023 Collection is especially important to me. This time I did not have a theme or story in mind for its creation, but instead a zealous desire to follow my instincts. The collection speaks to the extraordinary spirits of women and the power of beauty and elegance that gives light to life, happiness, and love." – Peter Langner
6. Amsale
"Nocturnal flowers bloom across this season's gowns, calling to mind those once-in-a-lifetime moments of a wedding, while tailored pieces allow the bride's look to evolve throughout the night, like a moonflower opening its petals." – Amsale Spring 2023 Collection
7. Anne Barge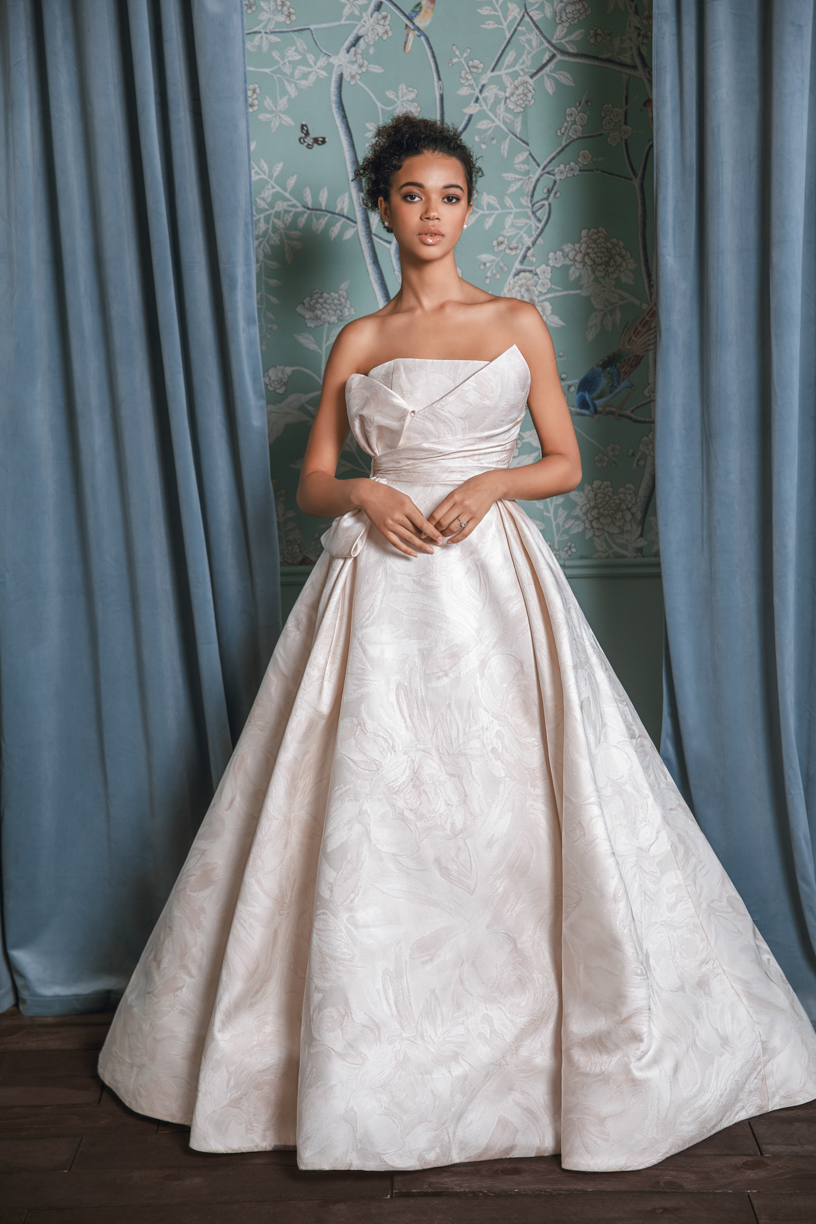 "I thought of floral appliqués, flowing trains, bare shoulders, and pops of soft color. I wanted to capture the essence of natural beauty." – Shawne Jacobs – Creative Director of Anne Barge

Montecito Gown via Anne Barge
8. Mira Zwillinger
 

"Our SS23 Wonders collection explores the importance of staying united amidst a newfound disconnect. We understand more than ever how valuable our relationships are both for inspiration, harmonious balance, and freedom." –

Mira Zwillinger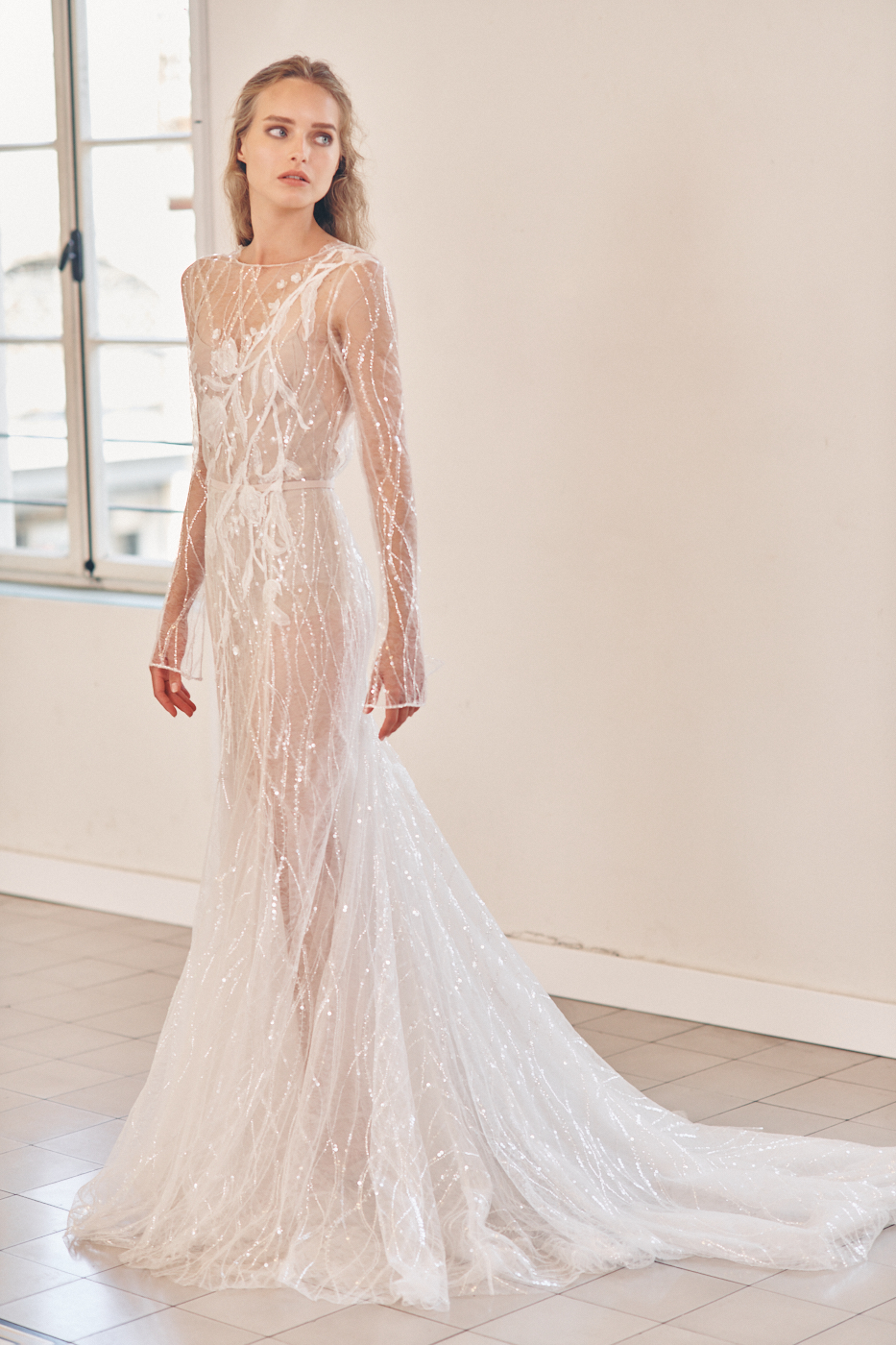 9. Sachin & Babi
"As designers, our gaze went beyond one Bride's moment, it extended to all the women that share that moment with her. We pulled inspiration from cinema, architecture, and our own unique idea of what the modern bride and her party are looking for. " – Sachin & Babi
10. Odylyne the Ceremony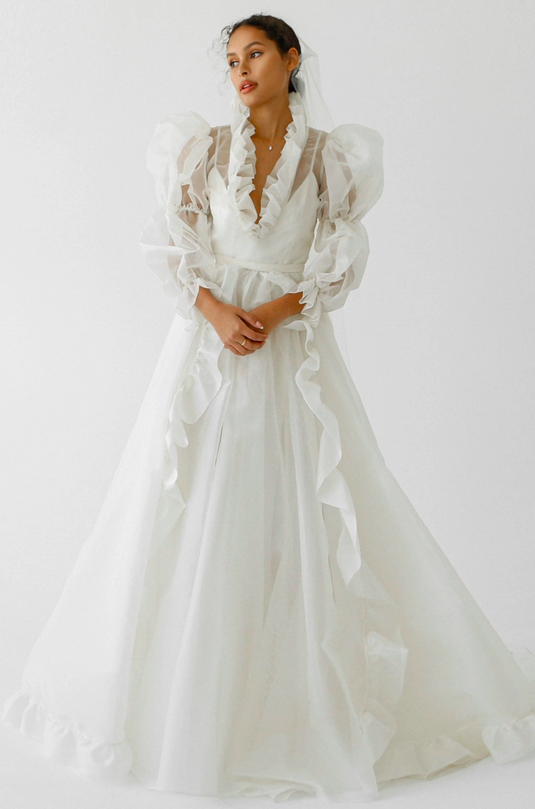 "With an ethereal and free-spirited approach to bridal, each of the dresses embody the deep emotion, sensibility and beauty of the life and art. Our collections tie in the feelings of the traditional foundations of marriage to the exotic and unfamiliar, while harnessing the power of the imagination to envision and to escape. The ethereal element is ever present in each style with a twist of romance and deep appreciation of all the delicate moments of the ceremony." – Odylyne the Ceremony

via Odylyne the Ceremony
11. Romona Keveza
"Romona Keveza namesake collection has always been ahead of its time and remains true to its D.N.A. Each gown in the Romona Keveza Collection is a work of art coveted by the most discerning bride throughout the world." – Romona Keveza

via Romona Keveza
12. Savannah Miller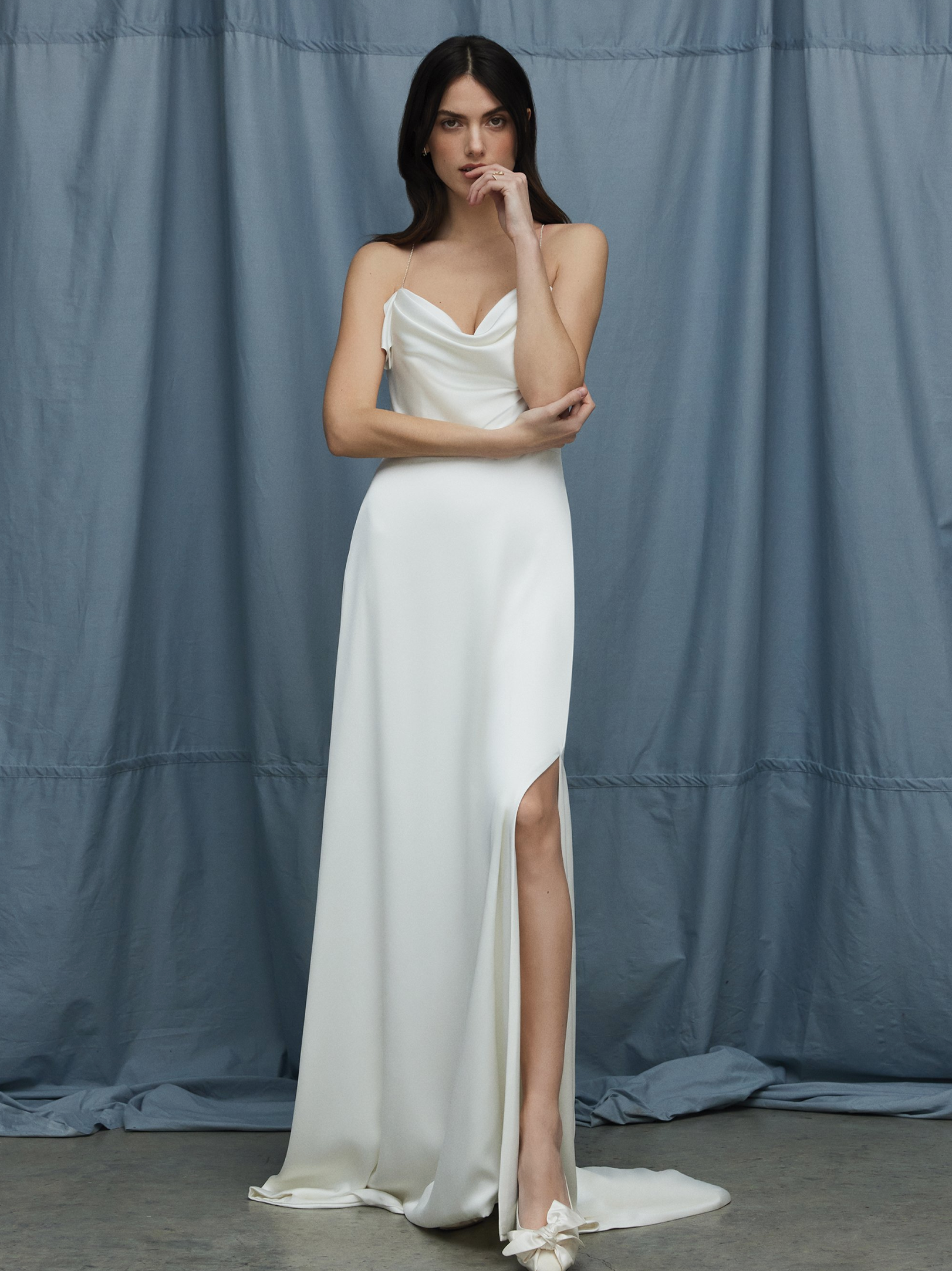 "Our Spring/Summer 2023 collection, Spellbound, was inspired by the poem of the same name by Emily Brontë. Poetry, in its very essence, evokes feelings of ethereal romance for me and in this piece, the hypnotic depiction of Winter and its grip gave rise to inspiration for our hero gown of the season by the same name, an incredibly romantic and dramatic, liquid satin gown with sleeves that extend to the floor and a completely open back." – Savannah Miller

via Savannah Miller
13. Lela Rose
The Mulberry Gown via Lela Rose

"The Lela Rose Spring 2023 Bridal Collection is truly Lela at her finest. Her signature love of pearls and unique fabrications are woven throughout the gowns and accessory pieces, creating a gorgeous and cohesive blend of fresh looks." – Lela Rose
"Fresh New Wedding Gowns For the Spring and Summer Seasons"