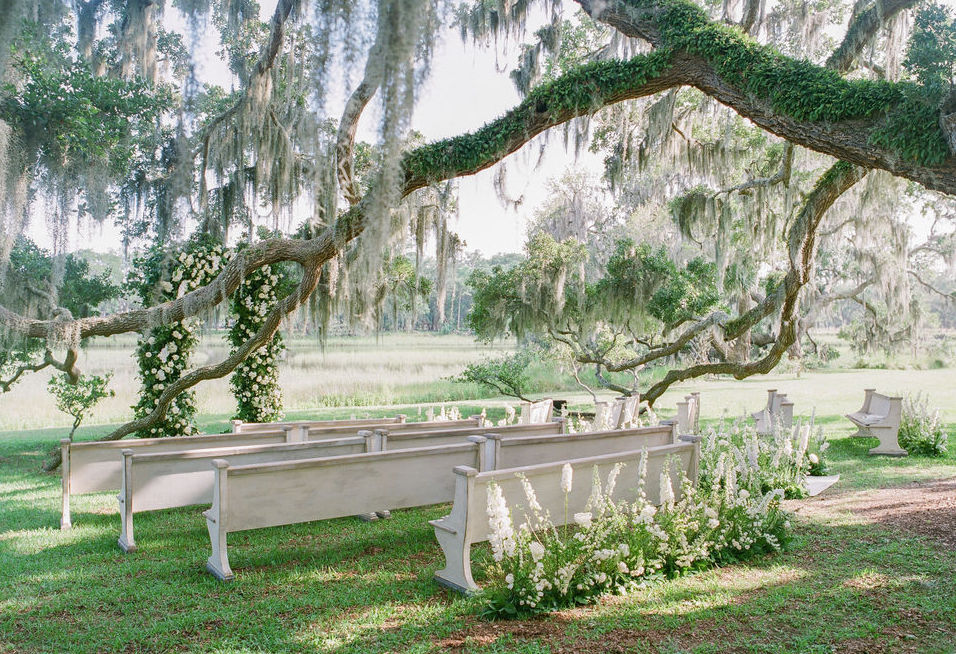 For over 20 years, Tara Guérard of Tara Guérard Soirée has been creating ultra-elegant and spectacular settings for celebrations worldwide. Her exquisite eye for detail and classic style, infused with Southern hospitality, has recognized her as one of the most sought after in the country. Soak up this charming and luxurious Lowcountry wedding thoughtfully planned and beautifully executed by Tara Guérard Soirée and expertly captured by KT Merry, a global luxury destination wedding and editorial photographer. She is nationally recognized for her exclusive destination weddings and fashion editorials for some of the most renowned designers in the bridal industry and beyond. With a pair like these two professionals, a work-of-art wedding is created and captured with adventure, purpose and soul.
The alfresco celebration took place on a sunny day in Charleston, South Carolina, on the sparkling Kiawah River, looking like it could have come out of the pages of a classic Nicholas Sparks novel. Spanish moss elegantly drapes the branches of ancient oak trees, creating a lush canopy above the serene ceremony space decorated with whimsical white flowers that lined a sun-dappled aisle leading to a flower-bedecked arch behind the grassy altar, framing the flowing river beyond. Vintage church pews were placed on either side, bringing the feeling of sitting in a vintage chapel to the lively outdoor environment. One of Tara's favorite parts about working in Charleston is the Lowcountry. "Our marshes, our live oaks, and our Spanish moss. No where else like it in the world!!" says Tara.
As the sunset, an orchestra played, and guests drank crisp sparkling wine in coupe glasses while lounging under the winding branches of the oaks. Delectable hors d'oeuvres inspired by Charleston's nautical culture were served, including cold and tangy oysters, fresh shrimp cocktails and seared scallops. The reception took place under a romantic tent tucked within the marsh, the interior ceiling lined with lush vines of greenery and romantic white flowers that flawlessly trailed their way around the golden chandeliers that glimmered above the fine china set amongst the family-style tables. One of Tara's highlights from designing this wedding was working with the bride. "She is a friend, past client and I loved seeing her this happy and in love. That was my favorite part!" says Tara.
Keep scrolling to immerse yourself in this dreamy alfresco wedding in the Lowcountry and see the feature in Weddings in Houston magazine, available on newsstands now.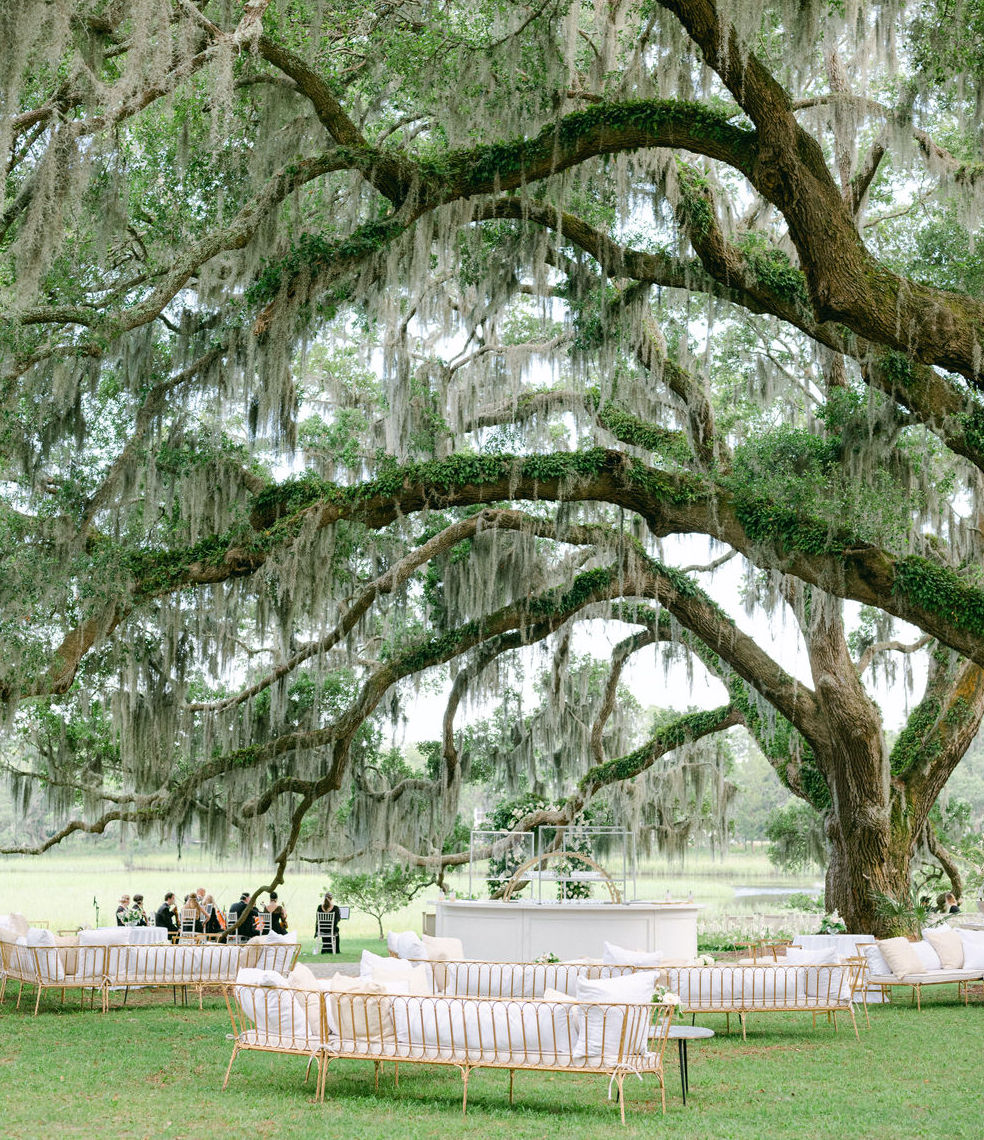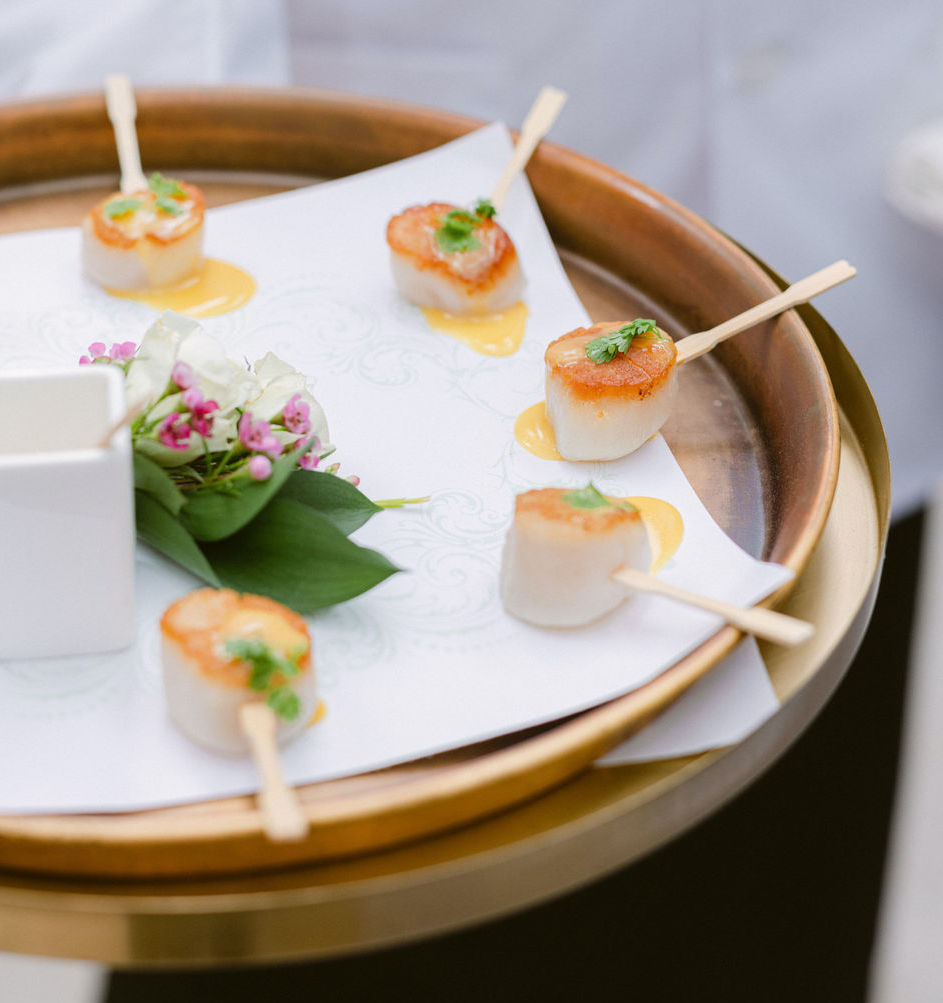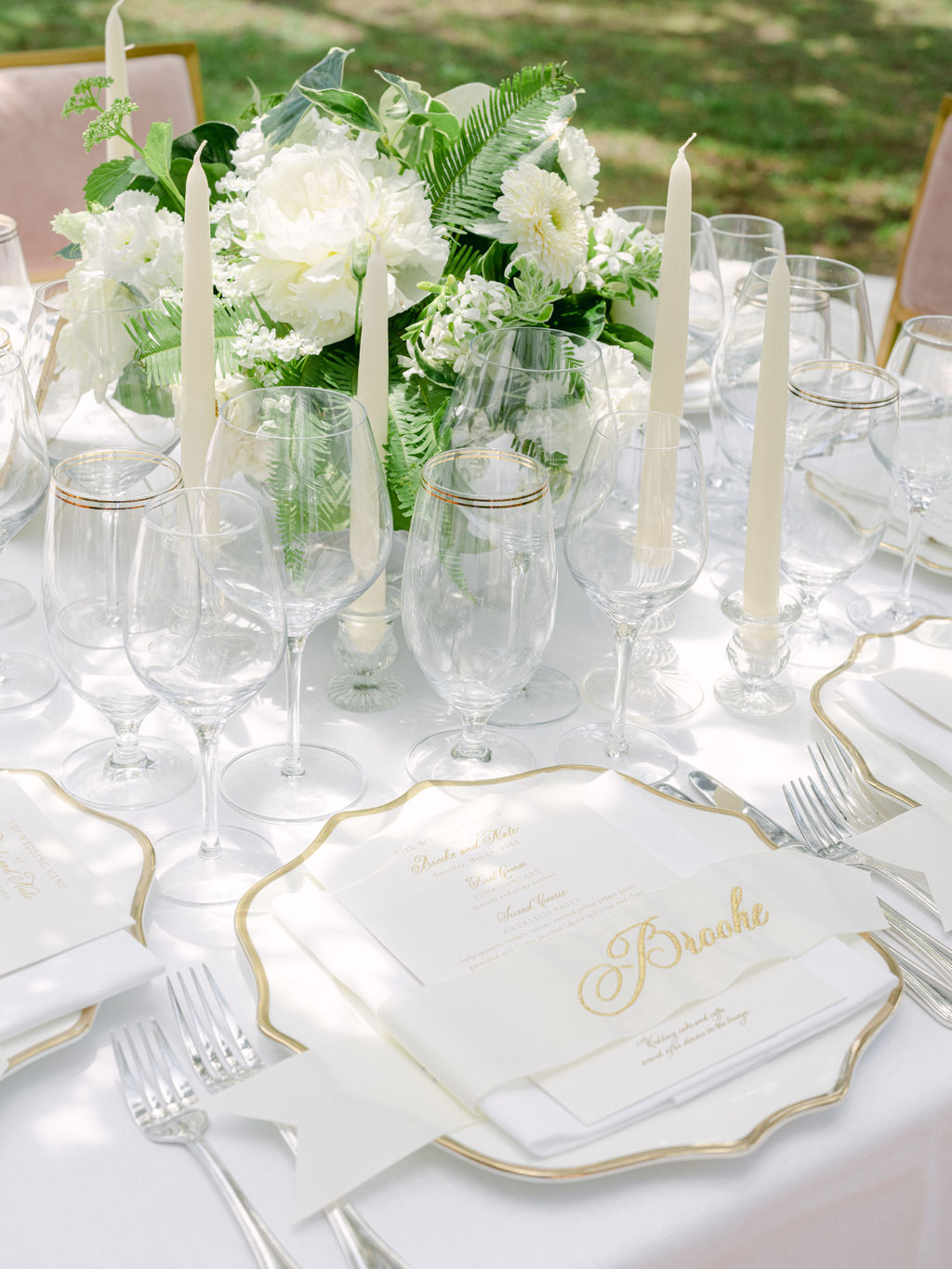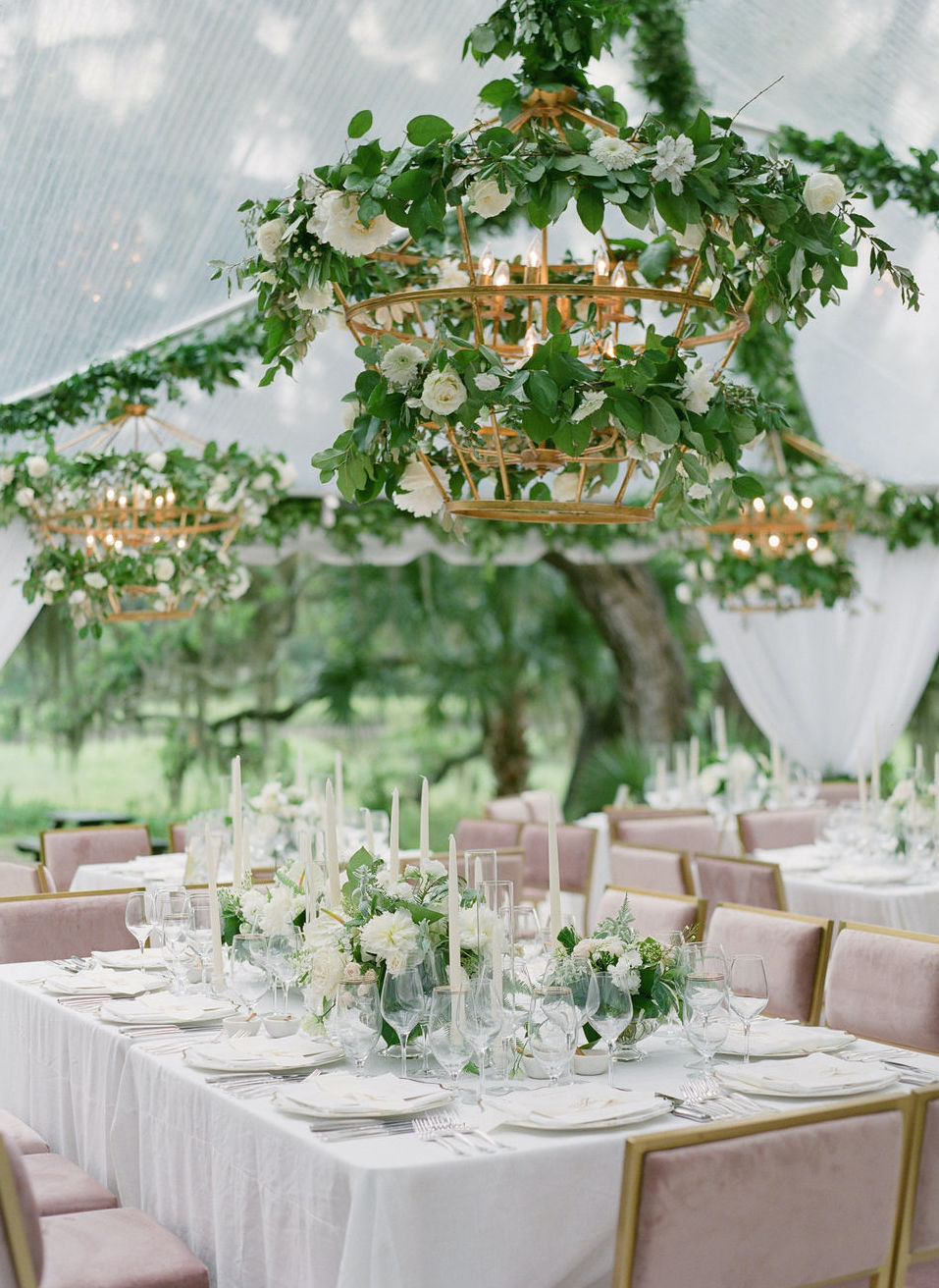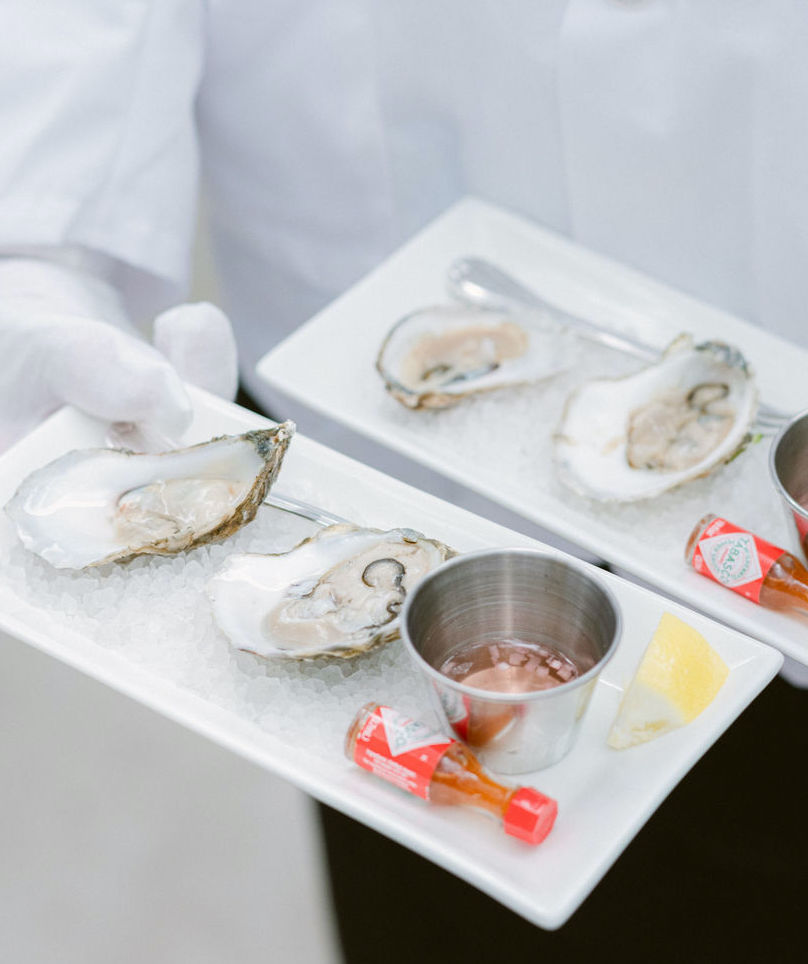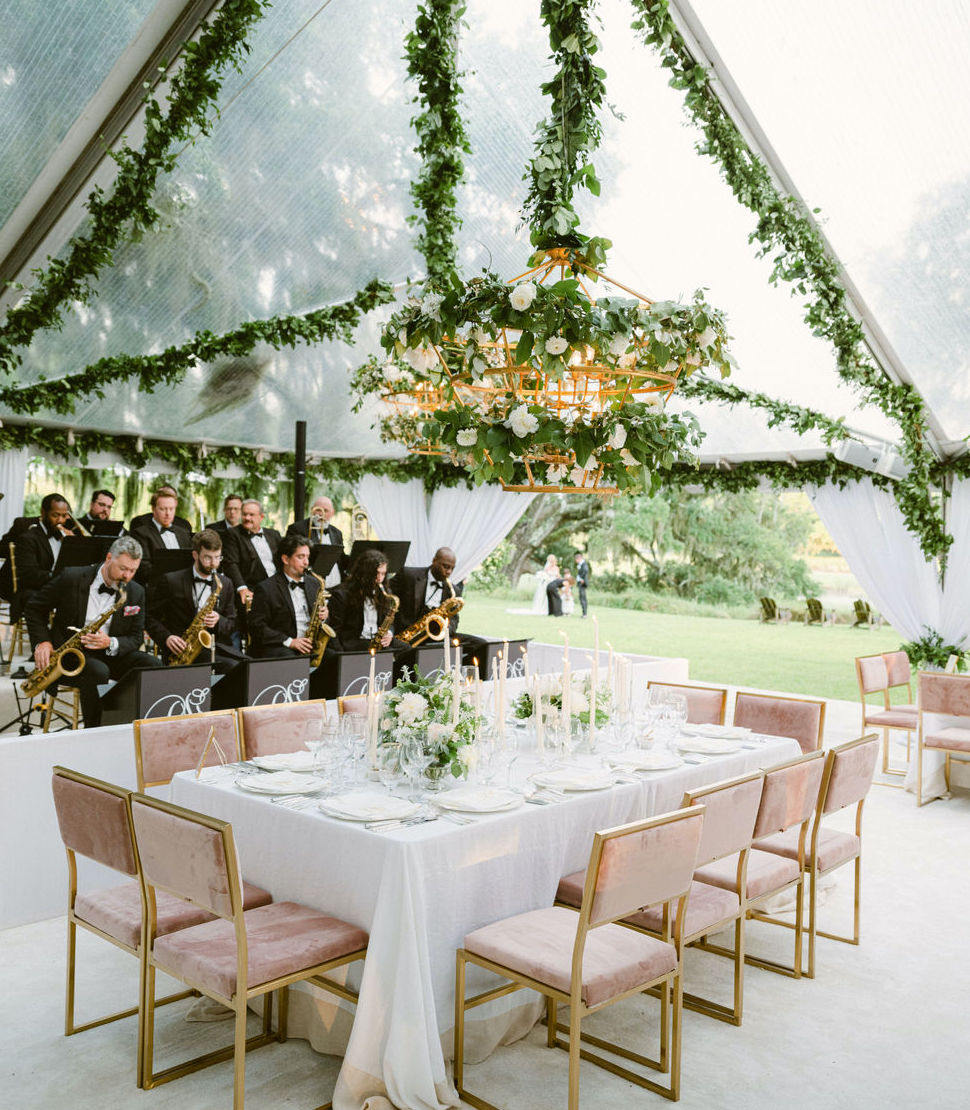 "An Alfresco Wedding in the Lowcountry by Tara Guérard Soirée"
Contributing Vendors: Photography: KT Merry / Designer + Coordinator: Tara Guerard Soiree / Venue: Kiawah River / Rentals: Snyder Events / Cake: Nine Cakes / Orchestra: The Fabulous Equinox Orchestra