Cortney and Garrison's love story began as the typical rom-com plot; they constantly bumped into each other at mutual friends' gatherings. The bride says, "These interactions were always enjoyable but largely platonic. If you asked Garrison, he'd say he was biding his time."
Eventually, sparks started flying between the pair at a wedding when Garrison strategically moved the place cards around at the rehearsal dinner so he could sit next to Cortney. After the wedding weekend, Cortney and Garrison's relationship blossomed.
Their rom-com love story continued with Garrison's romantic proposal in a Parisian garden. Overjoyed about their engagement, the bride says they spent the rest of their trip "introducing themselves as fiancés to anyone who would listen."
The couple pledged their love at the Corinthian Houston on October 2, 2021. Chandeliers dressed in blooms and verdant greenery wound the Corinthian's stately pillars creating a fairytale setting for Cortney and Garrison's special day. Plants N' Petals decorated the space with vintage red, aubergine, Bordeaux, blackberry, cream and blush decor and florals, while a decadent cake by Susie's Cakes served as a focal point of the room.
The celebration continued with all their loved ones. The bride says, "With so many people coming from different places across the globe, it was important to us that our guests felt connected to our culture and traditions." The couple incorporated cultural dances during their reception, including the "second line," a West African traditional dance brought to Louisiana. Garrison's mother handmade umbrellas for the wedding party to use for the dance.
As the festivities concluded, the bride's parents gifted the couple Cortney's grandmother's vintage Corvette, which they had used for their engagement photos. The bride says this was "a special gift of love now passed down through the family."
Continue scrolling for the romantic moments from Cortney and Garrison's floral-filled black tie wedding in downtown Houston.
Congratulations, Cortney & Garrison!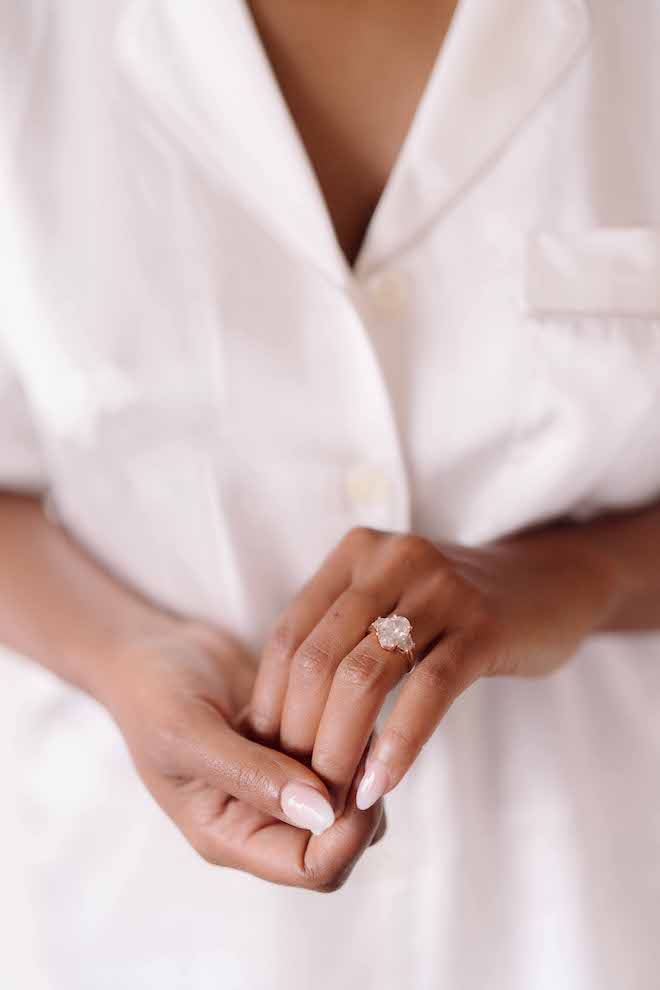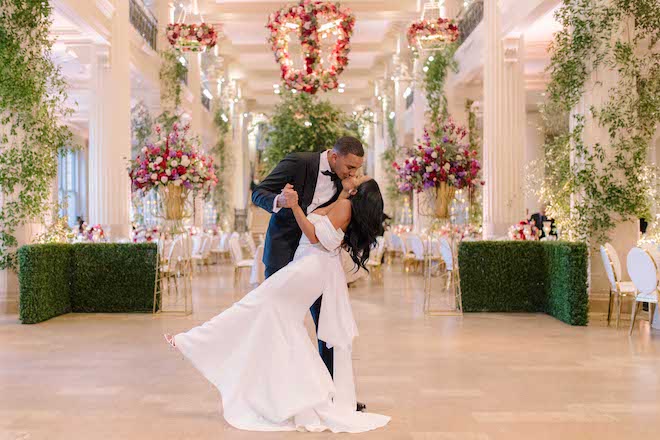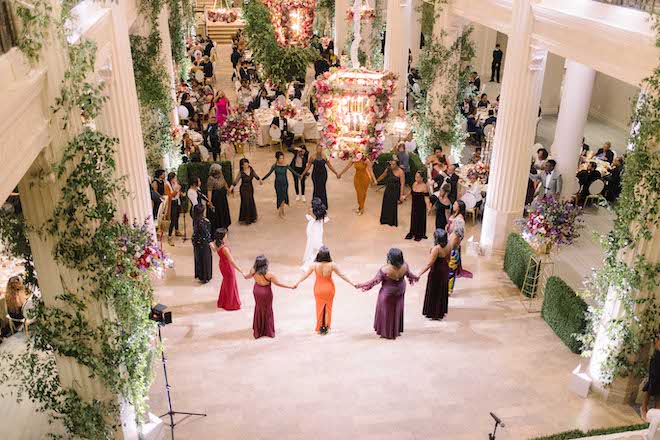 "A Breathtaking Black-Tie Affair at Corinthian Houston" Spotlight WiH Partners- Venue: Corinthian Houston | Flowers + Decor: Plants N' Petals | Cake: Susie's Cakes
Contributors- Photography: Stephania Campos / The Savvy Consultants / Swift + Company / Churrascos / Ultimate Bride / H&K Cinema / Tausha & The Band / Madd Hatta / Elevated AV Production / Model Paper Design / Sam's Limousine / Kim Clark Artistry / Alex Jean Beauty / Ethan Lord Jewelers