Writer: Laura Mericas
With their modern tech, high-end amenities and lavish interiors, Houston's historic venues might look vintage, but they definitely feel brand new. Scroll with us, as we uncover their storied pasts, and show you how you can make your own history with a wedding at one of the city's landmark wedding venues.
The Crystal Ballroom at The Rice
Photo: Ama Photography & Cinema
History buffs will love that their first dance, first kiss and first forays into married life take place in a century-old venue that was home to so many firsts for their city and state.
"Our history is one of the big draws of our venue," says Paula Foreman, director of sales for the Crystal Ballroom at The Rice. "It was the first public room in Houston with air conditioning, it had the first escalator, it was the original site of the Texas capitol…anything and everything that has happened in Houston has happened at The Rice!"
The repeating arched windows, 35-foot-high ceilings, and beautifully restored murals from 1913 truly take guests back to the turn of the 20th century. One can immediately imagine an opulent Art Deco-themed celebration or a classically elegant ceremony at this one-of-a-kind venue.
The Corinthian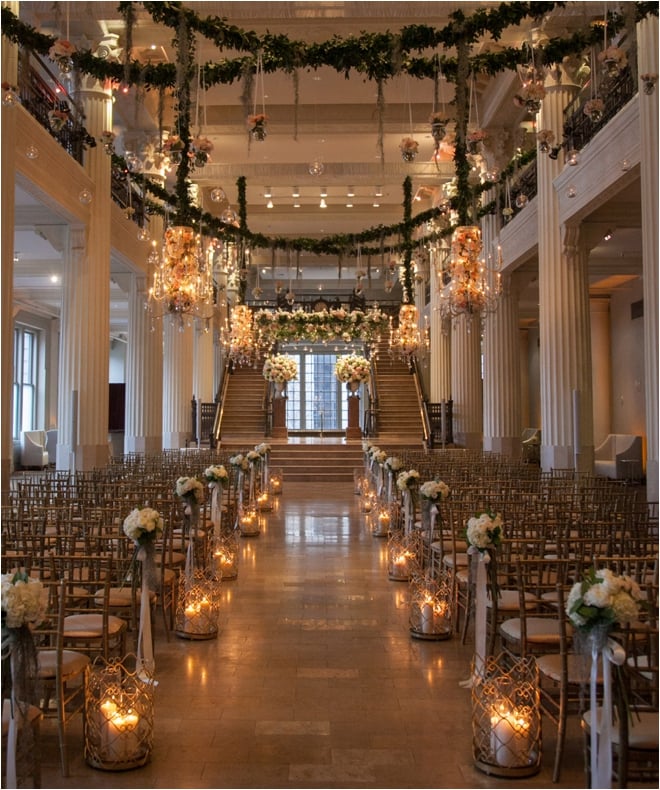 Photo: J. Cogliandro Photography
A few blocks away, on the corner of Main and Franklin streets in downtown Houston, sits yet another historic gem: The Corinthian. The venue has taken on quite a different role from when it was originally built more than 100 years ago, then serving as the home of First National Bank, and standing as one of the tallest buildings in the state—a skyscraper of its day!
Today the neoclassical venue is known for its original colonnade of 24 Corinthian columns, which have framed some of the most elaborate events the city has ever hosted. "The stunning and timeless architecture allows florists and decorators to suspend exquisite chandeliers, floral accents and draping to highlight the original plaster ceiling in the Grand Hall," says general manager Boyd Bryan. "Set in the rear wall, a towering Palladian window, often-times flanked with oversized floral creations, makes for a breathtaking and dramatic backdrop to the wedding ceremony." You can see The Corinthian's glory on display in countless weddings we've featured over the years, including Allie and Kyle's ultra-decadent bash, Asmita and Rishab's vibrant Indian celebration, and Kailey and Michael's classic affair.
The Astorian
Photo: Ama Photography & Cinema
One of Houston's newest takes on historic ambiance aims to take brides and grooms not only to another era, but to a different place entirely. The Astorian, inspired by New York City's Grand Central Station, with domed ceilings, handcrafted black-and-gold mosaics, soaring arched windows and a massive gilded clock, transports wedding couples and guests to the artistic edginess of Manhattan in the roaring 20's.
Art is part of the venue's origins, as it first served as an enormous paint factory when built in the late 40's and then was home to famous Texas artist David Adickes' sculptures of The Beatles and the U.S. presidents. It was named a city landmark in 2012 and three years later was transformed into one of the most distinctive venues in Houston by partners Romain Kapadia, Joe Pachioli and Juan Chao.
In the two years since the space's restoration, the team at The Astorian has hosted off-the-charts celebrations for the likes of the Houston Texans' football team and to-be-weds who relish high-glam revelry, along with gorgeous photo shoots, like this fabulous Weddings in Houston exclusive. "Couples love how the place has a festive feel to it," Pachioli says. "It's not a blank space. It has a vibe to celebrate."
Historic Magnolia Ballroom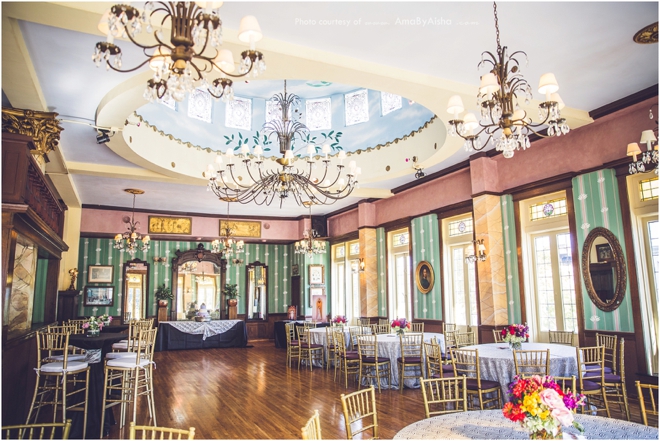 Photo: Ama Photography & Cinema
Wedding couples who prefer color "pops" and the taste of hops, will appreciate all that is and was at the Historic Magnolia Ballroom. Built in the late 1800's, and the site of elaborate weddings, rehearsal dinners, bridal luncheons and more for the past 30 years, the Historic Magnolia Ballroom once served as the executive suites for Houston's Magnolia Brewery, where Downtown workers would gather for five-cent beers and sandwiches, and where the elite would enjoy exclusive beer tastings.
"There are so many wonderful venues opening up everywhere all the time, but you can't give a place history," venue manager Renee Pool says of the venue, which is listed on the National Register of Historic Places.
The venue's colorful cypress-and-leaded-glass windows, paired with its on-trend bright wallpaper, and vaulted mural ceilings, create a joyous yet elegant setting for the most timeless of nuptials.
The Lyceum of Galveston Island
Photo: Rising Tide New Media
Standing originally as one of Texas' oldest Lutheran churches, The Lyceum of Galveston Island today captures the Old World charm and culture of its coastal surroundings.
The venue's square tower with its steeple, hipped roof, arched openings and beautifully restored double doors, sets the stage for an intimate spiritual ceremony and/or a lively reception.
The original floor-to-ceiling stained-glass windows, which date back to the1850's, leave guests and couples in awe, and create a colorful display of natural light throughout the space, which executive director Cynthia McEldowney says is a favorite element among wedding couples. "The Lyceum is adjacent to a present-day sanctuary, separated only by a beautifully landscaped courtyard featuring wrought-iron gates," she adds.
Heather's Glen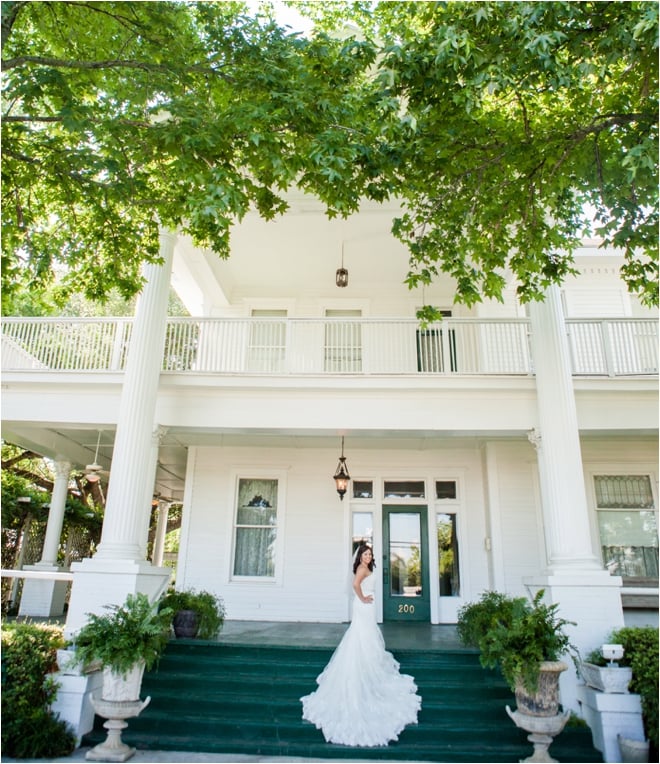 Photo: Jessica Pledger Photography
Victorian elegance and Southern hospitality blend together beautifully at Heather's Glen in Conroe. The venue, originally built in 1900, was formerly known as the Wahrenberger mansion, and was the center of Conroe's social scene at the time.
That influence hasn't changed much in the last century. Since the venue's complete restoration in the early 90's, wedding couples like Kaylin and Michael have sought out Heather's Glen for their storybook nuptials.
The Antebellum-style-home-turned-wedding-venue now includes a cathedral-ceiling chapel complete with giant windows overlooking manicured gardens featuring two picturesque waterfalls, as well as hundreds of magenta and blush azalea bushes sprinkled across the venue's grounds, notes owner Heather George.
Plantation-style columns and wraparound porches, and the option to wed under a moonlit gazebo, lend perfectly to weddings with a Southern-fairytale feel. "Some of the most memorable weddings at Heather's Glen have focused on historical themes," says George. "A New Orleans-style wedding complete with a second-line dance comes to mind."
The Parador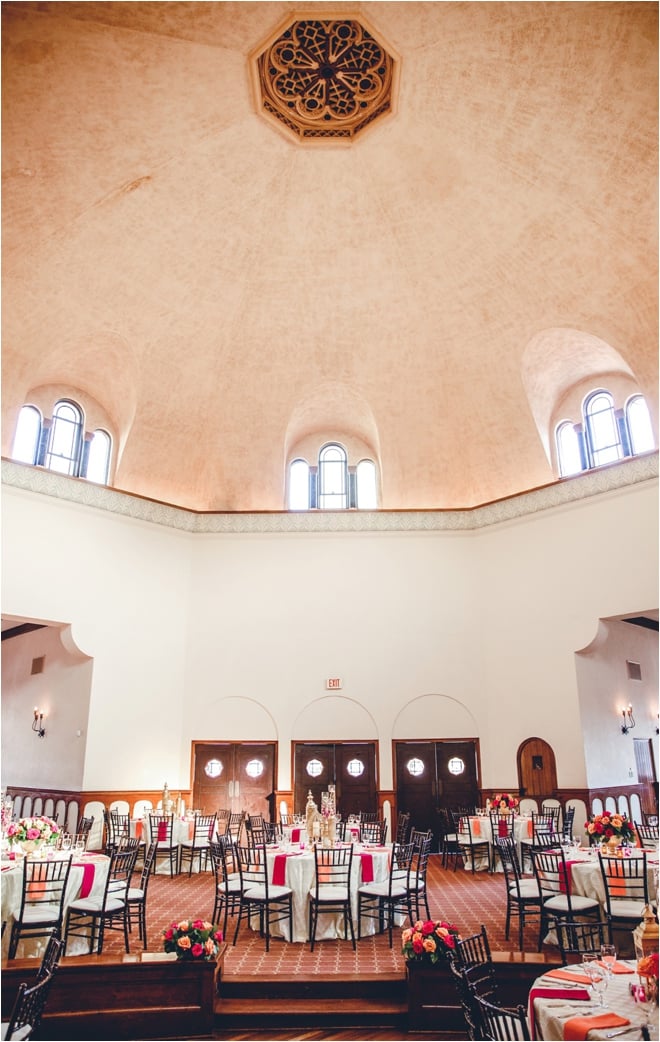 Photo: Ama Photography & Cinema
The Parador, located in Houston's posh Museum District, is a Texas Historical Landmark inspired by a bygone empire.
The immense estate, complete with dark wood beams, rustic three-tiered doors and winding gardens, "stands as a testament to the architectural artistry of a distant era, marrying Mediterranean style with Byzantine details," says director Sheila Wells.
Originally built as a house of worship in 1928, the venue's soaring 35-foot domed ceiling and stunning arched windows bathe wedding guests in a warm golden glow in the multi-leveled Duomo. Couples can wed within the glorious cathedral or outdoors among the tranquil gardens and sculpted fountains. Wells notes, "All of our events are lovely. However, when couples provide different settings with loveseats and couches, it adds a special warm touch."
Majestic Metro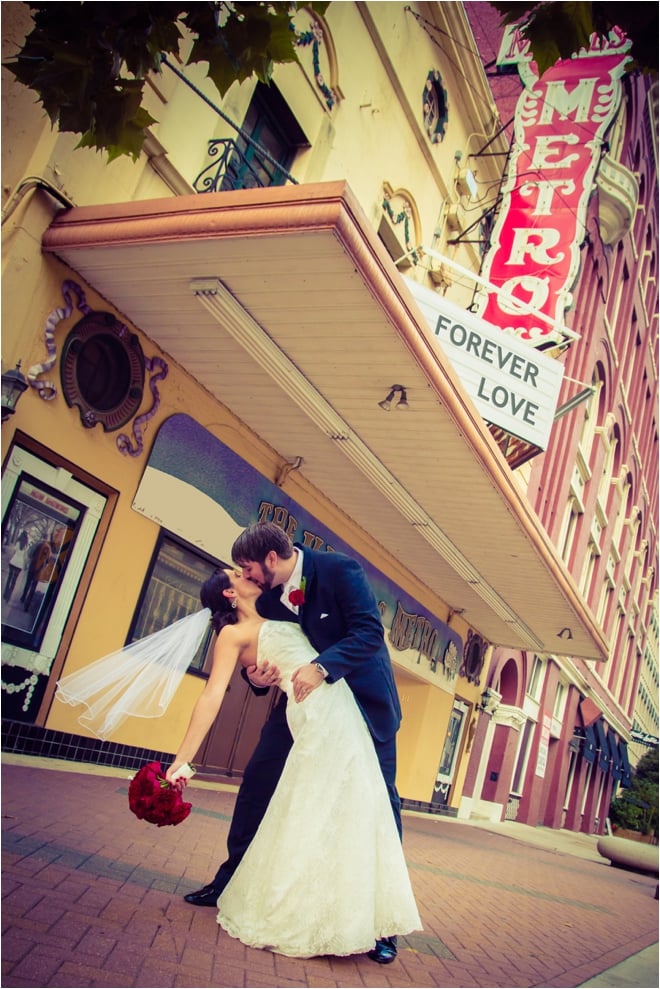 Photo: Tara Star Photography
Want to see your name in lights on your wedding day, like Houston lovebirds Jennifer and Mitchell? Couples who book downtown's Houston's Majestic Metro will experience that special thrill during their night of glamour and grandeur at this restored movie palace.
"There's eye candy everywhere in the building," says managing partner Linda Warwick. "What you see is what you get here, and that's huge for a lot of our couples."
First constructed by legendary Houston architect William Ward Watkin in 1926, the stunning space was set to be torn down, but was saved and returned to its original glory in the 1990's. Today, this remarkable site boasts one of the most advanced audiovisual systems in Houston, perfect for its all-inclusive, music-filled celebrations, all set within a vintage Art Nouveau interior. "Other venues stage spaces to look like this," Warwick says. "Ours is the real deal."
The Bryan Museum
Photo: Courtesy of The Bryan Museum
From its beginnings as an orphanage—one whose solid cypress beams protected its wards from the great storm of 1900 — to its brief stint as a private residence, to its status, today, as one of Galveston's most beloved archives, The Bryan Museum stands out as a superb historic venue for a truly Texan wedding.
Depending on the season and weather, couples may opt to have their ceremony in the jasmine-covered gazebo on the museum's grounds. Bryan Museum director of events Ann Urban notes that, due to Galveston's fickle climate, most couples opt for an off-site ceremony, bringing their guests to The Bryan Museum afterwards, for a one-of-a-kind reception in the museum's recently completed, and completely climate-controlled, conservatory. At just under 2,000 square feet, the Belgian-inspired structure features intricate ironwork and evocative emerald-color glass, along with a built-in green onyx bar. These features, combined with a dazzling floor that "really is like a mirror," Urban says, make The Bryan Museum's conservatory, itself, "a work of art."
Butler's Courtyard
Photo: Lindsay Elizabeth Photography
Commissioned by one of the first and most successful ranchers in the region and designed by a cowboy-turned-architect, Butler's Courtyard allows guests to travel back to the times of dirt roads and horse-drawn carriages—but with modern conveniences aplenty.
The red-brick building in the heart of historic League City, now almost 110 years old, served as a center of commerce and trade along George Washington Butler's sprawling property at the turn of the 20th century, and was home to a bank, grocery store, café and a spot for patrons to tie up their horses. Today, co-owners and best friends, Nancy Richards and Janice Gunnin-Wilson, have transformed the space into a vintage-inspired setting for rustic-elegant nuptials that blend historic surroundings with impeccable service: "The bride will have a team behind her at every point in the wedding," says Gunnin-Wilson. "We treat each bride with white gloves and take care of her every need."
The venue's exposed-brick walls, weathered-wood beams, antique floor-to-ceiling mirrors and rows upon rows of sparkling chandeliers create what the owners describe as a feeling of "historic elegance," ideal for intimate occasions, like the one imagined in this breathtaking shoot from florist Haute Flowers & Events, shot by Lindsay Elizabeth Photography. Those with a love for the outdoors can wed beneath the romantic archway in the courtyard, where hanging stained-glass artwork and a nearby barn-like structure make ideal backdrops for Texas-themed photo ops.
For at-a-glance details on size, capacity, disabled accessibility and much more, for any of the above venues, click here…and happy venue hunting, loves!