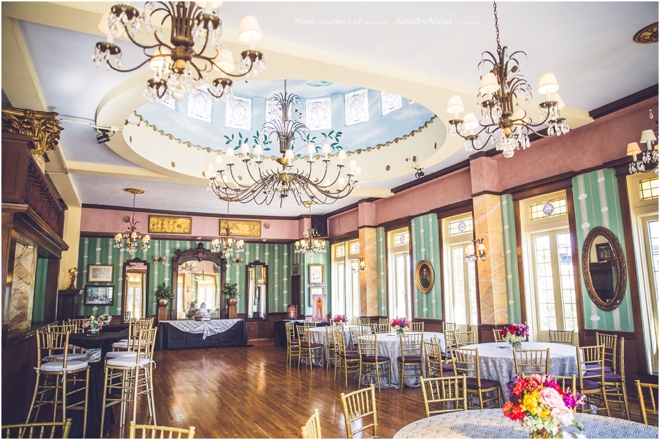 Photo: Ama Photography & Cinema
Built in the late 1800s, and the site of countless elaborate weddings, rehearsal dinners, bridal luncheons and more, for the past 30 years, The Historic Magnolia Ballroom is one of the oldest properties in Houston and is listed in the National Registry of Historic Places. With its Victorian elegance and true Texan charm, it's one of the city's hidden gems, perfect for wedding events with a vintage vibe. We talked with venue manager Renee Pool about why modern wedding couples might want to begin their lifetime of happiness at a Houston wedding venue that has stood as a landmark for many lifetimes. Here are a few reasons: 
The Story — Every historic venue in Houston comes with its own story, and couples who wed there become a part of that story! The Historic Magnolia Ballroom, for instance, once served as the executive offices for Houston's Magnolia Brewery, where downtown workers would gather for 5-cent beers and sandwiches, while the elite would gather at the brewery to enjoy exclusive beer tastings. "There are so many wonderful venues opening up everywhere all the time, but you can't give a place history," says Renee Pool.
Decor in Place — Many historic buildings in Houston are full of ornate details and interior accents that you just don't see in modern event spaces. "The space is not a blank canvas. It has its own flair and its own style," Pool says. "The original tiles on the walls, the oak flooring, beautiful chandeliers and the wood-lined walls provide decoration themselves. It's perfect for those brides not looking to be overly lavish with their decorations. The space speaks for itself."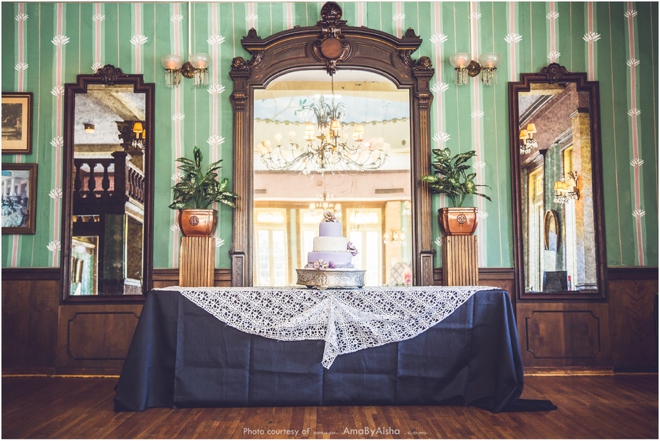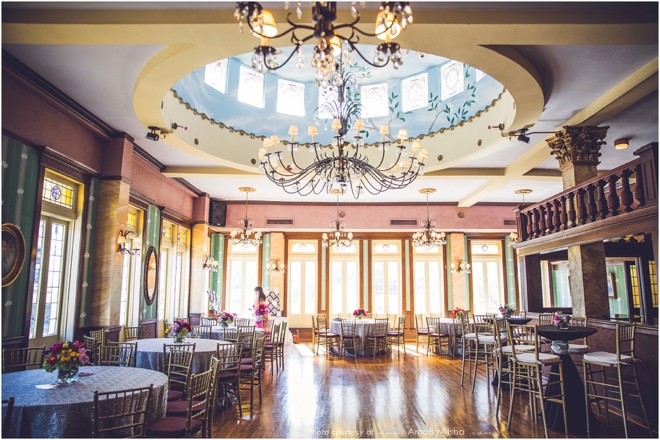 Photos: Ama Photography & Cinema
Event Flow — What other venues might have in wide-open space, The Historic Magnolia Ballroom makes up for with distinctive, turn-of-the-century-style rooms that allow guests to move seamlessly through the wedding celebration. Start with a cocktail at the polished bar, next mosey on to enjoy an elaborate seated or buffet-style meal, then head to the dance floor amid the cypress-and-leaded-glass windows and vaulted ceilings.
Theme Scheme — Though this historic venue can lend itself to any wedding style, "Many of our most elaborate weddings tie into the prohibition, speakeasy feel," Pool says. "They are not costume-required, but the couples definitely try to work in the overall feel of the place." Going for Gatsby glam, or vying for Victorian va-va-voom? A historic venue will put you a step above the rest.
Prime Location —  Set on the edge of Buffalo Bayou and walking distance to the heart of downtown, The Historic Magnolia Ballroom provides couples and guests with a central location and access to all of the hotels, bars and restaurants they could want, along with an intimate, tucked-away setting for celebration.
Have your heart set on a historic venue or want to learn more? Schedule your tour of The Historic Magnolia Ballroom today, and snag your preferred date…before another lucky couple does!