---
Local Flavor: Wedding Menus with Texas Taste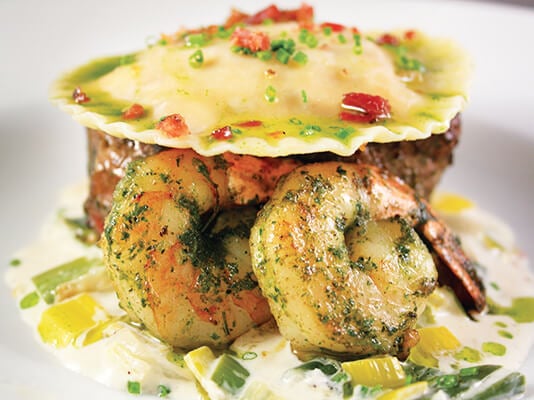 Photos: The RK Group - Cuisine: Rosemary's Catering
The best way to give your guests a taste of the great state of Texas…is to give your guests many tastes of the great state of Texas. That's because Texas, with its rich cultural history and unique geographic location, offers a delicious array of flavors, ingredients and emblematic dishes just waiting to be savored on your special day.
Oh—and if you are hesitating to add elements of Texas to your reception meal at the risk of seeming cliché or literal, don't worry, the beautiful part of adding local flavor is that little touches go a long way. As Margery Reinheardt, CPCE, director of catering for the Hilton Houston Post Oak advises, "Remember that it only takes a suggestion of Texas to add native charm to a wedding event. In Houston, everything from Gulf Coast to Tex Mex to multicultural cosmopolitan fare, and rodeo glitz and glam, make the grade."
Taste of Tradition
"Every wedding has a place for tacos," says Reinhardt. "Late-night breakfast tacos, fresh snapper or shrimp mini taco hors d'oeuvre, or filled candied taco shells with dark-chocolate ganache, cinnamon, almonds, Texas berries and orange spiked cream for dessert, are a delicious reminder of our humble heritage."
According to Wafi Dinari, co-owner and managing partner of popular Houston eateries Ouisie's Table and The Bird and The Bear Bistro, Texas flavors draw from many different traditions. Synthesizing those flavors creates a unique, stylish Texas menu. "Things like barbecue, biscuits, good Southern desserts and Tex Mex are traditions of Texas," he notes. Dinari suggests menus that feature shrimp-and-cheese grits, chicken-fried steak with the works, a bacon-wrapped meatloaf, or a crab Cobb salad. A traditional menu might incorporate game such as venison, bison, quail, elk and wild boar.
Fresh and Spicy
"Texas flair to me is about freshness and flavor. Think: spicy," says Lisa Hopkins, CMP, CPCE, director of catering for The Houstonian Hotel, Club & Spa. She suggests integrating coastal flavors inspired by the Gulf. "Brides can share a little bit of the Gulf Coast by offering seafood like snapper, then adding a pepita crust with tomatillo and guacamole. Or, for the land lovers, what about a roasted-peach-and-pecan-stuffed Marble Farms pork chop with ginger-maple jus?"
At the Rainbow Lodge—a favorite of hunters, game lovers and foodies alike—owner Donnette Hansen, too, loves to offer a range of fresh and spicy flavors, including spicy Gulf shrimp with red chilies, fire-roasted oysters, and corn-and-crawfish fritters, all of which are delicious Texas-inspired menu selections.
Get Local
The best way to ensure the freshness and quality of ingredients in your Texas-inspired celebration menu is to source food locally. Hansen says, "We source locally no matter what, and that first menu meeting is a perfect time to mention your favorite ingredients and your budget. Consider whole roasted suckling pig with bourbon-and-south-Texas-citrus glaze, grilled venison or buffalo tenderloin with jalapeño bread pudding and cilantro chimichurri, pheasant tinga tacos or tostadas, grilled quail, and duck bites."
Nicole Wilker, who manages private dining at Brennan's Houston, says that Houston brides have an advantage because there is an abundance and variety of regional food available. She suggests a menu that starts with "something that has a little kick, followed by grass-fed beef or freshly caught Gulf fish with a side of grits. And, to finish, what is more grand than a Texas pecan pie or pecan pralines?" Wilker sources ingredients like antelope from southwest Texas, and local berries from Froberg's Farm in Alvin, Texas, and works with a local farmer to source a variety of potatoes from russets to fingerlings.
Seasonal Flair
And speaking of seasonal availability—you'll find more and more independent catering firms and hotel catering departments able to discuss it in detail, and provide you with good advice on getting your money's worth.
At the Hilton Houston Post Oak, Reinheardt says, "Locally produced cheeses are available year round, but produce is subject to the month the wedding will take place."
And she reminds brides that local, seasonal options do tend to be more expensive. "With limited production from these artisans, most of the suppliers do not have the mass quantities of those items produced for national distribution, which means the size of the event may dictate what is readily available. Even small events, though, should expect to pay more for these products."
She suggests local, seasonal seafood options available from the Texas coast, like fresh oysters, shrimp and live crawfish. "Texas redfish is now commercially farmed and is a practical and delicious fish for banquet events as entrees and appetizers. Jalapeño-bacon-wrapped quail with maple glaze is a great small-plate item, as are fresh quail eggs: Try them deviled as appetizers, on top of eggs Benedict for brunch, or as a source of flavor over many entrees—they just add a level of sophistication to your menu."
For a personal touch, Reinheardt suggests reminding guests of the dinner's Texas origins by providing beautifully printed souvenir menus.
Modern Fare
Whether it's high-quality steaks, traditional barbecue or regional favorites from around the state, taking those dishes and putting a contemporary spin on them is what raises the bar for wedding fare.
And don't forget the libations. Every wedding needs a specialty cocktail, especially if the beverage selection is limited to beer and wine. Adding one good, icy vodka cocktail is a great idea, even with more modest budgets.
"Bourbons, rums, vodkas and gins, blended whiskeys, and tequilas, can be found brewing all around our state," Reinhardt adds. Mixing in these spirits adds the perfect finishing touch to a locally inspired menu.
While you're creating the perfect Texas-touched dining experience, Hansen cautions against overdoing thematic elements, especially when it comes to integrating the food with the decor. "Don't get too caught up in the boots-and-hats theme; it has been way overdone and it seems to be more of a costume party than a memorable food and drink experience." Instead, she suggests that couples bring a few of their personal favorite things from their ranch or house and let them work their way onto the tabletop, for a Texas dining experience that tastes, and feels, deliciously like home.
You Might Also Like