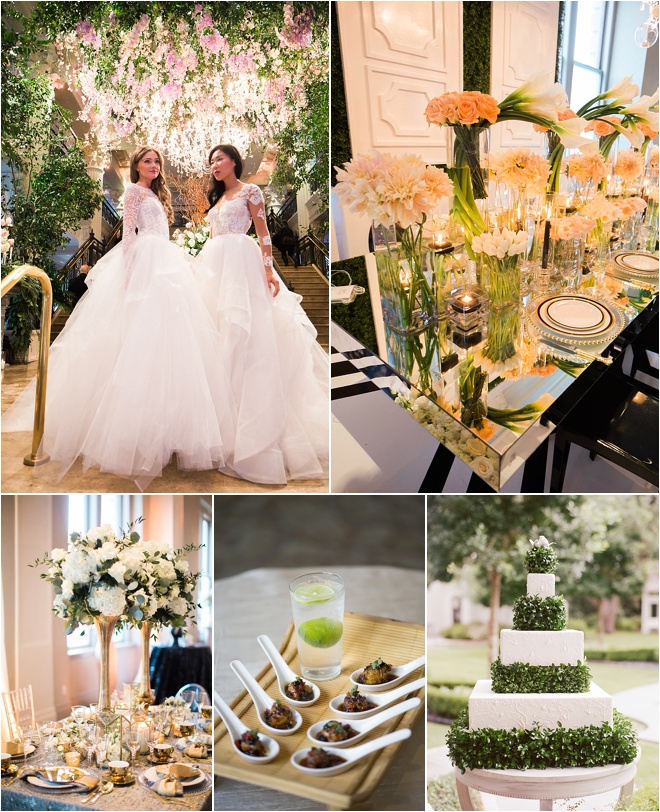 Top Left Photo: Civic Photos, Gowns: Now & Forever Bridal Boutique | Top Right Photo: Civic Photos, Tablescape: Flora & Eventi | Bottom Left Photo: Civic Photos, Tablescape: EB Inc. Event Rentals & Design | Bottom Middle Photo: Taylor Golden Photography, Catering: Jackson and Company | Bottom Right Photo: Sylvie Gil, Cake: Susie's Cakes & Confections
It's here…it's finally here! We, and our incredible team of Houston wedding vendors and experts, have been hard at work creating a spectacular wedding planning experience for you, and this evening, at 6 p.m., we get to pull back the curtain on the magic!
Gorgeous wedding tablescapes, fabulous floral designs, interactive vendor exhibits, live music, exceptional food and drink from Jackson and Company catering, a strolling fashion show featuring bridal couture's newest gowns…and the chance to take home hundreds of dollars worth of hand-picked luxury beauty, skincare, fashion, home and bridal goods? OH, YES. That's the I Do! Wedding Soiree, darlings, and we can't wait to see you there!
$25 advance ticket sales close in just a few hours, so get yours now; or, you may purchase tickets at the door for $30 (very limited availability).
Oh—and a few things to know before you go:
DO take public transportation to The Corinthian if possible; if you plan to park, we have complimentary garage parking (second entrance on Congress after Fannin),  or valet for $15; opens at 6 p.m
DO bring your besties, your spouse-to-be, your family members and valued opinion-givers—the I Do! Wedding Soiree is an evening of fun, food, drink and beautiful displays everywhere you look!
DO bring your mobile device, and be prepared to Instagram, Facebook, Snapchat your favorite finds.
DO come dressed to impress—the I Do! Soiree is a luxury cocktail event, and business-stylish attire is part of the fun! Please, no shorts, tank tops or flip-flops.
DO stay for the full event—winners of our exclusive pre-show giveaways and on-site door prizes will be announced at the end of the show, and you must be present to claim your prize when it is announced.
Please DO NOT bring strollers, infants or anyone under the age of 16. The I Do! Wedding Soiree is an adult event, featuring delicate displays (and LOTS of them). We love little ones…but this is not an appropriate environment for them.
DO enjoy every moment of this very special event! We have curated it for YOU, and we look forward to meeting you and finding out how we can help you create the wedding of your dreams!
Get ready, get gorgeous, get happy…and we'll see YOU at I Do!