Wedding couples sing the praises of Houston wedding band Danny Ray and the Acoustic Production for two reasons: 1. They create custom set lists to represent every wedding couple, and 2. They have perfected a high-energy, non-stop performance that keeps guests of every musical inclination on their feet.
"We can be a full-fledged party band, but we can also throw in some quirky song choices that reflect who the couple is," says frontman Danny Ray. "We are just so excited to be playing. When we're playing, we're grooving and rocking out, and that shows!"
We asked Ray to walk us through his ideal wedding day setlist, crafted with hints of romantic serenades, Motown classics, Texas country and full-blown party ballads. Listen in:
The Opener —Ray likes to kick off the reception with a recognizable hit that starts off slow and builds to become more upbeat. His go-to's are "Can't Take My Eyes Off of You" by Frankie Valli and The 4 Seasons, and "You Are the Best Thing" by Ray LaMontagne. "They are not really slow, but they are not really fast," he says. "Those are the two that we start off with most often, but every now and then we get a client who wants to hit it hard from the beginning, and in that case we would start out with 'Kiss' by Prince."
First Dance —Ray says that he and his band will learn any first dance song for wedding couples they work with. In general, if couples have a song with personal meaning to them, no matter where it falls in the set list, he is willing to make it happen. "Any first dance, we are open to those," Ray says. "If there is any special song, maybe for a last dance or if it's a song that they say they would go crazy for, we want to add it in."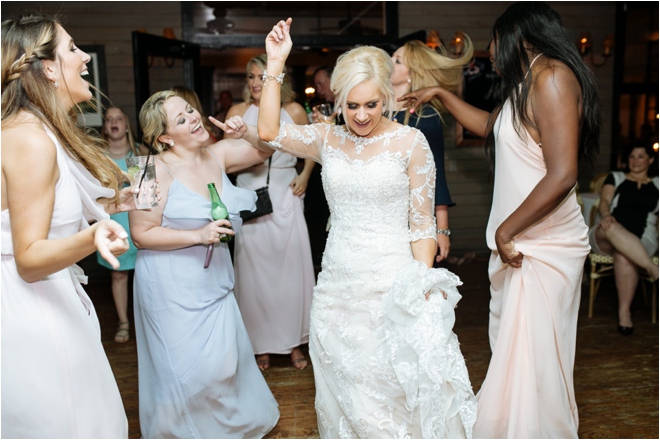 Photo: Courtesy of Danny Ray and the Acoustic Production
Mashups — For really letting it loose, Ray likes to mix in custom mashups of 90s hip hop favorites with rock classics — like Snoop Dog's "Gin and Juice" and Lynyrd Skynyrd's "Sweet Home Alabama " — to keep guests on their toes! He will even rap…ish.  "I really like doing mashups because the second you go into another song, you see everyone processing what just happened," Ray says. "Everyone is with you for that moment."
Modern Hits — And of course Ray and his team don't shy away from the hits of the moment. "Right now you can't go wrong with Bruno Mars," he says (and we agree). "Bruno Mars, Prince and the mashups are the things that almost always happen."
Ceremony or Cocktail Classics — In addition to the lively reception music, the band also performs acoustic takes of more romantic songs for the wedding ceremony, dinner and cocktail hour. "What we play during the ceremony is completely directed by the bride and the groom," Ray says, having performed everything from classical compositions, to Beyonce ballads, to songs from Adam Sandler's movie, "The Wedding Singer." For cocktail hours and dinners, Ray often performs crooner classics from Frank Sinatra or Michael Bublé, along with contemporary acoustic songs from the likes of The Lumineers or Of Monsters and Men.
Photo: Steve Lee Photography
Want to hear more from Danny Ray and the Acoustic Production? Schedule a consultation now or head to his show, Thursday April 6, at Fox Hollow! And be sure to tell him his fans at the Houston Wedding Blog say hello!!