Photo: Ama Photography & Cinema
"I think that, subconsciously, I knew the event industry was for me when I was young and prepared dinners for my parents," says Kat Creech, owner of renowned Houston wedding-design and planning firm Kat Creech Events. "While the menu only consisted of hot dogs, peanut-butter sandwiches and hamburgers, with cookies for dessert, the table was set, the napkin was folded with a menu card placed on top, the candles were lit, and the lights were dimmed." Now all grown up, and the recipient of multiple industry awards—plus countless accolades from the wedding couples whose spectacular celebrations she has styled—Creech is still setting those tables, placing those menu cards and lighting those candles…only now, on a MUCH grander scale.
Houston Wedding Blog: What was the official start of your journey to becoming a wedding stylist?
Kat Creech: I began the hospitality journey in 1989, at the young age of 16, and climbed the career ladder. In college, I received my first management position as the bar manager of a fine-dining establishment. Upon graduating with honors from the University of Houston Conrad N. Hilton College in 1999, I entered the catering and events industry full time, moving from an operations manager role to a special events role in 2005, and there was no looking back.
I found my place, and I have loved it ever since. I have never lost my thirst for this industry! I have a passion to do great things, to think differently, to execute events differently, leave a legacy, and ensure that lasting memories are made.
HWB: What is the difference between a wedding planner and a wedding stylist?
KC: A wedding stylist and a wedding planner could have similar roles, but there are differences. A wedding stylist handles all the aesthetic items, such as theme, color, story, interests, vision and vibe. A wedding planner is much like a project manager, overseeing the event's logistics.
Photo: Ama Photography & Cinema | Venue: The Corinthian | Consultant & Planning: Kat Creech Events | Linens & Chairs: EB Inc. Event Rentals & Design
At Kat Creech Events, we do both. As wedding stylist, we are about about creating a personal brand for your wedding day. Our firm focuses on the design storyboard…and that something special that you can't quite put your finger on. We obsess about the little details. We look past the daunting checklists, the digital boards, the wedding color, and really get to know our clients—the foundation of what makes them who they are. We ask deeper question and get deeper answers, and then we bring in our creative partners to come play in the wedding playground.
The wedding planner side of the business provides us with a bird's-eye view of the event as a whole. In the end, it is an intangible journey that results in an epic reality.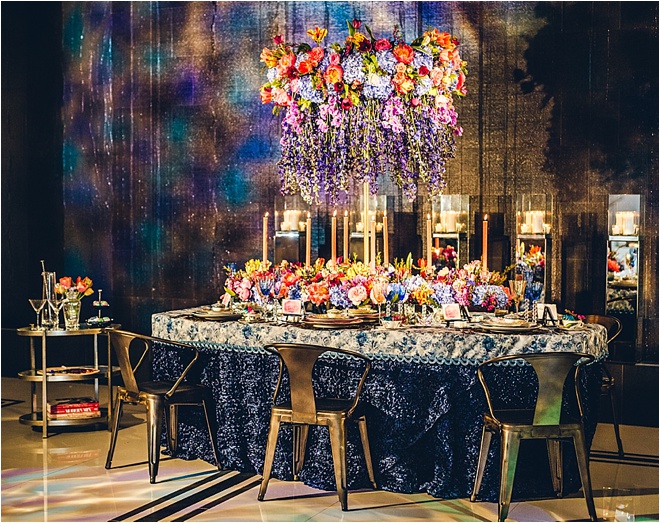 Photo: Ama Photography & Cinema | Design & Styling: Kat Creech Events | Rentals & Linens: EB Inc. Event Rentals & Design | Dinnerware, Stemware & Stationery: Bering's | Flowers: Dream Bouquet | Lighting & Special Effects: Bright Star Productions
HWB: What's your best advice to a couple who may be feeling slightly overwhelmed by all of the advice, inspiration and ideas they are encountering?
KC: 1. Hire a designer and planner. They are your true investment to create a day you will never forget. Many have different packages to fit into your needs, wants and budget. Our firm acts as the general contractor for your event and ensures that the perfect creative partners are brought in to accomplish all the various elements that are so important in your event: design, decor, venue, entertainment, food, lighting. Trust in the professionals to help you execute your vision.
2. Create a hierarchy of the items that are most important to you, and build your budget around those items.
3. Don't always go for the discount. Be conscious of the investment you are making. I always break down the investment into man-hours and billable rates, to provide a better understanding of how a professional is getting paid to do their job for you. As they say, you get what you pay for.
4. Budget. My very best advice is to break the overall budget into a price per person. A true professional can guide you to determine if your budget is in line with your expectations.
5. Be kind. This is the most important day of your life and probably the biggest party you have ever thrown. Don't let your stressful emotions get the best of you. There is life after your wedding. Be kind to your family, your wedding party, and your vendors. It costs nothing and it will get you a lot.
Like what you hear? Love what you see? Schedule your consultation with Kat Creech Events, and find out how this exceptional event stylist can bring your event vision to life! And don't forget to mention that you found her on the Houston Wedding Blog!
Photo: Ama Photography & Cinema | Coordination: Kat Creech Events | Venue: The Astorian | Flowers: Dream Bouquet | Gown: Ivory Bridal Atelier | Lighting: DJU Entertainment