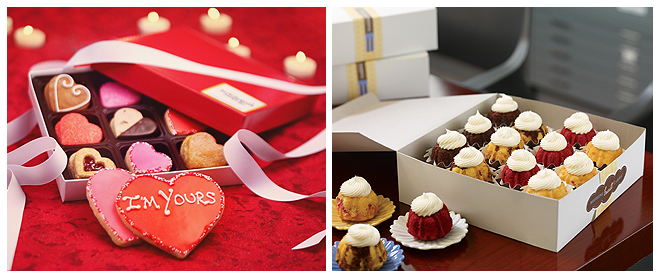 We've said it before, we'll say it again: Wedding in Houston vendors are the best in the business. But besides weddings, know what else they're really good at? VALENTINE'S DAY. Gorgeous flowers, couture confections, decadent spa treatments―our partners have got you covered. Here's just a handful of the goodies they've got going to help make this Valentine's Day the most deliciously romantic you've ever enjoyed.
Michael's Cookie Jar, creator of the delightful cookie tower that had so many of you oohing and aahing at the I Do! show, has too many adorable cookie gifts to count. But our fave has got to be the Valentine Gift box, with 18 bite-sized cookies to say "I love you" in six yummy flavors including espresso shortbread, gingerbread and sugar cookie, plus a personal love note at no extra charge. Order 24 hours ahead for pickup, or have your sweets shipped to your sweetie.
Also a big hit at our January show, Nothing Bundt Cakes bundtelets and bundtinis (you may remember these babies from your I Do! swag bag) are cute as anything, and insanely delicious to boot. Flavors include red velvet, chocolate chocolate-chip and white-chocolate raspberry. Pick up a Nothing Bundt Cakes decorating kit and customize a Valentine's Day cake your honey won't be able to resist.
Get primped for your perfect Valentine's venture with a little beauty boost from Evia Spa. Perhaps the Spa Manicure/Spa Pedicure/60-Minute Massage trio ($165), or the fabulous Shampoo/Blow Dry/Makeup Application/Shellac Manicure combo ($110)? Want to luxuriate right alongside the LOYL? All couples services booked for Friday, Feb. 10, Saturday, Feb. 11, or Tuesday, Feb. 14 come with complimentary cocktails, bubbly, beer or wine AND gourmet chocolate-covered strawberries.
Aw, heck, why not make a weekend of it? Lakeway Resort & Spa―you may recall it as the site of Lauren and Zach's lovely nuptials―is offering the "Sleepless in Austin" Valentine's package, which includes resort accommodations on Saturday, Feb. 11, chilled bubbly, a five-course dinner and, of course, every gal's favorite Meg Ryan-Tom Hanks rom-com flick. Space is limited, book now!
'Course, if you want to drop a hint for your honey, you could always let him know that a gift of red roses is still your favorite token of love. For the perfect "bouquet" send him straight to Floriography, which offers gorgeous fresh long-stemmed roses nestled in a sleek white box, "Mad Men"-style, for a modern woman with vintage flair―namely, you. Oh―and you may want to remind him that if he orders by TOMORROW, Feb. 9, he'll get 20% off, because while you love him, and he loves you, EVERYONE loves a deal. Thanks, Floriography! And happy Valentine's Day, Houston brides.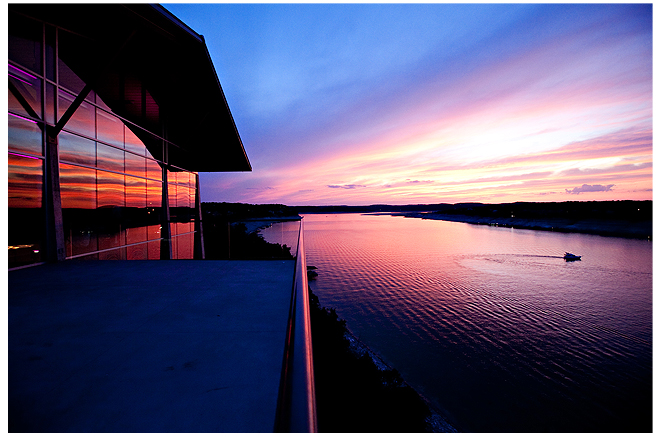 Photos (clockwise, left to right): Photo by Morris Malakoff courtesy of Michael's Cookie Jar, Nothing Bundt Cakes, Lakeway Resort & Spa, Floriography, Evia Spa