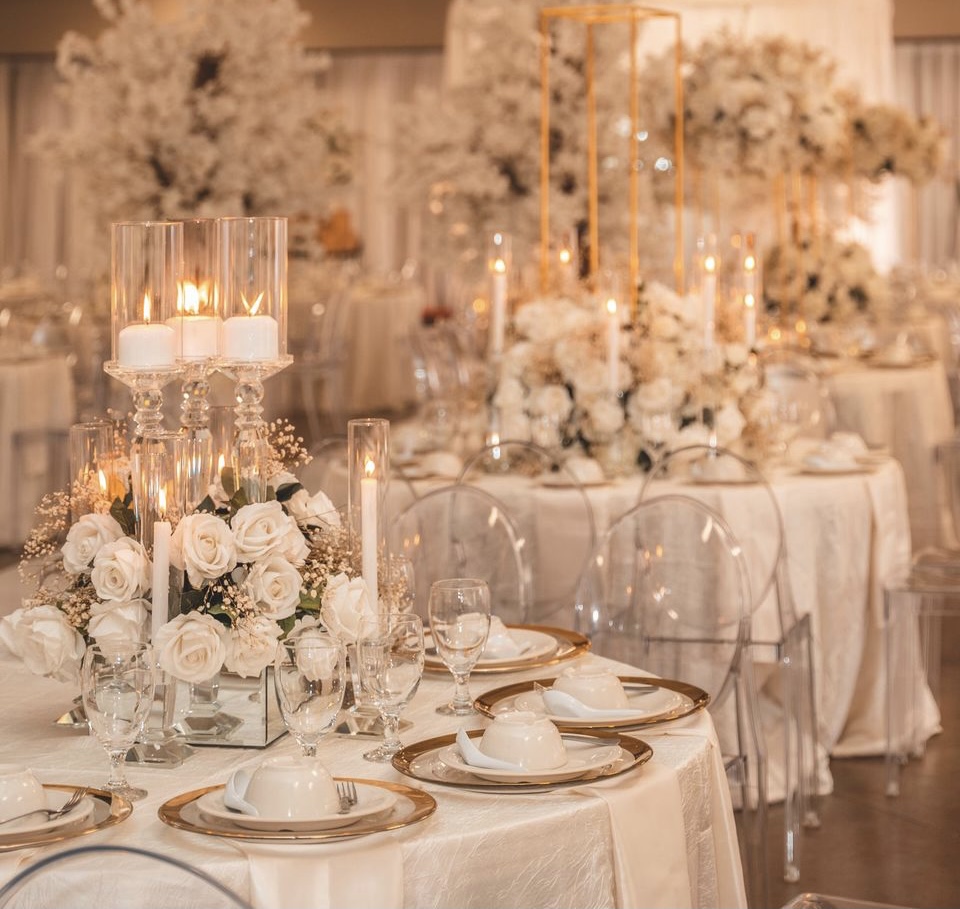 "If you can dream it, we can get it created," says Francisca Ezeadum, owner and in-house designer of Mod Effect Events.
Started in 2009 as an event-planning service, Mod Effect has blossomed into more since adding décor rentals in 2016. They carry everything from luxury décor, furniture, and tableware to fresh and silk florals to make a bride or groom's dreams into reality.
What makes Mod Effect special is the customized in-house design service. "You don't just call to rent items, and we rent you chairs," notes Francisca. "We help with the whole design process and polish your ideas. We do the designs, and with our partners and in-house engineers, the sky is the limit." Francisca loves helping brides tailor their vision and bringing it to life. "They've never done something like this before, so they may know what they want, but not how to put the pieces of the puzzle together."
"When you get the company, you get me," says Francisca, and she means it. "I don't delegate designs to anyone. We have a team that does implementation and helps with set-up, but that's my baby as for the design concept. I do all the designs, consultations, and bookings because it's important that I understand the client's needs. If she feels like I understand what she has in mind, then she is confident trusting the process and knowing that we will deliver exactly what she wants."
The design process starts with a phone consultation so Francisca gets a feel for the style and can share ideas back and forth to achieve one perfect look. She then helps create a floor plan and provides a rough estimate. If they want to move forward, she schedules an in-person consultation.
"I start with the design concept because whether or not you decide to book with us. I still want you to understand your concept, style, and design. Even if you don't move forward with us and go with another company, you now have an image in your head that's more tailored, and we offer that for free! We don't charge a design fee."
Confident in her designs, Francisca notes that 2021 is bringing styles out of Australia, including open florals, crystals, and neutrals instead of bright colors and metals like silver and gold. "If there is color of any kind, it's hints of blush pink or using the metal of the tableware as the accent color." Clients are also drifting away from basic banquet tables toward specialty mirrored tops and clean, modern lines.
When asked about pandemic precautions, Francisca noted that "customers are more confident using our merchandise because we've done our own due diligence." In addition to staff using masks and gloves and avoiding crowds during set-ups and pick-ups, Mod Effect takes safety seriously, sanitizing all inventory before leaving the warehouse, then again at the location and another round at pick-up before putting everything in the truck.
If you're looking for a safe and truly customized design for your wedding, Mod Effect Events is where it's at.