We know that Houston has the best wedding and event experts in the entire country. And now lots of other people do, too. That's because two of our finest hometown wedding talents just won big at the annual National Association of Catering Executives Awards, held in Austin this year. Just in case you were wondering, NACE awards are to catering professionals what Oscars are to film actors, and believe us, Lisa Hopkins and Monique Studak are stars!
Hopkins, director of catering at the Houstonian Hotel, Club & Spa, was named NACE's Caterer Member of the Year, while Studak, of E&J Gallo Winery, took home the award for Event Professional of the Year. Fortunately for us, another awesome hometown talent, David Jones of D. Jones Photography, was there to capture these exciting moments for us, and you, to enjoy.
If you're planning your wedding, and your path happens to cross with either of these amazing women, please be sure to offer your congratulations. And let us offer ours: Great job, gals!!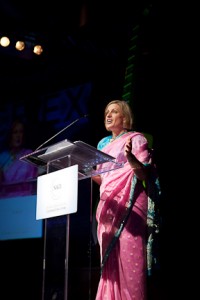 Top left, right: Lisa Hopkins; Bottom: Monique Studak
Photos by D. Jones Photography